Kavango Xtreme Caravan
South-African Echo 4x4 RVs
Kavango Xtreme made by South-African company Echo 4x4 is a hybrid, pop-top off-road travel trailer designed to offer sturdiness, practicality and luxury so much needed during expeditions to wilderness....
       Echo 4x4 was founded in 1984 by Mr. Willi Grobler, an experienced South-African aircraft engineer and passionate rally driver. 

      The "mixture" of good engineering skills with enthusiasm for "outdoor activities" and excellent knowledge of South-African wilderness as well as support of Mr. Grobler's wife Rochelle (co-owner) greatly contributed to the company's success. Today Echo 4x4 is one of the leading RV design and manufacturing houses recognized for the quality, ruggedness and innovation of its products. Company's product line includes motorhomes, travel trailers (in this part of the world known as "caravans), cargo trailers, tents and 4WD accessories. As the name 4x4 obliges, they are mostly designed for rough-road and no-road conditions. Regardless tough requirements imposed by the Mother Nature, some Echo 4x4 RV models show "touch of luxury"…. 
Echo 4x4 has also strong presence in Australia and Europe, while the presence on the North American market is an "ongoing process".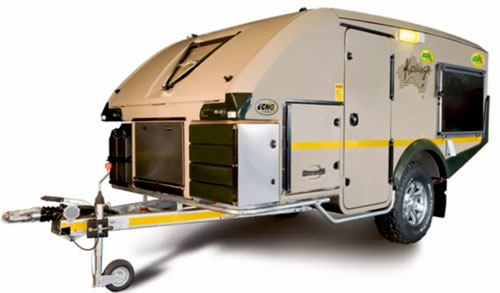 Kavango Xtreme in road configuration
       Currently, Echo 4x4 offers 2 models of motorhomes (Echo Truck and Echo Chobe) as well as several models of travel trailers: correspondingly Chobe (version Standard and Tec), Kavango (versions Standard, Tec and Xtreme) and Namib (versions TX and SX). 
Below you will find the presentation of a revolutionary design: Kavango Xtreme travel trailer, the model that took the World of 4WD-RVing by storm.
       Kavango Xtreme combines the "best" of few worlds. The trailer is definitely designed for off-road driving conditions. Monocoque, low profile fiberglass shell sitting on full-length chassis with protection not only from gravel and debris but also thanks to rock sliders from crossing uneven bumpy terrain and tricky water streams guarantees its "survival" in 4WD-environment.  Note that the chassis is galvanized, bolts, nuts and hinges are made from stainless-steel and any other metal parts are powder-coated. Given the fact that Kavango Xtreme camper does include any wooden components we can say that it belongs to the class of long-lasting "No-rust"/"No-rot" RVs.
Quality automobile seals together with double-action cam locks systems prevent the dust (and rain water) from infiltrating the camper.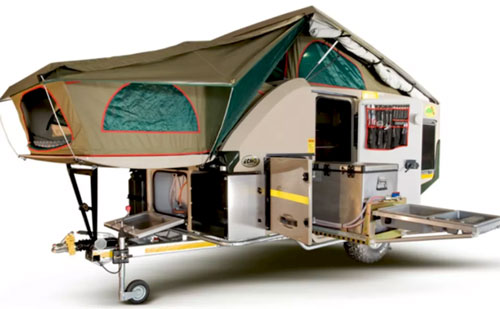 Kavango Xtreme - here in an open configuration
       The hybrid design ("built-in-tent"), pop-top roof (assisted by struts) and abundance of storage space make it ready for 4 adults. Well-equipped exterior slide-out kitchen, large fridge (accessible equally easily from the exterior as from the interior of the trailer), exterior "walk-in" slide-out full bath and finally elegant, aerodynamic shape bring "unprecedented" luxury for this type of travel trailers. 
For increased comfort (hard to say for privacy in so limited space) queen-size beds are located on the opposite sides of the camper (one in the frontal tent and the other at the back).  The tent-bed floor opens and locks into A-frame tongue while gas-struts automatically and seemingly in "no time" raise the canvas. It's an "effortless" process. It will certainly take more time to convert the dinette into the 2nd bed.
While Kavango can comfortably sleep, support and feed 4 adults, the truth is that only reduced "crew" will give chance to fully appreciate its capabilities and "off-road" luxuries. Frankly – like any small-size camper (12.4ft x 6.2ft body) Kavango does not have enough of interior space badly needed in case of bad weather. 
Here Kavango fully open with slide-out galley, fold-out pantry and awning
However, in good weather Kavango has it all. While you may not see it at the first look, the ingenious design offers plenty of storage space. Interior cabinets (including wall and overhead ones), under-seats storage (dinette) and exterior storages combined with impressive cargo load limit of about 770lbs can hold more than you may need. The exterior kitchen with 2-burner gas stove, stainless-steel sink with hot/cold water, large fridge w/freezer, working space, pantry (w/custom tableware designed to "fit") , free-standing (removable) stainless-still table etc… give chance to enjoy preparing food and making meals. Even more –  a large fire grill is also available as the standard feature. The kitchen area is covered by large awning (16.4" x 6.6') so you also have space for and "outdoor" weather-protected dining room (sun or rain).
BTW – it should be noted that while the fridge is installed in slide-out compartment next to the exterior kitchen, it is also accessible from inside of the camper. In other words - do not worry, if one late evening you need a can of cold beer, it will be right there! 
      Another "taste of luxury" is the slide-out "walk-in" shower/bath compartment. Accessible from the outside, build on solid floor with PVC walls and sunroof it offers all you may need on an expedition trip. The hand-held shower, porta-pottie toilet, fold-down sink and even mirror seems to be real treat in "out-of-civilization" conditions given small-size of this off-road camper.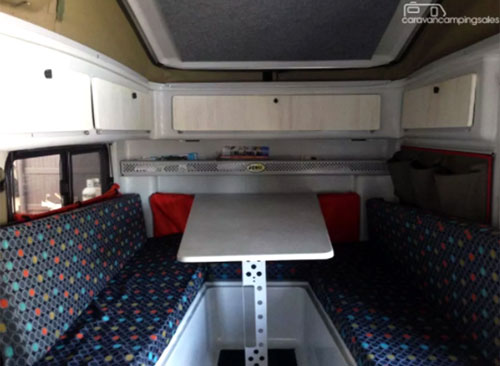 Dinette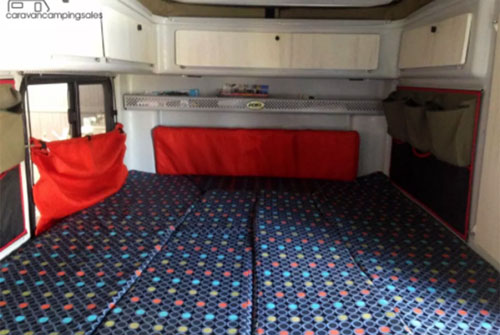 ... here converted into queen-size bed
       Kavango comes with an impressive Power & Control system (EPP3/MK1). It includes monitoring section (battery charging/discharging, water level… )  several switches with status indication (lights, water heater, water pump, charging power source….) , 220V/110V charger, 220V/110V receptacles, USB-ports, Inverter (optional), DC automatic resettable fuses on all inputs and outputs, low-voltage alarm and cut-off function, DC-polarity protection…. 
The Echo's battery (batteries) can be charged via 15A 240V Converter (when connected to the grid), via DC/DC converter from towing car system (when on the road) or from Solar Power System (optional regulator and solar panel needed).
     The Kavango travel trailer (as other Echo 4x4 RVs) is also very popular in Australia. No wonder – roughness of country's interior (famous Outback) needs "matching" the Mother Nature RVs and certainly the Kavango can face these challenges. The Australian models are almost entirely manufactured in South Africa – exception is locally-made suspension and wheels (indeed two critical components when it comes to RV-in across vast areas of wilderness….
Kavango Xtreme Specs
---
Overall length

Body length

Overall width

Height

Interior Overhead (1)

Dry weight

GVWR

Cargo

Fresh water tank

Sleeps

16.9'

12.4'

77.2"

77.6"

About 78"

2,535 lbs

3,307 lbs

772 lbs

31.7 gals

4
---
Note: all values are approximative (conversion from metric units)
1. With pop-top roof lifted
Construction:
Shell:  Monocoque, 1.26" thick fiberglass "sandwich" w/poly-insulation
Chassis: 0.2" galvanized steel (corrosion free w/ stainless steel bolts, nuts and hinges)
Floor: Industrial carpet
Suspension: Independent Spring w/ shock absorbers
Axle: single (max load 5,500 lbs)
Wheels: 15" w/steel rims (alternatives available as options)
Brakes: 12: electric
Stabilizers: 2 rear "quick-release" struts, (one optional at the front)
Tongue:  A-frame w/ Jocky wheel
Other: Rain gutters, Mud flaps…
Connector: 7-pins
Front Tent
400 gsm military-grade ripstop canvas
Queen-size high-density foam mattress
Scissor-action hinged roof
PVC Rainfly (Storm sheet)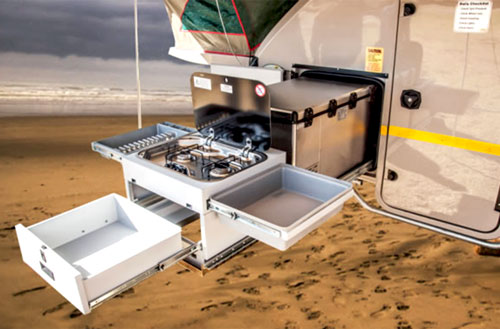 Slide-out galley (kitchen)
Exterior Kitchen 
2-burners gas stove w/ optional wind deflector
sink w/drying rack
Fold-out counter w/removable stainless-steel table
Pantry & tableware 
Water heater (gas, on-demand)
Slide-out Fridge compartment (load up to 530 lbs) 
Choice of 1.4 to 3.2 cu. ft fridge w/freezer (options) w/access from Int/Ext
Kitchen Awning (PVC, 16.4 x 6.6 ft)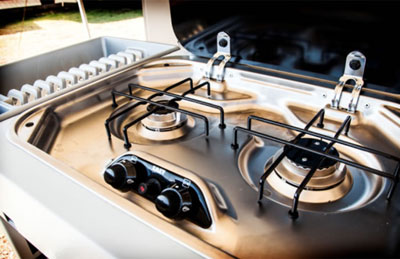 2-burner gas stove
Bathroom
Full slide-out bath w/solid floor
Porta-Pottie Toilet
Flexible hand-held shower
Shower curtain
Fold-out Sink
Soap rack
Mirror
Sunroof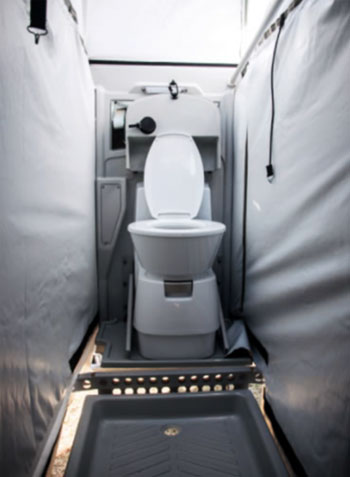 Slide-out bath w/shower
Interior Features
Dinette (convertible into queen-size bed)
Insects nets on door and windows
Storage (wall and overhead cabinets, under the bench boxes…)
Electrical:
12V/24V Int/Ext LED lights
12V Water pump
EPP3/MK1 Power & Control Unit (see details in text)
Exterior Insect repelling light
105Amph battery
Optional: Silent Generator, Solar Panel, 220V/66ft extension cable and adapter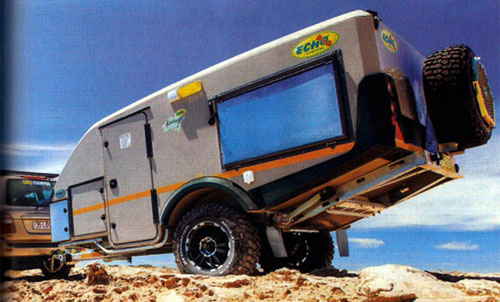 It seems that for Kavango Xtreme there are no limits...
Source: http://www.heimanhabitat.com.au
Exterior Features:
Front storage (for LPG bottles)
Front-mounted Grocery Box
jerry-can brackets (optional up to four 5.3 gallons jerry cans) 
Braai grid (barbeque-grill)
Slide-out Fridge compartment
Safety: 
Rear-mounted spare wheel
Run-Away brake w/cable
Fire extinguisher
Options:
1.4 to 3.2 cu. Ft fridge w/freezer
Front-mounted wood rack
Cooker wind deflector
Silent Generator, 
Solar Panel, 
220V/66ft extension cable and adaptor
5.3 gallons jerry cans
OK, now time to see it "in motion" :-)
Summarizing: Kavango Xtreme travel trailer represents a very innovative and clever design offering sturdiness necessary for expedition-grade 4WD trips, practicality in everyday use and surprising "luxuries" generally unavailable in small-size off-road campers. It's lite, hybrid, pop-top trailer with low aerodynamic drag on the road, low profile precious in wilderness and comfortable interior headroom in camping configuration.

Go back to: --> Review of Extreme Off-Road RVs
Or see more: --> South-African RV Manufacturers
Note: :Pictures are courtesy of Echo 4x4
Note:  Check with the manufacturer and / or authorized RV Dealer for the up-to-date list of features, options as well as latest specifications. These written above may not be accurate and certainly are subject to change by the factory. We are not responsible for any inaccuracy, the above text is provided only for the general information.
This review was written based on publicly available information for the benefits of the community of RV-ers. We do not receive any gratification or financial benefits from RV manufacturers, dealers, and any other promoters of RVs. 
We are NOT involved in sale and/or retail of RVs!
---