BacTrax Travel Trailers
Kennis "Rough-Road" RVs
Kennis series of BacTrax travel trailers represent the class of "rough-road" RVs designed for "rough" South-African conditions yet still offering decent RV-ing comfort....
       South-African's Kennis Caravans & Motorhomes represents an interesting concept in the world of RV players. 

     First of all Kennis is an authorized dealer selling such local RV brands like Jurgens, Sprite, Howling Moon, Motorhome as well as Campworld accessories….. But is also known for its own design and manufacturing house making famous BacTrax travel trailers (caravans). 
BacTrax models were developed based on the design of very popular Sprite travel trailers that in countless versions of Sprint and Swing models have been present on the market for almost 50 years.  The BacTrax models make the new so-called "Rough-Road" class of RVs especially designed for African conditions. It's sort of intermediary design between traditional "On-Road" and "Off-Road" travel trailers known also as "semi-off-road" RVs. Practically it means that BacTrax trailers have "reinforced" structures ready for dirt roads and out-of-civilization conditions, but not necessarily for bumpy "no-roads" environment.
Kennis' Swing BacTrax S travel trailer (here with opened "fold-out" galley)
BacTrax S - bedroom
       Such class of trailers can easily offer some level of luxury like for example "walk-around" double bed and other "home-comforts" like well-equipped interior galley and toilet (rarely seen in off-road models).
BacTrax model is offered in three versions, correspondingly Sprint (the smallest one) then slightly larger Swing B (with double dinette) and Swing S (with toilet). 
Crucial elements of the "rough-road" design:
heavy-duty axle(s) 
large 15 inches wheels (for increased ground-clearance)
gravel protection
bull-bars protection
Sealed windows (the "dust-proof" body is a must because on dirt roads the dust will be the constant (although unwanted) companion!
Strengthened cabinet doors hinges
Low center of gravity on the road (implies low profile and "pop-top" roof for increased headroom in camping configuration)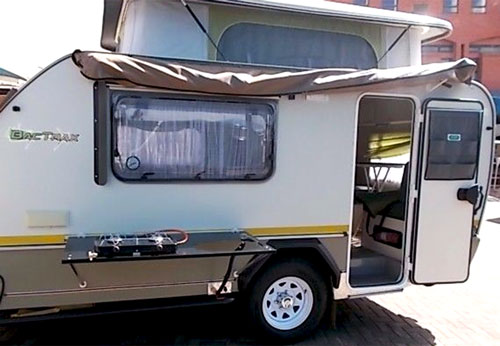 Sprint BacTrax travel trailer (here shown with an external "kitchen")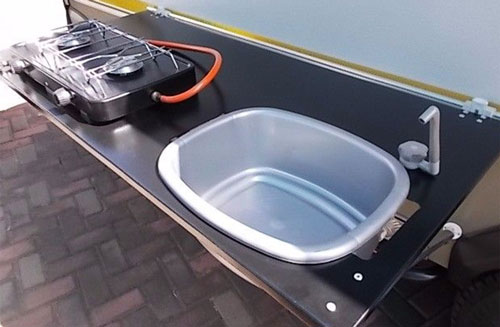 Sprint BacTrax model: Exterior "kitchen" can be optionally equipped with sink and faucet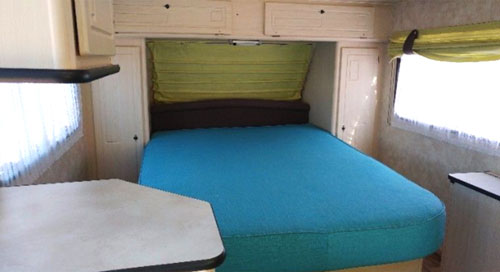 Sprint BacTrax bedroom
       All three RacTrax models offer large, comfortable "walk-around" double bed. Each model have an interior dinette. In Sprint it converts into single bed while in Swing B into double one for extra sleeping space. Swing BacTrax S offers sleeping space for only 2 persons, but also offers an extra level of "luxury" – the toilet. The latter includes cassette toilet and vanity w/sink and faucet.

All BacTrax models are equipped with 2.8 cu. ft Engel fridge w/freezer (running on 12V battery) and a microwave oven. Larger fridges (4.9 cu. ft Waeco or 220V double-door fridge are available as options. The 220Vac/12Vdc power system including receptacles, lights, battery and charging system as well as shore power hook-up is also part of the standard features. 

The Sprint as the smallest one in the family of BacTrax campers is more modestly finished. Its "kitchen" consists of 2-burner gas stove set on the black powder-coated work-top attached at the side of the trailer (optional snik w/faucet available). In contrast Swing BacTrax B and S are equipped with exterior fold-out galleys including not only 2-burner stove but also microwave, pantry, tableware, sink w/running water etc.. 
All three BacTrax campers also have an interior sink with faucet as a standard feature.
Swing BacTrax S: interior (visible cabinetry and dinette)
Sprint BacTrax interior: visible convertible into bed dinette, and cabinetry w/ built-in fridge, microwave oven and storage
      Plenty of cabinets including overhead ones offer ample storage space. Their wooden doors add to the elegance of interior finish which thanks to "soft-touch-shades-and-colors" offers truly calming ambiance.
Note the extra exterior storage at the front cap. It's quite spacious and handily accessible even when on the road.
The tongue comes with adjustable Jockey wheel.
---



Length (2)

Width

Height (2)

Dry weight (lbs)

GVWR (3)

Cargo (4)

Sleeps

BacTrax


17.1'

85"

92.5"

2,447

3,970

1,523

3

BacTrax B


21.1"

85"

91"

2,734

3,968

1,523

4

BacTrax S


21,1'

85"

91"

2,734

3,968

1,523

2
---
1. All dimensions  and weight are approximate (conversion from metric)
2. In road configuration with pop-top roof closed
3. Manufacturer does not clearly specify the GVWR, however the HD axle is specified for up to 3970 lbs load.
4. Cargo load depends on optional features (note that Kennis Caravans offer several options as well as custom-designed features. All that extra equipment will determine the available cargo load.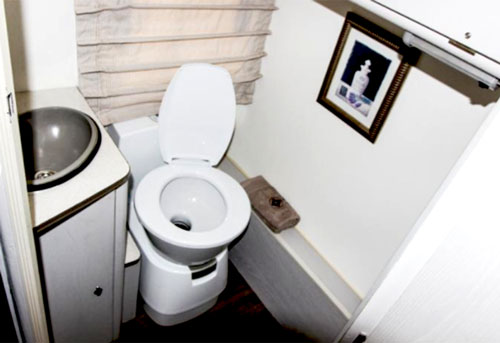 Swing BacTrax S: toilet
Summarizing: The series of BacTrax travel trailers offers safety and comfort of interior space for "adventure-minded" RV-ers ready to follow dirt-roads usually "much-less-travelled" (think Kalahari!)

Go to: --> South-African RV Manufacturers
All pictures courtesy of Kennis Caravans and Motorhomes
Note:  Check with the manufacturer and / or authorized RV Dealer for the up-to-date list of features, options as well as latest specifications. These written above may not be accurate and certainly are subject to change by the factory. We are not responsible for any inaccuracy, the above text is provided only for the general information.
This review was written based on publicly available information for the benefits of the community of RV-ers. We do not receive any gratification or financial benefits from RV manufacturers, dealers, and any other promoters of RVs. 
We are NOT involved in sale and/or retail of RVs!