Kodiak Expandable Travel Trailer
Kodiak expandable travel trailers by Dutchmen are lightweight and easy to tow when on the road, while comfortable with a lot of sleeping space when on the campground....
An expandable trailer is exactly what you need if you like traveling with your family in a compact but spacious vehicle.
The Kodiak Expandable trailers may look small, but they can be modified and expanded in just a few minutes, offering enough space to sleep comfortably for the entire family.
This trailer is easy to drive and maneuver since they are not long and heavy.
But they can easily compensate the lack of space, after docking, by their extensible sides.
You will love the mobility such a trailer will give you and exploring new camping grounds will not be a problem anymore.

---
172E

186E

206ES

222ES


18'6"

20'5"


24'6"


25'11"


10'0"

10'1"


10'1"


9'11"


3162

3567


4278


4508

---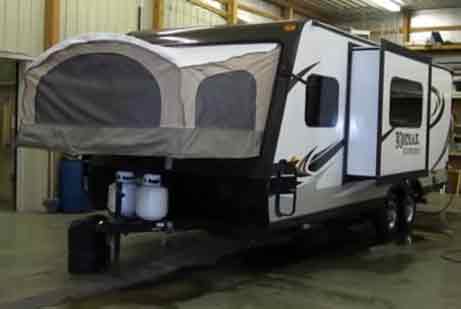 Kodiak Express Expendable - Model 206ES with front/rear ends tents and side slide-out

---
Model EX-172E Express
       Don't let the small outer size discourage you, because this trailer can easily house up to 6 persons. Both ends of this trailer model are expandable, offering a sleeping area with a queen-size bed for two people each. Inside, a sofa and a dinette can make additional sleeping places in case they are needed. A bathroom with a shower, toilet, and a sink has a decent size, allowing you to move inside without difficulties. A small kitchen awaits on one side, leaving enough space to move around in the trailer. It is really an excellent option to be on the move and still have all the conditions for a comfortable accommodation.

---
Model EX-186E Express

     Whether you are a family of 4, or you plan on traveling up to 7 persons, this model will offer you all the space you need. Both ends are expandable, transforming into two large queen-sized beds. If you are more than 4 and you need additional space, inside you will find a sofa and a dinette. So sleeping in this trailer is not a problem. The kitchen is small but has everything you need to make your tasks easier. The bathroom is located in a corner, to save space, having inside a shower and all the other necessary utilities.

---
Model EX206ES
      If you like traveling, exploring and camping, now you have the chance of doing this in comfort. This type of expandable trailer has all the space and utilities to house up to 8 persons. Both ends offer sleeping areas for 4 people, since they extend leaving the needed space for a double bed on each end. Inside a large dinette and a sofa can provide additional sleeping places for 4 more, in case you travel in a large group. The interior of the trailer is quite large, having a decent size kitchen and a bathroom with a small tub in it.

---
Model EX-222ES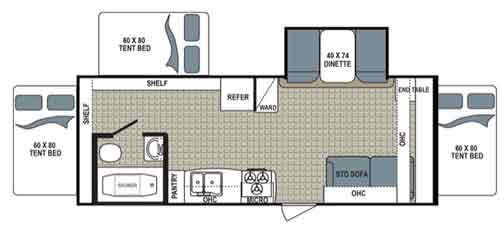 Traveling in a large group has never been easier. This model may look small, but it is smartly designed to house up to 10 persons. It has three expandable sides, each of them having enough space for a double bed. Thus, the interior of the trailer will not look cramped or crowded. A sofa and a dinette will make it up by offering additional sleeping spaces if necessary. The kitchen has a decent size, being placed in the center. And the bathroom has a shower, but it is large enough to let you move inside easily.

---
 About Us / Privacy Policy / Resources
Go to:  Pop-up Travel Trailers and RVs