KZ-Escape E181RB Trailer
Top 2018 mid-range RVs
K-Z's Escape E181RB travel trailer is an amazing "amenity-packed" RV, walk-around bed, full bath and functional kitchen promises "little-home-away-from-home" experience...
        K-Z Inc (Shipshewana, IN) founded back in 1972 is part of world's largest conglomerate of RV manufacturers - Thor Industries.

For long K-Z was somehow in the "shadow" of larger competitors. Recent introduction of the family of ultra-lite Escape travel trailers largely changed this perception. 
        The series of Escape Mini travel trailers M181xx offers 5 floor-plans – all with length of 20'9" and dry weight under 3,000 lbs. Slightly longer and heavier are models from the series of Escape Ultra-Lite. It includes variety of models of traditional hard-wall trailers, as well as expendable models (w/single slide-out) or hybrid (with pull-out tent beds) and even a toy hauler. 
From the mentioned above selection of 10 floor-plans with lengths ranging from 18'10" to 27'3" and dry weight correspondingly from 2,690 lbs to 3,760 lbs we decided to choose for this presentation a model E181RB.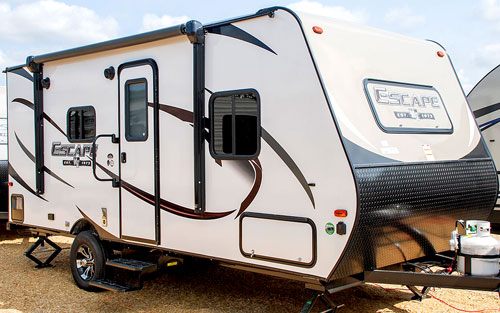 K-Z Escape E181RB ultra-lite travel trailer
   ... and it's floor-plan
With its dry weight of only 3,099lbs (so very close to very reasonable towing limit of 3k lbs), length of 21'11" and very attractive floor-plan it seems to be a model of choice for a family of two (or young family with children).

       Before we go further it may be worth to mention that Escape travel trailers represent the class of Very Affordable RVs. In other words, while you can expect attractive floor-plans, RV-ing comfort and decent quality, they do not offer residential luxury.  You will be surprised, however seeing how the thoughtful design, good engineering job and attractive finish can still create in such limited space the feeling of "little home-away-from-home". And all this is within the towing range of popular SUVs, minivans or even smaller crossover vehicles (so once again – affordability!)
The shortest description of the Escape E181RB travel trailer will be – its' an amazing "amenities-packed" RV. It does not mean however, that it is a cramped space. In contrary, thanks to slide-out module (housing a dinette) the E181RB travel trailer is quite roomy. But its real "jewels" (when it comes to medium-size RVs) are the front bedroom with walk-around bed and the rear walk-in full bath with large wardrobe. 
Bedroom with queen-size walk-around bed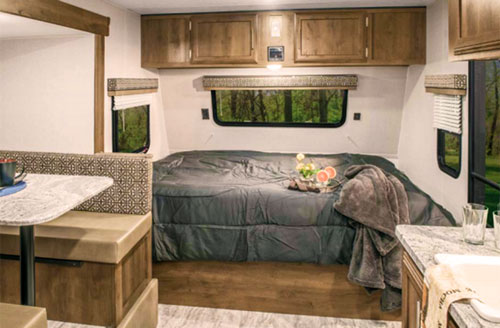 Interior view from the back of the camper
         The walk-around queen-size bed offers not only comfortable sleeping space (well, this is mostly determined by the quality of the mattress), but first of all a highly functional area. Each person has its own, independent access to the bed what eliminates the fundamental shortcoming of beds spread across the width of the camper. With only one-side, often very tight access their functionality is quite limited. The walk-around configuration also greatly helps to make the bed and use it as part of a "living/entertainment-corner" (watching TV, reading etc…). The corner night-tables and shelves on both sides of the bed offer plenty of place for books, newspapers. Handily placed electrical outlets give you also chance to "sleep" with an iPad of phone (BTW- it's not really recommended ). Thanks to three windows (front and both sides) the bedroom area is bright and offers good outside views outside helping to "connect" with a surrounding nature.
The overhead cabinets along the front wall provide the storage space (much of the under-bed area is used by an exterior pass-through storage).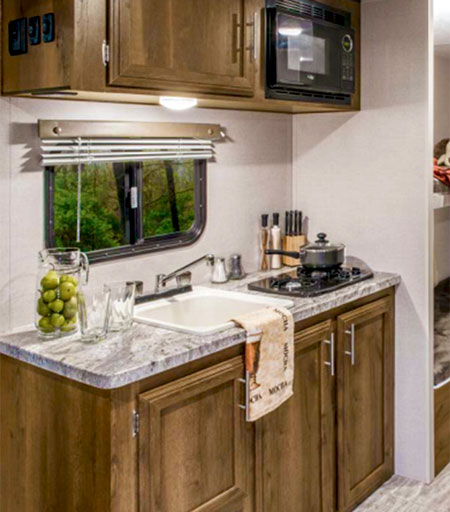 Kitchen - note large part of the countertop left as the work-space.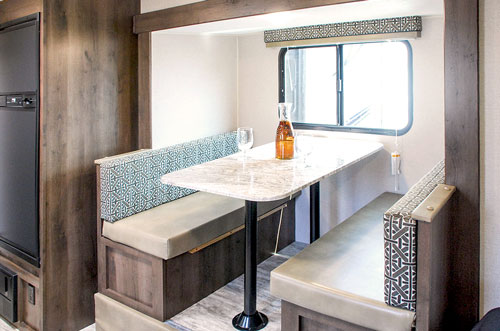 Spacious Dinette located in the slide-out across the galley
        The central part of the E181RB travel trailer houses a kitchen and a dining place. Despite the limited space the kitchen has all amenities necessary to make it functional. 2-burner cook-top, single bowl sink may not be of residential quality (none is made from stainless-steel), but both will do the job. Especially it is worth to mention that both gas burners are placed along the length of the kitchen cabinet making the access very practical. Also, there is still large unused part of the countertop offering an ample work-space for preparation of food (if not enough, just across you will find dinette's table offering impressive work-space). This is also the place (next to the dinette) where you will find large double-doors refrigerator with freezer.
Kitchen's cabinetry (including overhead section) provides an ample storage space (cupboards, shelves..) and a space for a standard microwave oven.  You will also note the presence of a window making the kitchen bright and visually more open and spacious. 
The dinette with its 5 inches thick cushions and large table that can easily accommodate 4 persons. Folded, it will make a sleeping place for two children (thanks to the slide-out location it will still offer some sort of privacy for everybody in the camper).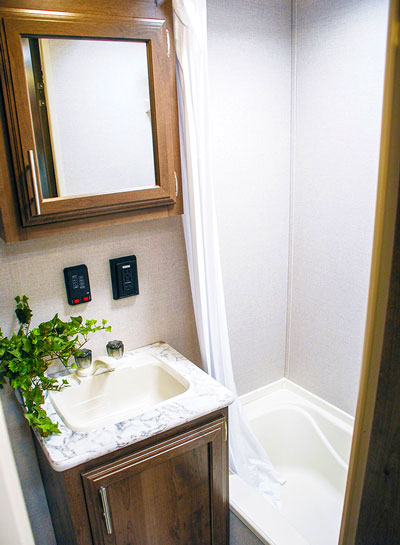 Walk-in bath is roomy, on top on shower cabin, vanity w/sink, toilet and medicine cabinet it also houses large wardrobe.
     The walk-in bath at the rear end of the E181RB is certainly a real blessing for RV-ers. While the public showers and to some extent toilets available on the campgrounds are probably more practical, the comfort of having your own "private" corner cannot be underestimated. And it is especially true when the bath offers all amenities you may need (shower, vanity w/sink, foot-flushed toilet, medicine cabinet w/mirror door…) and enough of space to use it. And this is certainly the case of E181RB's bath.

The power awning could be longer to open comfortably large "outdoor living area"
      Now, let's go out to examine exterior features. The 10 ft long power awning offers extension of the living area into outdoors (not sure why it is not longer to fully cover the curbside of the trailer). Optionally you may chose the optional wind and motion security sensors to avoid any potential "headaches".
The exterior pass-through storage (not the largest we ever saw in this class of RVs, but still quite decent) gives you chance to pack necessary camping gear (folding chairs, table, grill etc…).  With a "little help" of the LED strip along the awning and two exterior speakers as well as favorable weather and nature you may make this outdoor area a charming place to relax……
Two-step entrance, "solid" grab handle and friction-hinges door will make the "hop-in/hop-out" process easy and safe.
And there is also good news for nature lovers and adventurers.....
For more details see: --> NEXT
Virtual tour of the K-Z Escape E181RB travel trailer
Or, see the review of 2018 RVs selecting:
--> Top 2018 mid-range RV models
Note:  Check with the manufacturer and / or authorized RV Dealer for the up-to-date list of features, options as well as latest specifications. These written above may not be accurate and certainly are subject to change by the factory. We are not responsible for any inaccuracy, the above text is provided only for the general information.
This review was written based on publicly available information for the benefits of the community of RV-ers. We do not receive any gratification or financial benefits from RV manufacturers, dealers, and any other promoters of RVs. 
We are NOT involved in sale and/or retail of RVs!