Lees-ure Lite Excel
2017 Motorcycle Campers
2017 Lees-ure Lite Excel is one the easiest and fasted to set-up or pull-down motorcycle campers for 2 persons; high quality with many options it will make happy most demanding customers....
      Lees-ure Lite (also known as Leesure Lite) is a Canadian manufacturer of motorcycle campers located in Osoyoos (British Columbia).

The company name reflects the name of its founders and owners (Dian and Rick Lees).  Devoted to cycling, they built their first bike trailer in 1972 and quickly realized that there is market demand such trailers. The rest is history ….
Today the Lees-Ure Lite manufactures two models of micro-campers: Original (235 lbs, 48" wide) and Excel (265 lbs, 54" wide). Both are designed for towing by any "full-size" motorcycle and small car. Although there are many motorcycle campers on the market, the Leesure's models proved to be some of the best (at least in some aspects).
Set-up and pull-down time:

     The process can be done almost effortlessly by one person in no more than 1 minute (practically it is the matter of few tens of seconds). You just have to unlock the lid and flip it over. When the lid is being opened the tent unwraps like a "clamshell". Supporting polls permanently attached to the trailer's box smoothly swing to their final position so basically once the lid touches the ground, the pop-up camper is almost set-up.  You just step inside and lock-in the single tent's support and it's done! 
Well, you may say who cares, few more minutes of "exercise" after hours on motorbike may actually be beneficial, but I'm sure you will quickly change your mind when you arrive late night or in rainy day. 
Lees-ure Excel motorcycle camper in its basic form folded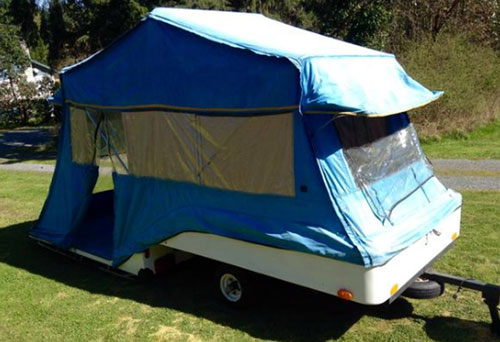 and fully opened for camping
Note: The bed platform ( 52" x 81") is slightly longer than the trailer's box (66" length).  It's extended by a solid support you lock in place once the tent is opened and secured. And this is about the only extra operation that has to be done to have the camper ready. Indeed, you will see in front of you the bed ready to jump on (with mattress, sleeping bags, pillows, blankets ….. especially if instead of an air mattress you opt for Lees-ure's foam-one).  It's true provided that that's how you left it when pulling-down the camper the last time (that's part of Excel's clever design). Well, what a "welcome" package!

"Off-the-ground"  tent

      The fiberglass lid makes the entrance floor. It rests on sturdy rails of the aluminum rack keeping the floor at about 4 inches above the ground (think about what happens to the typical vinyl floor spread on the ground in wet weather conditions). The entrance thanks to 76" headroom and 52" x about 45" footprint is quite spacious (part of the lid's footprint is taken by the bed). It can serve as the dressing room but also can house two chairs and small table as well as be used for storage.
The standard fiberglass lid can easily withstand the weight of two persons, however just in case the company also offers a reinforced fiberglass lid recommended for owners over 250 lbs. Obviously this option should be installed at the factory (preferably when buying the new camper).
The rack's railings are fully exposed in camper's folded configuration. As they contribute to camper's esthetic, it may be wise to protect them from scratches when used  as the floor support on the ground. Easy to insert thermal isolation "pipes" will do the job for just few bucks…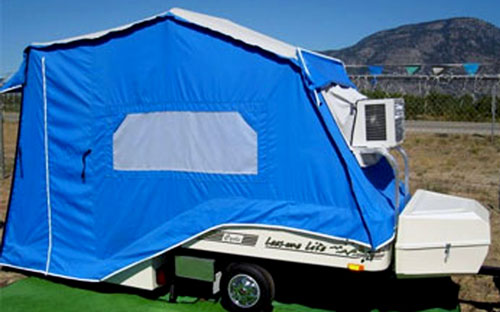 Excel: the fiberglass lid flipped 180 degrees makes the floor.
Here the camper with options: A/C unit and tongue-mounted Pod
Stability

       Most motorcycle camper trailers are narrow. It is done intentionally to keep their width "compatible" with the span of bike's handlebars.  As the result, the tent designed for sleeping two persons has to open along the short sides of the box and hang outside on supporting poles. It's never rock-solid stable.
In contrast, the Lees-ure's Excel is much wider. Its width of 54 inches offers enough of room for full-size bed (mattress) so the tent is designed to open over the 66 inches long box. The whole sleeping and living area (entrance) is "off-the-ground" however it has solid-rock support.  The trailer box is supported by two wheels and three self-adjusting stabilized jacks, while the entrance floor (as pointed out above), by rack rails just few inches above the ground.

Luggage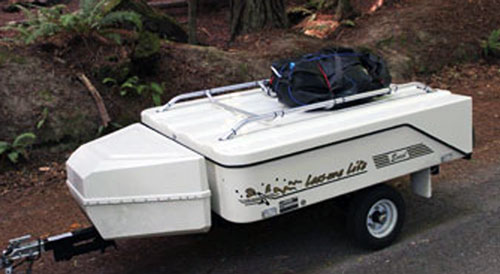 Excel with front-mounted aerodynamic Pod storage box and luggage bag on the rack
     The 30 cubic feet of interior storage is partially taken by the folded tent and bed. However despite that fact (and doubts of "first time" observers) the remaining space is still large enough to accommodate a lot of stuff.  The tent fabrics and poles orderly fold along the sides of the camper box so the middle section (essentially the bed) is always available for storage. 
The "stuff/gear" (whatever you call it) stored in the trailer's box (bed area) does Not have to be removed prior to setting-up the tent.   Many other motorcycle campers do not offer this luxury (see Time-Out Camper). And yes, it is the "luxury" especially in rainy days (think about emptying your trailer's box taking out all your stuff when the rain is pouring from the sky to set-up the tent! Ouch, it "hurts" ….
These are really outstanding characteristics of motorcycle campers putting Lees-ure Excel ahead of competition.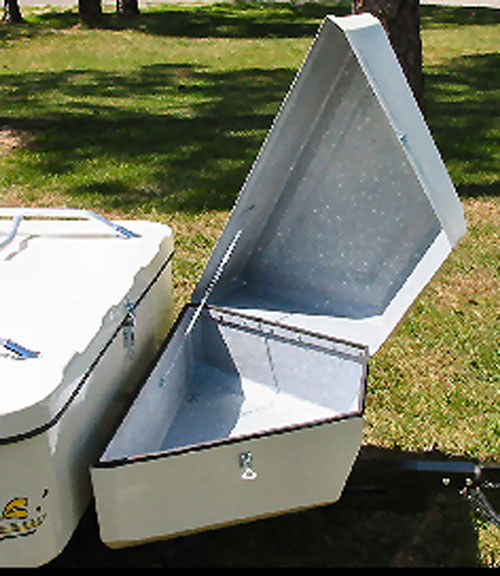 Tongue-mounted Pod is perfect for stuff that may be needed on the road
Nothing comes free, so here are some limitations:
    The stuff stored in trailer's box is not easily accessible in camper's folded configuration.  Fortunately Lees-ure's bike campers have plenty of "exterior" storage space on the lid, front Pod and underbelly box (see below) for whatever you may need when on the road.
The camper's lid holds aluminum rack and it is an ideal place to carry bulky items (camping chars, table etc..).  Note:  While the process of setting-up the camper does not require emptying the interior storage, the luggage rack must be unloaded.  Surprisingly, the company does not offer (so far) dedicated waterproof bag, but you can find large selection of them and most likely at lower cost in any shop with camping equipment.
Tongue-mounted box (Pod) and underbelly Pass-Through Box are very practical options adding extra storage space. The Pod (29" x 17" x 39") serves the best to store small items you may need when on the road (food, LPG burner and bottle, tools …..). It is lockable and sealed from weather elements. The "side effect" of Pod is improved camper's stylishness and potentially better fuel economy thanks to its aerodynamic shape. 
You have to be careful however to not overload the Pod as its load is directly applied on the tongue and hitch.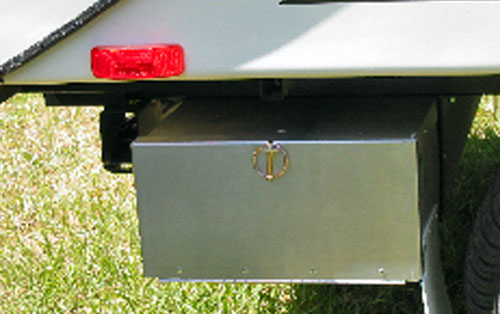 Underbelly Pass-through storage box
      The practical solution to this problem is an optional Pass-Through storage box. It is mounted under the box in the rear part of the camper (behind the axle), so it can be used as the "counter-balance" to the Pod's load. The problem of balancing the camper's load should not be underestimated as it has significant impact on camper's handling on the road.
The pass-through storage (12" x 6" x 52") is ideal for long items like sticks, axe (if you need one) etc. It is made from aluminum with lockable doors, however they are not hermetic (water sealed).  This seems to be one of very few Excel's "weak spots" given the fact that its location (underbelly and behind the wheels) in unfriendly weather conditions exposes the box to "brutal" assault by water and mud! And while it is nice that the camper comes with mud flaps (standard feature), due to the proximity of the storage box they cannot provide efficient protection.
But at the end there is one rule to keep in mind – do not overload your motorcycle camper. The fact that you have available storage space does not mean that you have to use it. It's the Possibility, but not the Obligation. Small is beautiful but Lite is easier to handle and safer on the road ….
Farther Description:

  The camper's tent comes with the standard "Rain Fly" roof. It is the extra addition (sort of tarp) attached by Velcro and snaps to the traditional tent's fabrics roof.  If not only offers solid weather protection but also offers a sort of "mini-awnings" extending over the front and back windows. The tent itself is made from breathable, resistant to mildew and rot polyester-based fabrics.  Tent's side panels are permanently attached and sealed all along the edges of the trailer's box with no gaps. It not only makes the set-up process easier but also guarantees protection against any flying and crawling "creatures" (mosquitos, flies, and any other insects that can make our camping experience miserable). 
The tent has four screened windows with zipped privacy covers and curtains as well as two screened doors – one on each side of the entrance. It's very clever design because if you want to extend the living space to outdoors, you can attach awnings (or Screen-Room, Garage, Add-s-Room) on both sides of the camper with easy direct access to each area.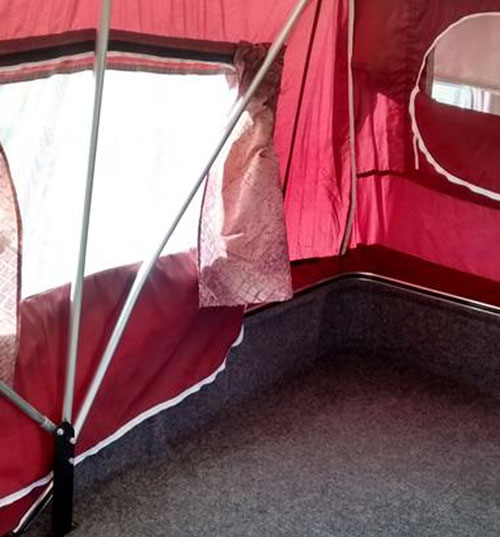 The interior of the trailer (with exception of the lid) is carpeted
   With the exception of the entrance floor (easy to clean fiberglass), the rest of the trailer's body is carpeted.
      The bed does not need an extra platform (typically plywood boards). It's major part lays on the bottom of the trailer's fiberglass box. It only needs small extension (about 15 inches wide) to expand bed's length to generous 81 inches. No wonder, the Lees-ure campers are some of the lightest in their class. 
The company offers an optional foam-mattress with removable cover (so you can easily wash it). If you can live with it this is a practical solution. Unfortunately company's offer is also quite expensive so you may look for your own solutions including air mattresses. Thanks to standard size of the sleeping space (52" x 81") it will be easy to find on the market not only fitting mattress but also sheets!
Important standard and optional features:
Winter storing:    The Lees-ure motorcycle campers have one more very practical feature that most of us will really appreciate.  Each camper comes with Storage Tip Stands allowing you to store it tipped-up on its rear end (108" height with tongue or just 66" without it).  Frankly, it will be hard not to find enough of space in any garage.
Awnings: optional awnings come in two dimensions - 5 and correspondingly 7 feet (the latter is definitely more popular because for literally few more bucks you get more bang!). They attach to the tent by heavy-duty zippers.
Side-Rooms: optional side rooms (Screen Room, Add-a-Room and Bike Garage) have only walls so they need external awning(s) that will serve as the roof. The beauty of the design is that: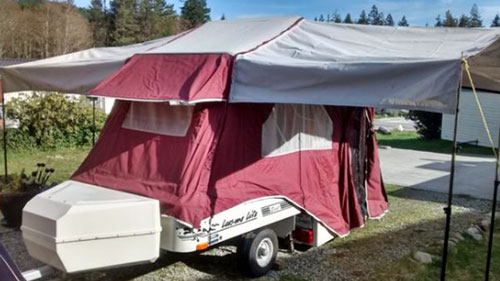 Excel with awnings on both sides
You cut some extra pounds to tow behind the bike 
You definitely save some bucks, and the best is yet to come:
You do not have to detach the awning(s) from the tent. You simply detach room's walls, remove supporting poles and flip the awning(s) over the tent. After securing its(their) corners to the tent you can then fold the camper as if nothing changed. Wow!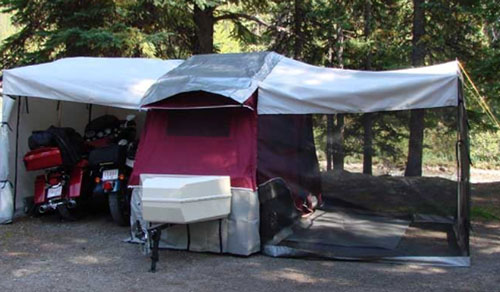 Excel: here with side rooms on both side of the camper
     Just to give you an idea: with rooms attached on each side of the Excel camper, the width of your camping "Residence" (as you can call it now) extends to 18 feet!
Detachable Pockets – they come in three dimensions correspondingly small (18" x 18"), medium (29" x 22"0 and large (29" x 40"). They all can be attached with Velcro inside the tent (below the front window) or outside the camper in optional rooms. They are available in colors matching tent's fabrics.
Wheels: Excel in its basic form comes with 4.80 x 8" tires. They are relatively narrow and good enough for highways. However if you plan to explore dirt roads, it will be helpful to select wider tires 16.5 x 6.5 x 8" and rims for better handling of bumps and potholes.
Swivel Coupler – it's one of those items that improve your safety on the road. It allows much wider (actually unlimited) motorcycle lean angles than the regular hitch coupler. As usually we do not tow the trailer on the daily basis, we may easily forget about this limitation.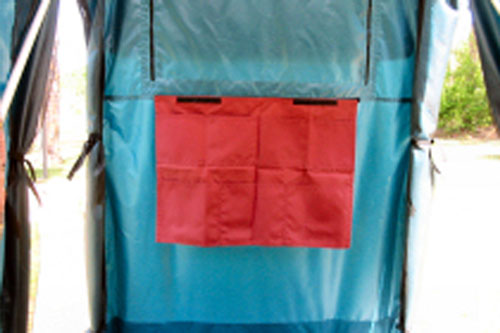 Detachable pockets (here for visibility in contrasting color)
     And the last one option to mention is the A/C (personally I think it's too much of load for motorcycle campers). While the Air Conditioning unit is your choice (Walmart?), the company offers the supporting rack and provision in the tent to insert its vent. That is all I have to say, believing that the Mother Nature may offer the fresh breeze when needed at no cost :-) 

Specifications:
---
Overall length closed

Overall length open

Box length

Box width

Length of open tent

Interior Headroom (peak)

Dry weight

Tongue weight

GAWR

Luggage rack load

Cargo capacity

Internal storage

108" (1)

172" 

66"

54" (2)

11 ft

76"

265 lbs

17 lbs

700 lbs

100 lbs (max)

435 lbs

30 cu. ft. (3)
(1) – add about 4" for Swivel Coupler
(2) - Warning; the camper is wider than width of motorcycle's handlebars (typically about 38")
(3) - not all available (part is taken by folding tent)
---
Construction:
Frame: Powder-coated steel
Box: Molded fiberglass w/ gelcoat finish
Front Storage Box (option) – Aluminum
Pass-through Box (option) - Aluminum
Tent:     "Breathable" Polyester w/detachable extra tarp on roof 
Windows: 4 screened w/curtains and sun/rain canopies
Doors: two screened (on both sides)
Suspension: Independent Rubber Torsion
Wheels:  8" w/five lug hubs
Hitch ball: 1-7/8"
Light wiring: 5 pin
Colors:  Burgundy, Forest green, Tan, Navy blue, Royal blue, Charcoal grey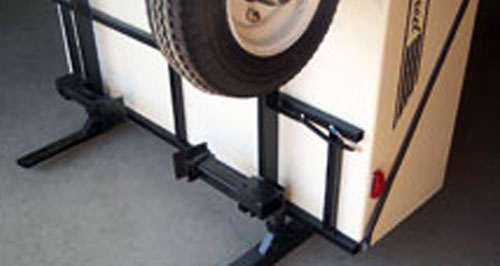 Winter storage position thanks to Storage Tip Stands
Standard features:
Bed platform (52" x 81")
4 screened windows w/curtains and sun/rain canopies
Self-storing stabilizer jacks (2 rear and 1 front) 
Stand-up legs (for vertical storage)
Lite aluminum roof rack
Mud flaps
"Rain Fly" roof protection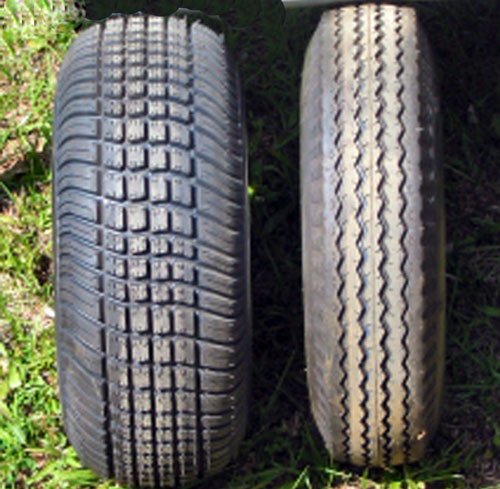 Excel: optional wider tire (left) and standard one (right)
Options:
2" Foam Mattress w/removable cover
High-density foam mattress w/washable cover
Awning (5 ft or 7 ft)
Side-rooms  (Screen Room, Add a Room, Deluxe Room – DLX, Garage)
Wall pockets (small, medium or large) for Screen and Add a Room
Tongue-mounted Storage Box and cover (29" x 17" x 39")
Pass-Through Storage Box (16 gauge aluminum 12" x 6" x 52")
Wide-tire
Spare tire w/bracket (regular or wide)
Trailer Cover
A/C rack
Adjustable cooler rack
Cooler cover
Swivel  Coupler
OK, this was long presentation. Now let's see how reality matches description :-)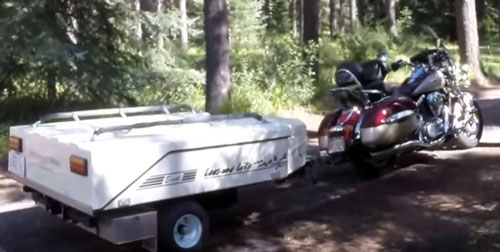 Are you ready to go?
If not for the road trip then at least to: --> Motorcycle Campers
Well, if you are not convinced yet to Lees-ure Excel then certainly there must be some reasons I did not see. :-(
Pictures courtesy of: Leesurelite.com, litetentcamper.com.... 
---