Lightweight Travel Trailers
European Manufacturers
In Europe small and lightweight is not only beautiful, it's a must, and that is what offer manufacturers of travel trailers – Burstner, Hymer, Hobby, Carado, Possl, Fendt…

If there is place on Earth where Lightweight is not only a moral standing but also the "must" – then definitely it is Europe.
With the limited space, high density of population, huge urban areas and centers dating from "old times", narrow streets and overwhelmingly small (efficient) cars there is no other choice.
Simply speaking, in Europe it will be very hard to promote "gigantic" travel trailers, fifth wheels, huge motorhomes because these will have very limited clientele.
Definitely in Europe "Small is Beautiful" is a matter of "survival" and these days it is also extended to "Lite-weight is better"….
And the truth is that on top of pure economics (let's make it clear - fuel efficiency), it also seems the Europeans are much more eco-conscious. It's also easy to understand once you see that continuously we "grabbing" more and more from the Mother Nature for urban, residential and industrial use…Ant it seems that we always can justify our deeds (not sure for how long Nature will give us the credit of doubt).
As the result, since long most of European manufacturers of Travel Trailers, Camper Vans and RVs are pioneering the design and production of lightweight campers, suitable for local market. Yes, no doubt, there is still room for luxuries motorhomes and RVs. Finally such enclaves of wealth like for example Monaco are still existing within the European borders, but that market is very limited and targets very specific customers.

So for majority – Lightweight Travel Trailers and camper vans make the "bible" by which Europeans live!
Most of European manufacturers offer two types of campers:
a)    Travel Trailers called here Caravans
These are classic trailers mostly with rigid shell (in other words without popping-up or out tents).
b)    Integrated Vans
These represent the range of RVs from Camper Vans to Motorhomes.
The latter are most popular for few reasons. They are relatively small (compared to gigantic, luxurious motorhomes) but still comfortable for living. They are "compact" and equipped with diesel engines. As a result - they are fuel efficient, economic and still agile to drive and park on the European streets. What else you may need being in Europe?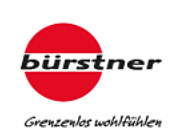 Burstner
The company origins go back to the small workshop opened in 1924 by Jacob Burstner.
But it took some time (actually quite long) before Jacob (professional carpenter) rolled out first "make-to-order" caravan (in other words travel trailer).
This happened in 1953 and officially is considered as the crucial moment in the life of the company.
Since then things were only going up, and new success was replacing the previous one. The company became one of the biggest in European campers' market. Crisis in 90's forced major changes including removal of Burstner family from power and subsequent takeover by investors.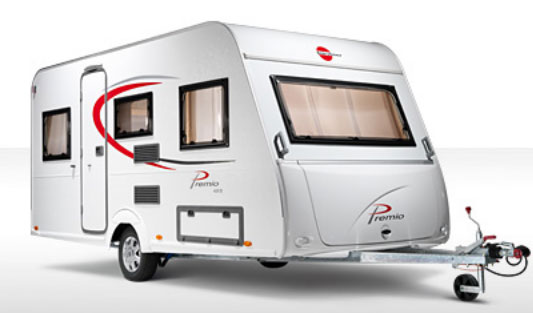 Burstner Travel Trailer "Primo"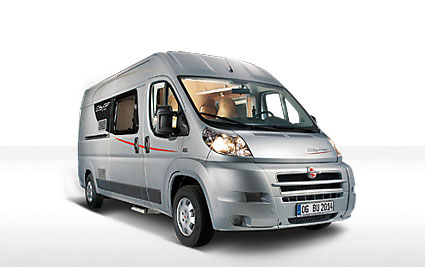 Burstner Camper Van "City Car"
Source: www.buerstner.com

Burstner makes motorhomes ranging from smaller, similar to camper vans to larger and more luxurious ones. It also manufactures caravans (in other words Travel Trailers). In 2006 the influential magazine Promobil selected Burstner's Mega Van as the best European motorhome. Among Burstner's motorhomes possibly the most attractive for foreign visitors are compact units like for example City Car and Brevo.
The first, despite its limited external dimensions is quite spacious. The second one represents the successful compromise between an "everyday" vehicle and a "motorhome". Carefully designed, stylish and elegant, thanks to spaciousness, compactness and good insulation, they may be the best solution for family to tour Europe even during the winter time.
The family of caravans (trailers) includes Premio, and correspondingly Averso, Averso Top and Averso Plus. Believe or not – they come in combined 38 floor-plan configurations. The Premio is the smallest one.
---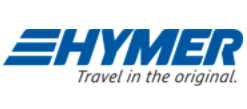 Hymer

The roots of this German company go back to the "foggy past" of 20's. The first notable moment happened in 1957, when Erwin Hymer joined his father's business and together with Erich Bachem designed and built the first model of the travel trailer called Ur-Troll. In 1961 company designed the first motorhome – Caravano.
However the real success of the company was sealed in 1972 when the first motor-home Hymermobile left the factory floor. Since then business was only going up. Hymer was determined to deliver the best product to customers. They were the first in Europe to offer a six-year warranty on all their motorhomes. Obviously for the valid reason – excellent quality of their products!
Current line of products includes five models of semi-integrated motorhomes (kind of mixture of Camper Van with Motorhome) and five models of integrated motorhomes. And all of them come with several different floor-plans to accommodate the individual needs of customers.
In recent years the main objective of Hymer is to shave-off some weight from their product without sacrificing the comfort and quality.
Hymer camper van: "Compact"
Source: www.hymer.com

An example can be the motorhome Exsis-i which in its smallest version weights just below 6,000 lbs (about 2700 kg). It is definitely setting new lightweight standard in the industry and huge challenge for competitors. It should be noted that in Europe for all vehicles above 7,770 lbs (3500 kg) a driver has to take a special test (in other words the regular driving license is not good enough). So lighter is not only economic, it also eliminates many "headaches"!
---
Hobby

In the words of company's management – behind Hobby's success is "simply plenty of experience"… There is a saying: Good judgment comes from experience, Experience comes from bad judgment".
Certainly during over 40 years of business (it all started in 1967 in Fockbec, Germany) Hobby's engineers and management made enough of bad decisions to learn their way to become a world's leading manufacturer of motorhomes and travel trailers. And to make it clear – Hobby's  motorhomes and travel trailers are some of the best quality and outstanding elegance available on the market.  In 1985 the 100,000th travel trailer left the company's floor!
Today's line of Hobby's products includes:
Camper Vans based on Fiat or Renault chassis (various versions of Siesta and Premium with impressive selection of floor-plans to choose from);
Caravans (Travel Trailers) including such models like Excellent, Landhous, De Luxe, De Luxe Easy, Prestige and Premium.
Here is the Greatness - Hobby Deluxe Caravan (Travel Trailer)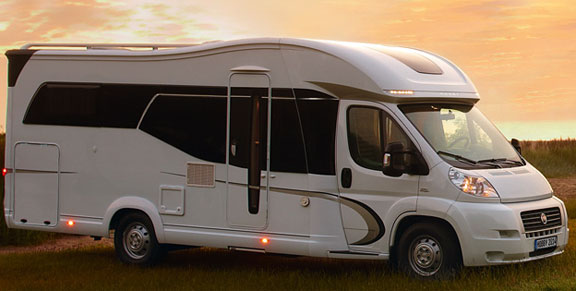 ...and sublime lines of Hobby's Premium Drive motor-home...
Source: www.hobby-caravan.de/en

All camper vans are under 7,700 lbs (3500 kg) bringing them to the trendy class of lightweight units.  Lite-weight allows not only for greater fuel economy, but also offers better maneuverability in "packed" European cities and permission to drive them without special driving license.
Travel Trailers are weighting somewhere in the range from 2,400 lbs to 5,100 lbs (1100 kg to 2300 kg).  As the "bonus", Hobby comes with a nightmare for potential buyers – travel trailers have almost "countless" selection of floor-plans!
Both – camper vans and travel trailers made by Hobby are characterized by very stylish, elegant lines defining their highly esthetic shapes (just pleasure for eyes, not mentioning the joy of driving and living home-like experience).
---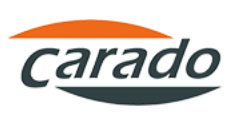 Carado

Carado is another German company in camper's business. They design and manufacture "entry-level" models of motorhomes and travel trailers. Carado is relatively new in this business as they started operations in 2005. However, as being part of Erwin-Hymer Group (see above) the company certainly benefits from Hymer's 50 years of experience in designing and manufacturing campers and trailers.
In the case of Carado, "entry-level" camper vans and travel trailers means smaller, lower cost, designed for "less-fortunate" part of the society. It does not mean however that their products are of lower quality because in Hymer's group the quality is a prime metrics of success. As the matter of fact the Carado's factory was opened just recently, so is equipped with very modern machinery and makes use of cutting-edge technology. All that combined with well recognized thoroughness of German workforce results in great products.
Carado camper van - model "Alcove"
Source: www.carado.de

Carado's offer includes three models (each with selection of floor-plans). These are: motorhome-like Alcove and Semi-Integrated as well as travel trailer Delight. The latter is offered in versions ranging from 17.8ft (5.4m) to 21.4ft (6.5m). They are all designed as agile and lightweight to answer the needs of drivers in European cities (especially in the south), but also comfortable, modern and elegant. And they are offered at very competitive price!
It is worth to note that Carado benefits from large Hymer's dealer and service network in Europe.
---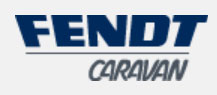 Fendt Caravan

The company was founded by Fendt brothers back in 1970.
Beginnings were difficult and it took 5 years till the first travel trailer known as Coati left the factory doors.
But the success was not far away; on November 2001 the 100,000th trailer was rolled-out from the factory floors.
In recent times company's trailers received several prestigious "Customer is a King" awards by journal "Camping, Cars @ Caravans".
   
Currently Fendt's offer includes following models of travel trailers: Saphir, Bianco, Bianco Sportivo, Tendenza, Opal, Diamant and Brillant. Each model comes in several different sizes and countless number of floor-plans.
Fendt Caravan - "Saphire" - from outside it looks so elegant....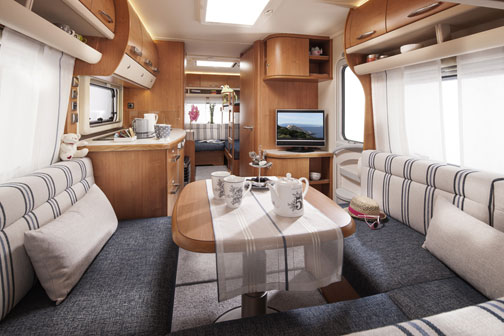 ... and the same Saphire inside! Isn't it unbelievable? 
Source: www.fendt-caravan.com

Design (shape, lines, colors, materials), furnishing and technical parameters (lite-weight, safety, reliability) well represent company's philosophy, which is:
 The sense of the true values, successful mix of useful features and timeless design in combination with highest quality standards makes sure that you can concentrate on what matters - your holiday.
Fendt is also building motorhomes, although their production lines are in Hobby's factory in Fockbek.
---

Pössl Mobile

Pössl Mobile was founded in 1989 in Germany, so now is celebrating 25 years in business. From the beginning Possl founders set high standards that are expressed by their motto:
The perfection of our Pössl camper vans is your quality of living and traveling

Possl's camper vans are designed the way to serve you also as a regular city cars needed for everyday use. And it is not only the matter of fuel efficiency and agility. For example the beds are located at the rear part the Camper Van and can be easily removed, folded or stacked making necessary room for "stuff" you may need to transport and/or store.
Possl's D-Line Camper Van

D-line series includes models: RoadCamp (smallest one), RoadCamp R, 2WIN, 2WIN-Style, 2WIN-Sportive, RoadCruiser (largest sleeping area), RoadCruiser FR (French version), RoadCruiser Revolution and 4-Family as wellas 4-Family L.  D-Line campers are available on Fiat and Citroen chassis.
H-Line series is characterized by raised roof. It includes three models of Vario (Vario 499 is the smallest with the length of 15,4 feet, 2WIN-Vario is the largest with the length of 19,7 feet) and Concorde Compact.
Despite their size all Possl campers offer real home environment. Fully equipped kitchen and bath as well as good insulation and AC/Heater make them perfect not only for summer but also for winter vacations.
... and the end it's time to see it with your own eyes
In front of you Possl!

And good news for all customers: No matter where you are, you will find Possl dealer and service – they are all across Europe with exception of UK, Portugal and Balkans.
 About Us / Privacy Policy / Resources
Go to: Pop-up Travel Trailers and RVs
or to: Benefits of Lightweight Travel Trailers