QS 720HJ Toy Hauler
LivinLite RVs
LivingLite's QuickSilver 720HJ belongs to the category of small-size all-aluminum toy haulers; it offers fair living comfort and surprisingly large cargo capacity and space.
       LivinLite is known for its all-aluminum RVs including travel trailers, truck campers, toy haulers and however strange it sounds - tent campers. 

Obviously "All-aluminum" does not mean that suddenly tent fabric is replaced by an "aluminum foil". It means that all structural components (chassis, box's frame, trusses, floor, skin….) as well as majority of interior features (cabinetry, shelves, bed frames ….) are made from this ultralight and water resistant metal.  And whenever the aluminum cannot be used, other composite materials sharing similar characteristics are applied. These for example will be Superflex membrane for roofing system, Azdel and fiberglass for walls and composite materials for countertops and table(s).  The basic advantage of all-aluminum RVs is that rot and mold are eliminated once forever. As the result, such RVs are durable, easy to clean and maintain.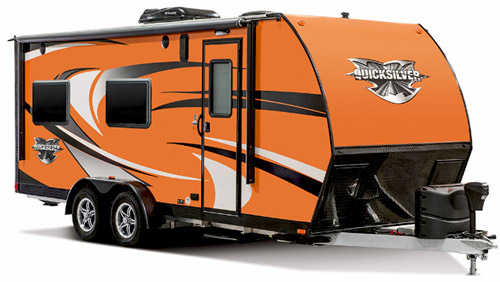 LivinLite QuickSilver 7x20HJ Toy Hauler
 .... and its floor-plan
       LivinLite offers several models of Quicksilver toy haulers from the smallest one 7 feet wide 7x18FK (it's a newest model with box length < 19ft) to the largest one 8.5 feet wide -  8.5x30FBR (box length of 30'3").
Here we will make the presentation of the narrow body model - Quicksilver 7x20HJ (in many design aspect very similar to the standard model 7x20).
      As mentioned earlier there are many benefits of all-aluminum technology. One of them is their lite weight and what comes with it – the affordability. And this is not only due to reasonable initial ticket price but also because some smaller models are within the towing range of popular trucks and even SUVs.  Indeed the QS 720HJ with its GVWR of 7,914 lbs and dry weight below 4,000 lbs fits into this category of towing cars. On the other side QS 720's remarkable cargo capacity (around 3,500 lbs) gives you opportunity to stack your mobile garage with toys (motorbikes, quad, golf cart(s), ATW and almost limitless amount of gear….). 
      With the length of the box of just 20'8" the QS 720 is remarkably functional. The main kitchen's cabinet includes 2-burner stainless-steel cook-top and single-bowl sink with high-rise faucet.  The cook-top is flash-mounted in solid-surface countertop and thanks to stylish glass cover the galley is not only elegant but also very practical for preparation of meals. The fair-sized microwave oven as well as large (6 cu. ft.) 2-doors stainless-steel refrigerator completes the list of kitchen appliances.  The latter works both on electricity or gas and thanks to the automatic switch between energy sources (electrical is preferred) its operation is "trouble-free" from the user's point of view.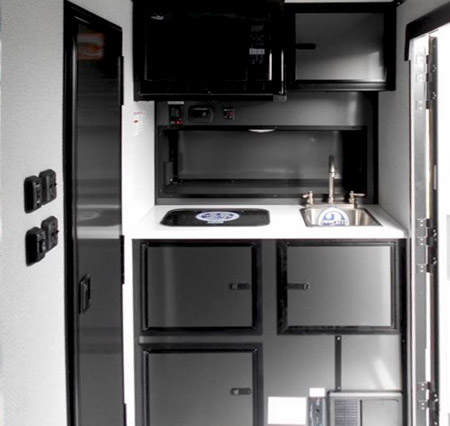 Kitchen and on the left door to the bath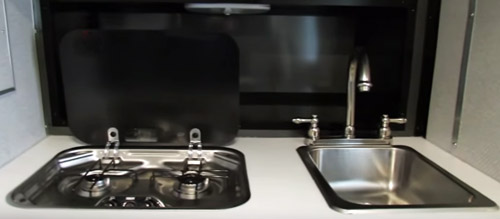 Close view of the cook-top and sink
     The cleverly designed deep cabinet shelf in the front wall just above the cook-top and sink is great not only for handy storage of frequently used kitchen items, spices, cans etc…  but also for small appliances like toaster, coffee maker and so on (the dedicated 110V GFCI receptacle is ready for such tasks).
All in all – the concept of all-aluminum cabinets (frame and body) may scare some potential customers. In fact, those looking for warmness of wooden cabinetry may feel disappointed with omnipresent metal.  However we have to credit the manufacturers with trying to make the best out of all-aluminum technology. The cabinets certainly look very elegant and while it does not change the feeling of metal's "coldness", practicality, easy maintenance and robustness will largely counterbalance initial feelings.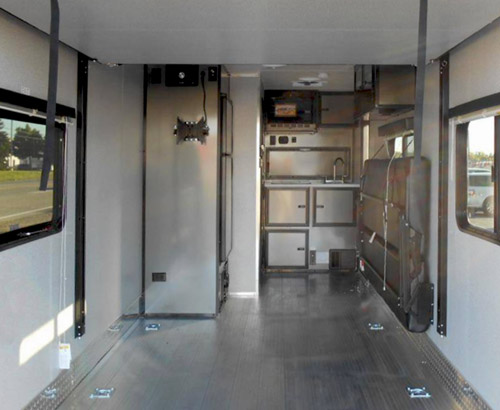 Interior - view from the rear
     The full bath includes porcelain foot-flush toilet, vanity with sink and storage space, shower cabin with curtain and medicine cabinet. It is tight (no surprise as the QS 720HJ belongs to the class of rather smaller RVs), but still functional. BTW – weather permitting standard exterior hot/cold shower will offer open-space experience.
The garage houses dining, seating and sleeping accommodations. The folding sofa-bed and freestanding table serve as a dining corner. If  needed,  the sofa can be converted into 60" long bed. However the main sleeping space is provided by power drop-down Happijack queen-size bed in the rear part of the garage. For more comfort you can replace the standard queen-bed with the optional Happijack dinette/bed solution. 
In the road configuration (as well as during camping day) the bed is raised-up to the ceiling leaving the clearance of about 69 inches (compared to comfortable 80" headroom throughout the unit). The rear deck with railings set on the ramp door is a nice extension of the living area into the nature. 
Here visible:
a) Drop-down power HappiJack queen bed in its road configuration (lifted up).
b) see partially closed screen over the door opening
c) linoleum flooring and side strip of Diamond Kick-Plate protection along the walls
        The entertainment center (stereo and TV-prep) is part of the optional Adventure Living Package.  But given the content of the whole package it is a precious option. Obviously you do not want to be disturbed (eaten, bitten…) by flying creatures when listening to your favorite music or watching TV. The pull-down rear screen over the garage door opening guarantees full protection.
To bring a bit of interior "warmness" the floor is covered by the linoleum (standard feature). However recognizing the implication of garage LivinLite offers models without vinyl flooring with exposed aluminum. It's definitely easier to keep clean, however it brings "into surface" more metal.
It's nice to have large living area in the garage, however the main purpose of the Toy Hauler is to carry your Big Toys like motorbikes, quads, ATW, kayaks…. . 
So here is what you have: Over the length of 9'10" you will find full width (6'7") opening up to the fridge. However the right side of the garage (approximately 3.5 feet wide) is open over the length of almost 16ft (up to the kitchen cabinetry). Six D-rings (3 on each side) are available for tightening the stuff. It is worth to note that all along the interior garage walls there is a 10" strip of the Diamond Kick Plate protecting the walls from damage. 
The deck with railings (the rear railing still not set)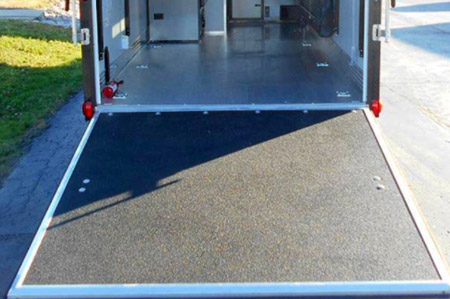 Ramp in loading/unloading position
      To make loading/unloading process easy in the darkness of night at the top of the garage opening there are two loading lights. The ramp itself is spring-assisted so the opening/closing process is quite effortless. 
The QS 720 does not have much of interior storage (well, garage is all yours, but once on the campground you want to use it as the living space).  In fact inside, on top of kitchen cabinetry there is only one more overhead cabinet in the garage area just above the sofa. However the toy hauler has a very large front storage accessible from the outside and one much smaller (but still handy) next to the side door. 
Specifications
---
Exterior length

Box length

Exterior width  (1)

Interior width

Exterior height (2)

Interior headroom (3)

Dry weight (4)

GVWR

Cargo capacity

Hitch weight (4)

Fresh water tank

Grey water tank

Black water tank

LPG

Awning

Sleeps

Garage dimensions (5)

24'2"

20'8"

8'5"

80.5"

9'7"

80"

3,960 lbs

7.514 lbs

3,554 lbs

514 lbs

38 gals

28 gals

13 gals

2 x 20 lbs

16 ft

3

6'7" x 10' (rear door to fridge)

16' (rear door to kitchen)
1. Includes wheel fenders
2. With roof-mounted A/C unit
3. Under the Happijack bunk (rear part of the garage) the headroom is about 69"
4. With standard features
5. Approximate dimensions
---
Construction:
Chassis:  5" double aluminum frame w/3" tongue tube middle rail
Structure: 6-sided aluminum superstructure
Walls: Vacum-bonded, laminated Azdel w/0.40 aluminum sidings
Roof: Alpha Superflex w/aluminum rafters
Insulation: 6-sides block-foam packed into 1.5" thick sidewalls and 4" thick roof
Walls finish:  automotive paint
Front Profile:  Aerodynamic 
Front protection:  Diamond Plate Skirt Metal
Floor:  all-aluminum w/D-rings
Floor cover:  Linoleum (can be ordered without)
Axles: Independent Dexter torsion suspension w/Easy Lube
Windows:  Euro-type
Wheels:  High-polished aluminum rims, 15" radial tires
Note:  Adventure Living Package (AL Package) is optional, however it should be considered as a "must" given importance of its features for comfortable RV-ing vacations.

Standard Features
Interior
All- aluminum cabinets
Composite materials throughout 
Trek (Residential freeze/crack- proof linoleum
10" Diamond Plate Interior Kick Plate (along the walls)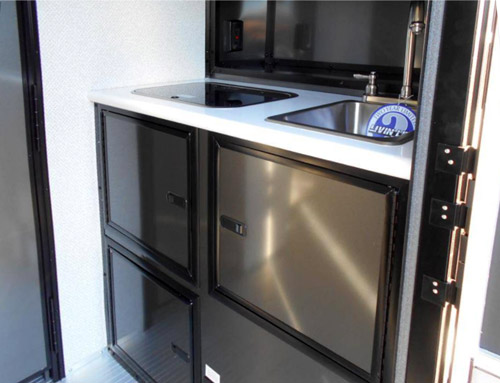 Galley despite of its all-aluminum construction looks elegant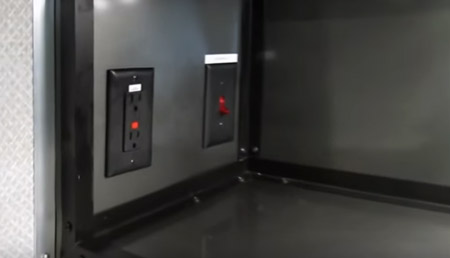 Spacious "cabinet-shelf" in the front wall above the sink and cook-top is an ideal place for small kitchen appliances, frequently used kitchen ingredients,.....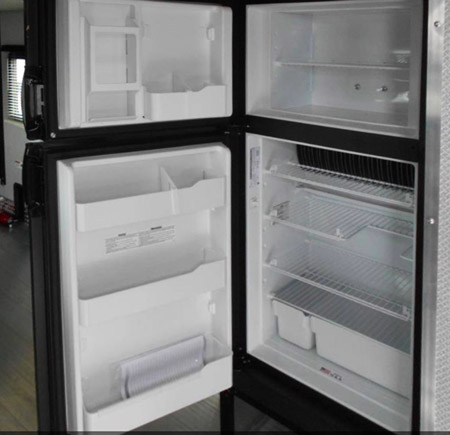 6 cubic feet fridge with freezer
Kitchen
2-burner stainless-steel cooktop w/flush-mount glass cover
6 cu. ft, 2-doors, 2-way refrigerator
Convection microwave (AL Package)
Stainless-steel sink w/high-rise faucet
Vented hood w/light
Sink and Overhead cabinets
Solid-surface countertops
6 Gallons LP/Electric DSI water heater
Portable freestanding dinner table (composite)
Bath (on the right partially visible the shower cabin)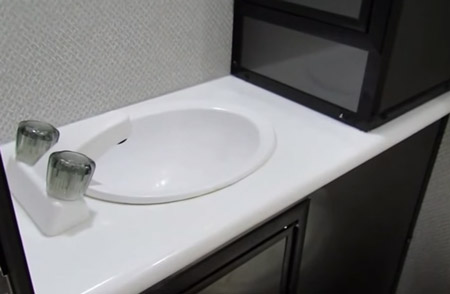 ... and better view of the vanity sink (this one acrylic, although some models have stainless-steel sink)
Bathroom
Porcelain foot-flush toilet
Shower cabin with curtain
Vanity w/sink
Medicine cabinet w/mirror door
Sofa-bed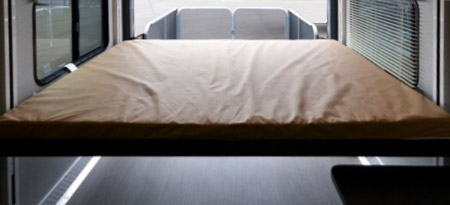 Rear queen-bed in lowered position (all it done at the touch of the switch seen below)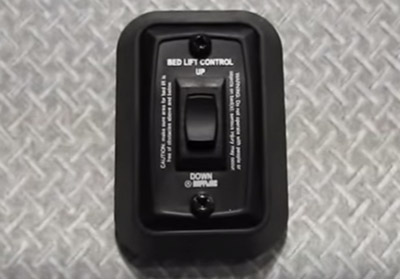 Sleeping area:
Power drop-down, Happijac® Queen Bed (60" x 75") w/ 4" mattress
Power drop-down Happijack Dinette/Bed IPO Queen bed (option) 
Fold-up sofa-bed (60" long)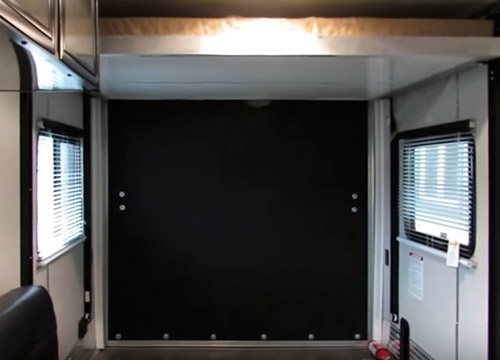 Garage seen from the interior
Garage
Spring-assisted ramp door (76" x 77")
Pull-Down Rear Screen over Garage Door Opening (AL Package)
Rear loading lights (AL Package)
6 D-rings
Loading lights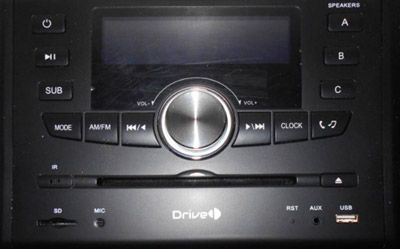 Audio/stereo set is located above the fridge
Entertainment 
AM/FM/iPod Stereo w/2 interior and 2 blue-Led lighted exterior speakers (AL Package)
TV swivel bracket (AL Package)
Digital TV antenna (AL Package)
Cable/Satellite hook-up (AL Package)
24" LED TV (optional)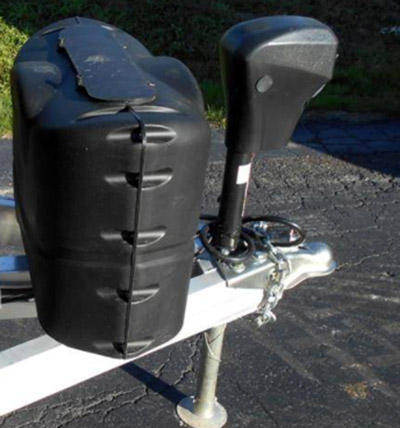 Power jack and 2 x 20 lbs LPG tanks w/cover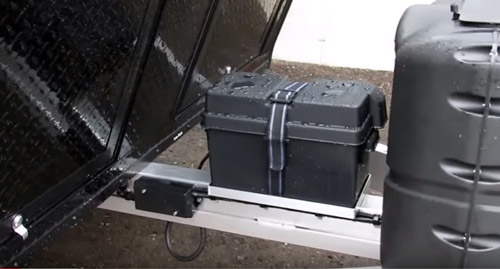 Tongue with battery container. On the left visible doors to large storage area
Side storage next to the entrance door (on the right visible cable/satellite hook-up)
Exterior
Power tongue jack w/light
Diamond Plate front protection
Radius Baggage Doors w/Magnetic Catches
Dual 20 lbs LPG tanks w/cover (AL Package)
Dometic Awning (AL Package)
Four Stabilizer Scissors Jacks (manual)
Side entry door w/ entrance step, grab handle and optional screen and/or window)
Large front storage
Side storage
Roof-mounter low profile AC unit
Climate control
Low profile roof-mounted 13.5k BTU Penguin A/C  (option)
High-Power 12V Vortex Fan
2 stainless-steel side-vents (can be manually closed or opened)
Electrical
30 Amps shore power w/ detachable marine-grade cord
30 Amps converter
Int/Ext LED lights throughout (AL Package)
110V outlets
12V charging station w/USB ports
High-Power 12V Vortex Fans (AL Package)
Solar hook-up (pre-wired Zamp)
Tanks monitor (AL Package)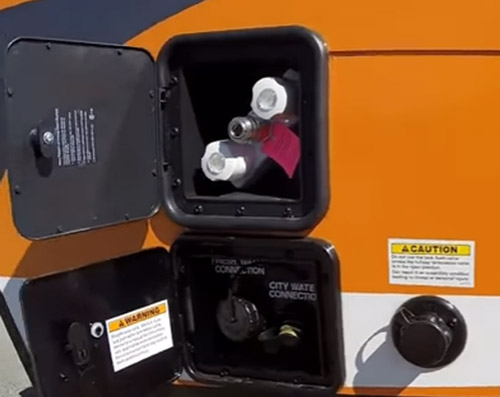 Exterior hook-ups (hot/cold shower, city and fresh water, and on the right - black tank flush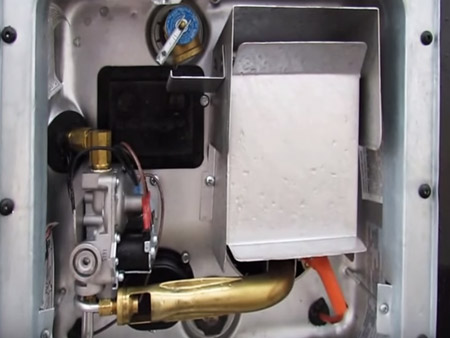 6 gallons DSI water heater is accessible from the outside
Water/Plumbing
Black tank flush
Exterior hot/cold shower w/flexible hose and sprayer
City water hook-up
Fresh water hook-up
Gutter w/Downspouts
Sewer hose w/storage
Safety
Fire extinguisher
Alarm detectors (CO, LP and smoke…)
2 Electric Auto-adjusting brakes
Spare tire (mounted under)
Safety Chains
Options
Power drop-down Happijack Dinette/Bed IPO Queen bed (option) 
Low profile roof-mounted 13.5k BTU Penguin A/C
24" LED TV
Fantastic Fan
Power Awning w/LED Lighting (Upgrade of manual Dometic awning) 
Ramp Door Patio Package w/Railing & Cables
2 x 30 lbs LPG tanks (instead of standard 2 x 20 lbs)
Adventure Living Package (Dual 25 lbs LPG tanks w/cover, Tank Monitor System, Dometic® Awning, Hi-Power Vortex Vents, Pull-Down Rear Screen, Convection Microwave Oven, Rear Loading Lights, INT & EXT LED Lighting, AV Prep, including AM/FM/DVD/Bluetooth Stereo System w/Inside & Outside Speakers, Digital TV Antenna, Stereo Antenna, 12V/110V Outlet, Locking Swivel TV Bracket).
QuickSilver 7x20 Toy Hauler (visible "tip-out bunk" section) 
 .. and its layout
Summarizing: The LivingLite's QuickSilver 720HJ belongs to the category of small-size toy haulers. It's main benefits are affordability, durability (thanks to all-aluminum construction) and good cargo capacity and space. At the same time it offers fair amount of comfort for great holidays in the nature.

Go back to: --> Top Toy Haulers
or check the benefits of: --> All-Aluminum RVs
Note:  Check with the manufacturer and / or authorized RV Dealer for the up-to-date list of features, options as well as latest specifications. These written above may not be accurate and certainly are subject to change by the factory. We are not responsible for any inaccuracy, the above text is provided only for the general information.
This review was written based on publicly available information for the benefits of the community of RV-ers. We do not receive any gratification or financial benefits from RV manufacturers, dealers, and any other promoters of RVs. 
We are NOT involved in sale and/or retail of RVs!
---