Lotus Off-Grid Travel Trailer
Off-Road RVs
Lotus Off-Grid off-road travel trailers offer the best of RV-Worlds: off-road compatibility, close-to-luxury RV-ing comfort and sustainable off-grid operation…
         It should be not surprising that Lotus (an Australian, Melbourne-based company founded in 2004) is specializing in design and manufacturing of off-road travel trailers. 

      After all (with all respect for Aussies), the major part of the Australian continent is a vast, arid and roadless territory you can only venture to in well-equipped 4WD off-road vehicles. To make Outback exploration even more enjoyable (and certainly lasting longer), Lotus to its existing series of "almost-luxurious" series of off road travel trailers like Trooper, Freelander and Tremor introduced the new one commercialized under the name "Off-Grid". 
The name tells it all: Off-Grid travel trailers (available in 5 dimensions correspondingly: 14ft, 14.6ft, 15ft, 15.6ft and 19ft) are off-road models especially designed for longer journeys into remote out-of-civilization areas. In practice it means they have larger water tanks and better energy sufficiency. 
Out of 5 available models for this presentation we selected the smallest 14ft long one (shell's length) because we strongly believe that "small is beautiful", especially when we want to "embrace" the Mother Nature. 
Lotus Off-Grid Travel Trailer
      The 14 feet long Lotus Off-Grid comes in two floor-plans. The main difference between the two is more storage cabinets or dedicated vanity with sink. Given the fact that both floor-plans include wet bath (with toilet and shower cabin) we opted for more storage space.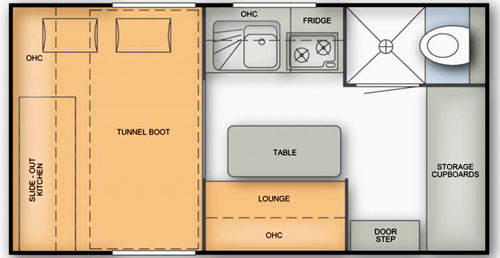 Lotus Off-Grid 14ft trailer comes in two layouts
       Lotus Off-Grid travel trailers are built with a lot of care and attention to make sure that they can survive harsh "no-road" travel conditions. The galvanized steel A-frame chassis is made by G&S Chassis- an Australian leading manufacturer of chassis, frames and suspensions for RV industry and mobile homes (they do that already for more than 40 years)). This seems to be a good "warrantee" and the promise of reliability. Underbody armor, heavy-duty independent 2.5T Control Rider suspension with twin shock absorbers and 17" wheels make it ready to handle challenges of rough terrain.

Robust, armored chassis and suspension made by G&S Chassis
       The shell's frame is made from meranti wood and at first it seems to be quite surprising practice (meranti wood comes from "reddish" South-Asian trees and is known as red-luaun). Usually manufacturers of off-road RVs do not make structural components from wood. They will be prone to rot, mold and deterioration because "frequent and intense" shocks, vibrations and twisting forces associated with off-road driving will lead to loss of shell's integrity (hermeticity). On the other side (as the company claims, and frankly to some extent they may be right) wood is much more flexible and better withstands mechanical stress (obviously Lotus is using this technology for years so we have to give them some credit).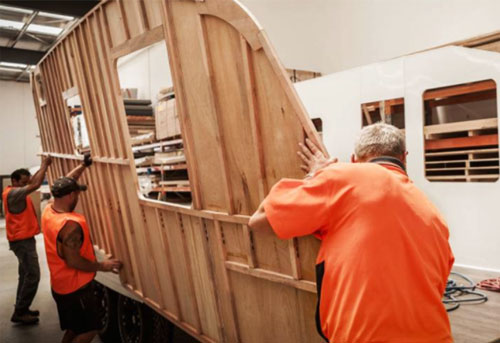 Lotus Caravans: Walls are made from meranti wood
      The wooden frame is covered with robust (made-in-Germany) composite side panels and as an extra protection - checker-plate body armor (front, side walls and rear). Additionally, at the front of the tongue there is also a mesh stone guard protecting the shell (as well as tongue-mounted storage box and LPG bottles) from direct hits by flying stones and debris.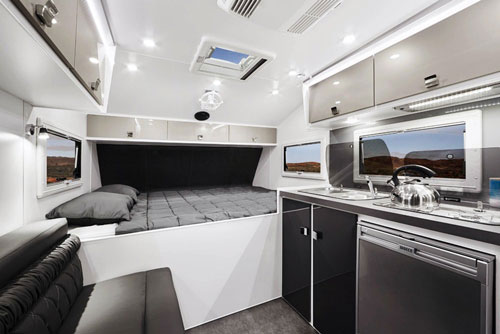 Interior: view on the galley and bed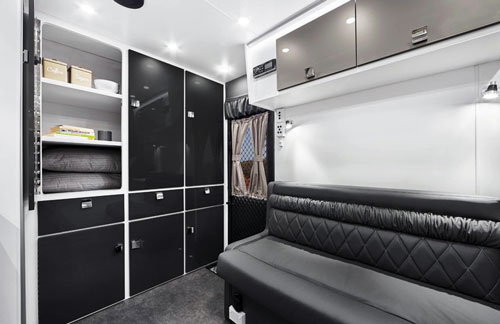 View on the impressive wall cabinets and sofa (here the table in front of the sofa is not shown)
       Side entrance door (w/pulled-out step) leads to the roomy interior. The queen-size bed is located at the front of the camper. It can definitely comfortably sleep two adults, however due to its orientation across cabin's width, getting in or out of the bed from the most frontal position certainly will not be very comfortable for both (in other words be careful when climbing over your partner). Well, that is the hard compromise unavoidable in small travel trailers!
        The kitchen is quite well equipped: stainless-steel 2-burner gas stove, single-bowl sink with hot/cold water, almost 3 cubic feet fridge with freezer, plenty of storage cabinets and an ample working space (but rather on the large dining table than countertops) offers quite comfortable conditions for preparation of meals. But this is not all – Lotus Off-Grid is also equipped with the sliding-out exterior kitchen. It includes sink w/water and Weber BBQ grill. Next to the slide-out kitchen there is a large pass-through storage where an optional sliding-out fridge can be installed making food and drinks easily accessible. The standard Thule awning covering the whole side area offers protection not only from rain but also from sun!
       The wet-bath fiberglass cabin is located at the rear side of the camper. It includes shower and Thetford toilet. The remaining part of the rear wall houses cabinets and wardrobe (you will find place for hanging cloths, but also shelves and drawers so actually part of it can be used as a pantry.
Exterior Slide-out kitchen with grill and sink
Exterior "slide-out" fridge installed in the pass-through storage
      The Lotus Off-Grid is also equipped with an entertainment center. While the Radio/CD/DVD player with sets of interior and exterior loudspeakers still makes sense (you may want to keep touch with the "world" when in the middle of nowhere), the 24" TV (can be also moved outside) seems to "go beyond" the purpose of off-road and off-grid RV-ing where the scenic Mother Nature should easily undercut anyhow doubtful attractiveness of "soap-operas". But at the end it is everybody choice (kind of Shakespeare's dilemma "To be or Not to be" – in this case "To turn On or keep it OFF). 
Another example of "luxury" – but this time making more sense is an Italian-style leather-trimmed sofa. Well, let's face it – "modest" elegance, stylishness and comfort are always appreciated as long as they do not contrast too much with the surroundings (in this case the Mother Nature). In fact, Lotus Off-Grid finish is an example of "Good, Tasteful and Modern Elegance".
       Going off-grid usually also means going out-of-civilization. To be successful in such endeavors you need to take with you a lot of supplies and gear. Lotus Off-Grid made it possible thanks to abundance of storage space (interior wall and overhead cabinets, exterior front storage box and large pass-through storage) – to keep the list short. Note that all drawers have "soft-close" mechanism preventing them from opening when driving over the bumpy terrain.

Armored front storage box and LPG tanks have extra protection thanks to front-mounted stone-guard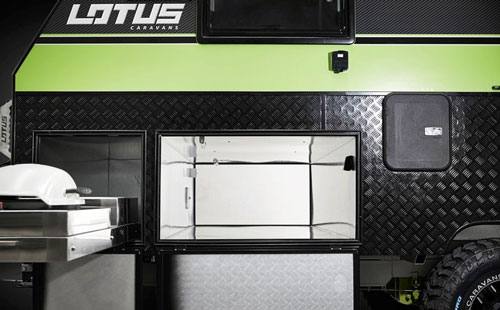 Large exterior pass-through storage is "strategically" located next to the slide-out kitchen
      Unusually (compared to similar class of off-road campers designed for off-grid conditions), the all models of Lotus Off-Grid travel trailers (including the smallest one) are equipped with roof-mounted low-profile Ibis Air Conditioner unit. As we all may agree, it is great idea, however can it be efficiently used in off-grid conditions it is anther story we do not have answer to. 
Lotus' Off-Grid electrical power system is quite impressive. Two (120Ah each) batteries that can be charged by towing car (when on the road) and fed by roof-mounted solar panels (300W of installed power) are all standard features. They seem to provide enough of stored power so probably it is possible to run the AC for a short time. On the long run however, the electrical energy is needed for compressor-based fridge w/freezer and lights. Well, possibly Australian sky is more favorable for harvesting solar power than the North American one so this may be the answer! 
What may help the situation is the fact that 14ft long shell is small and quite well thermally insulated (note that the walls are approximately 1.5-inch-thick and together with roof have layers of thermal insulation).
Roof-mounted, low-profile Ibis Air Condition unit
       Finally, few words about standard safety features important for off-road RVs. Obviously, we already mentioned protective armor, stone-guard, 17" wheels (so good ground clearance), what we did not mention yet are tires – special Cooper Pro designed for handling excessive mud, but also perform well on the roads. At the rear side you will find spare wheel and jerry cans (probably the best use is for extra fuel). And maybe the most important safety feature: in the case the Lotus Off-Grid camper gets stuck on some "treacherous" path you may try to get it out of troubles thanks to rear-mounted recovery shackles. Good luck!

Specifications
---
Overall length (1)

Exterior body length

Interior body length

Exterior width

Interior width

Exterior height (2)

Interior headroom

Dry weight (3)

GVWR

Tongue weight

Fresh Water tanks

LPG

Sleeps

22.5 ft.

14.3 ft.

14.0 ft.

90.2"

87.2"

119"

76.6"

About 4,300 lbs

5,510 lbs

330 lbs

2 x 25 gallons

2 x 10 lbs

2
---
1. From hitch coupler to rear bumper.
2. Includes standard roof-mounted AC unit.
3. With standard features
Construction
Chassis:  galvanized steel (G&S-made)
Shell: Meranti wood frame sandwiched w/composite side panels
Shell Protection: Checker-plate body armor (front/sides/rear), front mesh guard
Windows: double-glazed
Floor: single piece covered with vinyl
Suspension: 2.5T (5,500 lbs) Independent Control-Rider w/twin shock absorbers
Wheels: 17: Alloy rims with Cooper STT Pro-Mud terrain tires
Brakes: 12" electric and break-away protection
Mechanical Coupling: Hitchmaster DO-35 w/integrated handbrake
Electrical Coupling: Anderson Plug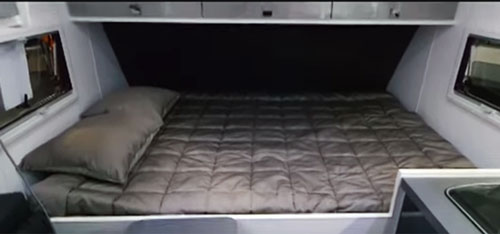 Close view at the sleeping area
Interior features
Queen-size bed w/inner-spring mattress
Stainless-steel 2-burner gas stove
Stainless-steel sink w/single-lever faucet
2.8 cu. ft. Dometic compressor fridge w/freezer (12V)
Cabinets w/ solid countertops and splash-backs
Overhead cabinets
Wall cabinets (hanging space, shelves, drawers)
Dining table (removable)
Leather-trimmed sofa
Ibis low-profile roof-mounted AC
Fusion 650 series CD/radio/DVD player
24" TV with wall bracket
Insect screens/blinds
LED lights w/dimming function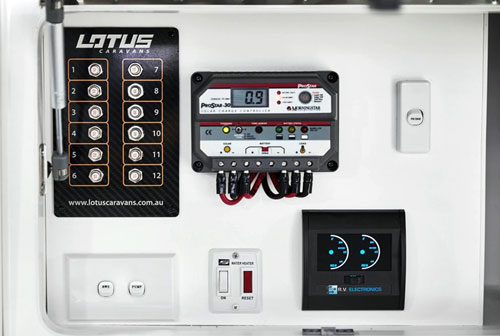 Control & Monitoring Center
Electrical
2 x 120Ah batteries
25A battery charger
2 x 150W Solar Panels (roof-mounted)
30A ProStar Solar Power Controller (part of Central Control Panel)
Int/Ext LED lights 
12V Sirroco fan (interior)
Resettable Fuses (part of Central Control Panel)
Exterior/Interior 12V sockets
Winegard HD TV antenna
One of two exterior speakers
Water/Plumbing
2 x 25 gallons fresh water tanks
12V Sharflo Water Pump
Thetford toilet
Showers: Int. (Cabin) and exterior
Water heater (gas/electric)
Water level indicators (part of Central Control Panel)
Exterior water hook-up
Exterior features
Slide-out kitchen w/stainless-steel sink, faucet and Weber grill
4 Stabilizing jacks
8" Jockey wheel
Steel pull-out entry-step
2 Jerry-can holders
Tongue-mounted storage box
Thule awning
Pass-through storage
Pressure hatch (protected from dust)
2 LPG tanks
LED lights
12V receptacles
Safety
Spare wheel
Rear recovery shackles
Fire extinguisher
Smoke alarm
Triple-lock security hatch
12V Exhaust hatch
Rear-mounted spare wheel
Summarizing: Lotus Off-Grid travel trailers offer the best of 3-RV-worlds: off-road compatibility, close-to-luxury RV-ing comfort and sustainable off-grid operation. It is made to venture into most remote areas of Mother Nature.

So now let's see it once again in this short video
Go back to: --> Review of Extreme Off-Road RVs
or for general info: --> Extreme Off-Road RVs
All pictures are courtesy of Lotus Caravans
Note:  Check with the manufacturer and / or authorized RV Dealer for the up-to-date list of features, options as well as latest specifications. These written above may not be accurate and certainly are subject to change by the factory. We are not responsible for any inaccuracy, the above text is provided only for the general information.
This review was written based on publicly available information for the benefits of the community of RV-ers. We do not receive any gratification or financial benefits from RV manufacturers, dealers, and any other promoters of RVs. 
We are NOT involved in sale and/or retail of RVs!