Most Popular Coleman Sleeping Bags
Coleman sleeping bags carry with them not only well-recognized brand name, but also comfort, durability, compactness and easy maintenance......

          Coleman is a well known brand that has gained popularity among the people due to their finely crafted and good quality products.
They have been constantly supplying the market with all sorts of products clearly differentiating themselves from competitors.
As the company focused on "outdoor" activities Coleman also specializes in manufacturing sleeping bags.
And in fact sleeping bags have become one of the most required products these days.
They serve not only tourists and people camping away from home; quite often kids use sleeping bags during their school and college trips. Below you will find a list of 6 most popular Coleman sleeping bags with their main attractive characteristics:

---
Coleman Comfort Control Sleeping Bag
 
       Mostly used for temperature ranging in between 30° F to 35°F. The overall dimensions of this sleeping bag are 33" X 78", making it quite comfortable for majority of users. The rip-stop cover is made of polyester, similarly as the liner. The sleeping bag is easy for packing or wrapping stuff..

---
Coleman North Rim 0 degrees Sleeping Bag

       Probably one of the best products in the sleeping bag range, this pure polyester made product is carved into a shape of a mummy with a broader head and the down portion of the legs compact. It is designed for places where the temperature falls down to about 15° F where many other sleeping bags would fail. The design does not compromise warmness and comfortable sleep.

---
Coleman Dunnock Large Cold-Weather Sleeping Bag

        This sleeping bag is made with 100% polyester but it is also filled with 100% cotton providing the best characteristic of both worlds: synthetic and natural. While polyester provides protection from weather elements, the cotton offers the warmth. This sleeping bag is designed for the temperature range from about 30°F to 50°F. It comes in 39" x 81" size.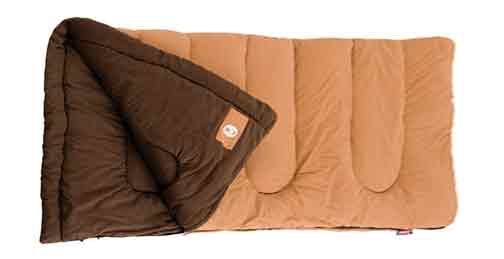 ---
Coleman Big Basin Extreme Weather 0-20 degrees Sleeping Bag

      Designed for temperatures reaching 0°F, it can accommodate people with height up to 6'8. It is made from polyester made and stuffed with chest baffle and a hood. It is actually one of the most popular Coleman sleeping bags sought by all those planning camping in chilly areas.

---
Coleman Sabine 20 degrees Sleeping Bag

       The most important characteristics of this bag is its weight - a mere 5 lbs what makes it a preferred option for backpackers. The bag is made from polyester and is designed for comfortable sleeping in temperatures in 20's °F. It can accommodate people with height up to 6'4".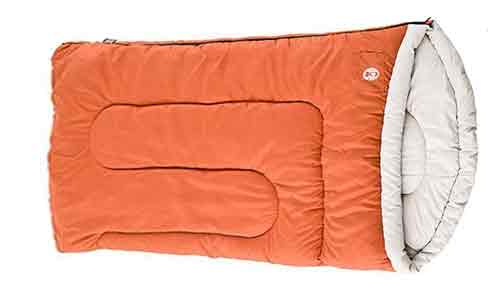 ---
Coleman Nimbus Large Warm-Weather Scoop Sleeping Bag

       This is a warm-weather sleeping bag which is designed for temperatures ranging from 40°F to 60°F – in other words for long camping season starting in the spring and ending in the autumn. The polyester-made cover is said to be very durable and again people with height up to 6'4" would find it extremely friendly to use.

Summarizing - Coleman is not only a brand name, it is also and first of all manufacturer of high quality, comfortable sleeping bags. And in its large offer you will certainly find the one that meets your weather requirements....

 About Us / Privacy Policy / Resources
Go to:  Pop-up Travel Trailers and RVs