5 Most Popular Hard Side A-Frame Trailers
Hard-side A-shape trailers brings memory of old good times of camping under the tent, while available amenities offer sort of "home-away-from home" experience.
The A-frame folding camper trailers are relatively new on the RV market.
When folded, they look like any traditional pop-up camper.
They are small, easy to tow on the road and maneuver on the camping, Lightweight and aerodynamics make them fuel efficient.
But the real fun starts when they are unfolded.
The process is easy as compared to traditional tent pop-up campers, hard-walls make them rigid and weather resistant.
And may be the most important – the A-shape brings memory of old good times of camping under the tent, while available amenities offer sort of "home-away-from home" experience.
No wonder, A-frame hard-side trailers are gaining more and more attentions and aficionados. It's like the syndrome of famous Volkswagen Beetle already cherished by few generations…..

Classic by Aliner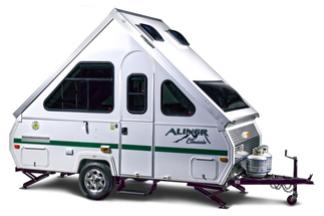 Aliner is known for being the first developer of A-frame trailers. Built to decrease gas usage and the need for storage space, The Classic is the perfect option for campers who like to truly be deep in nature. The Classic was, as named, the original Aliner model, and has remained their most popular model. The Classic is moderately sized and is of an average weight for A-frame trailers. It is 15' long, 78' wide, and weighs 2,100 pounds. It has an outdoor shower, storage space, and a water tank that holds 11 gallons. It comes with a stove with two burners and a microwave.

XL 1935 by Chalet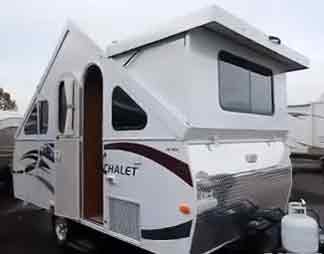 The XL 1935 is a lightweight, low A-frame trailer. It's known for its unique galley area, which offers more space, a coveted commodity in A-frame campers. The standard XL 1935 comes with a large water tank, refrigerator, furnace, and a roof assist lift system, for easy setup and take-down. While these features make it an excellent option, the extras are what put it over the top. On one side, the XL 1935 has a queen size bed and on the other, a dinette. Because the spare tire is stored under the chassis, the rear bumper has plenty of space for extra supplies.

A212HW by Rockwood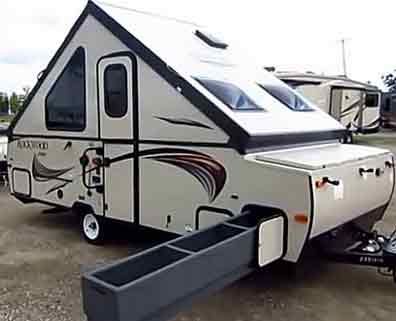 The new floor plan in the A212HW (model 2015) has become a quick favorite for camper aficionados. It has a brand new power lift assist system, which allows the trailer to go up quickly and efficiently. It now has a 14 foot box, which makes it spacious enough to comfortably sleep 4, a rare find for A-frame campers. It comes with an oven, stove, and microwave, as well as a water heater. The outdoor shower offers a perfect place to clean off after a long day of adventuring. There's a power AC unit to keep cool in the summer and a heated mattress option to keep warm in the winter

T21QBHW by Flagstaff
      Most A-frame trailers from the T-series require a bit of effort to raise, which is why the T21QBHW (model 2015) has become a quick favorite. This model has a powerful power roof assist system, which raises completely by itself. It's also the only 14' frame that Flagstaff offers, making it spacious and comfortable. Its 20'10" length is full of amenities, like a refrigerator and even a small freezer. It also comes with a queen size bed and a large dinette space. Its dry weight is 2,332 pounds, making it a reasonable pull weight. And, unlike many A-frames, this camper also sleeps four.

Comet H1232MD by Starcraft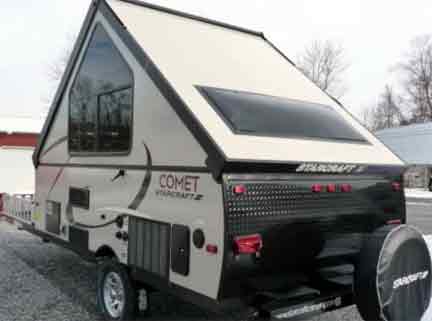 The Comet H1232MD comfortably sleeps four, at 18'8" in length and 7'1" in width. This model has a full size bed and a dinette area that can be transformed into another sleeper. It comes with a stove-top, sink, fridge, and microwave shelf. But, with this model, inside is just the beginning. Outside there's a shower, storage space, and a grill for great outdoor cooking. With all these extras, it weighs 3,250 pounds, but is worth every bit.

 About Us / Privacy Policy / Resources
Go to:  Pop-up Travel Trailers and RVs