Multi-Fuel Stoves
Check our favorite multi-fuel camping stoves, you will find how flexible they are in terms of fuel and how well answering camping needs….

A multi-fuel stove has a very similar design to a wood-burning stove.
But there is a difference, it is that a multi-fuel stove can burn more than just wood.
For example some multi-fuel stoves can burn wood, coal, wood pellets and pear. Others anz kind of liquid fuel like gasoline, diesel, kerosene….
That is why they are called multi-fuel.

If you were planning to buy a multi-fuel stove, you probably must have found many different ones in a camping store or online. Most multi-fuel stoves are very efficient and will do the job, but among all of them, there are some that we could classify as the best ones.

The Survival Stove
       The best features of this multi-fuel stove are that it is very compact, so if you love backpacking and camping it is perfect choice. You can fit this stove very easy in your backpack and you won't feel its weight even after long walks.

The high-functioning fan on the Survival Stove can work on two different speeds depending on what you need, and it can operate for 24 hours with only two AA batteries. Thanks to that it can produce a lot of heat in a short time.

Like just mentioned, it is very lightweight, only 1-1/2 lb. You can fold it very easily to make it more compact and store it in very small spaces. Folded it is 5 x 8 x 2" high, and it is also very easy to unfold it and start using.

---
MSR Dragonfly
       Although this stove is not very lightweight or compact it is very efficient. This one is more recommended for camping and not for backpacking. It has three legs as a base, it's very stable and can accommodate a big pot with no trouble.

The MSR Dragonfly is very versatile, it can simmer a small pot or large ones. The only thing to do is turn the fuel valve. Then there's another great and convenient feature: the fuel pump, it can burn from white gas to gasoline, diesel, kerosene and even jet fuel.

This stove is one of the best options if you don't mind carrying a little weight –14oz to be more precise. Its short fuel line limits where the stove can be placed, but still it is one of the best multi-fuel stoves out there and with the best value.

---
Coleman Exponent

       This multi-fuel stove has a compact design, and although it is compact it can still give a very powerful performance. First of all, the fuel tank of the stove can work on Coleman fuel, unleaded gasoline or kerosene, and the stove comes with a kerosene generator.

It has very sturdy legs which keeps the whole stove very stable. And with this stove the wind is not a problem because the bowl and pot protect the flame, so no matter the location or the conditions, the Coleman Exponent is surely going to work perfectly.

The stove weighs 1.8 pounds, but it is worth it because filling up the tank once can last for an entire weekend. And it won't flare or flicker, so it won't be a problem to get a constant burn. Overall this stove is clearly one of the most functional ones and measures only 7.5 x 5.2 x 5.2 inches.

---
Omnilite TI

        This multi-fuel stove was created based on another very successful and award winning multi-fuel stove, the OmniFuel. The Omnilite is just as good and reliable, though with a few changes, or more specifically improvements and advancements.

For instance, the Omnilite TI is smaller and lighter than the OmniFuel. It is just as robust, but it is more fuel-efficient. It represents a a new generation of  camping stoves that are fuel-efficient thanks to a heat exchanger.

What makes the stove so light is that the windscreen and pot supports are made of titanium, which also makes them more stable. It works with gas, gasoline, diesel, kerosene and aviation fuel. It is also very easy to adjust the flame. Omnilite T1 is weighing only 12 oz and its burning time is about 100 min on 230g of fuel.

Plus, it also comes with a cleaning needle, foldable windscreen, heat reflector and a storage bag.

---
Optimus Nova

        This great multi-fuel stove comes with a lot of useful features that most multi-fuel stoves don't have. For example, it has a flexible and long fuel line, as well as a flip-stop switch, aluminum fuel pump and a very fast priming burner.

Although the stove is a little heavy at 15.3 ounces, it is very capable and better than most stoves. Most stoves need priming, which can waste a lot of time and fuel, but this stove was designed to capture the heat that has been released and does it 25% better than any other.

This stove is not very recommended for backpacking, since it is not only heavy but also large. But in a group trip the Optimus Nova is one of the best stoves the group could have. It is durable, is nicely designed and functions more than just right.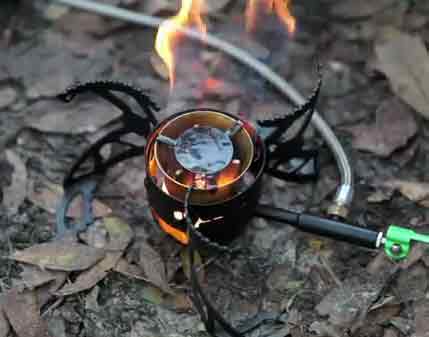 ---
So altogether, all of these multi-fuel stoves are an amazing option. They all have the basic features and functions of the stove and more. So it is not surprising that they are some of the best rated multi-fuel stoves on the market. So, no matter if you are undecided about which stove is the best and most convenient, choosing any of these will be the good choice.
 About Us / Privacy Policy / Resources
Go to:  Pop-up Travel Trailers and RVs