New and Used Teardrop Trailers for Sale
Presentation of small teardrop trailers for sale from several renowned manufacturers like Little Guy, Micro-Lite Trailers, TandB, Camp-inn, So-Cal Teardrops and Cozy Cruiser.....

Looking for the ultimate in minimalist trailering? 
A quick peek at Kijiji, Ebay, or even Craigslist reveals both new and used teardrop trailer manufacturers and resellers.
And although the shape of teardrop obliges, the particular manufacturers and their models differentiate between themselves by interior furnishing and let's call it - details.
At the first look these little trailers seem to be "to small to be true". Reality proves that they have all you need for comfortable RV-ing vacation for two persons. 
And the major advantage? They are easy to tow, incredibly manoeuvrable, economic and what is equally important – very stylish!.

---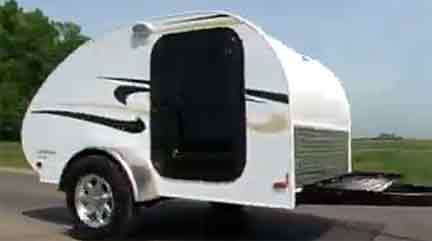 Little Guy

     Their best-selling 5-Wide Teardrop Trailer is solid and sturdy, has a Queen Size mattress, electric brakes, a 12/110 power package, alloy wheels and a deep cycle battery. 
The MaxPackage adds a 19" Entertainment Center, LED lighting throughout, propane stove, and dual voltage electric pump sink with 5 gallon water supply as well as two ports for hooking up A/C without having to cut holes in your new trailer!
Their MyPod unit comes in two flavors, with a Basic model sporting a full mattress, 3 speed fan, 12/110 power package, window shades and 13" alloy wheels.
The MaxPackage adds a 19" Entertainment Center, Bluetooth stereo, Air-conditioning and the Rhino Lining to protect from stone chips.
Two other models: the 5x10 and 6x10 come similarly equipped, but slightly larger and have the option of refrigerators.

---
Micro-lite Trailers

    For the minimalist adventurer the Car-Go Lite has a queen size 4" thick pad for sleeping, bays for optional on-board battery, solar panel, A/C, refrigerated coolers and microwave.  It has plenty of storage, or it can be emptied and used as an enclosed trailer to carry full sheets of plywood or drywall.  Versatile!
    Similarly the Car-Go Lite Xtreme can act as a hauler, big enough for a golf cart or motorcycle, but with the loading ramps laid on their sides and the bench seats dropped on top, the mattress pads make nearly a queen size bed within.  The extra size allows a kitchenette with refrigerator, microwave, and air conditioner; round it out by adding a propane system that includes a furnace, water heater, and stove.
    Two additional models, the Vymeron and the Wazat are designed similarly.

---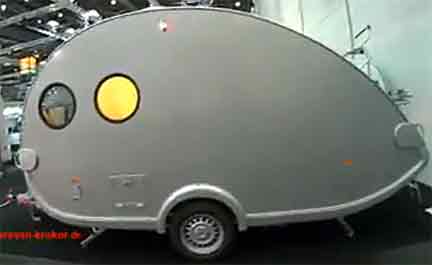 T@B Trailers

    TABS come in six different floorplans called U, L, Q, S, CS, and CS-S.  Only the Q, S, and U units have a 70" x 73" bed.  The rest are 70" x 58", so suitable for people 5' 10" or less.  The CS and CS-S models have exterior kitchens; the others are internal.  Only the S and CS-S models have wet washrooms (shower and toilet).  Other models utilize porta potties.

---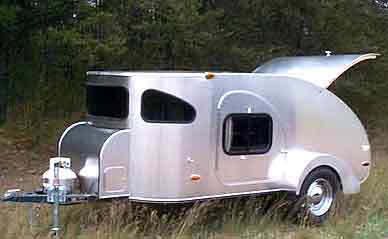 Camp-Inn
    This manufacturer provides three models, the 500, 550, and the 560 with variations for SUVs.  All have beds suitable for people up to 6' 6", and the 560 comes equipped with additional bunks for people up to 4' 8".  The shiny aluminum exterior and wooden interior retro styling will appeal strongly to some crowds.

---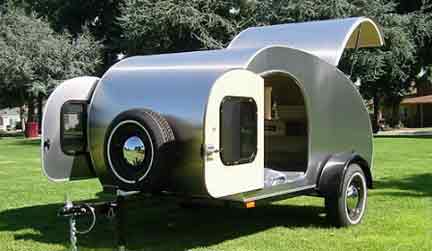 So-Cal Teardrops
    This company offers 4 on-road models:  Rover, Sierra, Cal-Deluxe, and the Buzz.  Three additional models are ruggedized for off-roading: XS, Krawler, and the Buzz Off.  All can comfortably sleep people well over 6 feet tall.
    This series is unique with its available roof top tent which provides substantial additional off-ground sleeping space, a pull-out veranda and a zip-on annex suitable for a dressing room or porta potty. All but the Buzz models incorporate the clamshell style rear galley.

---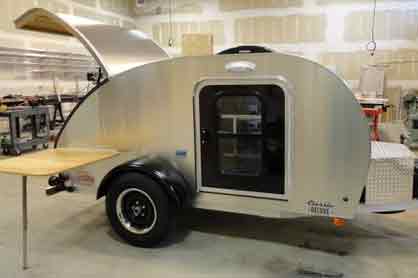 Cosy Cruiser
    Here we have a choice of two units, the Cozy Classic, and the Cosy Classic Deluxe.  Both have 80" long beds, so tall adults would be happy.  The Deluxe comes with an AC/DC refrigerator; a Coleman camp stove is provided, but with no sink or water facilities.  The Classic Deluxe can be equipped with a heat pump.

---
So there you have it.  Select your favorite, and hit the road!

 About Us / Privacy Policy / Resources
Go to:  Pop-up Travel Trailers and RVs