NuCamp TAB 400
Teardrop Campers
TAB-400 is the largest teardrop camper manufactured by nuCamp, rightfully called the "studio apartment" on the wheels.

        In their traditional form, Teardrop travel trailers represent tiny sleeping space for two with a rear kitchenette accessible from the exterior. Popular due to relatively low "overall" cost (including towing requirements), they enjoy recognition due to their iconic shape. Well, recent trends in the RV industry prove that teardrops can be more than just tiny sleeping spaces on wheels.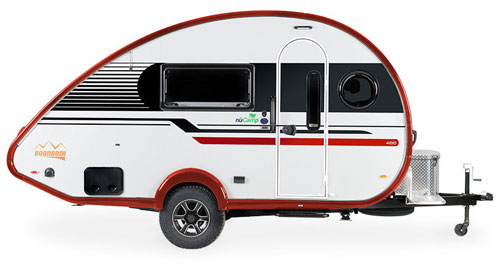 nuCamp TAB 400 teardrop trailer (w/Boondock package)
and its floor-plan...
    One of such examples is nuCamp's largest teardrop model: TAB-400. The company founded by Joe Mullet in 2004 in Sugarcreek (Ohio) is mainly known for its series of small teardrop trailers (series TAB and TAG). The newest one - TAB-400 preserves the traditional attributes of teardrop trailers (light weight and legendary shape). However, by significantly increasing its size, nuCamp raised the standard converting mobile sleeping space into a small studio on wheels with all amenities necessary for longer journeys on the road.

nuCamp TAB 400: structural details
Design and Construction details
            No doubt that modernity obliges. The TAB-400's is built according to latest industry standards mixing eco-friendliness with quality of Amish craftsmanship. The shell is fully built from the aluminum (no wood means no rot, no mold and long lifespan). Azdel (composite panels) replaced plywood and Luan (lightweight version of plywood) in the shell's structure. Applied to inner and outer walls, it provides excellent thermal insulation. Fiberglass-laminated aluminum sheets guarantee increased weather resistance and elegant appearance enhanced by graphics. The seamless aluminum roof adds robustness and durability to the overall design. All windows are made from acrylic (what contributes to camper's light weight) in dual-pane form. While the TAB-400 is not officially advertised as an all-season model, good insulation (mentioned earlier Azdel and dual-pane windows) as well as an enclosed underbelly and powerful radiating heating system (circulating glycol) made it the perfect choice for extended-season RV-ing.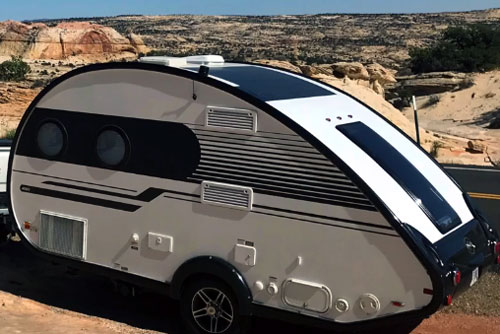 nuCamp TAB 400: Elegance...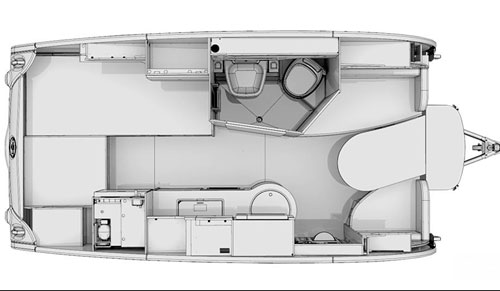 nuCamp TAB 400 floor-plan: version Solo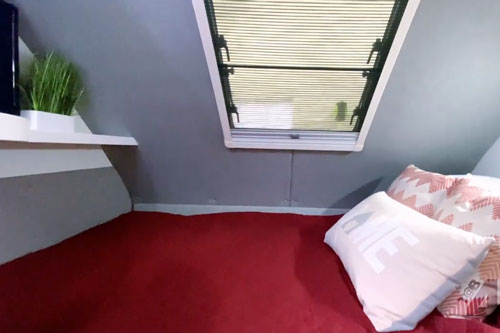 Sleeping space in the Standard version of TAB 400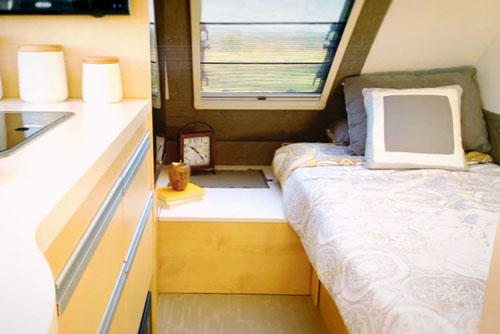 Sleeping arrangement in the Solo version of TAB 400

Floor-plans
     Unlike traditional teardrop campers, with its overall length of 18.3 feet and interior headroom of 79", it offers a good base not only for affordable but also comfortable vacations. The model comes in three floor-plans:
a) Standard w/2-way refrigerator
b) Standard w/3-way refrigerator
     The 2-way refrigerator is rather small. It runs on 12VDC/LPG and is located under the kitchen's countertop (passenger side). The 3-way refrigerator is significantly larger so it needs more space. It's located on the opposite side of the camper in a place of large closet with a hanging bar. The kitchen cabinetry gains more storage room, but obviously the overall interior storage space is reduced.
c) Solo
     The first two models come with an almost queen-size rear bed (55" x 79") orientated across the camper. The model Solo offers an "expandable" (split)-bed oriented along the camper. In its day-configuration it can be used as a coach. In the night configuration, it can be kept recessed offering a comfortable sleeping place for one adult (with a convenience of a large night-table on the side), or it can be opened into the spacious (almost queen-size) bed for two (57" x 79").
The orientation along the camper eliminates the previously mentioned storage cabinet with hanging bar (and an underneath drawer). The 3-way fridge finds its place in an area previously occupied by the bed.
Note that the front dinette can be converted into a sleeping place for a kid (30" x 74")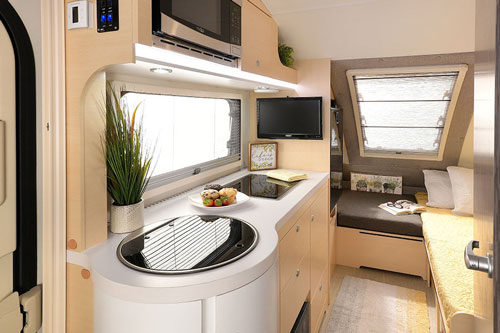 Interior: view from the dinette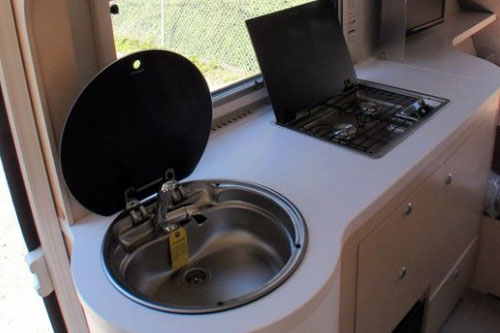 nuCamp TAB 400: Galley
Kitchen/Dinette
       The kitchen is located in the central part of the camper and frankly, it offers significantly more cooking opportunities than teardrops' traditional exterior hatch-located kitchenettes. Ample cabinetry with cabinets, drawers, utensil holder and overhead cabinets should satisfy most needs. Both - stainless steel 2-burner stove and deep single-bowl sink have stylish glass covers offering a lot of space for preparation of food. Large opening window along the countertop makes the area bright, while recessed lights compensate for lack of sunlight with stunning elegance and warmness. The GFCI-protected outlet allows for operation of small kitchen appliances (thanks to the 1.2kW inverter they can be also operated in an off-grid environment.
The front dinette serves as a dining and living quarter. The stylishly-shaped table, two side benches with cushions and large opening picture window across the trailer's front make it a place well "connected" to surroundings (hopefully nature). BTW- thanks to abundance of windows including stargazing one at the rear side, mentioned earlier large front picture and kitchen windows (all opening) as well as 3 porthole windows (one in the bath), and narrow window in the entrance door during a day the TAB-400 is literally flooded with sunlight.  And during the night, the starry sky (weather permitting) can be seen from every corner.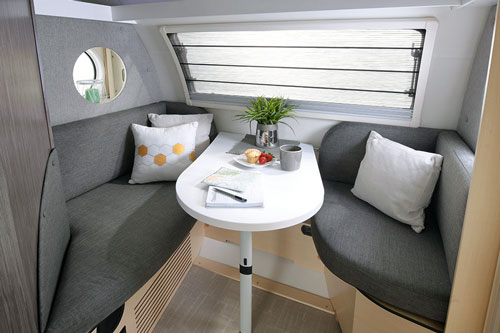 Dinette
Here set as a sleeping space
The Entertainment Center includes AM/FM Stereo w/Bluetooth, HDMI and USB inputs. Combined with 24" flat screen TV, you can enjoy your favorite movies (USB/HDMI) and obviously radio programs thanks to 4, strategically located speakers. Note that in the Solo floorplan, the TV screen is located so close to the LPG stove that it may be impossible to watch it during cooking (in two remaining floor configurations, the TV screen is in the sleeping area).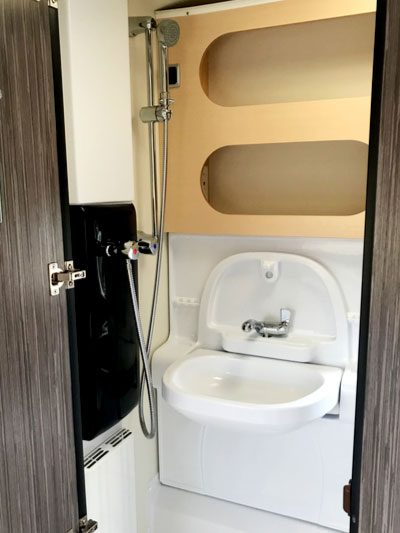 Wet bath (on the left-bottom: heating radiator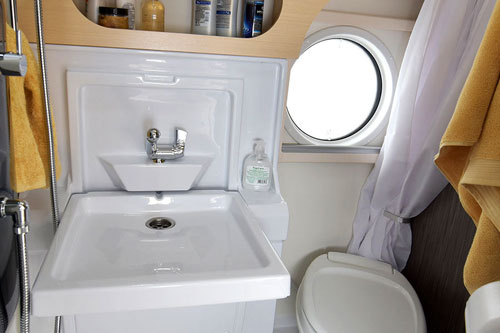 Wet(?)-Bath
   The bath is located across the galley. Walk-in type (although quite tight), it is equipped with shower, plastic toilet with flushing pedal, fold-down sink and mirror. The latter is quite shallow (1 to 2 inches depth) but serves its purpose. It is important to note that the bath is designed as the wet space, however thanks to "all-around" curtain walls (and everything on them) are fully protected from the water. As a result, you will find there several cupboard-type storages, you will be able to hang the towel and clothes being sure that they are protected from the water. The porthole-type window with privacy shade and ceiling fan add to the completeness and functionality to the bath.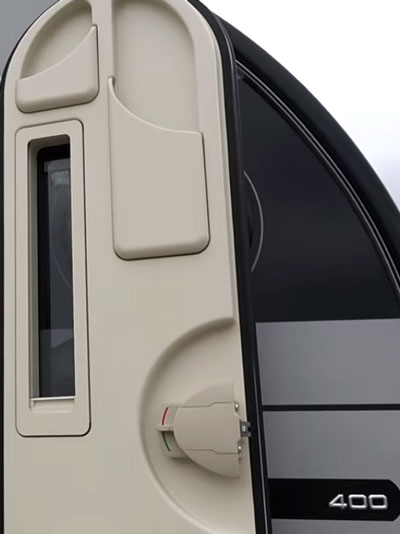 Storage pockets in the entrance door
          The entrance door requires extra attention. Its interior side includes two cupboard type pockets very handy for storing small, easily accessible items. At the bottom there is also a very useful, detachable trash box. It's a rather unusual, but very clever design making life easier. The narrow side window (w/privacy shade) allows you to see eventual visitors. The independent, sliding mosquito-net door allows you to keep the trailer open even in areas infected with insects (the net comes with a pattern making it clearly visible, to prevent walking through it when open. 

Exterior features
     The stylishness of the rear-end profile with contrasting dark plastic elements, trailer lights and stargazer window can't be easily described. In contrast - the lower part of the front-end is protected by an aluminum diamond-plate (note that the TAB-400 in the Boondock version is designed for off-road RV-ing). The relatively short A-shaped tongue houses the diamond-plate finished storage box. It's designed for a 20 lbs LPG tank and  batteries. The box does not have any lock, so the space should not be used as a storage for any valuable cargo but eventually for an extra LPG tank. When it comes to exterior storage space, there is one with side access at the rear side of the camper (under the bed).
The porch lamp and small one just above the step offer much needed light at the entrance.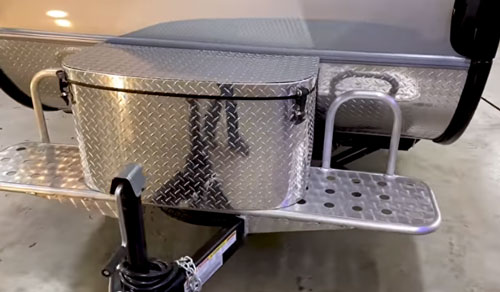 TAB 400: Front diamond tub and the optional Utility Platform
Source: Princess Craft
Monitoring, Control and Hook-ups
     The central electrical panel is located on the side of the overhead cabinet in the kitchen (next to the entrance door). It includes 3 panels for the control of the heating system (AC/Heat pump), water temperature, switches for lights and water pump, as well as monitoring of tanks and battery system.
Another important system called Nautilus Water Management is located outside on the side of the camper and includes city water hook-up, black water tank flush, fresh water sanitization, hot/cold water exterior shower, low-point drains, water-pump switch and water configuration valves.
Other important hook-ups are shore power (30A), Solar Power and very useful for outdoor grilling – LPG connect (located at the rear side of the trailer).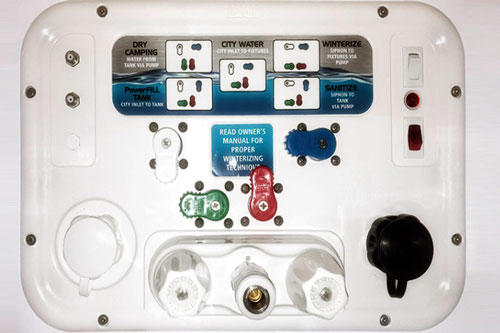 Nautilus Water Management System

Boondock
     All versions of TAB-400 come with the basic and convenience packages. For more demanding customers, nuCamp offers only a few options of which the most important is the Boondock off-road package. It includes off-road tires on 15" sport rims, tong-mounted aluminum Utility Platforms for extra camping gear, handle at the entrance door, heavy duty entrance step and pitched axle as well as the Solar Package much needed in an off-grid environment.

Specifications (TAB-400 Standard w/2-way fridge)

---
Exterior length

Exterior height (1)

Exterior width

Interior height

Dry weight (2)

GVWR (GAWR)

Tongue weight (2)

Hitch height (3)

Fresh water tank

Gray water tank

Black water tank

LPG

Sleeps

Configuration

18.3'

8'8"

90"

79"

2,876 lbs

3,900 lbs

318 lbs

18"

22 gals

18 gals

12 gals

20 lbs

2 +1

Front dinette/rear bed
---
1. Maximum
2. With standard (basic) features, excludes LPG, tanks' fluids, cargo…
3. Standard, 19" for Boondock
Construction
Frame: ?
Shell: Aluminum frame, fiberglass coated aluminum walls and seamless roof
Insulation: two layers of Azdel
Underbelly: Enclosed
Windows: Acrylic, dual-pane (CP)
Axle: single
Wheels: Alloy rims, 205/75/R15 tires
Fenders: Plastic
Brakes: Electric
Plug: 7-pins
Exterior colors: White or Silver
Trim colors: white, gray, black, blues, red
Features listed below include standard (basic) and convenience packages (items belonging to the latter are marked as CP)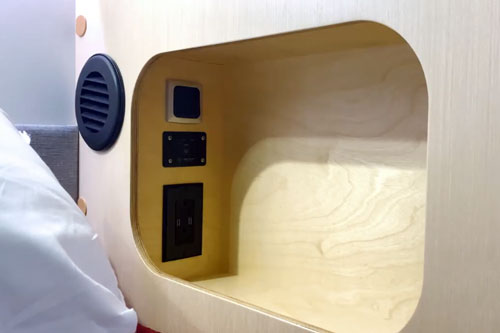 Storage cupboard (main sleeping space)
Interior
Custom Amish cabinetry
Storage cupboards throughout
Screens/shades system (CP)
Large front picture window (CP)
Stargazer windows (CP)
Porthole windows
Entrance door w/window
Storage pockets and garbage box in entrance doors
Pull-out screen doors
Fabrics: graphite of cobblestone
Froli™ Sleep System

Sleeping Area:
Full-size bed (55" x 79" /(57" x 79" version Solo)
Froli™ Sleep System (Excluded on Solo), (CP)
Stargazing window (opens)
Reading lights
Large sideboard w/110V and 2 USB outlets
Entertainment center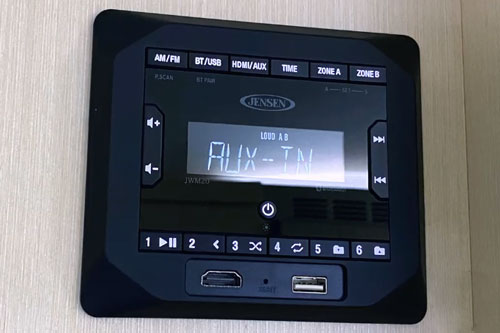 Part of the Entertainment S System: AM/FM/Stereo w/Bluetooth, HDMI & USB inputs 
Kitchen
Stainless-steel, 2-burner Dometic stove w/glass cover & Ignition button
Stainless-steel single-bowl sink w/glass cover and fold-up faucet
2-way compressor refrigerator (optional 3-way)
Microwave (CP)
Cabinets (shelves, drawers…)
Overhead cabinetry
Window along the countertop
GFCI 110Vac outlet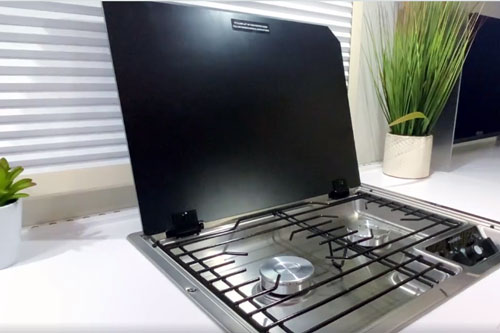 2-burner stove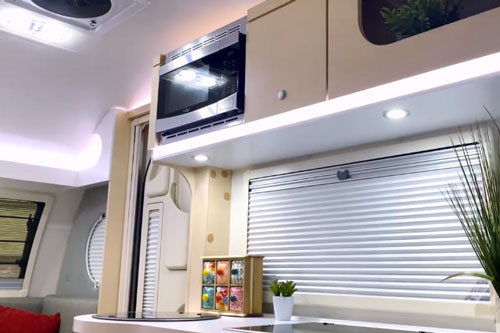 Overhead cabinetry and large window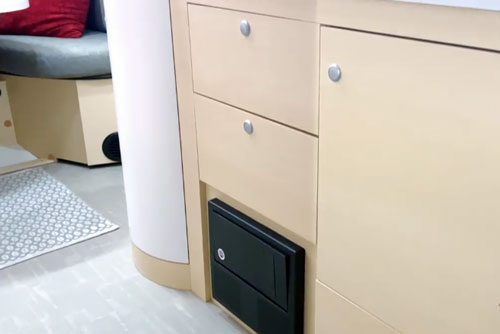 Galley: Cabinetry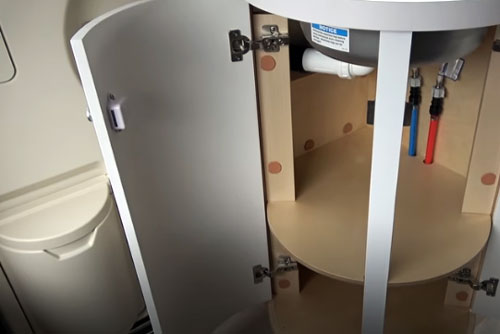 Galley: Cabinetry (on the left visible the garbage can attached to the entrance door
Dinette (convertible to the 30" x 74"sleeping space
Two benches w/cushions
Folding table 
Dinette can be converted 
Storage cupboards
Large picture-window
Storage (partial)
Bath (Wet)
Fold-down sink and tap
Plastic foot-flush toilet
Shower
Roof-mounted fan
Storage cupboards
Porthole window
Mirror
Heating radiator
110Vac GFCI outlet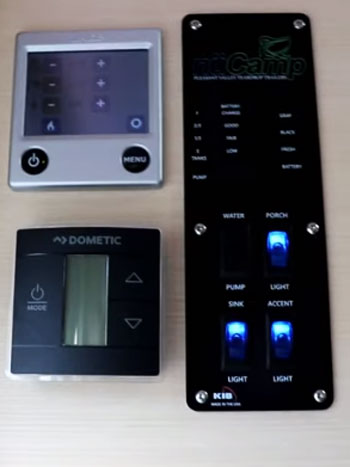 Control and Monitoring System
Electrical:
Two 6-Volt 224 Ah AGM Batteries (CP)
1.2kW Pure-Sine Inverter (CP)
3-speed Fantastic fan (CP)
LED Lights & Strips
12V & USB outlets
110Vac outlets (Int/Ext)
Tank/Battery Monitor & Disconnect
30A shore connection w/cable
Porch light
Entrance Step light
Control and Monitoring System

Water/Plumbing
Alde® FLOW Instant Hot Water (CP)
Exterior shower
Nautilus Water Management System (CP) (city water hook-up, black water tank flush, fresh water sanitization, hot/cold water exterior shower, low-point drains, water-pump switch) 
Climate
10k BTU AC/Heat Pump system (requires connection to shore power) (CP)
Alde® Central Heat (LPG), (CP)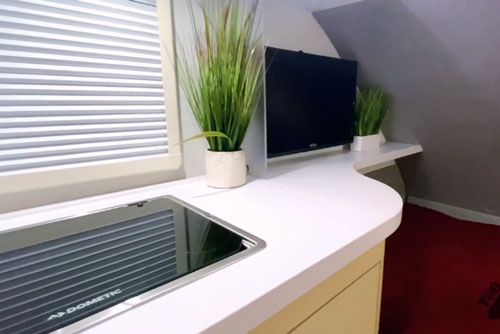 TV screen (Standard w/3-way fridge floor-pan)
Entertainment:
Bluetooth® FM/AM Media Center w/ HDMI and USB inputs, 4 speakers
24″ TV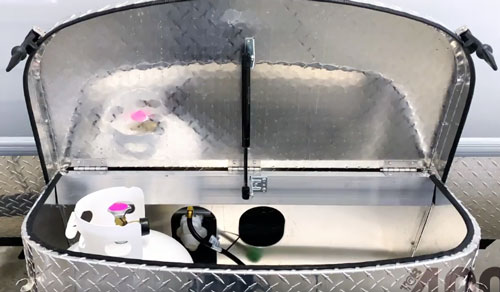 Diamond Plate LPG Tub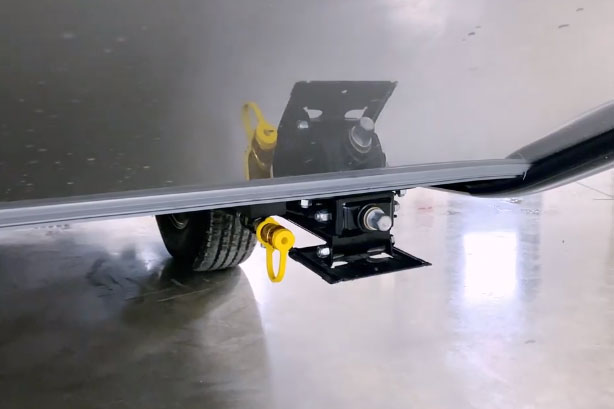 LP Hook-Up

Exterior Features
Diamond Plate LP Tub (CP)
Storage
Exterior LP Hook-Up (rear end)
Entrance step
Manual jack (tongue)
4 x Scissor-type stabilizer jacks
Spare tire
Safety
Spare Tire (mounted under the tongue)
Fire extinguisher
Fire/smoke/propane detectors and alarms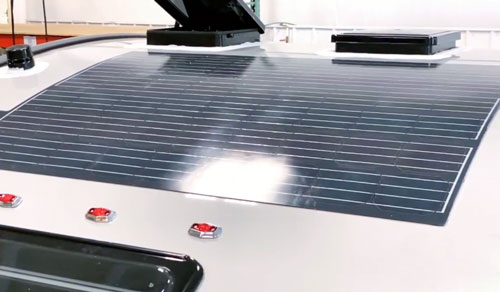 Roof-mounted solar panel
Options
3-way Refrigerator (available only for TAB-400 standard)
Boondock Package (BP) including: 15" sport rims, off-road tires, Tongue-mounted Aluminum Utility Platform, entrance handle, Heavy Duty step and axle, Solar Package (roof-mounted 150W solar panel, solar power plug-in….)
        While nuCamp also manufactures large (double axles) classic-shape travel (Avia) and truck camper (Cirrus), its design and production efforts are mainly focused on teardrop trailers. As a matter of fact, nuCamp is considered as one of the largest (if not the largest) manufacturer of teardrops in the world. Note that the name nuCamp (where "nu" comes from Spanish "nü" meaning "new") was adopted in 2016 and expresses the new approach of the company (formerly Pleasant Valley Teardrop Trailers) to their design & manufacturing process as well as to RV-ers. It's the commitment to "Build the Exceptional" combined with the quality of well-recognized excellence of Amish craftsmanship!

Go back to: --> Best Small Travel Trailers
---
Note:  Check with the manufacturer and / or authorized RV Dealer for the up-to-date list of features, options as well as latest specifications. These written above may not be accurate and certainly are subject to change by the factory. We are not responsible for any inaccuracy, the above text is provided only for the general information.
This review was written based on publicly available information for the benefits of the community of RV-ers. We do not receive any gratification or financial benefits from RV manufacturers, dealers, and any other promoters of RVs. 
We are NOT involved in sale and/or retail of RVs!
Unless otherwise indicated, the photos are courtesy of nuCamp