Palomino Lightweight Travel Trailers
Palomino lightweight travel trailers are designed to minimize weight while maintaining high strength for safely; Palomini is the smallest while SolAire eXpandable provides more space.....

Palomino trailers have come a long way.
Since their inception in the late sixties, the brand has built up a strong reputation of offering affordable, quality and spacious trailers.
The current Palomino lightweight travel trailers continue to uphold this trend.
The light weight design is essential in providing easily towable travel trailers for smaller cars.
This enhances efficiency and convenience as well as diversity for buyers as you do not necessarily need a big vehicle to tow these trailers.
These light weight trailers come with refined floor plans for better utilization of available space.

Palomino lightweight travel trailers are designed to minimize weight while maintaining high strength suitable for safely carrying a full load. The trailers are made with an aluminum superstructure frame, which creates a high strength light weight structure. This is essential as the trailers come with added interior space due to the barrelled roof and, therefore, can carry more stuff. The laminated fully walk-able roof is made of high strength materials, and is waterproof and highly durable.

You will love it - here is the Palomini!

Palomino lightweight travel trailers make use of modern designs improving comfort and easing towing requirements. The independent suspension axles work best to provide a comfortable ride to your destination.

Palomino travel trailers come in a wide range to service all customer needs depending on their requirements. The Palomini is the smallest of the family with its size optimized for efficient use of space as well as fuel during towing. You can easily find a parking space for this trailer. The light weight SolAire eXpandable travel trailer thanks to expandable features offers even more abundant space. There are other models in this range with those mentioned above being extreme cases.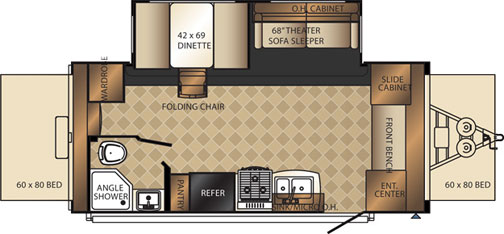 Palomino SolAire Expandable Travel Trailer - Model 190X
Source: www.palominorv.com

Palomino travel trailers are bundled with a multitude of features to create a homely environment while on the road. All light weight trailers come with an oversized bathroom skylight, tub and shower surround, not forgetting the 6 gallon electric heater for a homely shower experience. Two outside service lights and a patio light will be more than sufficient for your outside lighting needs. Tinted safety glass windows provide much needed privacy. To ensure you remain connected to the outside world, the Palomino travel trailers come with a TV antenna, satellite and cable connection and are all phone ready.

Walk-through the Palomino Expandable SolAire Travel Trailer - model 190X

The torsion axle with independent suspension provides for a comfortable ride while four external stabilizer jacks and sand bags enhance stability when the trailer is stationary. The rubber covered roof is highly durable and waterproof while the exterior fibreglass material cover can be easily cleaned.

All features mentioned above are standard for all Palomino light weight travel trailers. You can get a host of other optional features to further enhance your home away from home.


---
 About Us / Privacy Policy / Resources
Go to: Pop-up Travel Trailers and RVs

or: Lightweight Travel Trailers