Passport Express Expandable Travel Trailers
The Expandable Passport travel trailers by Keystone were specially designed to meet modern day requirement of light, easy to tow, maneuverable, fuel efficient while still spacious and comfortable campers.....
     If you are considering to buy a trailer, do check out the expandable trailer versions.
You don't need a large car to move them around, they are easy to travel with and park almost anywhere.
Also, they will give you all the space you need, even if you like to travel in a larger group or a complete family formula.
The mobility and flexibility of these trailers are incredible and you will soon end up loving traveling and camping with them.
The bottom line is – they are lightweight and roomy, well equipped to provide comfort when vacationing and do not drain your pocket. 
Just have a look at floor-plans shown below to make your own judgment.

Expandable Passport Travel Trailer - Model 171EXP by Keystone

---
fresh

water

[gal]


awning

length

145EXP

171EXP

177EXP

217EXP


3120

3612

3635

TBD


850

1588

1565

TBD





17'7"

20'2"

20'8"

25'2"
---
Model 145EXP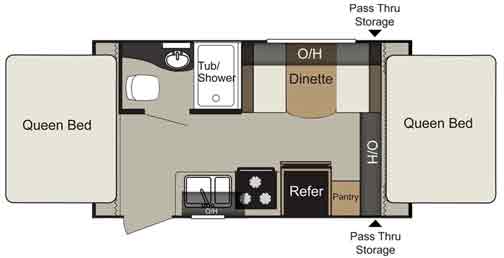 For a group of 4 to 6 persons, this trailer model can easily offer all the needed comfort. Both ends of the trailers can be prolonged, allowing a double-sized beds to fit in perfectly. Inside a dinette can also be transformed into an additional sleeping area if the situation requires it. The kitchen has a decent size, considering the entire dimension of the trailer. And the bathroom also is rather comfortable, with a tub, offering you the possibility of enjoying both a bath and shower. It has everything you need for a memorable camping adventure.

---
Model 171EXP EXPRESS

     Another great trailer that will make your camping experiences something you'll want to repeat more often. Capable of housing 6 people, this expandable trailer has the possibility of offering the best comfort a trailer can give. With both ends expandable into large two-person beds, the trailer allows its central part to serve as a quite spacious living area. Another sleeping space is the sofa, which can also be expanded for 2 more people if needed. The kitchen is small but coquette, equipped with everything you need. And the bathroom is placed in a corner, for a better space usage.

---
Model 177EXP EXPRESS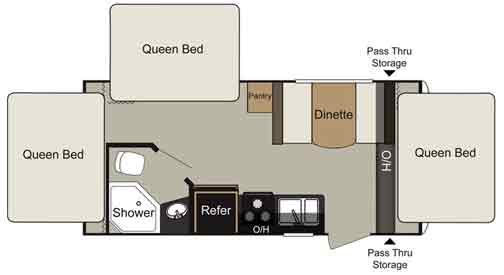 If you like to have a lot of options and flexibility when you're traveling and camping, this trailer model can give you exactly that. It has three extendable sides, each having a large bed for two persons. Those are sleeping areas for 6 persons. Thus, the central area is very spacious. It has a beautiful dinette for serving meals and a small kitchen where you can prepare your favorite food. The bathroom is equipped with a shower, and it is rather spacious, taking into consideration the total space of the trailer. It is really a comfortable trailer to travel in.

---
Model 217EXP EXPRESS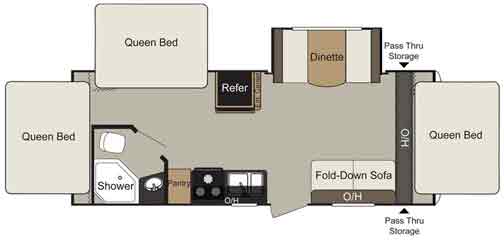 If you want to have large space packed in a smaller trailer, this type of expandable trailer will meet your expectancies. It has three expandable bedrooms, for two persons each. The inside of the trailer is incredibly spacious since the dinette is also placed in an outer extension. What you will find in the inner space of the trailer is a sofa, the kitchen and the bathroom in one corner. The rest of the space is for you to enjoy. The kitchen is rather small but packed with the essential, and the bathroom has a large shower.

---
 About Us / Privacy Policy / Resources
Go to:  Pop-up Travel Trailers and RVs