Pop-up Campers Weight
Pop-up campers "by definition" belong to the class of lightweight RVs, meeting the towing capabilities of most popular sedans......
      Pop-up campers have become hugely popular with individuals who enjoy camping, but want a more hybrid option.
Pop-up campers are the perfect mix between tents and RVs, offering the comfort of an RV, but the versatility of a tent.
And, one of the biggest reasons people have for picking a pop-up camper over other RVs, is that pop-ups are much lighter.
And, in the camper game, lighter is always better.

    The weight of a pop-up camper determines what kind of car will be used to pull it. Those who are already avid campers might not have a problem with this predicament, but those new to camping will find this to be an issue.
No one wants to buy a brand new care for the sole purpose of pulling a camper. Pop-ups are the perfect solution to this. Most pop-up campers are light enough that they can be pulled by sedans. In fact, some more recent pop-up campers have half the weight of most sedans tow capacities.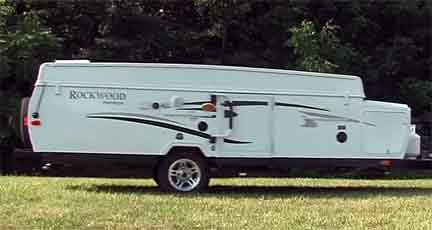 Pop-up campers: Low profile, good aerodynamics, lightweight, affordable and comfortable .....

      The size of the car pulling a pop-up campers matters in another aspect, too. While it's fine to drive SUVs and pickup trucks, those vehicles are known for their gas guzzling tendencies. For campers who are more environmentally aware or who just want to save some money, the weight of the pop-up camper is once again vital. When a car is pulling a camper, it exerts more energy to keep it moving. This in turn uses more gas. And, with gas prices constantly fluctuating, the cost can add up very quickly.

      Lightweight pop-up campers diminish the problem of gas guzzling immensely. Not only do sedans typically use less gas themselves, but because pop-ups are so much lighter, they don't add that much to the overall cost of fuel. And, in recent years, the way pop-up campers are being designed has also changed. Now, they're made with more thought put in to their aerodynamics. Many frames are built with aluminum, which makes them much lighter and easier to maneuver.

Jayco Jay-series pop-up camper

    Before buying a pop-up, owners should have a general idea of what the average camper weighs. While this will vary according to manufacturer and design, the average weight for a pop-up camper is around 3,000 pounds. But, there are several options that are much lighter. Depending on what vehicle is being used and what that cars pull capacity is, there is a vast selection. It needs to be remembered, however, that there will be belongings in the camper that need to be considered, as well.
    Here are a few favorites:

---
1.    Coachman Clipper 806LS

Coachman has quite a selection of pop-ups, but the lightest is the 806LS. This eight foot frame camper comes in at 2,246 pounds.

---
2.    2016 Jayco Jay Series Sport

The 8SD model of the Jayco comes in at a very light 1,800 pounds. With a twin bed, full bed, stove, and carryout stove, that's pretty impressive.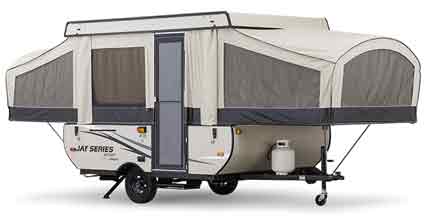 ---
3.    Livin' Lite QuickSilver 10
 
      True to its name, the Livin' Lite truly is one of the lightest options for its size, coming in at 1,500 pounds. It can comfortably sleep 6 and still has space for a dinette and cooking area.

---
 About Us / Privacy Policy / Resources
Go to: Pop-up Travel Trailers and RVs