Pop Up Truck Campers for Sale
Pop-up truck campers are your best friends when it comes to off-road experience and contact with wilderness; see best models…..

Pop-up truck campers seem to combine several priceless advantages.
They are light and compact yet provide comfort.
They let you use your standard pick-up truck for outdoor activities and contact with Mother Nature (in this sense trucks are becoming "dual-use" vehicles).
You carry them "on your back" without the need to pull them as it is the case of travel trailer.
They are foldable what improves your overall aerodynamics when on the road.
And the best is that they enable you to go for off-road trips and explore wilderness – ability unmatched by any other RV.

Brands and types
Hallmark range of pop up truck campers are manufactured by family owned company Hallmark Manufacturing, Inc., based at  Fort Lupton, CO. The series of Hallmark truck campers includes Cuchara, Ute, Everest, K2, Neoal Raton and many more. All Hallmark pop-up truck campers come standard with a molded fiberglass composite exterior frame and a one-piece molded fiberglass composite roof. The inside cabinetry materials used in the Hallmark pop up campers are wood, aluminium or Coosa composite, and the buyer has an option to choose the material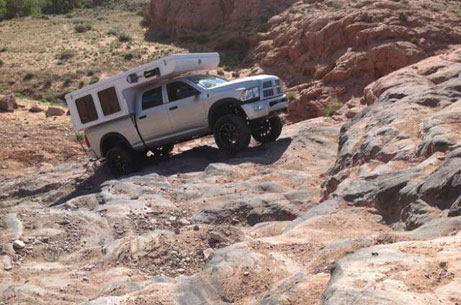 Hallmark Milner Moab truck camper - that's what it is all about - access to the off-road paths leading to wilderness
Source: http://www.hallmarkrv.com

Hallmark Cuchara model has a floor length of 114″, overall length of 180″, interior height popped-up at 80″, interior height popped-down at 60″, exterior height popped-up at 84″ and ext. height popped-down at 64″. The floor plan includes one queen bed and a dinette bed. The model comes with all modern gadgets for the kitchen and lighting and other important parts of the interior.

Floorplan of Hallmark's Cuchara pop-up truck camper

---
Northwood Manufacturing of La Grande, Oregon, the makers of Arctic Fox range has built enviable reputation in the US as a truck camper manufacturer. Arctic Fox pop up campers are popular because of their sturdy aluminium superstructure and welded aluminium framing, besides the fiberglass cab over, convenient slide outs and many attractive features in interior and exterior. The range and sizes is varied and suits all types of needs and wallet size.  
Arctic Fox is not a classic pop-up camper - it belongs rather to the class of "pop-out" campers thanks to its two slide-outs that greatly increase the living space inside.

Just see it yourself :-).....

---
Palomino pop up truck campers are manufactured by Palomino RV, Colon, MI, a division of Forest River Inc. Palomino's Backpack Edition campers feature spacious interiors with full stand-up room and lots of convenient features. The model comes with thirteen floor plans and offers features such as electric lift, landing pad integrated bumper, battery charging station, laminated walkable roof and much more. Options include air conditioning, entry step, side awning and exterior fiber glass.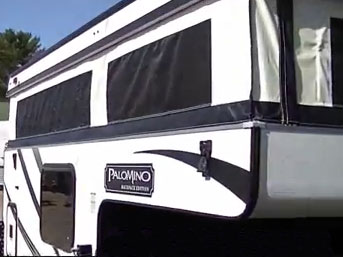 Newest Palomino Back-Pack pop-up truck camper

What to look at when buying
First thing to look at for a truck camper buyer is its weight vis-à-vis your truck's gross vehicle weight rating (GVWR). Not adhering to the weight limit of the truck may exert stress on the vehicle leading to safety issues besides shortening the life span of the truck. For Pop up structure you must decide whether the soft-walled fabric type or the hard-walled solid frame unit is suitable for your purpose. 
Storage facility for the camper has a direct bearing on its maintenance cost and longevity. You must take into consideration the size of the camper for which you may arrange a garage or at least a concrete pad. If camper is stored on the soil for long periods may require higher maintenance cost besides the rodent and insect issues.
You must have a hard look at the warranty agreement and prefer one that covers warranty for maximum parts. Even if your initial investment for a camper is low the advantage will be neutralized if most parts are not covered by warranty. Besides that you must consider the delivery or pick up terms to ensure that it does not hike your cost substantially.

Where to buy:
A good pop up truck camper can be purchased in many ways namely from an RV dealer, through personal sale or from online. In case of RV dealer one can inspect different models and ask questions, and may strike a bargain. But RV dealers are restricted to local sale. In case of personal sale the item may be inspected mostly at the sellers place. There is good scope for bargaining with this kind of sale.
When one does not like to be restricted by and locality or region one can strike a deal online by browsing truck campers and their features online. Almost all camper manufacturers, dealers and even used camper sellers have their online presence, when all the buyer's queries can be attended to online....

 About Us / Privacy Policy / Resources
Go to: Pop-up Travel Trailers and RVs
or to: Pop-up Truck Camper Trailers