Most Popular Hard Side Pop-Up Camper Manufacturers
A-frame collapsible travel trailers seem exotic, but recently they gain a lot of attention due to their affordability and typical in time of economic crisis approach "Small is beautiful".
        Hard-side collapsible camper trailers represent the smaller-side of recreational vehicles.
They have all advantages of tent pop-up campers which means are easy to tow, fuel-economic, lightweight and easy to store for winter.
When unfolded, thanks to hard-side walls they provide better weather protection than tent pop-up campers and in general better durability.
Also, set-up and folding down processes are much easier and less time consuming than for pop-up tent campers.
On the downside – although some models may sleep four persons, overwhelmingly most of them are designed to sleep only two persons. Also, with some exceptions they do not have restrooms.

Aliner - Original A-frame Pop Up Campers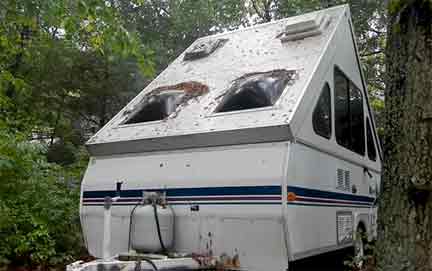 With a wide range of hard side pop up camper options, Aliner is considered the original creator of the A-Frame camper. Their Expedition model is the largest and has dozens of features that make it almost a luxury camper. The Classic A-Frame, Scout, and Evolution models are all excellent. The smallest Aliner, the Ranger 10, however, offers the most compact, durable option.

---
Chalet Hardsided Campers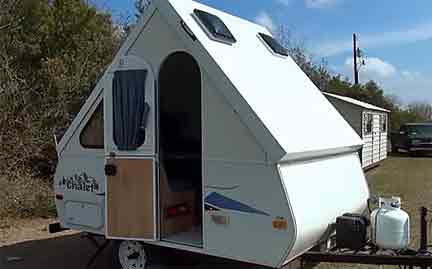 Chalet offers several different sizes of hard sided trailers, ranging from the LTW, the smallest option, to the XL. These compact trailers are towable by most cars, including regular sedans. They're also lauded for their easy setup, which can take as little as 30 seconds. Their trailers include:

LTW
Aspen
Alpine
Arrowhead
Chalet XL 1920, 1930, 1935, 136S

---
Forest River

Forest River makes hard-side pop-up travel trailers under two brand-names: Rockwood and Flagstaff.

Rockwood Hard Sided Popup

           The Rockwood Hard Side campers offer some truly luxurious features, all while keeping the simplistic, lightweight options that make these popups famous. This series of campers are great for easy storing and towing, being both compact and light. Rockwood has the following models:

Rockwood A-Frame Travel Trailer - Model A128S

A122
A122S
A122SXR
A128S
A122BH
A122TH
A192HW
A194HW
A212HW

Each have their own advantages, from different storage options, to larger eating areas or larger beds.

Flagstaff Hard Side Camper Trailer

     Flagstaff is very focused on making affordable, safe hard side campers. As is the case with Rockwood trailers, these models are all made for their convenient usage. Each Flagstaff camper has lift assist, either gas strut or power roof. Each has abundant storage and sets up easily. The Flagstaff models include:

Flagstaff Hard-Side Travel Trailer (source: Leisure Time RV)

T12RB
T12RBST
T12RBSOR
T12DDST
T12BH
T12RBTH
T19QBTH
T19SCHW
T21QBHW

---
Starcraft Hard Side Folding Camper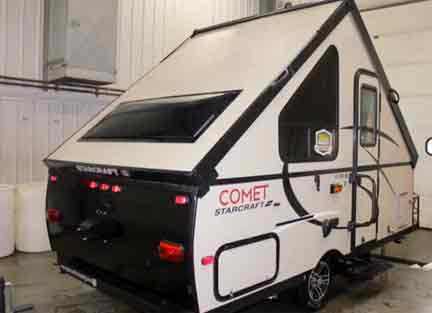 In fact the Starcraft Comet looks like a camper from "another planet"...

      The Comet Hardside is a brand new 2015 model of hard side popup camper. There are eight different floorplans offered by Comet, four of which have a shower and bathroom. Four of these models also sleep four, which is quite an achievement for such a small space. They each come with a small kitchenette, with fridge, stove, and microwave. They also have a convenient outdoor grill and shower.

---
Apache Hard Side Pop Ups
Apache Hard-Side Camper - Model Yuma from  1970's

       Despite the fact that these campers are not manufactured since 1987, they are still extremely popular with camping purists. Many adults who remember spending their summers with the family camping in an Apache, now seek out and refit these classic campers. Apache has ten models:

Cimmaron
Cruz
Madero
Mesa
Ramada
Ranger
Roamer
Royal
Ventura
Yuma

Each has its own special elements. However, because they're older, they are much more rustic than other campers.

---
Jayco Hard Sided Camper Trailers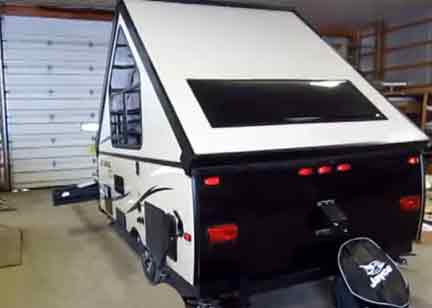 With eight models of hard side campers, Jayco has quickly become a leader in these types of trailers. Many come with storage decks, making them ideal for long-term camping adventures. Most models have the kitchenette and eating area on one side and the bed and extra storage on the other side. Jayco has the following models:

12BFD
12BSB
12B
12BMD
12H
12HFD
12HMD
12HSB

          The concept of A-frame collapsible travel trailers is still relatively new and seemingly exotic, but they gain more and more enthusiasts due to their affordability and a typical in the time of economic crisis approach "Small is beautiful".
 About Us / Privacy Policy / Resources
Go to:  Pop-up Travel Trailers and RVs