Puma Unleashed Toy Hauler
Puma Unleashed Toy Haulers are specially designed for lovers of active camping, allowing to take along favorite toys for outdoor adventures….
      Puma Unleashed Toy Haulers are for all those that love to actively spend time during their camping adventures.
They provide spacious and comfortable "home-away-from-home" experience thanks to amenities, furniture and stylishness of the interior design.
But they also allow for taking your favorite toys. And this is thanks to the fact that the "home-away-from-home" includes also "attached" garage (or at least part of it).
So regardless if you are going to the beach, mountains or wilderness you can load in your "garage-away-from-garage" all you think is needed for memorable, outdoor vacations.
The series offers ten floor-plans you can chose from to meet your personal needs depending on the family size, comfort and style requirements as well as size of toys storage area. 
Puma Unleashed Toy Haulers come in two versions – as travel trailers and fifth wheels.

---
Puma Unleashed Toy Haulers: Travel Trailers

Model 21-TFU

      Start camping in the coolest way, with the Puma Unleashed series. A trailer with an amazing outer design and an even better interior. Made to house from 4 to 6 persons, this model looks great and has all the space you need. One large double sized bed makes the perfect bedroom. In the center of the trailer, two sofas as split by a table, making a great place to dine. But these sofas can be easily turned into two more beds, to accommodate 4 people. The kitchen is in the corner, rather small, but it will surely offer good conditions for preparing your favorite meals. And the bathroom is quite spacious, having even a bathtub for "more-demanding" vacationers.

---
Model 24THS

     Another spacious trailer model from the Puma Unleashed series, having a capacity of housing up to 6 persons. In one end, a master bed awaits to accommodate 2 persons overnight. In the other end, two sofas can also be made as additional sleeping places if the case requires. During the day, they have a table in between, which make them the perfect place to sit down and eat and even have a great time at evening or when the weather is not that pleasant. The bathroom is generous, having a large shower. The kitchen is located in the center.


---
Model 25TFS

     In case you like to travel and camp in a larger group, this model is capable of offering all the space you need. The trailer has two master beds for two persons each. The sofas found in it can be used as beds during the night, and as dining or lounge area during the day. The kitchen is placed smartly in a corner, to use the space in the best way possible. And the bathroom is small but still large enough to have a bathtub. Everything is designed in such a way that it will offer all the comfort you need and space, for a great camping experience.


---
Model 27-SBU

     Choose to travel in luxury and to have all the available comfort with this trailer. Made to fit the requirements of 4, or even 6, persons, this trailer model is a piece of art. A master bedroom awaits at one end of the trailer. Two sofas can be transformed into a very comfortable bed as well if you need more sleeping places. The central area has the kitchen, and two comfortable armchairs, which make this place a pleasant one to spend the day and relax. The bathroom is great as well, giving you the possibility both for shower and baths at the same time.

---
Model 30THSS

      An amazing trailer that can easily house up to 7 people without a problem. It is packed with sleeping places, without overcrowding the trailer. First, there is the double sized bed waiting at one end. At the other end of the trailer, another double bed, plus a single superposed bed, await. And in the central area, a sofa can make it for an additional sleeping place. The area with the dinette and sofa are made as an outer extension, to create more space in the trailer. The kitchen is quite generous, being equipped with everything you need. And the bathroom is as well up to the challenge.

---
Model 32TFB

      A flexible and spacious trailer, ready to give you the best accommodation during your travels. It has two large beds at each end of the trailer, for a comfortable sleep. You can choose if in the central area you will have a dinette or a sofa, depending on how many extra sleeping areas you will need. The customizable area is also an outer extension, to leave more room for movement in the center of the trailer. The kitchen is coquette, offering you what you need for the daily activities, and the bathroom in a corner, without taking too much of the trailer's space.

---
Puma Unleashed Toy Haulers: Fifth Wheels

Model 298FQU

      When you need a large and beautiful trailer, this is the type you should take into consideration. It can house 6 or 8 people, depending on selection of options for the trailer's interior design.
For a start, it has two large beds that can sleep 4 people. Also, the trailer can have two more sofas in the central area, which can also serve as beds if needed. Or you can switch one sofa for a set of two armchairs, depending on your needs. The kitchen is small and placed in a corner for minimum space usage. But the bathroom is rather large, offering a tub.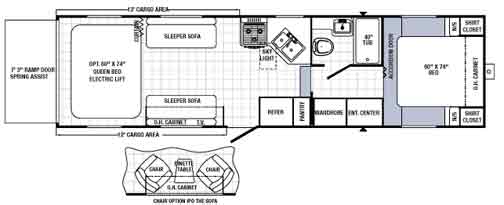 ---
Model 351THSS

     You would be proud to travel in this state of the art trailer, modern and extra spacious. Having a capacity of about 6 persons, this model looks amazing both on the outside and in the inside. Two double-sized beds await in both ends of the trailer. The central area has a sofa, great as an additional sleeping place, and a dinette for a comfortable dining area. The kitchen is fully equipped with all you need to get around in your camping experiences, and the bathroom is large enough to be comfortable as well. It is a great experience to travel in such a trailer.


---
Model 356QLB

       Traveling in groups of 6 has never been more comfortable. This trailer model has what it takes to make your experiences unforgettable. You will find two large beds, each one having a capacity of two persons, waiting inside. A dinette can also be turned into another additional sleeping place for two more people. The bathroom is large but designed ingeniously, with the shower on one side and the toilet on the other side, for a good space usage. The kitchen is placed right across the dinette, having all the needed equipment to allow you to feel at home.

---
Model 359THKS

    If you wish to have the comfort of an apartment even if you are out camping, then you need to see this model. Its size allows two double-sized beds in it, offering the best comfort for a good night sleep. It also has an area with a large sofa and a table, which can also play the role of a bed if extra sleeping places are required. The kitchen is right across the couch, being rather small, but a central counter will make it up for the lack of space, making sure you have everything you need. The bathroom is placed in a corner, but it is large enough to allow you to move inside.


The series of Puma Unleashed travel trailers and fifth wheels offers a lot of choices for your adventurous vacations in truly "Home-with garage-away-from-home" comfort ….

---
 About Us / Privacy Policy / Resources
Go to:  Pop-up Travel Trailers and RVs