R-Pod 190 Travel Trailer
Best RVs for 2018
R-Pod 190 is one of top RVs for 2018; lite with UVW under 3,000 lbs, it offers well-designed interior with full slide-out kitchen, large sleeping and dining area and full walk-in bath...
       R-Pod travel trailers made by Forest River (one of giants of RV industry), found the place on our list of top medium-size RVs for 2018.  They represent the class of lite RVs with dry weight under 3,000 lbs,  with spacious and well-equipped interior promising comfortable RV-ing experience.
Currently the R-Pod series comes with 11 floor-plans including two 2018 newcomers RP-189 and RP-190 (the main difference between these two models is the "dining section" consisting either of Sofa w/table or classic U-shaped Dinette). While most of 11 available models have some strong points that may weight on their popularity, what clearly differentiates the RP-189 & RP-190 from the "pack" is a walk-in bath. It's a great asset "on the road" and rare feature in the class of medium-size campers (actually the model RP-180 also offers walk-in bath, although in a different (rear) configuration).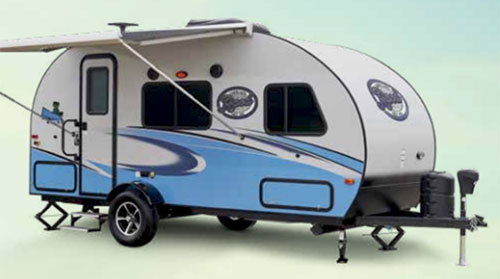 Forest River's R-Pod 190 (the newest model in the family of R-pods)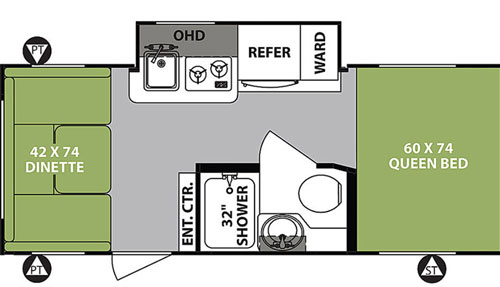 ... and its floor-plan
       For the purpose of this presentation we selected the model RP-190 because in our opinion it offers the most functional interior layout.
All R-pods shells are made from welded aluminum frame with laminated sidewalls and seamless fiberglass roof – all installed on a powder-coated steel chassis. This makes them robust but also relatively lite. Unfortunately, wood and plywood (components prone to rot and mold) still make part of the construction what can be seen in the "basement (two large exterior storages).  
       Side door w/window, folding grab handle and two aluminum steps lead to the roomy (as for medium-size camper) interior. The main sleeping area equivalent to queen-size bed (60" x 74") is located at the front of the camper. Its orientation across the width of the camper forces 2nd person to "jump" over the first one.  Unfortunately, not much can be done about it as this is rather typical arrangement for this class of RVs due to space limitations. 
The kitchen with dedicated window is located in the slide-out section. It includes 2-burner cooktop and single bowl stainless-still sink – both recessed with flush-mounted covers. When not used it creates nice, bright (thanks to the window) working space for preparation of meals. The main two-sections kitchen cabinet offers most of the storage space, small overhead one adds bit more of extra space.  On the right side to the galley there is large cabinet with built-in sizable fridge and microwave. Overall –  it is an elegant and practical design. The slide-out also houses the ward with the section for hanging cloths and 3 drawers (presumably for daily-used stuff). 
The galley is located in the slide-out section
Dinette: roomy, bright and elegant serves as a multi-purpose area
       The rear-end U-shaped dinette (42' x 74") is a beautifully-designed, very bright (thanks to windows on all sides) all-purpose corner. It will serve not only for meals, but also as a working space and for relax. The "E-Z-glide" dinette's table can be quickly removed converting the rear section of the camper into more relaxing living space with an optional TV screen on the wall across.  

The walk-in bath includes vanity with sink, shower cabin with vinyl curtain and flush-toilet. The 2-sections vanity and the wall medicine cabinet (w/mirror) offer an ample space for toiletry and towels. The shower cabin has built-in small shelves, very convenient for keeping "bathing essentials". Large skylight above the cabin makes the bath looking larger than it really is.

       You will notice that the interior is not cramped with overhead cabinets throughout. It makes the R-pod 190 looking bright and spacious. You will not be however left short of storage. The camper has two large exterior storage compartments (one at the front and 2nd one rear pass-through). The rear one is actually quite cleverly designed as it also has a large access door from the interior (on the side of dinette's seat).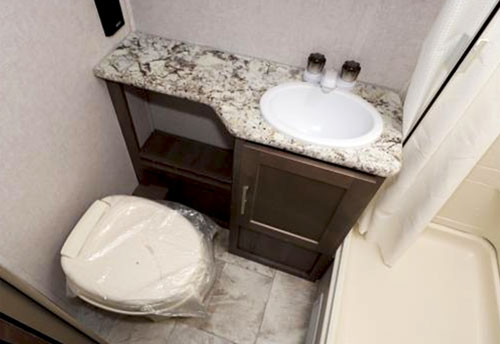 Full bath with vanity, shower and toilet does not make you feel as poor, squeezed "sardine in a box'....
Shower cabin with "integrated" shelves for toiletry...
On the tongue you will find 20 lbs LPG tank (for weather and esthetic reasons enclosed in a hard-cover). Below you will find an LP "quick-disconnect" just in case you would like to install an outdoor grill/BBQ. It is actually strongly suggested action given super-large exterior storage area for camping gear and protection from weather surprises (scorching sun or rain) by an awning (optional).
The tongue also includes a rack for two batteries, although unfortunately they together with wires will be fully exposed to weather because the manufacturer does not offer any dedicated protection box.
Thanks to slightly higher than typical R-value of insulation (R7 walls and R9 roof and floor) as well as standard 20k BTU furnace the R-pod 190 can be used for RV-ing over extended seasons (assuming no temperatures below the freezing point). The optional roof-mounted low-profile A./C unit will help to survive hot (and humid) summer days.
OK, so let's see it "in motion" :-)
        Please note that R-pod 190 also comes in Hood River version designed for off road RV-ing (increased ground clearance and off-road tires). The standard "Go Solar" power port located offers possibility to extend energy autonomy (especially important during "off-road" trips). 

To continue go to: --> RP-190 Specs and Features
Note:  Check with the manufacturer and / or authorized RV Dealer for the up-to-date list of features, options as well as latest specifications. These written above may not be accurate and certainly are subject to change by the factory. We are not responsible for any inaccuracy, the above text is provided only for the general information.
This review was written based on publicly available information for the benefits of the community of RV-ers. We do not receive any gratification or financial benefits from RV manufacturers, dealers, and any other promoters of RVs. 
We are NOT involved in sale and/or retail of RVs!