Raclet Trailer Tents
French manufacturer Raclet with its luxurious trailer tents models like Solena, Panama, Quickstop set new level of standards for the industry of camping and leisure equipment....
       Founded in 1919 in Paris, with more than 70 years' experience in camping gear business (started in 1943) Raclet is one of the oldest French manufacturers of leisure equipment. 

Starting with classic tents, sleeping bags etc., in late 70's company introduced first models of trailer tents. Today the brand Raclet is well known (and recognized for the quality of its products) throughout the Europe. 
The truth is that Raclet brought the design of trailer tents to new dimensions as they offer a lot of "residential-like" grandeur (bedroom(s), kitchen, living space….). In fact, one of Raclet's product lines offers residential tents.
Currently Raclet offers several models belonging to the family of Touring Trailer Tents. These are: standard Panama-Up, Solena, Armada and Moovea (last two available in UK) as well as off-road QuickStop and Panama-up All-Terrain.  
Setting-up Raclet's QuickStop trailer tent
       All Raclet's trailer tents are built with special attention to simplify set-up and fold-down processes. After-all, they are "touring-tents" assuming frequent one-night stops. Models designed for 1-2 persons can be easily "expended" to meet larger family needs thanks to optional equipment (bedroom annexes, awing, sun canopy etc..). While it will certainly increase the setting-up time, the potential advantages of "expansion" may easily outweigh the inconvenience (especially when you plan longer stays). 
The tents themselves are made from cotton fabrics for breathability and good ventilation. Windows are fit with plastic flaps, mosquito nets and privacy shutters. The flysheet provides waterproof barrier as well as "air cushion" helping to stabilize the interior temperature.
Chassis of standard units are made from galvanized steel, however bodies of off-road models for better protection from weather elements and abrasive "stuff" are powder-coated. They come with 4 stabilizing jacks. The supporting structure (poles) are made either from galvanized steel or from aluminum.
Most Raclet's trailers tents in folded configuration use the heavy-duty waterproof PVC cover. So far only the smallest unit (Solena) comes with the lockable, fiberglass lid.
Panama-Up (Off-road version) in folded configuration
Tongue-mounted storage box
Panama-Up (off-road version) - look into the trailer's box. . On the right visible the standard features: kitchen (black box) and fridge (white box)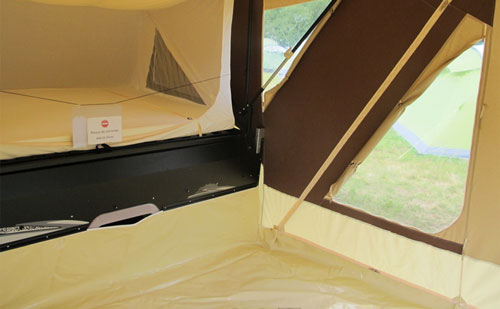 Interior view on the bed (here standard Panama-up version of the trailer tent)
The slatted-base bed(s) with comfortable quilted mattress(es) can be easily lifted-up to open access to the storage area (for models with the kitchen, the storage box will be equipped with an electrical plug). This can be also done when on the road so you will be able to load/unload the cardo without opening the tent.
The 2-burner swing-out kitchen comes with grill and sink! Thanks to extra "legs", it can be also used as a standalone unit.
Standard models
Solena (the smallest unit in Raclet's offer) comes with a roof rack so you can easily carry bikes, kayaks…  (providing you do not exceed trailer's GVWR).
Moovea is (actually it was) very similar to Solena. The main difference – the tent opens significantly wider than the "bedroom" (106" versus 81"). Unfortunately, the model is now obsolete in France (probably still available in UK)! 
Panama-Up is the mid-range model in its standard version designed for 2 people. It can be equipped with swing-out kitchen extending the box length by some 27")
Armada (available in UK) is a lightweight (dry weight of 683lbs, GVWR 1091 lbs) un-braked trailer tent designed for 4 people (2 beds opening at the opposite sides of the trailer). It comes with standard awning. The kitchen (either swing-out one or an external standalone) is available as an option.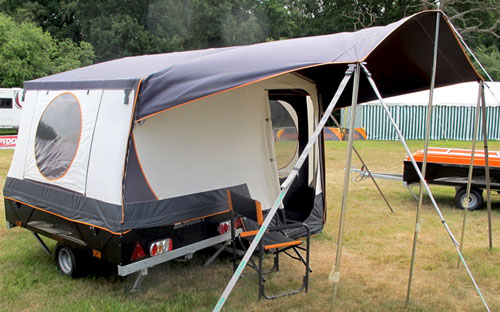 The smallest one - Solena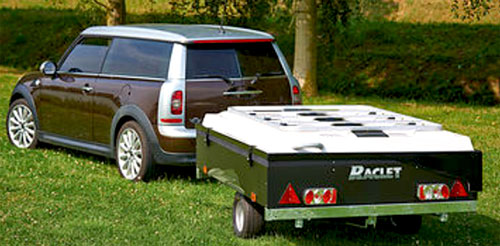 Solena - the only Raclet's trailer tent with the fiberglass lid (and roof-rack)
Off-road models
Quickstop (together with Panama-Up All-terrain version) represents the class of off-road trailer tents. They use bigger (obviously off-road) tires and their boxes have better protection from abrasive elements (diamond plates, powder-coating…).

Quickstop trailer tent has better finish (alloy wheels, alloy trim and matching tongue storage box). Two heavy-duty gas-struts help to open two king-size beds as well as offer an easy access to the storage area. The box houses handy swing-out kitchen. Adding optional large awning and sun canopy makes the Quickstop trailer tent the largest one in Raclet's family of trailer tents. 

Panama-Up off-road version is Raclet's most luxurious trailer tent. It comes with standard fridge, kitchen unit, tongue storage box, sun awning, spare tire (all wheels are aluminum 195/65/R15), shock absorbers, stabilizing coupler head, electrical plugs inside the box and (similarly as Quickstop) – two gas struts helping to open the storage box.

Quickstop trailer tent in full configuration looks "grandiose"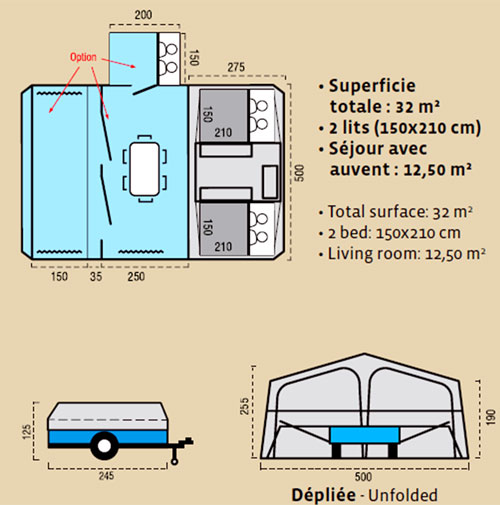 And here its floor-plan and basic dimensions (in cm)
a) Grey color represents standard configuration
b) Blue color represents optional elements
Standard models
---



Open size (1,2)

Closed size (3)

Bed size

Dry Weight

GVWR

Cargo

Sleeps

Solena

163 x 16 x ?

81.5 x 57 x 36

75 x 51

507 lbs (5)

882 lbs

375 lbs

1-2

Panama-up

95 x 197 x 95

95 x 67 x 37.5

83 x 59

794 lbs (4)

1090 lbs

297 lbs

2

Moovea

81 x 106 x 83

81 x 57 x ?

75 x 51

441 lbs

882 lbs

441 lbs

1-2
---
Note: Approximative values -  conversion from metric units (cm, kg) to imperial (inches, pounds)
1. Dimensions shown in inches in L x W (x H whenever appropriate) format.
2. Maximum height at the center
3. Box without tongue (add extra 27" of length for models w/kitchen)
4. Weight without kitchen (swing-out kitchen adds about 130 lbs)
5. Axle without brakes (add about 55 lbs for axle w/brakes)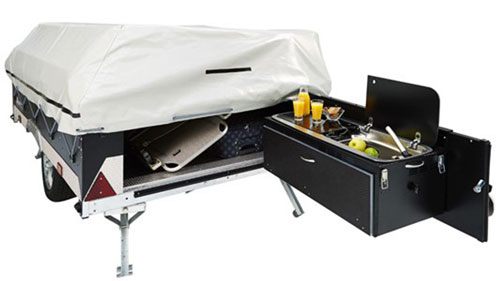 Swing-out kitchen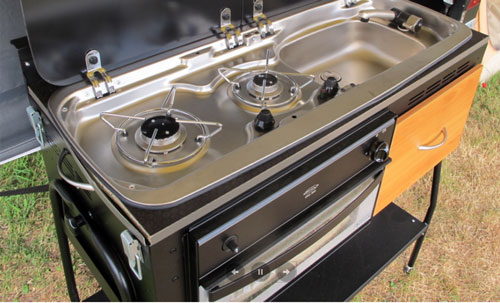 Close look at the kitchen (here in standalone configuration)
Off-Road models (come with AL-KO axle)
---



Open size (1)

Closed size (3)

Bed size

Dry Weight

GVWR

Cargo

Sleeps

QuickStop

108" x 197" x 100"

97" x 78" x 49"

83" x 59" (4)

882 lbs (5)

1433 lbs

550 lbs

4

Panama-Up

98.5" x 197" x 98.5" (2)

98,5" x 67" x 47"

83" x 59"

?

?

?

2
---
1. Maximum height at the center
2. Add 63" to the overall width for standard sun canopy along the open tent (197" long)
3. Box' length without tongue (add 8" for rear-mounted spare tire in Panama-Up model)
4. Quickstop model offers two dual-size beds (83" x 59" each)
5. Comes with braked axle and handbrake
Note:  Check with the manufacturer and / or authorized RV Dealer for the up-to-date list of features, options as well as latest specifications. These written above may not be accurate and certainly are subject to change by the factory. We are not responsible for any inaccuracy, the above text is provided only for the general information.
This review was written based on publicly available information for the benefits of the community of RV-ers. We do not receive any gratification or financial benefits from RV manufacturers, dealers, and any other promoters of RVs. 
We are NOT involved in sale and/or retail of RVs!
---