Raven Pop-up Truck Camper
Four Wheel Campers
Raven is designed for short bed, crew-cab pickups. Lite, robust, folding for road to guarantee low aerodynamic profile and low gravity center it is an ideal solution for off-road escapades...

       Technically speaking, a truck camper can embark on any trip where a truck can go. Given the fact that typical trucks can easily go off beaten roads, truck campers offer an ideal solution for those committed to explore Mother Nature. But there is one important catch in this assumption – and this is the center of gravity of the tandem "truck and camper". The typical hard-wall camper placed on truck's bed will significantly move up the center of gravity of the tandem. While trucks (pick-ups) are designed to carry significant load on their beds, it is rightfully assumed that under normal circumstances the load will only change the total weight, but it will not alter noticeably truck's center of gravity (in this case its vertical location).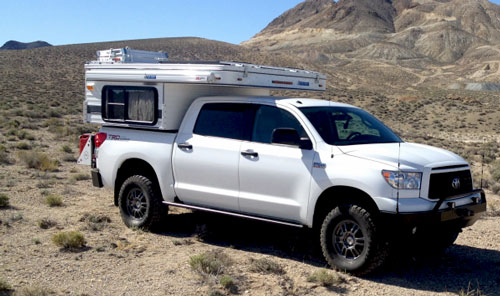 Raven pop-up truck camper in the road configuration

      Driving the pick-up truck with a camper on its bed requires extra skills, first of all awareness that bends on the road must be "negotiated" at lower speeds. Well, it's true that to safely tow the trailer we also have to change our driving habits. However, "things" get a bit more complicated when it comes to off-road driving. The truth is that when driving on uneven terrain, the location of the gravity center is of crucial importance for the overall stability of the truck and sitting on its bed camper.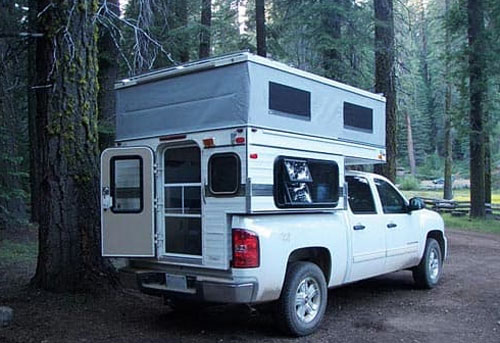 Raven pop-up truck camper: Campground configuration

Fortunately, the new class of truck campers – called "Pop-up truck campers" greatly helps to make such trips smooth and safe. These models when opened offer all comfort (and headroom) of traditional hard-wall truck campers. However, when folded (road configuration), they only slightly increase the location of the gravity center and so are ideal for off-road adventures.  
           Four Wheel Campers started production of truck campers in 1972. Initially located in Colorado, the company manufactured hard-wall truck campers designed to fit popular at the time pickup trucks like Blazer or Bronco. In early 80's company moved to Woodland (CA), just outside of Sacramento where they took next (and as it turned-out most important) step – designing much lighter, more robust and slim-sized truck campers especially intended for off-road driving. All-aluminum, welded frame and aluminum siding provided much required robustness in off-road conditions, eliminating also possibility of rot and mold. Another precious, modern-day advantage was their lite weight what made them perfect candidates for popular these days half-ton pickup trucks.
Currently, the company offers the following models of the pop-up truck campers:
Swift (5ft long, shortest model, fits very short bed trucks)
Raven (fits 5'6"-5'8" half-ton short bed trucks)
Hawk (fits most 6.5-foot regular bed pickup trucks)
Fleet (6ft long, fits mid-sized bed trucks)
Grandby (8ft long, fits full-sized trucks)
      Of these, the Raven (thanks to its size) is the most popular model due to the rising popularity "crew-cab" pickup trucks that inherently have shorter beds. Essentially, it is a slightly shorter (5'10") version of the Hawk. While the Hawk can still fit short-bed half-ton trucks, it will stick past the rear bumper what does not add to stability in off-road conditions not mentioning that it is lacking elegance. 
Like all Four-Wheel Campers' models, the Raven in road configuration (cab down with thickness of only 10") guarantees low aerodynamic profile on high-speed roads and good stability. The latter is even more crucial in all-terrain conditions!  However, when open on the campground, it offers a comfortable 6'6" headroom.  The soft-walls are made from heavy-duty, water repellent, marine-grade fabrics (vinyl). The roof is a "one-piece" element guaranteeing durability (no cracks) and so no water leaks! The soft top pops up easily thanks to gas-struts assisted lifting system, so the set-up (but also pull-down) time is a matter of few minutes.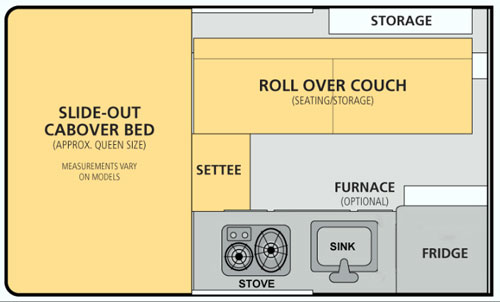 Raven pop-up truck camper: floorplan (above) and "3-D" view inside (below)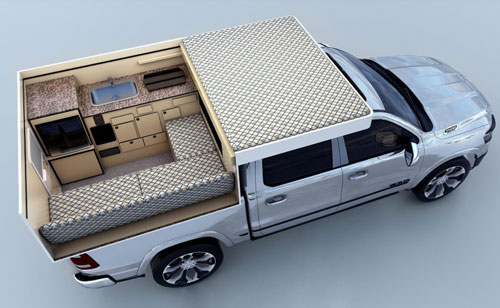 Lite but robust, the roof (and its lifting-system) is designed to withstand up to 1,000 lbs of snow in the open configuration. While the Raven is not truly an all-season unit, its standard wall and roof thermal insulation combined with optional "Thermal Pack" as well as forced air heating system are guaranteeing "survival" even in freezing temperatures. Survival, because "soft-walls" in the open configuration can hardly provide efficient thermal insulation!
          Interestingly, Raven (similarly as other Four Wheel Campers' models) is available in few versions. The simplest one is a so-called "Shell-version". It is simply a bare camper with minimum features like cabinetry, bedding and roof vent. It is the lowest price unit addressing needs of RV-ers wanting to customize their mobile home either in DIY-approach or by selectively choosing company-provided features from the long list of options. 
Due to low price it is also a preferred version for hunters and fishermen. They can use it as a low-cost, short-term cabin (hut), that can be easily relocated from a garage into the wilderness and back.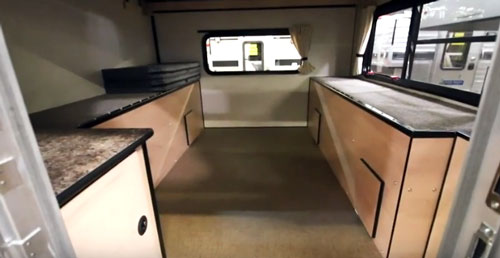 Raven pop-up truck camper: Shell model inside

     The next two simplest versions will include forced-air heating system with LPG tanks, battery system, countertop and eventually stove and convertible couch w/storage.
     The most popular is the base-version of Raven. It is quite well equipped with all basic features and appliances like water system (sink w/cover, water pump and 20 gallons fresh water tank), 2-burner stove w/cover,  Formica countertops, 1.7 cubic feet 3-way Dometic fridge, portable dining table, roll-over couch with fabric cushions, screen door and privacy curtains. Basic version also has quite impressive electrical system including: battery with switch, 110 Vac shore power system w/30 A converter, 12V outlets w/USB ports, interior and exterior LED lights and two pre-wired solar plugs for optional Solar Powers systems. Two 10lbs LPG tanks provide energy for stove and heating system.
     However, the list of factory-available options offered for the Raven is almost endless so actually everybody can customize the camper according to needs. Starting from more elegant, flush-mounted versions of stainless-steel sink and stove with covers, solar power (roof-mounted but also portable), bigger, compressor-type fridge w/freezer (three sizes to choose from German manufacturer Waeco), 6 gallons DSI-type hot water heater w/ external shower, Fantastic Fan, 8 feet awning, few versions of roof racks (Yakima), 2nd deep-cycle battery, extra LED lights (including rear flood light), porta potti and the list can go on. For increased aesthetics you may also opt for modern fiberglass siding, but keep in mind that this option not only adds extra cost (like all options) but also an extra weight (as a matter of fact about 35 lbs).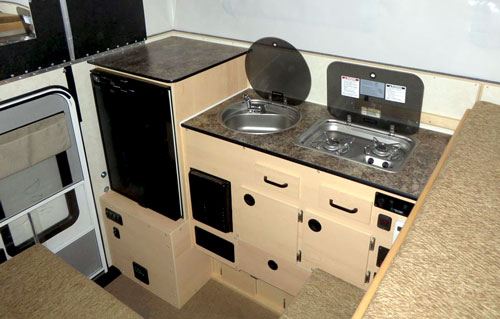 Galley
roll-over couch in typical day's configuration 

roll-over couch in night configuration (if required for an extra sleeping space)

Obviously, less options means lower cost, lower weight and also more interior room in let's face it – relatively small interior, so think twice before making final decisions.
      Lightweight (for what Four Wheel Campers are recognized) does not impact too much the stability of driving. The Raven (being shorter than Hawk) guarantees that the center of gravity is farther forward of the rear axle what adds to the stability on the road.  Also, in such a situation it is easier (and safer) to tow behind trailers with ATVs, boats, jet skis etc, what for many RV-ers is on top of the list of wishes.
The Raven is designed to fit several popular short-bed, half-ton (and up) pickup trucks including: Chevy/GMC Crew-Cab 1500/2500/3500, Ford F-150/250/350 short bed Super-Crew Quad-Cab, Dodge Ram 1500/2500/3500 short bed Quad-Cab, Nissan Titan Crew or Extra-Cab, Toyota Tundra Crew-Max etc.
As of Four Wheel Campers – the company is now the world's leading manufacturer of pop-up truck campers, exporting their models all over the world including not only countries known for popularity of "overlanding" lifestyle (Australia, New Zealand, South Africa) but also Germany, England, Japan…

Specifications
---
Roof length

Floor length

Exterior width

Exterior height (1)

Cabover thickness (2)

Headroom (3)

Dry weight (4)

Cargo (5)

Fresh water tank

Black water tank

Grey water tank

LPG

Sleeps

118"

70"

80"

59"/78"

29"

78"

980 lbs

-

20 gals

n/a

n/a

2 x 10 lbs

2-3
---
1. In folded/open position (for most trucks)
2. In open position (when closed in the road configuration, the thickness is only 10") 
3. In extended position
4. Base version 
5. Depends of the ratings of pickup-truck 
Construction:
Frame: all-aluminum, welded "flex frame"
Hard-wall shell: aluminum sides (optional: Fiberglass exterior siding)
Soft shell: rugged vinyl 
Insulation: walls and roof
Roof: One piece
Roof lift system: Exterior gas strut assist
Jacks: Aluminum (jacks' brackets: steel)
Interior
Formica Counter Tops
Deluxe Fabric Cushions
Screen Door
Privacy Curtains
Large Radius Louvered Passenger Side Window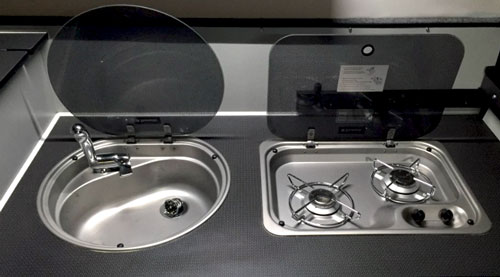 Stainless-steel sink and 2-burner  stove (here flush-mounted versions with glass covers)
Interior Features
Cabover queen-size sleeping space w/mattress
Stainless Kitchen Sink w/ Electric Water Pump
2-Burner Propane Stove w/ Cover
1.7 cu.ft, 3-Way Refrigerator (AC/DC/Propane)
3-Piece Portable Dining Table
Roll Over Couch Seating w/under-seat storage
20 Gallon Fresh Water Tank
Roof Vent
Cabinets 
2 (two) 10 lb. Propane Tanks (located inside)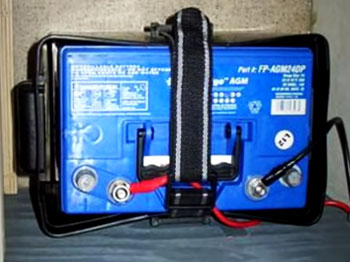 Standard deep-cycle battery
Electrical
Camper Battery System (1 battery, wiring, separator)
120V Electrical System (only works with shore power, no inverter included) w/30 amp Power Converter and IQ4 Smart Charger
Two 12 Volt Outlets w/ USB Ports
LED Interior Lights
LED Outside Porch Light
Two (2) Pre-wired for Solar plugs
Safety
Fire Extinguisher
LP/CO Detector
Smoke Detector
Safety Exit
Optional Yakima roof rack and roof mounted solar panel

Close view of the Yakima roof-mounted rack
Options
Mechanical Camper Jacks (4 corner)
2.7 cu.ft 3-Way Refrigerator/Freezer
Compressor 65 (85 or 130) Liter Refrigerator/Freezer (AC/DC)
Forced Air Furnace w/ Digital Thermostat
Flush Mount Glass Top Appliances (sink & stove)
DSI 6 Gallon Hot Water Heater w/ Outside Shower
Power Roof Fantastic Vent Fan
Extra Roof Vent
8' Side Awning w/ Side Awning Light
Batwing 270 Degree Wraparound Awning
Aluminum Roof Rack
Yakima Roof Rack System (Complete w/ tracks, towers, cross bars, & locks) or lower cost version Yakima "Tracks Only"
Rear Wall Steps (better access to the roof)
160W roof-mounted Solar Panel w/ Charge Controller (Roof Mounted)
80W, portable Solar Panel w/ Charge Controller (Portable)
Rear Flood Lights (LED)
LED Exterior Lighting Package
Thermal Pack (good for both hot & cold weather)
2nd Deep Cycle Battery (dual battery setup)
Silver Spur Options: "Interior Only", "Exterior only" and "Both- Interior and exterior"
Fiberglass exterior siding
Plastic Rubbermaid Portable Entry Step
Ready To Go Anywhere Starter Package
Porta Potti
Basic Camper Installation w/ Tie Downs & Wiring (Required)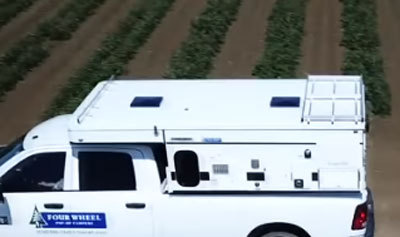 Low-cost version of the roof-mounted rack offered for Raven
Fabrics Options
Blue  (all cushions)
Chocolate Brown  (all cushions)
Dovetail Greystone  (all cushions)
Lana Bronze  (all cushions)
Deer Valley / Chocolate Brown  (deer valley on seats / chocolate brown cabover bed mattress)
Hattie Fog (leaf pattern)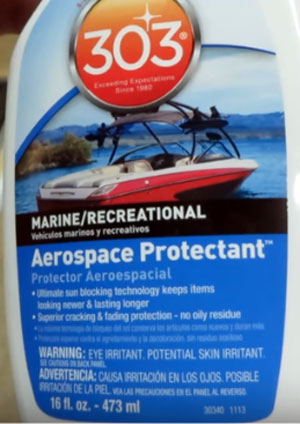 Suggested for cleaning soft walls
Summarizing: The pop-up truck camper Raven is an ideal match for popular short bed, crew-cab pickup tracks. Lite, robust, low cost (base model around 19k$, thanks to many versions starting from bare-camper (shell) to base (standard furnishing) and long list of options can meet requirements of many RV-ers interested in off-road adventures.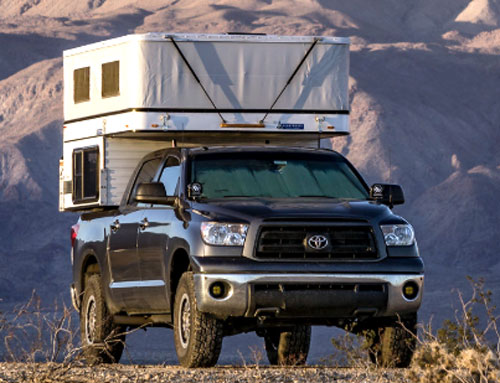 Enjoy the Mother Nature on board of the Raven pop-up truck camper
Unless mentioned otherwise, pictures are courtesy of Four Wheel Campers
Go back to: --> Review of top Truck Campers
Note:  Check with the manufacturer and / or authorized RV Dealer for the up-to-date list of features, options as well as latest specifications. These written above may not be accurate and certainly are subject to change by the factory. We are not responsible for any inaccuracy, the above text is provided only for the general information.
This review was written based on publicly available information for the benefits of the community of RV-ers. We do not receive any gratification or financial benefits from RV manufacturers, dealers, and any other promoters of RVs. 
We are NOT involved in sale and/or retail of RVs!