Roadster Motorcycle Camper Trailer
Roadster – Australian motorbike camper based on a design of renowned French Erde trailer provides large cargo space, easy to set-up topper tent – all at affordable price...
        It should be not surprising that some of the best motorcycle pull-behind campers you can find in Australia.

        After all, it is a country with an enormous territory and strong community of "bikers". So, when in 2017 a company Tour-Lite Camping & Leisure Trailers was established in Perth, the success was almost seen on the horizon. To minimize the risk and speed-up the whole process, Tour-Lite reached for help from already established business in France introducing some of the most popular and trusted brand of trailers Erde & Daxara. The Roadsters are great example of evolution of an Erde trailer. They are slightly modified (lower height by about 2.5" to adapt them for towing by motorbikes) and equipped with compact canvas roof-top-tent (sort of fold-out tent attached at the top of the trailer).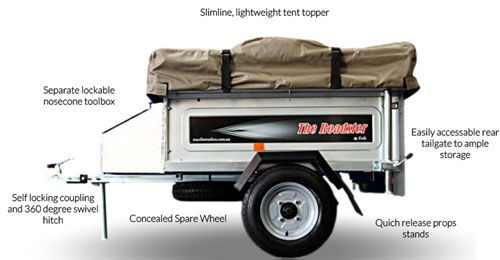 Roadster motorbike camper trailer
Above: road configuration)
Below: campground configuration w/open tent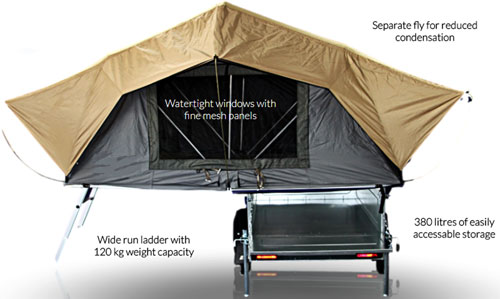 The final product provides the best of "several worlds":
Easy to set-up sleeping space (it takes mere 3 minutes to open the tent by flipping-it-out).
It's not only very practical and quick solution. It also offers some sort of safety when sleeping above the ground level (protection from small crawling creatures as well as from rain water and mud you may find on the ground)
More about roof-top-tents, their pros and cons you can find at: 
Large watertight cargo space with capacity of over 600 lbs (12,4 cubic feet)
The main cargo space is always accessible from the rear side of the trailer (regardless if the tent is folded or opened). You will also have available quite sizeable tongue-mounted, lockable nose-cone box. It's perfect for tools and readily accessible camping gear.
A lot of easy-accessible storage space
Designed for towing by larger motorcycles and tri-cycles (taller version can be towed by small 4-cylinder cars).
In fact, Roadster can be towed by most motorbikes. In practice, you just have to make sure that motorbike's weight exceeds that of the loaded camper.
Affordable cost for "camping on the run" as well as multipurpose cargo trailer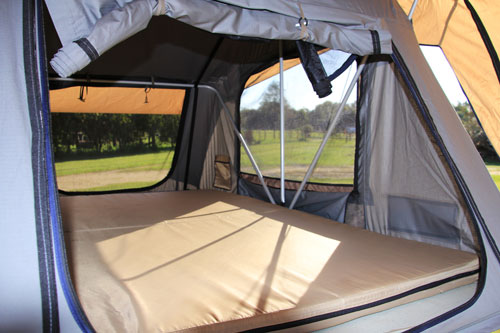 Tent is easy to set/fold and offers spacious, bright interior for sleeping. Note that you can fold the tent for travel with flat items like sleeping bag(s), blanket(s), towels etc...
         The tent comes with a 77.8" x 51.2" mattress offering decent sleeping space for two adults. Two side pockets can be used for small items, phones etc… 

       Mesh windows have also waterproof panels so the tent is ready for any weather conditions. The traditional roof-fly provides an extra rain protection however it was also designed to take advantage of tent's central overhead vent (In other words, to improve airflow and minimize the condensation). The ladder (standard feature) serves for climbing to the tent, but also as a support. 
With 51" interior height at peak you cannot stand-up, but what is important, definitely it is not the "crawling-in" space. Note that if needed, the tent can be easily removed (about 5 minutes job) and cargo space doubled. The spare wheel comes as the standard feature and is attached under the rear part of the trailer. 

Here with an optional awning
Tour-Lite offers several optional features for its Roadsters. The most important are:
Awning (UV/waterproof fabrics w/aluminum poles). Provides 54 sq.ft (5 sq.m) of covered area; folds into  20" x 8" (50cm x 20 cm) bag.
2 x 1.3 gallons (2 x 5l) side-mounted Jerry-cans for fuel.
Powder-coating (matching the color of your bike)
Note that Roadsters come in two versions. Standard one is designed for towing by small cars and comes with fixed coupling. The version for motorbikes is about 2.5 inches lower and comes with a coupler attached to 360 degrees swivel hitch. This lowers the center of gravity and offers much better maneuverability in tight areas.... 
So here it is: Ready for the road
You wouldn't believe how simple it is to set-up the roof-top-tent.
And the best part of Roadsters' design we left for the end...
See --> NEXT to continue as well as to see Roadster's technical specifications and features
Pictures: Courtesy of Tour-Lite
Note:  Check with the manufacturer and / or authorized RV Dealer for the up-to-date list of features, options as well as latest specifications. These written above may not be accurate and certainly are subject to change by the factory. We are not responsible for any inaccuracy, the above text is provided only for the general information.
This review was written based on publicly available information for the benefits of the community of RV-ers. We do not receive any gratification or financial benefits from RV manufacturers, dealers, and any other promoters of RVs. 
We are NOT involved in sale and/or retail of RVs!