Rockwood A214HW Camper
A-Frame Travel Trailers
Rockwood A214HW is one of the top A-Frame travel trailers; thanks to the front dormer and generous set of standard features it will offer affordable and comfortable RV-ing experience....
         Rockwood A214HW camper is one of the latest models of A-frame , Hard-Wall travel trailers  manufactured under an umbrella of the RV giant Forest River. 
Thanks to several innovative design features the model A214HW is at the front of the class of folding campers.  The large, fully-enclosed "box" (14' x 7') with hard-walled front dormer and quite reasonable floor-plan promises comfortable RV-ing experience. 
But like most A-frame campers, due to limited space and restricted headroom the A214HW is basically designed for families of two. While the dinette can be converted into the bed, practically it can serve as a sleeping place for one (maximum 2) young children. It's just the inherent limitation of all A-frame travel trailers!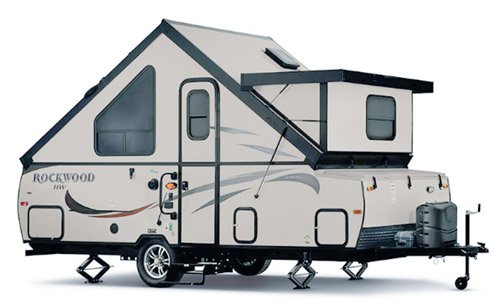 Rockwood A-214HW A-Frame travel trailer:
Above: campground configuration (open)
Below: Road configuration (folded)

Description:
      Behind the A214HW design there was certainly a lot of thoughtful thinking, planning and ingenuity. In limited space, the camper seems to provide all necessary features and amenities to make RV-ing adventures enjoyable. 
While interior is not clearly partitioned, it is still quite functional.  For example the main section of the kitchen - cabinet with cook-top and sink is located in the right-front corner of the trailer (street-side). However the cabinet providing the workspace and housing the microwave oven is located along the curbside-wall on the left from the entrance door.  To be correct, both appliances: sink and 3-burner cook-top have flush-mounted glass covers, so this part of the galley can be quickly converted into a working space. But it is not always a practical solution.  On the positive side – the interior is not that spacious, so certainly you would not be making "miles" when cooking. After all, such kitchen arrangement can be actually seen as the "kitchen with an island" (or rather with "peninsula" given the fact that the second kitchen cabinet is attached to the wall).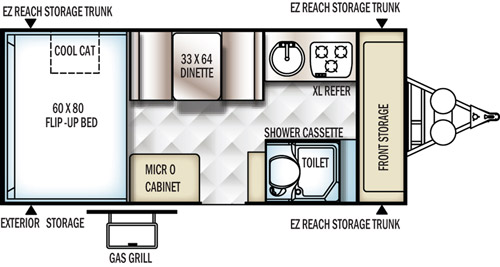 Rockwood A214HW: Floorplan 
     The constrained headroom in A-frame campers (maximum in the center) forces floor-plan designers to make such compromises. In the case of Rockwood A214HW, designers had more freedom thanks to the front Dormer considerably extending the "high headroom" area towards the front. Partially this area is used by the mentioned earlier section of the kitchen, but also by the hard-walled bath.
Talking about the bath – it is an integrated solution of square-shape tub with shower and water-flushed toiled. Hard-walled cabin is much more practical and offers considerably more privacy than curtain-protected toilet/baths seen in other A-frame campers.
      Now some good news for "more claustrophobic" RV-ers: the standard features of the A214HW camper include an exterior propane grill with table and an exterior hot/cold water shower.  Both mentioned feature have dedicated hook-ups making them practical and easy to use. In other words, Rockwood A214HW offers "friendly" alternative to its interior amenities.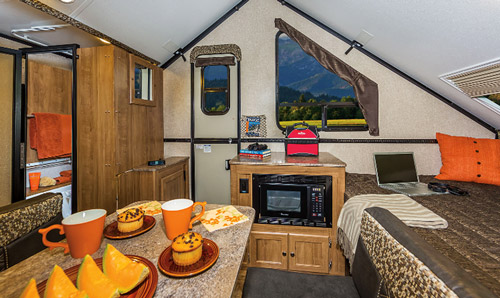 Interior: Visible bath w/open doors (left), dinette (front), main bed (right) and part of the galley (cabinet w/microwave)
Interior: View from the entrance door.
Visible bed (left) dinette (center across), galley (cabinet w/ sink, cook-top and fridge) and on he right small cabinet at the entrance and bath (in folded config)
     The traditional dinette includes two benches with cushions and an adjustable table. It is located on the street-side of the camper between the galley and the rear bed. The dinette is not too spacious what is also visible once it is converted into the bed.  Space is (or rather a lack of it) is an inherent limitation of all small-size RVs. 

The dinette basically makes the main living/working/reading and playing area inside of the camper. But let's make it clear – none of the available on the market A-frame campers pretend to be residential-like "home-away-from-home".  To make you feel better about the A214HW, please note that optional awning and screen room will extend the living space into the nature (provided you will wisely select the camping site). Then the only vital condition is the favorable weather. 
      OK, let's go back inside - The main flip-up bed with its quilted, heated mattress and decent size (60 x 80") should offer comfortable sleeping place. The large, panoramic, tinted skylight-like window just above the bed opens the sky and eventually brings inside the irresistible charm of the starry firmament (for more romantic minds) or "deep space" for those more science-inclined.  Well, do not worry, if the privacy is needed, there is a shade to make it happen. 
Under the bed is located 10k BTU Dometic's Cool-Cat heat pump. Depending on needs, it can cool (AC-mode) or warm (heat-pump mode) camper's interior. Under normal circumstances it should be able to keep interior temperature comfortable, however if you plan to use the Rockwood A214HW over extender seasons (spring-fall), you may decide to order an optional 20k BTU gas furnace.  Two 20 lbs LPG bottles should provide reasonable energy autonomy even in "out-of-grid" conditions.
Two steps at the entrance and a folding grab-handle makes the access to the trailer easy and safe.  Once inside, you will find on the right a handy cabinet with hard top surface. 
Main part of the kitchen - cabinet housing sink, 3-burner stove-top and fridge (plus some storage space)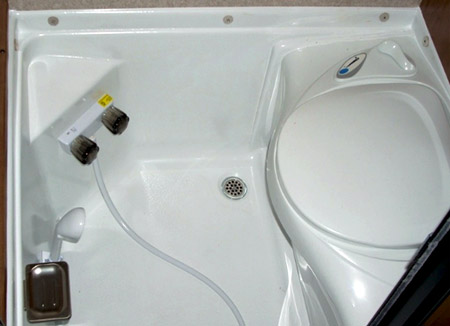 Bath:  Tub with an integrated shower and toilet
Positive Notes and just Notes:
The hard-walled bath is a big improvement compared to curtain-protected ones typically found in small travel trailers. Located under the front-Dormer, it offers not only good privacy, but first of all full standing height (crucial when taking the shower) and protection from water spill (typical when curtains are used). Pulling it down (or Setting-up) requires some extra effort. In this case you will have to move the bath's door and store it on the rear bed for transport (road) configuration.  But frankly, it is small price to pay for an increased comfort.
The A214HW camper does not have classic Black Water Tank. Instead, a kind of "Cartridge Carrier" is used for collecting the waste.  Accessible from the outside, it is a container on wheels resembling a luggage that can be easily pulled behind to the waste discharge area. Actually it is a good idea, because you do not have to move your trailer to empty the "waste tank".
The storage space is always precious, especially that available when on the road (closed configuration).  Frankly, the Rockwood A214HW has generous storage space. The front cap includes a sizeable storage box (accessible from the top). However, just under the main storage box, there is a sliding storage tray accessible from both sides of the camper.  It has built-in compartments to help keeping "stuff" in an order. Also at the rear side of the trailer you will find two independent storage compartments, one next to the external grill (can serve as the grill storage when not used) and another one on the opposite side with sliding-out tray (although much smaller than the front-one).
External front storage box (below the "box" there is located sliding-out Storage Tray 
Opening the roof in larger A-frame travel trailer is a difficult tusk (not because it is a complex process, but because at the center the roof opens high).  To make the set-up/fold-down process practical and smooth, Rockwood A214HW is equipped with a Power-Assisted Lift system. So basically it all happens at the touch of the button located next to the entrance door.
The list of Standard Features is surprisingly generous, in other words right after leaving dealer's parking lot you can start your RV-ing adventure. OK,OK,  it is just to say, that basically the standard version of your Rockwood A214HW is very well equipped so right from the start you can focus on planning your vacations.
Awning and Screen Room – both optional are always good addition to any small (medium)-size RV. They will not only extend your living space but also give you chance for making personal contact with the Mother Nature. The LED patio lights can extend your outdoor time into the night while an exterior speaker may bring some hopefully romantic "tunes" (if you want to stay on "good terms" with the Mother Nature, do not "abuse" Her (and neighbors) with an aggressive music).  
Please note that the A214HW comes with AM/FM/CD/Stereo as the standard feature (it is "strategically" located next to the bed). The trailer is also TV-prewired (cable and satellite), although personally I think that the Mother Nature and "local" touristic attractions are far better than most of what TV can offer these days. BTW - in the case of bad weather you can also create warm interior ambiance thanks to standard LED floor lights! 
The optional rear-mounted bike rack offers another opportunity to enjoy your outdoor activities.  Thanks to generous cargo limit, taking bikes should not be a problem. 
On the "critical" side:
The hard-wall Front Dormer represents new trend seen A-frame travel trailers, making interior more spacious and comfortable.  However in the case of A214HW, the Dormer design seems to have one "weak" spot that sooner rather than later will lead to potentially serious damage . When Dormer's side walls are pulled down, they are kept in a position of 90 degrees to camper's walls and seemingly at this stage they are supported only by hinges. Well – at this moment any pressure applied at their ends is significantly "amplified" (lever effect) and can simply destroy the hinges and eventually damage the walls. As you can see in the attached video, it can easily happen during the process of setting-up/pulling down the dormer.
Specifications
---
Exterior length (1)

Box length

Exterior height (road)

Exterior height (open)

Exterior width

GVWR

Dry weight (2)

Cargo (2)

Hitch weight (2)

Fresh water tank

Grey water tank

Black water tank (3)

LPG

Sleeps (4)

Floor-plan

20'10"

14'

5'8"

?

84"

3,382 lbs

2,730 lbs

648 lbs

341 lbs

20 gallons

12 gallons

Portable "Cartridge Carrier" 12gals

2 x 20 lbs

2 (+2 children max)

Rear bed
---
1. Same length in closed and open configuration

2. Standard features (it will change when equipped with options) 
3. Removable from the outside 
4. Dinette can be converted into small bed for a child (eventually 2 young children)
Construction:
Frame: Powder-coated tubular steel
Box: Fully-enclosed, vacuum-bonded fiberglass w/front Dormer
Roof: Vacuum-bonded fiberglass w/metal interior 
Floor: one-piece undercoated wood 
Rock protection: lower front Diamond-plate
Suspension: Independent Torsion 
Axles: Single w/Easy Lube
Brakes: Electric
Wheels: Aluminum with ST205/75R14 C tires
Floor (interior finish): Linoleum 
Windows: tinted w/shades
Kitchen
3-burner, stainless-steel like cooktop, (flush-mounted w/glass cover)
Extra Large 3-Way Refrigerator 
Microwave w/turning table
Single bowl stainless steel-like sink (flush-mounted w/ glass cover)
Folding faucet
34" high cabinets w/wooden drawers and extension metal guides
Bath:
Hard Wall Shower with Residential Flush Toilet
Towel bar
Soap container (dish)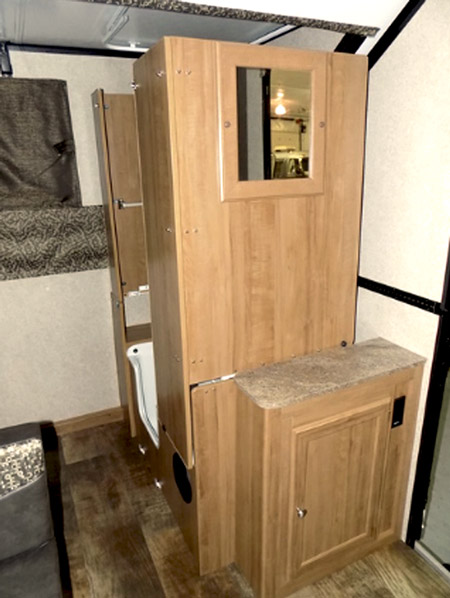 Bath (door not attached). In front is visible storage cabinet and mirror on the wall (entrance is on the right). 
Sleeping/Living Area
Double-size bed (60" x 80")
Quilted, inter-spring Mattress w/thermostatically controlled heating
Dinette with 4" Cushions (convertible to bed)
Storage space under the benches
Solid counter-tops
AM/FM Stereo with CD Player
Interior/Exterior speakers
TV prep (cable/Satellite)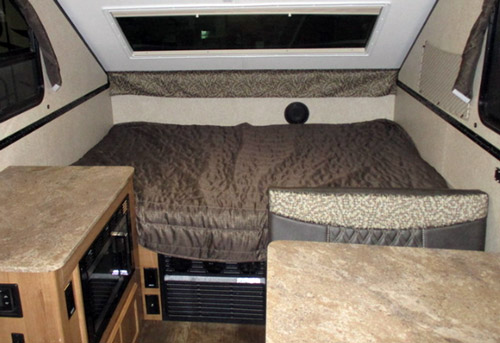 Rear section of the camper w/ bed
Exterior features
2 x 20lbs tongue-mounted LPG tanks and LP regulator w/ molded fiberglass cover
Outdoor Gas Grill with Worktable
Two 12V battery racks and boxes (tongue-mounted) w/wiring kit
Large front storage box with under-storage sliding tray (pulls-out from both sides)
Rear under-bed storage (access from both sides of the camper)
Double Door Step w/folding grab handle
4 Crank-Down Stabilizer Jacks with Sand Pads
Tongue jack w/swivel wheel (Power front jack optional)
Built-in A-Frame Mounting Provision for Equalizer Hitch Bar Installation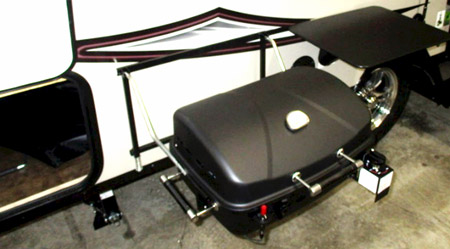 Outdoor grill with a worktable (on the left is visible an exterior storage that can be used for the grill)
Climate Control
3-Speeds Ventilation Fan (roof-mounted)
10K BTU Cool-Cat Heat Pump
20K BTU Forced Air Furnace w/ Electric Ignition (Optional)
Opening windows w/screens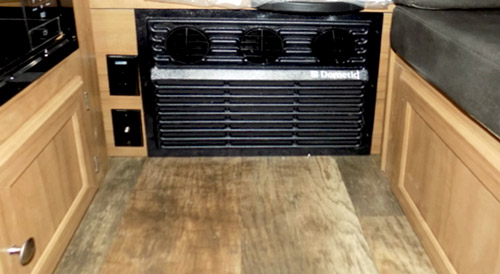 Fragment of the Dometic's Cool-Cat heat pump (the "exterior" heat exchanger is also located under the bed, but it is facing street-side wall)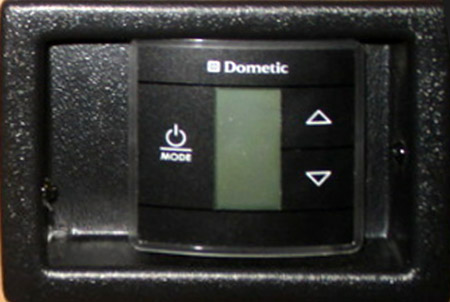 Dometic Cool-CAt Heat Pump control panel
Electrical
Power Roof assist
30 Amp shore inlet w/detachable power cord
35 Amp Converter with Built-In Battery Charger
110V Exterior Outlet
Battery Box (2) and Wiring Kit
12V Safety Breaker
USB Charging Ports
TV Outlet with Cable and Satellite Hook Up
Interior Floor Lights
2 Ceiling LED Lights
Patio Light
Courtesy Light on Front
7-Way Pigtail Plug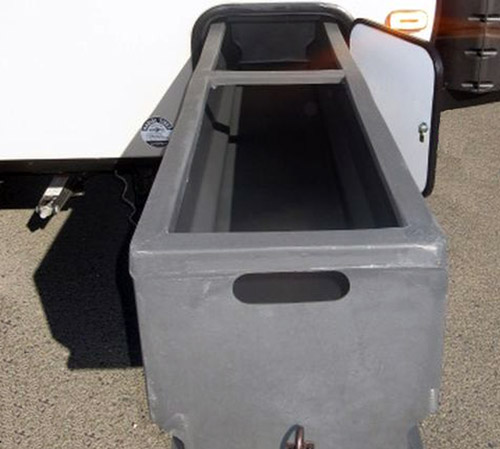 External storage tray
Water
Water pump
Hot water package (filter, 6 gallons DSI water heater, water-demand pump, hot/cold external shower)
Fresh & Grey water tanks
Waste portable "Cartridge Carrier"
Exterior Hook-ups
City water
Winterization inlet
Propane for an external grill
TV cable/satellite inlet
30A shore connection w/ detachable power cord
Solar inlet (Solar panel optional)
Safety:
12V Safety Breaker
Alarm Detectors (LP Leak, Carbon Monoxide)
Fire Extinguisher
Spare tire w/carrier (rear-mounted)
Options
20k BTU Furnace w/electric ignition)
Bike rack (for up to 4 bikes)
Awning/Screen Room
Solar Panel (40W)
Go back to: --> Top A-Frame Travel Trailers
Note:  Check with the manufacturer and / or authorized RV Dealer for the up-to-date list of features, options as well as latest specifications. These written above may not be accurate and certainly are subject to change by the factory. We are not responsible for any inaccuracy, the above text is provided only for the general information.
This review was written based on publicly available information for the benefits of the community of RV-ers. We do not receive any gratification or financial benefits from RV manufacturers, dealers, and any other promoters of RVs. 
We are NOT involved in sale and/or retail of RVs!
---