Rockwood Fifth Wheel Campers
The series of Ultra-Lite Signature Fifth Wheel campers from Rockwood includes spacious and luxurious homes away from home meeting expectations and dreams of most of travellers....
Introduction to Rockwood

Rockwood was founded by Arthur Chapman back in 1972 (a grandson of a legendary Arthur Schrock – founder of Starcraft Inc.).
Rockwood started manufacturing mini-motorhomes adding successively pop-up campers and travel trailers to its product line.
During 80s Rockwood was changing hands and finally became part of the large conglomerate Van America that in 90s changed name to Cobra Industries.
But that was not the end of troubles – soon after going public Cobra went belly up and some assets (including Rockwood campers) were acquired by Forest River. In 2005 the latter company itself was acquired by another legend – Warren Buffet becoming part of his Berkshire Hathaway.
Today Rockwood campers are manufactured under the historical brand name by Forest River group.
---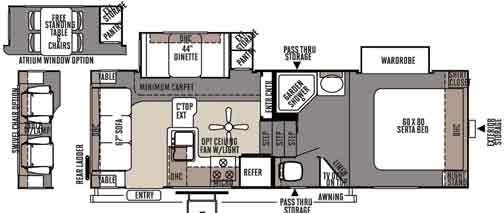 Rockwood 5th Wheel Model 8244WS with options (Swivel Chairs and Atrium Window)

Rockwood Signature Fifth Wheel – Model 8244WS
      In the manufacturing of Rockwood trailers, no compromises were made. They are everything you need for a comfortable camping experience. The model 8244WS has one master bedroom, which can easily fit two persons, and other two sleeping areas, for one person each. In between them, you will find the completely equipped kitchen and a restroom. The large bedroom has its shower cabin, sink and a large dresser. It is also separated from the rest of the trailer, for privacy. The trailer has storage spaces smartly placed, to avoid using up space useless, like corner and suspended cabinets. You can opt for one of the extra sleeping areas to be modified into a dining place.

---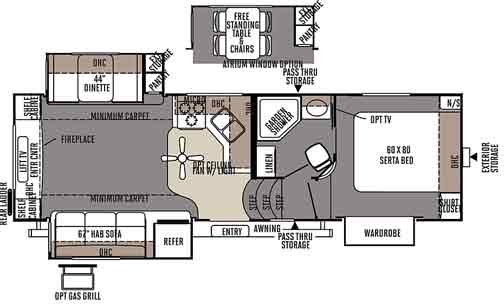 Rockwood 5th Wheel Model 8265WS with Atrium Window option.

Rockwood Signature Fifth Wheel – Model 8265WS

      Rockwood trailers are the ultimate camping vehicles, incorporating the highest standards of comfort and style. No matter where you choose to go, you will have everything you need. Model 8265WS is a luxurious trailer, with large enclosures and a fireplace. It has the capacity of housing a maximum of six person, offering comfortable sleeping places for everyone. Of course, one sleeping area can be turned into a meal serving area. The master bedroom is spacious, and so is the bathroom, located right next to it, but in separate enclosures. The bathroom is large enough to let you move easily. And the kitchen is placed on a side, for a full use of the space.

---
Model 8280 WS

Rockwood Signature Fifth Wheel – Model 8280WS

       Camping can turn into an incredible experience, especially if you enjoy the comfort given by the Rockwood trailers. The 8280WS model hold spacious sleep for 4 people, including a master bedroom for 2. The bathroom is large, separated from the rest of the enclosures and equipped with everything you need. The kitchen is placed in a corner and allows you plenty movement space, the central area being just right for dining. The other 2 sleeping places are on the side. Thus, all the space is properly split, to help you have everything you need, without a crowded feeling. You will be fully equipped and live comfortably.

---
Model 8281WS

Rockwood Signature Fifth Wheel – Model 8281WS

       Having a family trip, even if you are a larger than average family, will be no problem with the Rockwood trailers. For instance, the 8281WS model is made for large families, having 6 sleeping places and 2 bathrooms. The smartly developed trailer will accommodate all of you, without staying in cramped spaces, offering all the comfort you need. There is a large main bedroom for 2, right next to the main bathroom. But they are separate, so anyone can access the bathroom without entering other enclosures. The other bathroom, smaller, is located at the other end, making it available for the rest. The kitchen it right in the middle.

---
Model 8285 IKWS

Rockwood Signature Fifth Wheel – Model 8285IKWS

       Enjoy the newest models of camping trailers, developed by Rockwood trailers. Made after the latest trends and technologies, they make trips fun and comfortable activities. The model 8285IKWS is exactly like a small apartment on wheels. You have all the comfort and appliances you need, plus a spacious vehicle to enjoy on the road. With sleeping places for 4 persons, the trailer is designed very smart, with sideways additions, for the kitchen and 2 sleeping places, which allows a large central space. You will never feel crowded or claustrophobic in this trailer model, ensuring the most relaxing and comfortable traveling.

---
Model 8286WS
Rockwood Signature Fifth Wheel – Model 8286WS

      You have four children, or you always felt sad about leaving your old folks behind in vacations due to lack of space in the car? Well, Rockwood trailers come with the best solution for you. The 8286WS trailer model is exceptionally spacious, being able to offer sleeping space for 7 persons. The trailer is designed in the best way possible. The kitchen and dining area are in the middle of the trailer. The master bedroom and bathroom are in one end. And another sleeping enclosure is on the other side of the trailer, for the best comfort. Additional sleeping spaces are in the sideways extension of the trailer, making the center area large enough to hold everybody at once.

---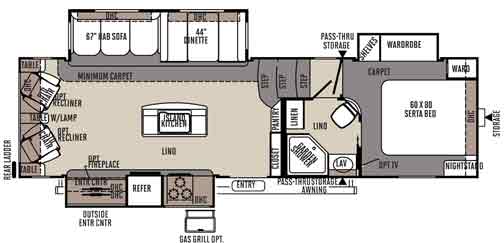 Model 8288WS
Rockwood Signature Fifth Wheel – Model 8288WSA

      Traveling and camping have never been easier. Once you have a Rockwood trailer, you won't have to worry about where to stop, is accommodation available, or if you will like the accommodation conditions. The spacious and fully equipped model 8288WSA trailer, can hold up to 5 persons. There are a spacious bedroom and a beautiful bathroom, with a shower that can fit anyone. Plus, the smart sideways design of the kitchen and additional sleeping spaces, make the center of the trailer an area where everybody can gather, like a real living room. You won't only have a roof under your head, but a comfortable living area if the weather gets bad during camping.

---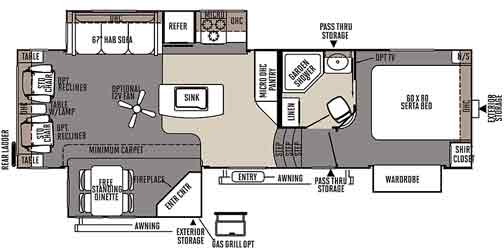 Model 8289WS
Rockwood Signature Fifth Wheel – Model 8289WS
 
      If you like traveling, camping and exploring, then a trailer would be the best investment for you and your family. And Rockwood trailers are the best you can get. The 8289WS model appears small on the outside, but it is extremely spacious on the inside, having 4 sleeping spaces. Having spaces placed as exterior extensions, like the kitchen, dining room, and sleeping areas, the interior of the trailer appears very large. Besides this, it has a main bedroom for 2 and fully equipped bathroom for the entire family. With this trailer, each camping trip with the family will be a pleasure, having all the comfort and space you need.

---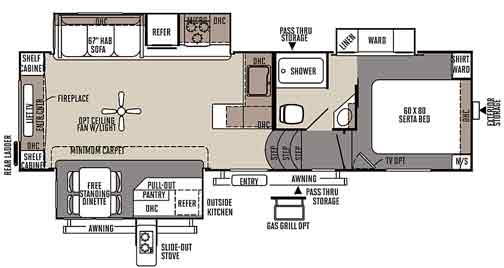 Model 8294WS
Rockwood Signature Fifth Wheel – Model 8294WS

     It's always hard to decide what to take with you on the camping trip since the space is always limited. But with the trailers designed by Rockwood, you will never have to worry about space. The model 8294WS is like a small home with wheels, having everything you need. Countless counters and depositing areas, fully equipped kitchen, bathroom and even a coquette dining area. It can house 4 persons, but it has enough room for a large master bedroom and a bathroom with large shower.  You will have everything you need in one place, making camping a pleasant experience.

 About Us / Privacy Policy / Resources
Go to: Pop-up Travel Trailers and RVs