Rockwood Hard Sided Popup
The Rockwood pop-up series has some of the most luxurious and spacious hard side campers – hybrids of tents and trailers.....
       The Rockwood Popup Series has some of the most luxurious and spacious hard side camper trailers.
These campers are wonderful hybrids of tent and trailer, offering the rustic feeling of being out in nature, but combined with the necessities to make adventuring easier.

Each Rockwood camper has a fiberglass exterior, strong and secure to face any bumping and rocking it might be exposed to in the wild.
Because these campers are so light and compact, they're perfect for those who don't have as much space for storing their camper during the off season.
And they're so light that almost any sedan or small SUV can pull them. They each have power lift assist, so setting up is easy. And, for a little more space or shade, an awning or screened room is the perfect option.

         There are nine Rockwood popup models, ranging from the small and compact, to the large and spacious. The smallest model, the A122, is only 17'1", when closed including the hitch. It comes to a comfortable 60" high and has a cargo capacity of 1005 pounds. The A212HW is on the opposite end of the spectrum, being a roomy 20'10" when closed and having a box size of 14' instead of 12' like all the other models. When closed, the A212HW is a spacious 67", proving that these a-frame trailers can truly have it all.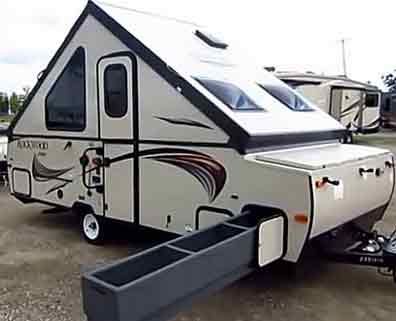 Rockwood A212HW (High Walls) A-Frame travel trailer

The A122BH offers a little more storage than the other models, having a 28x84 storage deck. If you need a little more space, try the A122TH which has a front deck that's a large 57x84 and also serves as a storage area. The A194HW has exterior sliding storage, as well, and is a bit larger than the A122BH and A122TH.

All models come with a small kitchenette that consists of a three burner stove, a sink, and a refrigerator. A small, micro cabinet serves as the perfect place to store dishes and other things needed in the kitchen. Every model has an outdoor gas grill that can also be used for cooking on a beautiful day.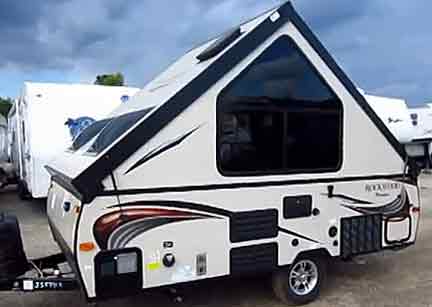 Rockwood A122 Hard-Side A-Frame Pop-up Travel Trailer

The typical floor plan for Rockwood hard side campers is pretty simple. For the majority, there is a flip up bed on one side, a kitchenette in the middle, and a dinette on the other side. In the A128S, there is another U dinette in the area where the bed usually is, but this converts to a bed as well. The A194HW model also has a shower and toilet, making it a convenient option for those who don't always stay at campgrounds and need a bathroom option.

Floorplan of A194HW A-Frame Travel Trailer (the only model in the Axxx series with shower and toilet)

       At Forest River, Inc, there are several videos that can assist with the set up process. They have two setup up videos for the hard side options. And, if closing is difficult, they also have a video on how to close the camper.

 About Us / Privacy Policy / Resources
Go to:  Pop-up Travel Trailers and RVs