Rockwood Roo Expandable Travel Trailer
Rockwood series of Roo expandable travel trailers offers a great compromise between the size of camper on the road and the space and amenities available when set-up on the campground.

All Rockwood Roo models have fully laminated aluminum frame and laminated fiberglass sidewalls what results in lightweight and durable design.
Insulation ranges from R-7 for walls, through R-12 for the floor and R-14 for ceiling. Insulation combined with standard options including 13,500 BTU ducted heating system and equivalent power roof AC, heated mattress, 3-speed roof fan guarantee 3-seasons comfort. 
Interior is finished with hickory wood giving the feeling of warmness and luxury.
Electric slide-outs and bed cables system eliminating external poles make it easy to set-up on the camping.
12V LED-lights, directional lights at bunks and sofas for reading, bathroom skylight provide enough of light but also allows for creating a charming late-evening atmosphere.
Protective awning, outside grill hook-ups and even accessible from outside fridge offers extra space for outdoor living. All that in company of music from external speakers being part of an entertainment system (FM/CD/DVD/MP3/TV…actually you name it what).
All units have bathroom with toilet, sink and shower (some models are equipped with bathtubs!).  For summer time there is also available external shower.
Kitchen equipped with 3-burner stove, microwave, double-bowl sink with residential style faucet and cabinets offers plenty of possibilities for those enjoying cooking. Fast 6 gallons gas/electric water heater provides enough of hot water for large family.
Interior in model Roo 23SS

Two 20lbs gas bottles guarantee good autonomy. Hook-up for solar panel adds more "eco"-taste into already modern economic design.
The GVWR of Roo models ranges from 3854 lbs (smallest Roo 17 model) to 6678 LBS for Roo 21BD model). The length ranges from 18'8" (model 17) to 24'8" (models 23xxx). Cargo capacity is quite impressive for all models ranging from 1037lbs (Roo 17) to 1564lbs (model 21BD).
Summarizing – the series of Rockwood Roo expandable campers offers best of two worlds: small, lightweight and easy to tow trailer for good road performance and large, comfortable residential-like space for living, sleeping and enjoyable time on the campground.
Model 17 Roo
If you are looking for a small trailer, which is big at the same time, then you need to check type 17 Roo. It can accommodate up to 6 persons since both of its sides are expandable. The bathroom is generous, allowing you to get spoiled in a bathtub. The kitchen is in the central area, where you can find a dinette as well. If you need extra sleeping places, you can turn the dinette into a bed. It is a trailer that looks small and compact on the road, and larger and comfortable when camping.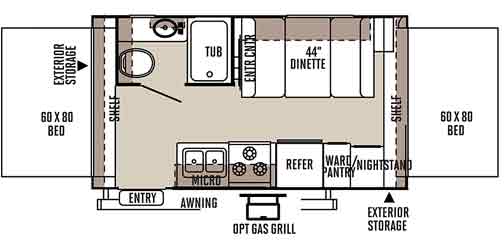 Rockwood Roo 17 floorplan

---
Model 19 Roo
Don't let yourself be fooled by the small appearance of this Rockwood trailer. It can accommodate up to 8 people without a problem since the 19 Roo has expandable sides. Thus, you instantly make room for 4 people just in these areas.  Also, inside you will find an extendible couch and a dinette, which can be used as bed during the night and as a table during the day. The bathroom is coquette, with shower, sink and toilet. And the kitchen is placed in the middle of the camper, for a little conversation until dinner is ready. You'll be surprised of how smartly this camper is designed.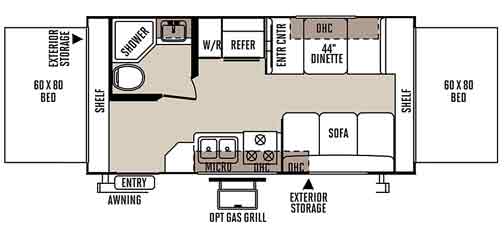 Rockwood Roo 19 floorplan
---
Model 183 Roo
The 8 persons Rockwood trailer is more spacious than the rest of the trailers. The 183 Roo model has three extendable parts, making three double sleeping spaces to be available. Inside, using the dinette, two more people can rest overnight. Having more sleeping space in the extendible areas means more room to get around in the trailer, which is a great advantage for a large number of inhabitants. The bathroom is large enough to hold a generous shower, and the kitchen is smaller but equipped with the necessary appliances. It's hard to ask more from such a compact trailer that appreciates space well-used.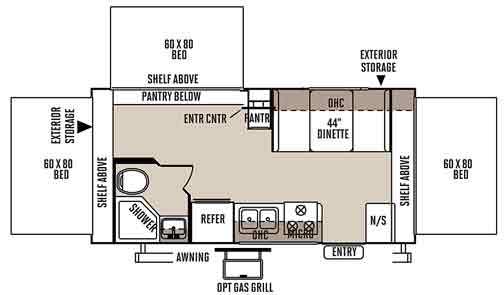 Rockwood Roo 183 floorplan
---
Model 21DK Roo
In case you are looking for a trailer to hold 6 people and be spacious in the same time, check the 21DK Roo trailer model, made by Rockwood. The smart design of the trailer makes it efficient in housing so many people, without feeling cramped. The sides are extendible, creating two comfortable sleeping places. Inside, the kitchen is placed like an extension in the outside, leaving the central part more spacious. The bathroom is indulgent, having room for a beautiful bathtub. And the dinette can always mean another place to rest for the coming night. Everything is planned with care and consideration for the camper.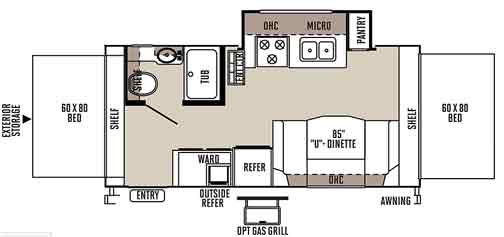 Rockwood Roo 21DK floorplan
---
Model 21BD Roo
The 21BD Roo model is a trailer made by Rockwood considering space and luxury. Capable of holding up to 8 persons, this trailer has a design that will surprise you. It can expand on the side forming two enormous bedrooms.

Also, the dinette is constructed to be an entirely outer appendix, making room for dinner and sleep, and leaving the center of the trailer empty. That means more space to move around. The kitchen is placed on the corner, to make sure all the space is used appropriately. And the bathroom is spacious, having a bathtub instead of a shower.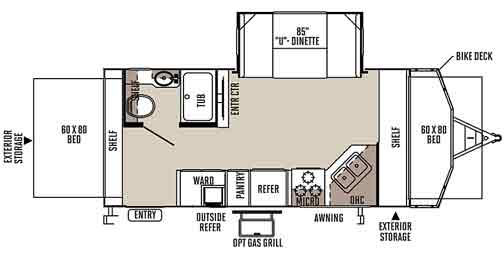 Rockwood Roo 21BD floorplan
---
Model 21SSL Roo
Rockwood designed trailers that are a bit out of the ordinary. The model 21SSL Roo is one of them. Just by looking at it, you know it is special, as it has a front metal deck that can be used as storage space. It can hold up to 8 people. Both sides of the trailer are expendables, turning into a bedroom, and one of them is right above the front deck. A side extension holds and extendible couch and a dinette. Those are two more available sleeping areas. The kitchen is on the other side, small and coquette. And the bathroom awaits in one of the trailer's corners, leaving in the middle plenty of space.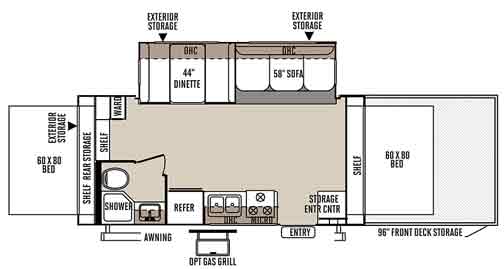 Rockwood Roo 21SSL floorplan
---
Model 21SS Roo
A compact and highly adaptable trailer for 8 persons is the 21SS Roo model from Rockwood. The trailer will surprise you with the large inside space, in which you can do all kinds of activities, with still having the capacity of housing so many people. Both sides will extend in two large bedrooms. An extensible sofa and a dinette are placed on the outer side appendix of the trailer. The bathroom is in the corner, housing a shower, a sink, and toilet. And the kitchen is right next to it, leaving the rest of the space available for living. Small, but big, would be the right description.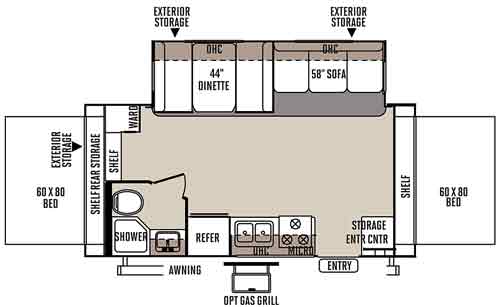 Rockwood Roo 21SS floorplan
---
Model 23IKSS
With this trailer, Rockwood managed to capture the attention of campers. The 23IKSS model is made to house 6 persons and has a unique interior design. It has outer appendixes on both sides, one having an extensible couch and the dinette, and on the other side being the kitchen. The bathroom is placed in a corner, leaving the central area really spacious. Only a countertop will be found in the area. The sides are extendible, forming two large and comfortable bedrooms. This trailer had a great space usage, making it ideal for enjoyable camping experiences.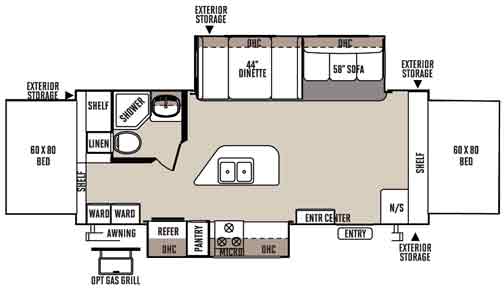 Rockwood Roo 23IKSS floorplan
---
Model 23SS Roo
Big enough to house 8 people, the 23SS Roo model made by Rockwood makes camping possible even in the case of large families. It has plenty of room for everybody, in the two extendable sides, an extensible sofa, and a dinette. All of these are sleeping places, so having a larger number of family members is not a problem. The bathroom is situated on a corner, the kitchen being right next to it. Thus, space is not used chaotically, making sure you don't feel squeezed in, even if you travel in larger numbers. It is definitely a trailer to consider.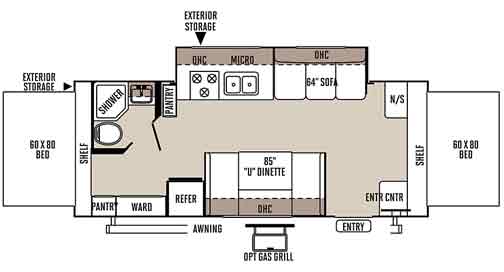 Rockwood Roo 23SS floorplan
---
Model 233S Roo 2015 Edition
The 233S Roo trailer model, made in 2015 by Rockwood, is what we can call a versatile vehicle. With a maximum capacity of 10 persons, this trailer can actually put up with the challenges. It has a total of three extendable sides, all transforming from mere trailer walls into large bedrooms. Also, a dinette placed as an outer appendix, also have the option of turning into a comfortable bed. And there is the possibility of extending the sofa, for additional sleeping places. The bathroom and kitchen are small because a trailer of this capacity needs to have as much available space as possible.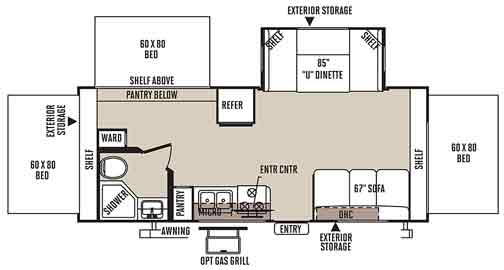 Rockwood Roo 233S floorplan
---
Model 233S Roo 2016 Edition
As you can guess, this is the latest version of the 233S Roo model, released by Rockwood this year. It has the same enormous capacity of 10 persons at the same time. It has three extendible sleeping areas. So are the extendible couch and the dinette. The bathroom and kitchen make no exception, in comparison with the last year's model. The only difference between them being the interior design, present with more durable and beautiful materials, following the latest trends. And the appliances, which are more modern, having the latest features. It may be just a matter of tastes.

 About Us / Privacy Policy / Resources
Go to:  Pop-up Travel Trailers and RVs