Rockwood Signature Travel Trailer
The Rockwood Signature Ultra-Lite travel trailers are representing the best of modern day campers- light and durable design with luxurious residential-style interior....

      The Rockwood Signature Ultra-Lite travel trailers are representing the best of modern day campers- light and durable design with luxurious residential-style interior.
They offer large choice of floor-plans, features and options to customize the trailer allowing people to feel like in their own homes.
Models within the series do not vary much in terms of dimensions and GVWR.
For example external length has very narrow range from 34'9" to 35'3" with fixed external height and width to correspondingly 9'10" and 96".
Equally models have quite narrow range of GVWR (from 8791 lbs to 9052 lbs) and a bit larger spread of cargo carrying capacity ranging from 1231 lbs to 2000 lbs.
 All models have standard fresh and black water tanks and with the capacity of 38 gallons. Most of them have also similar 38 gallons tanks for grey water.  However trailers designed with sleeping space for larger groups have double-capacity grey water tanks (76 gallons).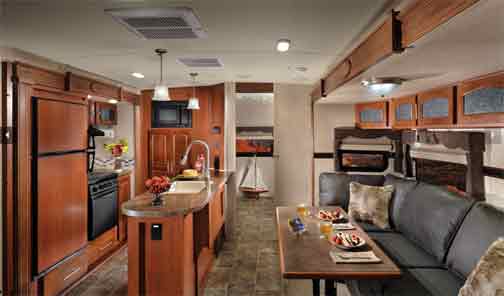 Model 8327SS: Luxury, Elegance, style.....

Hickory is a standard interior finishing, however all trailers of Signature series have very strong "residential" touch. Stylishness, elegance but also more luxurious details make these units luxurious homes on wheels…..

---
Model 8293IKRBS

For a family of four, this trailer is the best option regarding space and comfort. Rockwood did an excellent job creating model 8293IKRBS since it has everything it needs without missing the space. A large bedroom has one master bed and plenty of room. A dinette and a sofa are made as an outer extension, the kitchen being placed in the same way but on the other side, leaves the central area very spacious. A counter with a sink is right in the middle, to compensate limitations of the small kitchen. The bathroom is also generous, having enough space to move inside without a problem.

---
Model 8310SS

This is another fantastic but this time luxurious 4-person trailer. Model 8310SS is a masterpiece made by Rockwood that will offer you all the comfort you need. The bedroom is incredibly large, using an outer extension to gain extra space. Right next to it is the bathroom, having an entrance from both the bedroom and the small hallway leading to the rest of the trailer. The kitchen has a small "L" shape, for a better space usage and two armchairs fulfill the need to have a space to relax. A dinette and a sofa will offer the extra sleeping places in case they are needed.

---
Model 8311WS

There isn't a camping trailer more grandiose than this one. The model 8311WS made by Rockwood has a staggering capacity of housing up to 10 people at once. Everything is arranged in the trailer so that it meets the requirements for a large group. It has a master bedroom and an enclosure with superposed beds. In the central area, to the side, there is a large dinette and a sofa, which will make excellent additional sleeping area. The kitchen forms an "L"-shape, occupying little space and offering you all you need to cook. The bathroom is rather small, but enough to move inside.

---
Model 8312SS

In case you need a beautiful and spacious trailer, the model 8312SS made by Rockwood is capable of meeting your requirements. Large enough to house up to 7 people, the trailer has one large bedroom and an area with superposed single beds. Additional sleeping space can be made by using the dinette and couch. The bathroom has a decent size since it offers a bathtub. And the kitchen is designed in an ergonomic manner, having an extensible counter, in case you need some extra space. Camping will become a pleasure with this trailer because nothing is missing from offering you a great experience.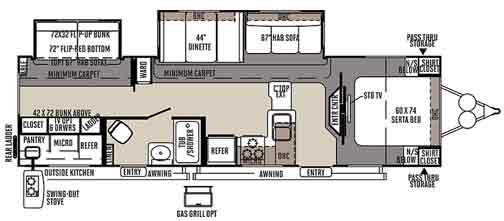 ---
Model 8314BSS

A trailer for 4 persons was never this big. The space in the model 8314BSS is incredibly portioned and created, Rockwood doing its best in offering the great camping experience.
     Enjoy an extremely large bedroom, with a double-size bed and all the storage space you need. A dinette and a sofa will compensate for the other sleeping areas. The bathroom is quite spacious and has a double entrance, both from the bedroom and from the rest of the trailer. The kitchen is large, having enough space and cabinets to allow for gourmet cooking. Near the kitchen, two armchairs make the area complete.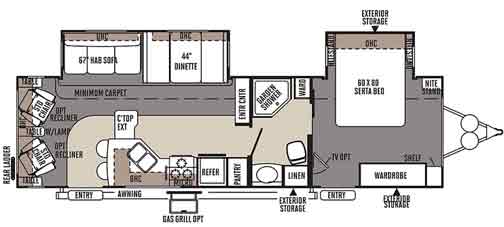 ---
Model 8315BSS

It is time to make camping trips with the family an incredible experience. Rockwood offers the model 8315BSS to all 4 member families who wish to have a pleasant outdoor experience. A large master bedroom will provide all the space you need for a comfortable night. A spacious bathroom with a shower is right next to the bedroom, but it can also be accessed from the other side of the trailer. A sofa and dinette are placed in an outer extension, which can also be turned into sleeping areas. The kitchen is large and placed in a corner, for the most efficient space usage.

---
Model 8325SS

The model 8325SS is a trailer you will love, designed by Rockwood, in case you have a family with 4 members. A huge bedroom with a double bed awaits inside. The bathroom has a decent size and has access doors from both the bedroom and the rest of the trailer. You will find the central area of the trailer incredibly big. The dinette, sofa, and an area with two armchairs are all outer extensions. The kitchen is placed in the middle, but it also has an extensible counter. So there is plenty of space for the family to spend a great time together in one place.

---
Model 8327SS

A large trailer with a maximum capacity of 10 people, this Rockwood model is up to the challenge of traveling in a large group. It has a master bedroom with a spacious bed. A bathroom with a shower and enough space to move around. In the other end, you can find another sleeping enclosure. And in the center there is a large area which you can call a living room. It can be transformed into a big sleeping area at night. The kitchen is rather small, in comparison with the rest of the trailer, but a central countertop will make it up for the space needs.

---
Model 8329SS

Looking to travel more comfortable in a group of 4? Rockwood made the model 8329SS to mold to these requirements perfectly. The main bedroom is extremely large, offering an enormous amount of space for two people. The bathroom is equipped with a shower, sink and toilet and has a double entrance. The central area is very spacious as well. The kitchen is small and placed on the side, together with a sofa right next to it. On the other side, as an outer extension a coquette dining area give you the best place to sit down and enjoy a meal together. The look of the trailer is completed by two comfortable armchairs.

Summarizing – Series of Rockwood Signature Ultra-Lite travel trailers present the lightweight and durable design with residential luxury and style.

---
 About Us / Privacy Policy / Resources
Go to:  Pop-up Travel Trailers and RVs