Rockwood Ultra Lite Travel Trailer
The series of Rockwood Ultra-Lite travel trailers represents the best in RV world: ultra-lightweight and eco-friendly design with warmness and space of residential luxury.
      All Rockwood Ultra-lite travel trailers are designed according to best modern-day standards.
These include: lightweight, durable and fuel-efficient design due to the extensive use of aluminum, fiberglass and lamination for shell.
Good insulation (including underbelly enclosure in some models), floor ducted furnace, ducted AC system for energy efficiency and comfort in most weather conditions.
Interior is finished with hickory (standard with cherry as an option)). Together with LED-lighting, directional reading lights, armchairs and sofas it offers the coziness of residential areas.
Kitchen equipped with 3-burner stove, microwave, double-bowl sink with residential style faucet and cabinets offers plenty of possibilities for those enjoying cooking (some models have even central countertop). Fast 6 gallons gas/electric water heater provides enough of hot water for large family.
Bathrooms with foot-flush toilet, sink (some models have two sinks) and shower are spacy making the daily routine enjoyable rather than awful but necessary experience.
Entertainment center luxuriously equipped with FM/CD/DVD/MP3/ and number of LCD-TV screens offers the chance to keep your home habits not only in bad weather.
Power awnings extend the living area to the outside. Together with an external gas-grill and worktable and speakers it gives you experience of an outdoor adventure.
Windows with tinted safety glass provide privacy and safety.
Models Ultra-V are characterized by V-shape front-end that improves the aerodynamics and as a result the fuel efficiency on the road.

GVWR of Ultra-Lite models ranges from 6606lbs for model 2304DS to 7876lbs for largest model 2910TS.  The length ranges from 24'9" (model 2304DS) to 35'5" (models 29xxx). Cargo capacity is quite impressive for all models ranging from 1345lbs (model 2702SS) to 1588lbs (model 2910TS).
Model 2304DS ULTRA
Camping will become a pleasant leisure activity with the trailers offered by Rockwood. Model 2304DS ULTRA can hold up to 4 persons, and it is made to be spacious and versatile. The living room can be quickly transformed into a large, 2 person bedroom due to its extendible couch. Also, the additional 2 person sleeping space is designed on the sideway, leaving the center part of the trailer very spacious during the day. This sleeping space can be switched for a dining area. The kitchen is small but fully functional. And the bathroom, placed in a corner, has all the utilities you need.

Rockwood model 2304DS Ultra with options

---
Model 2604WS ULTRA
A family of four will never have to worry about space in this Rockwood, trailer model. 2604WS ULTRA was designed with everything needed to accommodate 4 people without a problem. A large master bedroom, connected to the bathroom. The trailer has a separate dining area and additional sleeping place, both in an outer storage unit, to create extra space. The other sleeping area has an extendible couch, transforming it into a charming living room during the day. The kitchen is placed central, and two more armchairs complete the area, making a real pleasure to sit in the trailer if the weather is difficult.

Rockwood model 2604WS Ultra with options
---
---
Model 2607A ULTRA
The perfect Rockwood trailer for 4 persons, the 2607A ULTRA model is able to house a maximum number of 6 persons. With a large main bedroom and 2 additional sleeping spaces for 4 more, this trailer is indeed what you need for extended vacations. Still, if you don't travel in a group of 6, one of the additional spaces can the changed into a dining area, making it perfect for 4 people. The bathroom is very large, compared to other types of trailers. The kitchen is small, but a central counter will complete it, allowing you to have plenty of cooking space.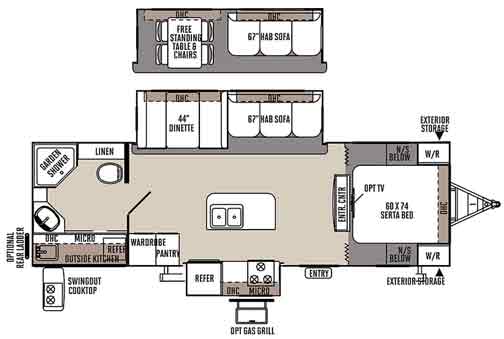 Rockwood model 2607A Ultra with options
---
Model 2608WS ULTRA
Comfort should not be something to disregard while traveling and camping. The model 2608WS ULTRA, from Rockwood trailers, is large enough to house up to 6 people. So having a large family is not a good enough reason to avoid camping. The trailer may look rather small on the outside, but it is smartly built on the inside. A large bedroom for two is right after the bathroom, to avoid space wasting. Additional sleeping or dining space is made on an outer extension, leaving the central area a spacious enclosure. Everything is done to have the trailer look like a small house. The kitchen, counters and cabinets complete the space.

Rockwood model 2608WS Ultra with options
---
Model 2618VS ULTRA-V
An exceptionally spacious model, the 2618VS ULTRA-V is a real piece of art trailer for Rockwood. Its unique design and space functionality make it a very comfortable camping vehicle. It doesn't matter how far you want to travel because you will have everything you need to feel at home.

The large bedroom is separate, in the back of the trailer, even using an outer extension to gain a bit of space. The bathroom is also large, with enough space to move in and separate from the rest of the enclosures. It has two additional sleeping places, which increase the number of people that can be accommodated up to 6. The kitchen is situated on the corner, to use efficiently all the space in the trailer.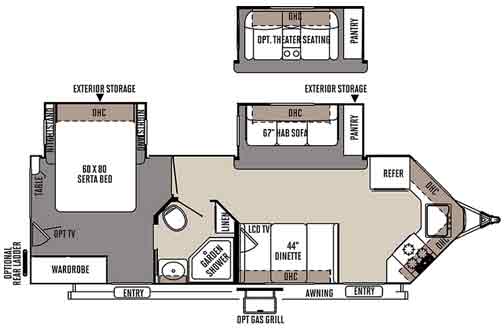 Rockwood model 2618VS Ultra-V with options
---
Model 2702WS ULTRA
A version for larger families, model 2702WS ULTRA from Rockwood trailers gives you all the space and comfort you need. One large master bedroom, with a double bed, is located at one end of the trailer. The trailer has additional sleeping places for 6 more. A resting place for two, an extensible couch, and two more superposed beds make this trailer a unique one. One sleeping position can be replaced by a dining table if you don't need that many sleep areas. The bathroom is separate so that anyone can access it, and the kitchen is central, gathering everyone in one place.

Rockwood model 2702WS Ultra with options
---
Model 2702SS ULTRA
Another large and beautiful model made by Rockwood. 2702SS ULTRA is capable of accommodating up to 8 persons, having sleeping areas placed smartly. One large 2 person bedroom, 2 superposed beds, an extensible couch and another sleeping place that can be turned into a dining area. The kitchen is small but well equipped, and the bathroom has enough space to move freely. Everything is placed and arranged properly so that there is enough room in the central area for everyone to get around. Comfort, space, a fully equipped trailer and everything you will need will accompany you on your camping adventures.

Rockwood model 2702SS Ultra with external grill option

---
Model 2703WS ULTRA
Camping was never easier for a family of 6, either they are family members of just friends, since the new models of Rockwood trailers. The model 2703WS ULTRA was made to be spacious but have the capacity of housing everybody in the same time, including the items you need for a comfortable camping. A large two person bedroom awaits in one end of the trailer. The bathroom is spacious and located right next to the bedroom. It can be accessed both from the bedroom and from the trailer. The additional sleeping spaces and designed to make it more spacious on the inside. One sleeping area can be easily converted into a dining place.

Rockwood model 2703WS Ultra with options
---
Model 2715VS ULTRA-V
A luxurious trailer, the type 2715VS ULTRA-V from Rockwood, can be made to accommodate from 4 up to 6 people at the same time. A bathroom, with two sinks comparative to most models that have only one sink, awaits at one end of the trailer. In the next enclosure, you will find the master bedroom. The other two sleeping places, together with the kitchen, are in the central part of the trailer. There is one extendible couch and one sleeping area that can serve as dining area. To make the trailer look cozier, two armchairs increase the comfort.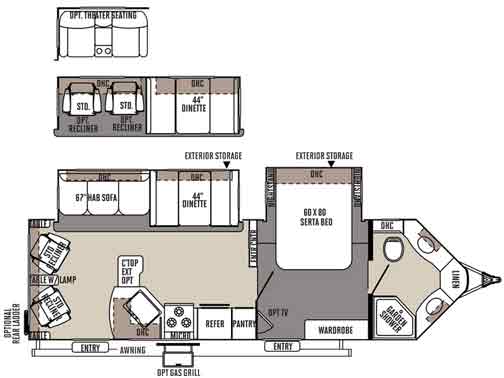 Rockwood model 2715VS Ultra-V with options
---
Model 2819VS ULTRA-V
Ideal for 4 or 6 persons, Rockwood designed model 2819VS ULTRA-V with the idea of using the inside space as efficient as possible. A large bedroom for two occupies one end of the trailer. The bathroom is right next to it, having a double access for easy transit and not bothering the rest of persons in the trailer. The kitchen is placed in the center, where you will also have an extendible couch, which can be used as a bed at night, and another sleeping area that can be used as dining place instead. Everything has an order for maximizing space usage.

Rockwood model 2819VS Ultra-V with options
---
Model 2904WS ULTRA
Whether you have a large family or you just wish to bring along the grandparents on your field trips, Rookwood designed a trailer just for you. The model 2904WS ULTRA is capable of holding up to 6 persons without a problem, offering the best available comfort. In the central area, there will be the kitchen, accompanied by two armchairs for comfort during the day. Also, as an outer extension, you will also see here two sleeping areas, which are an extensible couch and a sleeping-to-dining convertible area. The bathroom is next to the master bedroom, having a two-sided entrance.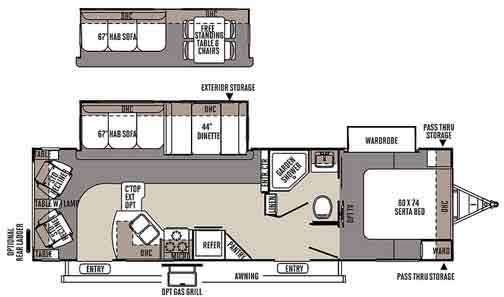 Rockwood model 2904WS Ultra with options
---
Model 2905SS ULTRA
Excellent for traveling in a larger number, or maybe you would appreciate some extra space and luxury, the 2905SS ULTRA model exceeds all expectations. Rockwood made no compromise when creating this trailer. Capable of housing up to 8 persons, the trailer has one large bedroom, and four additional sleeping places. An enclosure with two single beds, an extendible couch and a sleeping area that can be switched into a dining space. The bathroom is spacious enough to hold a bathtub. And the kitchen is central, fully equipped, including an extendible table. There isn't another trailer as complex as this one.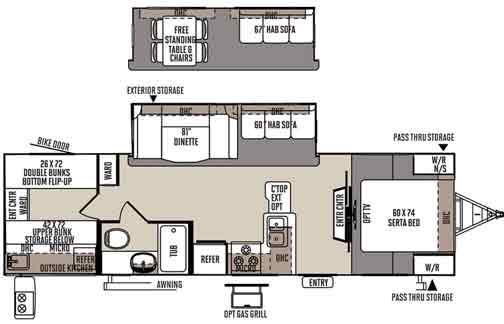 Rockwood model 2905SS Ultra with options
---
Model 2910TS ULTRA
Enormous would be the word to characterize this Rockwood, trailer model. Capable of housing up to 10 persons, the 2910TS ULTRA model is a real house on wheels. It has two bedrooms, and additional extendible sleeping places in the central area. The bathroom is also spacious, offering the luxury of a bathtub. The kitchen is set right in the middle, being fully equipped and with a counter-top to allow you to do your cooking in a proper manner. While camping in this trailer, you will not feel anything missing. No matter how long you stay in the outdoors, you will be comfortable and secured.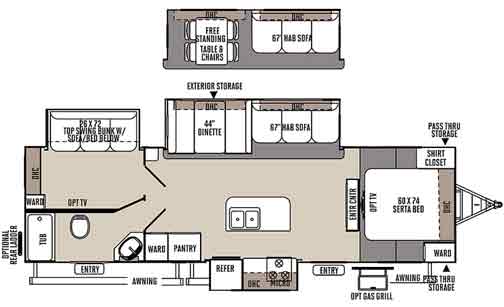 Rockwood model 2910TS Ultra with options
Summarizing: The series of Rockwood Ultra and Ultra-V travel trailers provides great choices for everybody interested in RV-ing. From standard models to real "Home-away-from-home" with all its amenities and luxuries you got used to. It opens a great new world of Nature next to your home or apartment....

 About Us / Privacy Policy / Resources
Go to:  Pop-up Travel Trailers and RVs