Roll-a-Home Bike Campers
Roll-a-Home pup-up campers offer independent, easy accessible storage box located under the tent box and as a surprise a "slide-out" bed section (Wide-Body model). 
       Roll-a-Home is a small family-owned company founded by Billy and Sheila Betche located Hobart (Oklahoma). They offer two models of mini-campers designed for towing by motorcycles and small cars: Standard and Wide-Bed. 

     The latter is a more "sophisticated" version of the standard model with a slide-out bed section.  It's definitely an interesting "addition" to the family of motorcycle campers offering very comfortable king-size sleeping space. But the "price" for this comfort seems to be too high in terms of complexity of set-up process. The opening process is definitely "manageable" by everybody most likely under 5-10 minutes. But what is lost is the much appreciated simplicity of the "self-opening" process characteristic to "clamshell"-like ("or accordion-like" if you wish) camper's tent design. 
Well, this is only my humble opinion, so please make you own decision based on this short video presentation (here for better "picture" of the setting-up process only  tent's supporting structure is shown).
Description:
     The company's motto posted on the website states that these motorcycle pop-up campers are designed to offer the possibility to have "a home whenever the road takes you". Indeed, due to revived enthusiasm for contact with the Mother Nature across biker's community, it is a precious offer. 

Here it is: Roll-a-Home motorcycle camper
      As mentioned, the Roll-a-Home brings still unique in the class of motorcycle campers "slide-out" design. But this is not all – what also differentiates their models from the competition is the ability to access the storage area in both camper's configurations: folded and open. (BTW – it's quite generous one with capacity of 18.5 cubic feet. This is accomplished thanks to the independent storage box located below the pop-up tent compartment.  
By unlatching the tent compartment and pushing it about 45 degrees up you gain the full access to the storage when on the road (feature not that "straightforward" in competing designs). While it is an easy process when on the road (when probably most needed), it is more questionable (and certainly not practical) when already set-up on the campground. It's hard to imagine to turn-up the unfolded tent (especially the wide-body with pulled-out slide-out). And it's equally hard to see all "stuff" in the tent "flying/falling/sliding" down ….
But nevertheless, most of us will probably unload the gear from the storage compartment and store it in the Entrance/Dressing Room" so the need to access the storage box when the camper is full set-up is probably only the "theoretical" option. Certainly it does not seem to be the practical idea.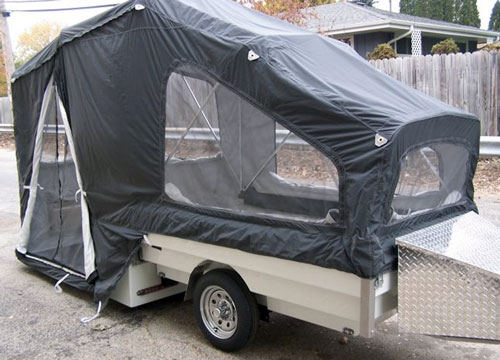 Standard Roll-a-Home camper (here with optional front storage box)
     Well, optionally you can install a tongue-mounted storage box with easy access on all camper configurations. As the bonus - it's shape will certainly decrease camper's aerodynamic profile. Instead, you may consider adding front-mounted rack for cooler (given a lot of accessible storage space it may be a wiser option).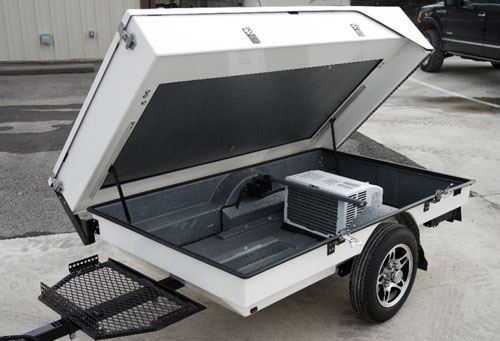 Camper's Storage Box offers generous capacity and easy access. Here you can see the A/C unit (just to show how deep is the box) and a front rack for cooler.
       In the Standard model, the Sleeping Space opens along the trailer, and the trailer's body serves as the bed's platform. Supported by two wheels and stabilizer jacks it is very robust and firm. The width of 47 inches for some may not be enough, but certainly the majority will find it comfortable enough (the length of 78" seems to be good enough) .  The setting-up process due to "self-supporting" (accordion-like) tent design is relatively simple. However, compared to Lees-ure Lite campers it will still require much more actions to connect the poles.  But frankly, it can be done quickly (and in the case of rain) – from the inside of the tent.
In the case of the wide-body model, the sleeping section has orientation perpendicular to camper's tongue. The setting-up process is definitely more complex, time consuming and part of it (bedroom) has to be set-up from the outside). However the outcome (sleeping space of 71" x 78") is impressive. 
Another weak point comes from the fact that the .bed' floor (half of it) is supported by U-shaped tubular construction. It is undeniably less stable and more depended on the surrounding "environment". This should not be a big problem assuming that bodies are oriented with legs over the slide-out section.
It is worth to note that tempered, anodized aluminum poles prevent "black" stains on fabrics and hands! 
The "beauty" of both models is that you can leave the foam mattress and linen in place when folding the tent. It will make the tent's set-up process faster and more convenient.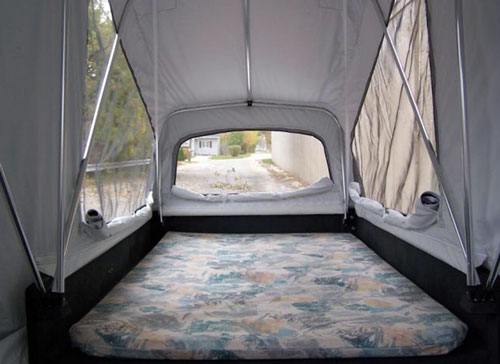 Above: Standard bed
Below: Wide-bed (model with slide-out bed section)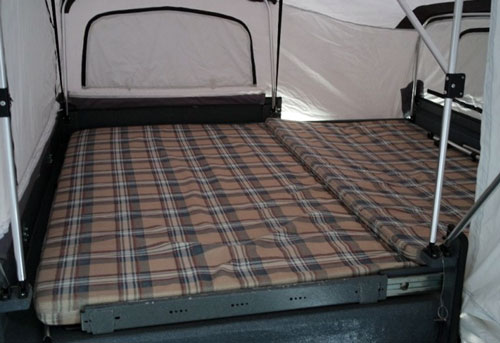 The tent is made from breathable, waterproof and UV-protected fabrics. According to the manufacturer it provides robust protection even during heavy down-pouring rain. With five screened windows it has good ventilation and day-light access. You can add zipped clear plastic windows (option) as the rain protection.
Single door at the entrance is also fully screened (you can also opt for 2nd door on the opposite side of the entrance – it is handy solution if you want to attach extra rooms on both sides of the Dressing Room).
The Entrance/Dressing room is quite large (47" x 78") and offers enough of space also for folding chairs and little table. Also, more than generous interior height (88") allows you to freely move inside. It's important to note, that the floor formed by camper's fiberglass lid flipped around. It is supported the railings of the aluminum rack offering the ground clearance of some 3".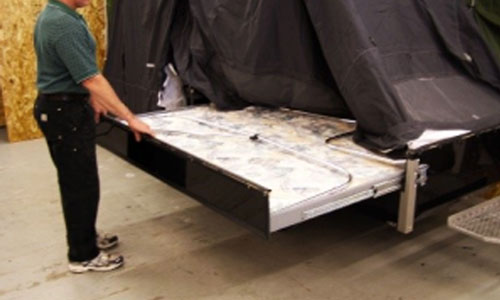 Roll-a-Home camper: pulling out the bed's section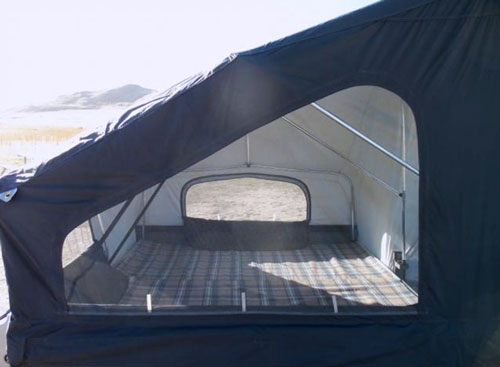 .. and here once it is full set-up
     With its weight of 325 lbs the Roll-a-Home's Standard model is already quite heavy for motorcycles. The wide-body version is even heavier and its 385 lbs dry weight by pose problems for many bikers. (Just as an example – the Lees-ure Lite motorcycle pop-up  camper with its weight of only 265 lbs seems to be "Feather-lite").
Both trailers are made from light, gel-coat finished fiberglass. However, the Roll-a-Home trailers' bodies are longer (78") that similar units offered by other manufacturers. The gain is obvious – the sleeping place length is entirely supported by the trailer and does not "overlap" with the Dressing Room. You have then more space in the dressing area, but the price you pay is extra weight (crucial factor for motorcycle campers).  For "heaviness" you can also blame the "dual" box design (separate tent and storage compartments) as well as larger wheels (12 inches instead of 8" ones for Lees-ure lite).
Well, there is no free lunch, it's always something for something. It is then up to you to decide what suits your needs and figure out how to make it easy for your bike.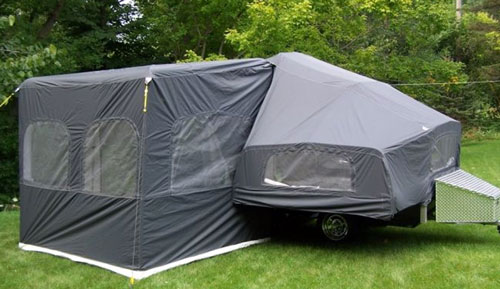 Wide-bed Roll-a-Home camper with an external room attached
     It also should be noted, that the campers' width (47") is noticeably wider that the handlebars of typical motorcycles (about 38"). It will need an "extra effort" from you to remember his fact when trying to "meander" (as you probably used to do) on the road. It may be hard to remember at first – when towing the camper behind the bike, you have to forget your old habits and pretend that you are rather driving the "truck" ….

Specifications:
---
Overall length w/tongue

Overall open length w/tongue

Body length

Body width

Exterior height (folded)

Interior height (entrance)

Dry weight




Tongue weight

GAWR

Cargo capacity

Sleeping area




Ground Clearance

10'

16' (standard)

78"

48" (1)

33" (36" w/rack)

7'4"

325 lbs (standard)

385 lbs (wide-body)

30 lbs

800 lbs

18.5 cu feet (2)

47" x 78" (standard)

71" x 78" (wide-bed)

9"
(1) – Warning: wider than the span of typical motorcycle's handlebars
(2) - Accessible with trailer folded and open
---
Construction:
Body: fiberglass
Body finish" Gel-coat
Slide-out bed (wide-body unit)
Wheels:  4 x 12"
Suspension: Dexter independent rubber torsion
Hitch coupling: 1-7/8 ball
Tent: Self-supporting accordion-style setup
Tent fabrics: Waterproof, breathable, UV resistant
Poles:  Tempered, anodized aluminum
Tent colors: Navy blue, Royal blue, Charcoal
Wiring: soldered/waterproof
Standard body color: Black or white (paint to match available)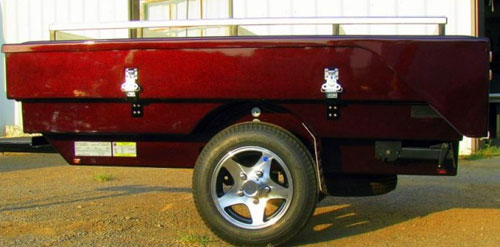 Here it is easier to see the Upper box (housing the tent) and the Lower box (serving as the storage)
Standard Features:
Full-size bed-platform (King-side in wide-body model)
Dual purpose lid (cover w/rack and floor)
LED lights (Stop, Turn, Tail)
5 screened windows
Screened door
Dressing room/Entrance (about 78" X 47" w/3" off-the-ground)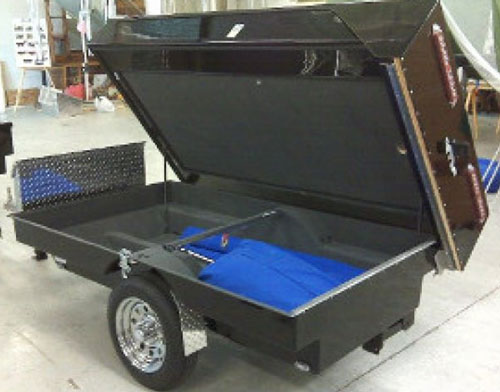 ... and once again opened storage box
Options:
Dense-foam Mattress w/fire retardant (standard or wide-bed)
Electric brakes w/controller
Extra room (Add-a-Room or Screen-Room)
Clear plastic windows
Swivel Coupler
Tongue-mounted storage box
Trailer's cover
A/C  flap
Cooler rack
Spare wheel
Mud flaps
2nd door
Carpeted dressing room
Sprayed fiberglass interior
If you want to compare these two campers with other those offered by other manufacturers, then go to: --> Motorcycle Campers
This is a summarizing presentation: see how to set-up the wide-bed Roll-a-House camper with tent.
---