Rove-Lite 14FL Specs
Ultra-lite Travel Trailers
Rove-Lite 14FL (and its EV version) – specifications, construction details, and features of an extremely ultra-lite and very affordable travel trailer designed and manufactured by Travel Lite
This is the continuation of the Rove-Lite 14FL review. If you missed this part, please go back to the 1st page:
--> 14FL Ultra-Lite Travel trailer
Rove-Lite 14FL - Ultra-lite travel trailer 
Below, the details regarding the All-Electric version of the camper.
14FLEV: Energy Autonomy
Understandably, given some power-hungry appliances, it all sounds like mission impossible. For practical reasons, the manufacturer provides some estimates, so let's look at one (most optimistic, assuming a sunny summer day and a fully loaded battery).
Total Stored Power: 400 Ah x 12V = 4800 W
Available Power (85% of stored power) = 4080 W
Estimation of Maximum Runtime for selected appliances:

Appliance

AC Unit
Induction Cooktop
Fireplace (Heat-Md)
Microwave
Water heater
Refrigerator
Lights, water-pump..


Nominal Power [W]

1600
1500
1600
1100
1600
80
40


Runtime [hrs]

2.55
2.72
2.55
3.7
2.55
51
102
---
       Regarding the battery charge: During sunny summer day, the fixed solar panels (2 x 200W nominal) can provide about 2,200W/day while the optional Solar Blanket (300W nominal) additional 1,620W (altogether about 3,800 W/day. The numbers will be drastically lower during the cloudy days and wintertime (shorter days).
Practical Notes:

Induction Cooktop and Water Heater despite their high nominal power will not be a major problem, because typically, they are used for a relatively short time (a few tens of minutes per day). Cooktop (about 750W for 30 minutes of operation), Water Heater (about 800W for 30 minutes of operation)
The Microwave (if available), typically runs for just a few minutes, so it should not have big impact on the battery (275W during 15 minutes of operation).
The Refrigerator and Lights use relatively little power, however, they run much longer. While the refrigerator operates 24/7, it will be safe to assume that the compressor runs no more than 30% of the time (about 600 W/day), while lights no more than a few hours (so about 120W/day). Add to that the power consumption of continuously running (24/7) Monitoring and Control Systems.
Fireplace in "No-heating mode" thanks to its All-LEDs technology should have no major impact on batteries. However, clearly, the 14FLEV definitely does not generate enough power to comfortably operate the Fireplace for the purpose of heating and the AC for cooling.
Conclusions:

In an "Out-of-grid" environment, on warm sunny days you should be able to enjoy your daily activities and habits, provided you pay attention to energy use;
On the campground w/shore connection, you may not be able to save $, because in most cases you are charged a "flat rate" regardless of how much energy you will use (if the "metered" pricing is available, go for it!).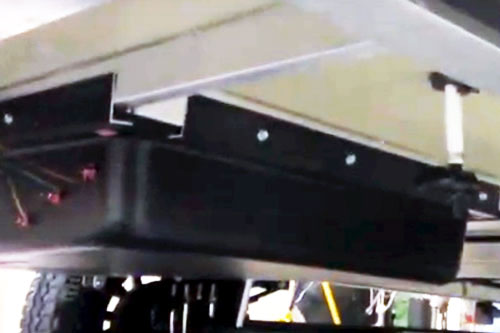 Rove-Lite 14FL: Water tanks (visible fragments of the aluminum chassis)
Water Autonomy
       So far, the 14FL travel Trailer seems to exceed expectations for this class of campers. But nothing is perfect, and here is its weak spot.
"Out-of-grid" environment also means that suddenly the "water valve" (so convenient on campgrounds) is suddenly closed. The 14FL (in standard and EV versions) comes with 10 gallons freshwater tank, 30 gallons greywater tank, and 5 gallons of blackwater tank. While the greywater tank has decent capacity, the fresh and black water tanks are disappointing.

The water-flushed toilet not only consumes a lot of fresh water but also quickly fills the blackwater tank. Practically, the blackwater tank with its 5 gallons capacity will be filled in 1 to maximum 2 days (assuming 2-to-3 users). While on the campground you will mostly use the public toilets and showers, "off the road" you will not have such luxury. The answer seems to be simple: Composting Toilet. Not only that it will not drain your freshwater tank, but its cassette typically "lasts" for 2 to 3 weeks. And in most cases (depending on the local laws), the resulting compost can be buried in the soil!
This approach (hopefully adopted by Travel Lite) creates the possibility to increase by 5 gallons the capacity of the freshwater tank without increasing the trailer's dry weight (although it will decrease the cargo capacity by 42 lbs).
Rove-Lite 14FL: Specifications

Exterior length
Exterior Width w/fenders (1)
Exterior Height (2)
Interior Length
Interior Width
Headroom (3)
Dry Weight (4)
Cargo (5)
Hitch Weight (6)
Hitch Height (7)
GVWR
Freshwater tank
Greywater tank
Blackwater tank
LPG (8)
Awning
Sleep


16'6"
7'11"
8'1"
14'
6'2"
≈ 6'
1,846 lbs
654 lbs
220 lbs
17"
2,500 lbs
10 gls
30 gls
5 gls
20 lbs
9'2"
2+1
---
1. Shell's width is only 78"
2. Standard Version 14FL (Off-road Version: 9')
3. Major part of the cabin, including kitchen, bath, and the central area
4. Standard Version 14FL (version FLEV: 2,080 to 2,180 lbs)
5. Standard Version 14FL (Version FLEV about 320 lbs)
6. Standard Version 14FL
7. Standard Version 14FL (Off-road version: 23")
8. Version 14FL (not available for 14FLEV)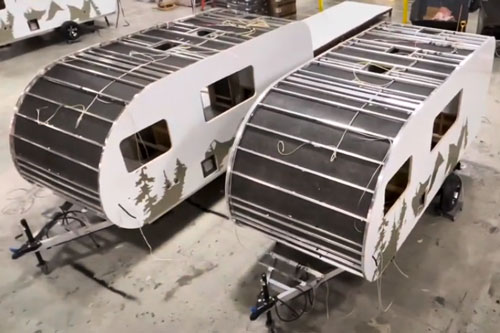 Rove-Lite 14FL:  the shell ready for the installation of the fiberglass roof 
Rove-Lite 14FL:  Composite floor glued to the all-aluminum chassis
Construction

Chassis: all-aluminum, welded
Shell: Fully composite w/aluminum reinforcement, gel-coated structure glued with Sikaflex
Walls: Composite Azdel
Roof: One-piece seamless fiberglass (Bumper-to-Hitch)
Floor: Honeycomb composite glued to the chassis
Insulation: Hydro-lite Block foam (w/fire-retardant)
Axle: Single, 2,500 lbs
Suspension: ?
Wheels: 13" w/aluminum rims w/electric brakes (15" for Off-road version)
Windows: Frameless, sliding
Coupling: ? (w/Tuson Sway Control)
Design: Teardrop
Rove-Lite 14FL: Wheels
Tuson Sway Control (TSC) is an intelligent electronic sway control system. By continuously monitoring the trailer's movement, the system can rapidly detect wobbling (sways), and counteract them by independently applying braking force to either the left or the right wheel (as needed). The TSC is wired directly into the trailer braking system. What may be interesting for nature enthusiasts – the TSC system can improve trailer's stability even in off-road conditions.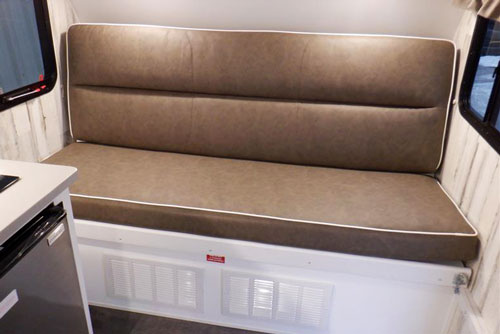 Rove-Lite 14FLEV: Sofa (note that the under-bed has ventilation grids instead of Furnace grid in the model 14FL) 
Source: CarTruckTrader (Rapid City, SD)
Rove-Lite 14FL: Overhead cabinets (visible AM/FM Stereo)
Source: CarTruckTrader (Rapid City, SD)
Interior

Sofa w/soft foam cushions (convertible to a 50" x 74" bed)
Dinette (convertible to 24" x 74" bed)
5 x Storage overhead cabinets w/stretching nets,
Shelves
Soft Shades and Curtain Valances
Sliding Windows w/insect screens
Entrance door w/window and screen
Under-seat storage
Rove-Lite 14FL: Suburban 2-burner cooktop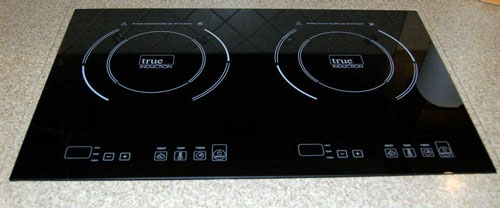 Rove-Lite 14FLEV: 2-burner Induction cooktop
Source: True Induction
Rove-Lite 14FL (and EV): Stainless steel sink
Kitchen

Single Bowl Stainless Steel Sink w/High Rise Faucet
12V 3.3 cu ft Refrigerator w/Freezer
2-Burner Stainless Steel Cooktop
Cabinets w/solid surface countertop
Pantry (floor-to-ceiling)
Dinette w/seats for two and Removable Table (on Tripod),
Wood Grain Cabinetry
Version EV:
2-burner Induction cooktop (True Induction)

3 cu. ft. Refrigerator w/freezer (12Vdc)
Bath

T

ype: Wet
Azdel cabin w/door and extra curtain
Shower w/hot & cold water
Foot Flush Toilet
12V ceiling-mounted Power Vent
Shelve
Rove-Lite 14FL: 20lbs LPG tank and Power Jack
(Source: Tom's Camperland)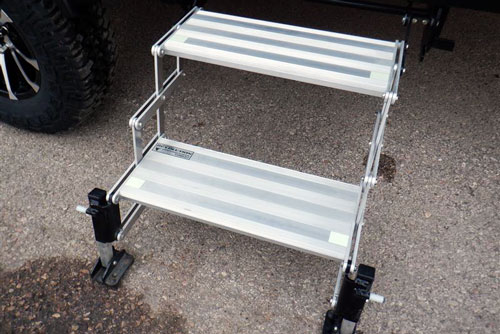 Rove-Lite 14FLEC: Aluminum Entrance steps
Source: CarTruckTrader (Rapid City, SD)
Exterior:

110" Power Awning (12Vdc Solera, 2000-series)
4 x Stabilizing Jacks (manual)
Tongue-mounted 20 lbs LPG tank
Aluminum entrance steps
Outside Shower
Rove-Lite 14FL: Battery Disconnect Switch and Fuse Panel
Rove-Lite 14FLEV: Battery Monitoring System
Source: CarTruckTrader, (Rapid City, SD)
Electrical

LED lights (Interior, Porch, Running)
40A Converter
Battery Disconnect Switch
Shore Power Input
Detachable 30A Power Cord
Monitor & Control System (tanks and battery levels, temperature, switches, Fuse Pannel…)
110Vac outlets (including 1 exterior)
UBS Ports
Solar Prep
Version EV)

2 x 200W roof-mounted Solar Panels w/ controller
400 Ah Lithium-Ion Batteries
Renogy 3 kW Inverter
Monitor and Control System
Rove-Lite 14FL:  Propane Water Heater 
Source: Bish's RV on the Quad Cites (YT)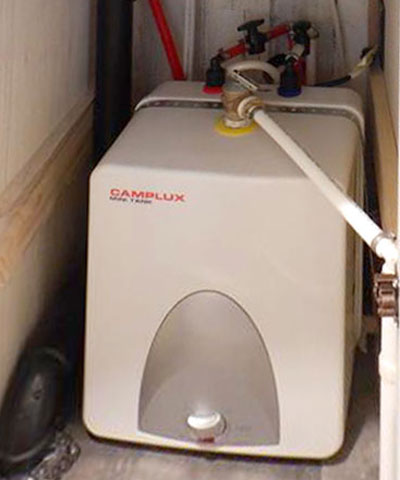 Rove-Lite 14FLEV:  Electric CampLux Water Heater
Source: CarTruckTrader, (Rapid City, SD)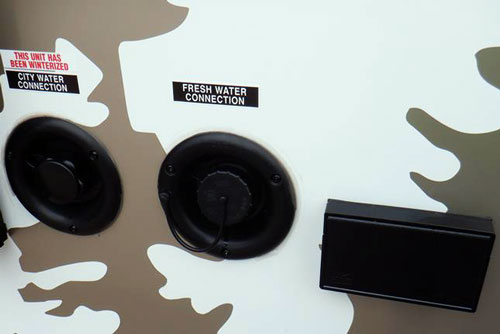 Rove-Lite 14FLEV:  Water inlets (Citi & Fresh). On the right - dual 110Vac outlet
Source: CarTruckTrader, (Rapid City, SD)
Water/Plumbing

Shur-Flo Water Pump
On-Demand Tankless Hot Water Heater (LPG)
Exterior shower
Freshwater tank refill
City Water
Tanks drains
Entertainment

HD TV Antenna w/Amplified Signal Wall Plate
Stereo-AM/FM Stereo w/Inside & Outside Speakers (optional)
Coaxial/Satellite pre-wired
Rove-Lite 14FL (and FLEV): 5k BTU wall-mounted AC
Source: CarTruckTrader, (Rapid City, SD)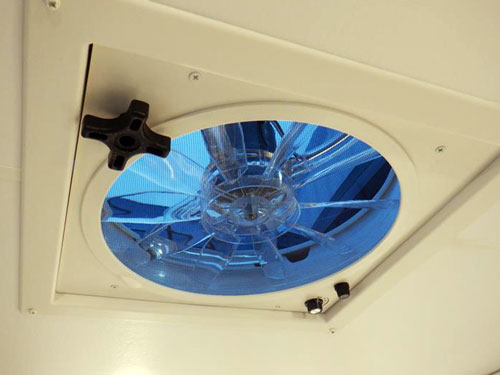 Rove-Lite 14FL (and EV): Fantastic Fan
Source: CarTruckTrader, (Rapid City, SD)
Climate Control

Side-Mounted 5,000 BTU Air Conditioner
18,000 BTU LPG Furnace (only 14FL)
Fantastic Vent
Version EV

Electric Fireplace (Greystone, 4,800 BTU, All-LED w/heat and no heat modes) (14FLEV)
Tuson Sway Controller (Source: Tuson)
Safety

Fire extinguisher
Smoke detector
Spare Tire w/mount (optional)
Tuson Sway Control (TSC)
Options

300W Solar Blanket w/controller
Electric Tongue Jack w/Battery
Front Stabilizer Jack
Power Awning (9 ft)
Offroad Pkg (Includes 15" Tires & Wheels, Raised Suspension, Double Step, Heavy Duty Fender & Spare Tire w/Carrier).
Stereo-AM/FM Stereo w/Inside & Outside Speakers
TV-32" HDTV w/Mount
Spare Tire w/Carrier
Bike Rack/Front Mount
Roof Rack (Including 2 Mounting Bars)
RVIA & CSA Certifications
Summarizing: The Rove-Lite 14FL Travel Trailer (and its EV version) is one of the best designs in its class available on the market. Ultra-Lite thanks to modern construction from aluminum and composite materials, offers a spacious, well-equipped, and "inhabitable" interior. And the best – it's also affordable!
Go back to: --> Rove-Lite 14FL review
or  --> Ultra-Lite RVs
---
Unless otherwise indicated, all pictures are curtesy of Travel Lite
Note:  Check with the manufacturer and / or authorized RV Dealer for the up-to-date list of features, options as well as latest specifications. These written above may not be accurate and certainly are subject to change by the factory. We are not responsible for any inaccuracy, the above text is provided only for the general information.
This review was written based on publicly available information for the benefits of the community of RV-ers. We do not receive any gratification or financial benefits from RV manufacturers, dealers, and any other promoters of RVs. 
We are NOT involved in sale and/or retail of RVs!