Runaway RangeRunner
Mini Travel Trailers
Runaway RangeRunner travel trailer is an inexpensive, "boxy", roomy sleeping shelter for adventurers and an ideal entry level camper for DIY folks willing to make it their way….
     Runaway Campers is a family-owned company operating in Ocala FL. It all started in 2012 when Mr. Stephan Shives built his first camper in his garage. 

Then, after listing it on the Internet he noticed that the camper was literally "snatched" in split seconds…  The rest is history, although quite unusual one.
The owners (S. Shives and R. Lane) decided to make their campers affordable for almost everybody. Following this belief they designed Runaway campers using a "down-to earth" approach. In other words campers are equipped only with necessary features leaving the final "tune" to customers.  In company words: "We focus on basics, not the bells and whistles". 
To farther limit production costs, the company opted for direct selling bypassing expensive dealers' network (this may be questionable for "remote" customers, given the fact that shipping fees will come out of their pockets, but certainly it is a great opportunity for these living closer to Florida).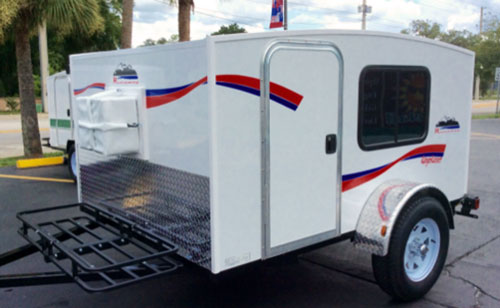 Runaway RangeRunner Travel Trailer
However what definitely makes the whole story very touching (and noble), is the company policy - quote:
"We believe our business is a gift from God, how we handle it is our gift to Him" (and I would say to customers).  
      Runaway Campers offer the series of narrow-body models (4ft x 8ft) and one wide-body (6ft x 8ft). The first includes BaseCamp, CoolCamp and Navigator, while the second just one model – RangeRunner.  The narrow models are ideal for towing behind small cars (dry weight of about 700 lbs and the width not exceeding that of the towing car). But definitely, their interior does not offer much room for individual "touch".  So for many, the answer will be the wide-body RangeRunner.
But just to close this chapter – the narrow body models go for $2,500 to $3,500 (standard features make the difference), while the RangeRunned for under $5,000. Given their quality and features, they are surprisingly inexpensive (if not the least expensive) on the market.  All mentioned models are factory-equipped with 5,000 BTU AC as a standard feature.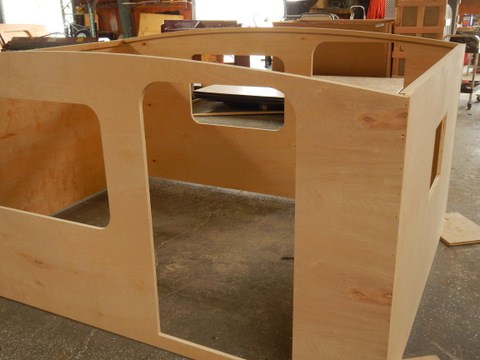 RangRunner - that's how it starts
Source: http://www.cheaprvliving.com
      In practice, the Runaway trailers are kind of Empty Boxes on wheels.  Although it may sound uninteresting in reality the concept is very inspiring! They are designed as an entry level Utility Campers for those willing to give-up on their "Residential-style life" and embraces the nature, adventure and true camping experience.  
Contrary to modern trends, the shell is made from birch-plywood.  Exterior walls are protected by aluminum with baked enamel finish.  Interior is covered with carpet (walls and ceiling) and vinyl (floor).
Large cabin (6'W x 8'L) offers a lot of space for sleeping arrangements and any solution – be it full/twin or queen-size mattress will still leave significant amount of free space for whatever you may need (fridge, storage etc…).  The optional foam flip-sofa (46" x 72") is just one of possible solutions.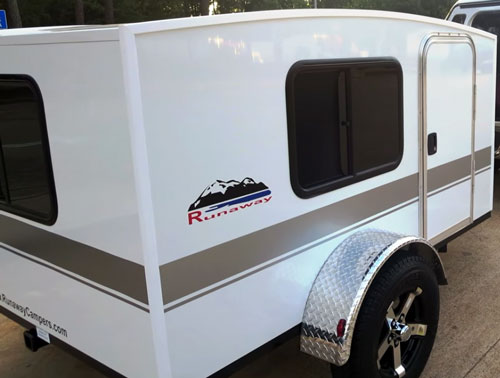 Runaway travel trailer - here with an optional rear window
     The cabin has two large windows and two doors (one on each side of the camper). Two doors definitely make easier access in and out of the cabin (just to make it clear – the cabin's headroom is only 44").  Optional rear door allows for setting-up a galley with the access from the outside. It also lets you to use the RangeRunner as a cargo trailer although this is not the primary goal, because "reaching out to Mother Nature" is what "Running Away" is all about (as the company name suggests)!  
The front-end storage box (standard feature) offers extra storage space.  Optional extra shelves along interior front and real walls including cubby shelf should also help to organize "life" during get-away trips. Another useful option is the rear receiver - it can be used for a bike rack.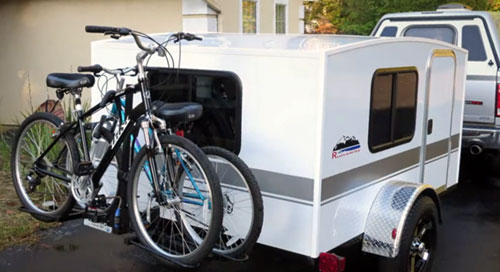 RangeRunner with rear bike rack
Summarizing:  the RangeRunner does not come with luxuries you may be accustomed to. It is just what it is, an entry level, lightweight and very inexpensive "boxy" trailer offering protected sleeping area. But it also offers almost limitless opportunity to create your own "living environment" and by that – your own camping experience. It's especially "blessing gift" for all DIY-kind of adventurers!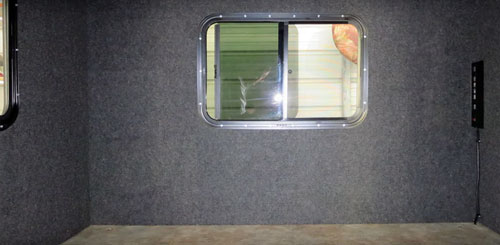 Runaway camper - Interior is just an empty box, so all is open to your imagination....
Specifications:
---
Overall length

Interior length

Overall width (fender/fender)

Interior width

Overall height

Interior height

Dry weight

GVWR (GAWR)

11'4"

7'10.5"

7"10"

5' 10.5"

65"

42"-46"

900 lbs

3,500 lbs
---
Runaway Range Runner behind the towing car
Construction:
Shell: Tripe-seal, ¾" birch-plywood
Frame: Tubular steel
Exterior: Aluminum w/baked enamel finish
Floor: Vinyl/Poly-laminated undercoat 
Exterior trim: PVC
Suspension:  leaf-spring
Axle: Dexter w/EasyLub Hub
Tongue: A-frame
Windows: Tinted safety glass 
Doors: two (one on each side)
Protection: Diamond Plate fenders and front wall
Hitch: 2"
15" Wheels
Standard Features:
5,000 BTU AC w/marine-grade vinyl cover
Under-mounted spare tire
Front cargo rack
LED tail lights
4-prong light connector
2" Rear receiver 
2 rear stabilizers
110V Power bar
Narrow-body (4 x 8) Runaway camper
Source: http://tinyyellowteardrop.blogspot.rs
Options
Extra shelves (front/rear walls)
Cubby shelf unit
Rear window (30" x 20")
Rear door (40" x 40")
Exterior-access galley shelf (requires optional rear door)
Roof rack
Foam Flip Sofa (46" x 72")
Custom aluminum wheels
Diamond late rear wall protection
Removable roof basket (requires roof rack)
You are invited for the short tour of the RangeRunner :-)
     It's important to mention that these items are relatively inexpensive. Typically manufacturers try to make big bucks (literally $$$) on optional features assuming that customers will go for "painless" (read it – proven and ready to use) solutions. So here is a nice surprise – Runaway Campers stick to their policy of "giving back" and offer options at very decent price. And let's be honest – unfortunately it is quite rare practice in today's world so "chapeau" to Mr. Mr. S. Shives and R. Lane.
Go back to: --> Best Mini Campers for 2017 
---