RV Camper Auctions
Consider buying your RV camper on one of offline or online auctions and save considerable amount of money…
       You may probably dream of jumping into your own RV to embark on a thrilling road trip together with your friends or family members.
It is probably the right time to stop such wishful thinking and instead take action to have your own RV camper.
Unlike other camping options as renting an expensive motor-home or truck camper, using RV travel trailer gives you a sense of ownership.
This is most likely the reason why about 8% of households in the USA have at least one RV camper.
There is no doubt that going to a dealer to buy RV can be a very expensive affair. However, that does not mean that you are not in a position to buy your preferred RV at affordable cost, thanks to RV Camper auctions. Unlike at a dealer's outlet, most likely you will find an RV that best suits your taste and camping needs at much reduced cost. You indeed have the option of buying from a local offline RV camper auction or online RV camper auction.

Buying RV from an offline RV auction requires that you physically be present at the auction. The offline auction works just in the same way as it is with offline vehicle auctions where you are bound to bid just in the same way that other buyers do. The intending buyer who bids the highest amount is declared the bid winner. Depending on the auctioneer, you are bound to make a down payment and pay the balance within a stipulated period. Major cities across the USA have offline RV auction locations from where you can easily buy a RV. They include:

Georgia-Carolina Auto Auction

Location: Along 884 East Ridgeway Road in North Atlanta close to both North Carolina and South Carolina
Service: Weekly Wednesday car and RV auctions, public invited for bidding or experience how bidding is done, registration required at entry for both individuals and dealers intent on bidding, a wide selection of RVs.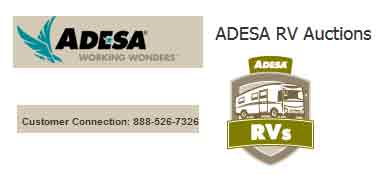 ADESA RV Auctions
ADESA makes available a wide range of specialty RVs at many of its auction locations across the USA, Canada and Mexico.
Some of its locations include:

ADESA Little Rock Auction located along 8700 Highway in North Little Rock, Arkansas, USA.
ADESA Sacramento Auction located along 8649 Kiefer Blvd. in Sacramento, California, USA.
ADESA Ocala Auction located along 540 S.W. 38th Avenue in Ocala, Florida, USA.
ADESA Fargo Auction located along 1650 E. Main Avenue, West Fargo in North Dakota, USA.
ADESA Vancouver Auction located along 7111 No. 8 Road in Richmond, British Columbia, Canada.
ADESA Montreal Auction located along 300 Albert Mondou, St. Eustache in Quebec, Canada.
ADESA Saskatoon Auction located along 618 48th Street E,

Saskatoon in Saskatchewan, Canada.

Services: Regular scheduled RV auction dates, transport service, mechanical services, reconditioning services, secure financial transactions and buyer confidence program.

Brashier's Sacramento Auction

   Brashier's Sacramento offer up to 2,000 cars and RVs at its weekly auctions, cars and RVs sourced from car and specialty RV dealers, manufactures and other institutions.
Location: Along 6233 Blacktop Road in Rio Linda, California.
Services: RV specialty sales every week on Tuesdays, RV reconditioning, mechanical services, auto body service, on-site upholstery service, on-site key service, transportation service, buyer protection service and dealer financing service.

---
             On the other hand, online RV camper auctions are purely done in the virtual space of Internet. You are bound to have access to the Internet through which you can access an online RV camper auction site. There are indeed many online RV camper auction sites. Most offline action sites also have their online auction sites. Just like with offline RV camper actions, online RV camper auction sites require that you place your bid on a RV camper you are interested in.
The only difference is that you are obligated to register with a site on which you wish to bid on. The bidding process is similar to that of offline bidding process except that you bid online in real time. Auctions are held regularly.
Your choice of where to buy a RV is however not limited to specific offline and online RV auction merchants. There are dealers who organize RV auctions periodically both offline and online. You only need to do a little research to find a dealer and the next auction date. Most RVs sold by dealers through auctions happen to be excess inventory, trade-in RVs and specific RV models that are slow in selling. Such RVs are in most cases auctioned at very affordable prices.
Regardless of which auction you choose to buy your RV camper from, there are several factors you need to consider. It is usually a good idea to visit an auction (both online and offline) to acquaint yourself of how the bidding system works and the applicable rules and policies. It is also a good idea to go to an auction when you have already determined which model of RV camper you are out to buy. More importantly, make it a point to arrive at an auction (both offline and online) in good time to sample available RVs.

 About Us / Privacy Policy / Resources
Go to:  Pop-up Travel Trailers and RVs