RV Camper Cleaners and Sealants
The comfort of your RV-ing is not only a matter of camper's "residential" design but also of how clean you can keep it and how well you can protect it from weather elements. ..
Below are some of the best cleaning and sealing products for RVs.
They can make your job easy and vacations an enjoyable adventure.

Camco 40497 RV Wash and Wax 1 Gallon Camper Trailer RV

 Regardless of vehicle type, everybody wishes to know their vehicle is clean and shiny.
This RV cleaner is a complete solution, because it can clean and wax your RV in the same time.
There is no need for a buffing procedure after washing, since the RV will automatically start to shine after washing it with this solution.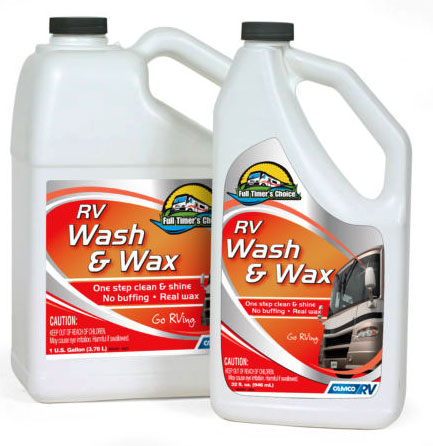 ---
Camco 41004 Black Streak Remover 1 Gallon Camper

     In case your RV is experiencing a set of streaks that are hard to remove with a traditional cleaner, this product will step in and do its job. You can use it concentrated, just the way it comes in the bottle, for streaks that don't wish to come out with an easier approach. Or you can easily dilute it and use it as a general cleaner, for the rest of the tasks that are not as demanding.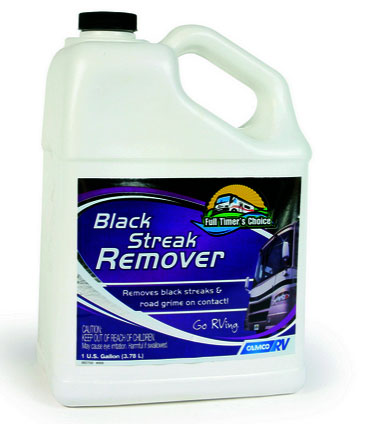 ---
Thetford 32942 Spray-N-Shield Stand & Water Repellent

       Now this is a spray you shouldn't miss on your traveling adventures. It protects your RV and all the objects within, from stains and water damage. It can also protect again UVs, making sure the paint won't chip if the surface is enduring a prolonged exposure to sun rays. You can successfully use it starting with awnings, to carpets, rugs, and many more.

---
Roadmaster 9940 Voom Gold Auto and Marine Polish 1 Gallon Camper Trailer RV

     Another cleaner that should always be available in your RV. It can handle any type of dirt and grime, making it extremely easy to clean off. It also creates a protective barrier, making maintenance an easy job. And the best part of it is that the product is environmental friendly. So you shouldn't worry about polluting the nature, no matter where you decide to clean your RV.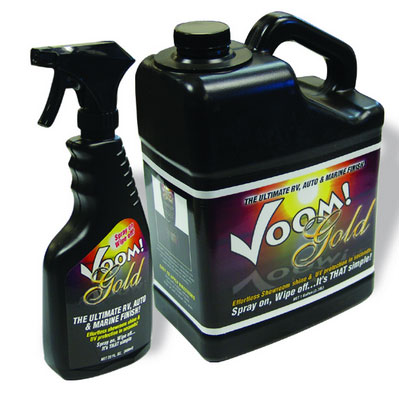 ---
Camco 41062 Rubber Roof Cleaner and Conditioner 32 Oz

     The roof of the RV is probably the most exposed part to outside factors, like UVs, rain, dirt and many more. And the rubber parts usually have a tendency of looking the worse and failing first. So use this cleaner to remove any grime and offer an extended protection from oxidation and grime, to your rubber and vinyl parts of the RV's roof.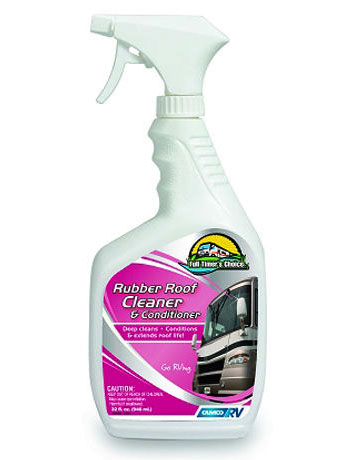 ---
Camco 41135 Rubber Seal Lubricant 16 Ounce Camper

    Protect the seals of the RV's slide-outs with this efficient seal lubricant. It offers an extensive protection against UVs, which have the power of damaging the seals in time. And, since it is also a lubricant, it will reduce friction as well, making the seals last longer. One container of this seal lubricant can save you from a lot of hustle made by failing seals.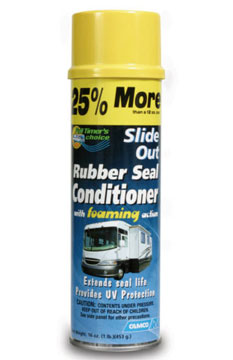 ---
Thetford 28907 Windshield and Glass Cleaner Giant Wipes

      A highly useful cleaning product, which can help you keep your RV windows spotless. Reducing sun and night blindness, these wipes ensure the best visibility for you while on the road. They are very easy to use and no additional rinsing is necessary. They come in a re-sealable package and they have an extra-large size, for a better window coverage.

---
Camco 10322 Leak Detector 32 Ounce with Sprayer Camper Trailer RV

     Since your RV uses gas tanks, it would be useful to have a gas leaks detector in your RV, for your safety, and the safety of your family and anybody else traveling with you. You just need to spray the product on the output of your gas tank and see if it leaks any gas. In case it does, bubbles will appear in the leaking area. If not, then no bubble will form, showing the gas tank is safe.

 About Us / Privacy Policy / Resources
Go to:  Pop-up Travel Trailers and RVs