RV Camper Covers
RV covers are designed to extend life of your camper, protect its vital components like shell, mirrors, wheels, windshield, dashboard, AC, vents.... make your travel more comfortable and keep your camper looking elegant .....
     Buying an RV is a big event in our life, extending horizons of our vacation's adventures.
While manufacturers constantly extend the limits of "basic" equipment coming with the models, camper covers are rarely on the list of basic items.
It is then up to the new owner to provide extra protection for the camper.
Your RV has quite different needs than your car.
While the latter is used on a daily basis, the camper will best serve you in hot sunny days and then will be left at the mercy of weather elements during long post-season months.
That is why it is crucial to protect the shell and its vital components so the camper will not only serve you well for long years in the future, but also will keep iits elegant, new-like look.

---
ADCO 2478 Tyvek Mirror and Wiper Blade Cover Set

      The mirrors of your vehicle are extremely important. It is best if you could keep them clean and protected, so you can always see what is happening around you and in traffic. The cover set provided by Adco will help you take best care of your RV mirrors. It contains two mirror covers and two blade wipers. The covers will keep the mirrors safe from any bad weather, sun and premature aging. And the wipers will make sure they are clean at all time.

---
ADCO 2507 Deluxe Windshield Cover Ford 350/450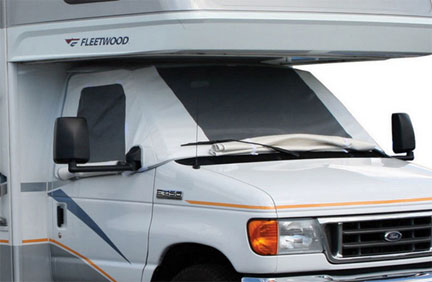 Your RV windshield will always be protected with this cover made by Adco. Specially designed to fit the Class C and B Ford 350/450 RV Series, this cover is made from the best available materials. It protects both the dash and the windshield, without taking your entire visibility. With the roll-down panels, you can always gain back full visibility. Protects against infrared UVs, offers privacy at any time and it has anti-theft tabs for a secured lock.

---
ADCO 52257 Designer SFS Aquashed 37'1"-40' 5th Wheel Cover

    Your fifth wheel will be well-protected with this cover. Heavy rainfall and UVs will not damage the trailer, as the material is highly resistant and reliable. It is also efficient against dirt, like dust and slack from grills. It has a resistant buckle cinching system, which will prevent wind from taking it off the trailer. No mold or mildew will ever affect the parts of your trailer. Although it offers high protection, the material is breathable at the same time. Corners are reinforced, for an extended durability in time.

---
ADCO 3026 RV Air Conditioner Cover

     Choose to prolong the life of your RV by covering it with a special cover. UVs and other small particles, carried around by air, will not enter or harm your air conditioning system. Even if you don't use the air conditioning, the unit will be stored safe under the cover. When the weather is windy, this cover will ensure that no draft is created inside the RV. The material of the cover is waterproof, offering a reliable protection against humidity as well.

---
ADCO 2111 Single Propane Tank Cover

     The perfect protection for the propane tank you use for your RV. It has the dimension to fit a 5 gallon propane tank, and protect it against water, dust and grime. Very easy to use, as it wraps around the tank, leaving a space where you can operate it. Whenever you will take the tank out for usage, you won't have to worry about weather and dirt.

---
Camco 45325 Cover Wheel and Tire Protectors

      Save money on the tires for your RV, by protecting the ones you have. While stationary, you can protect the tires with these special covers. Weather and corrosion, plus dirt, will never affect your tires again. You can be sure that the life of your tires will be extended if you keep them safe while not on the road.

---
ADCO 12291 PopUp Trailer Cover 8'1" - 10' SFS AquaShed

      The trailer cover will help protect your RV from rain and UVs. Due to the fact that humidity will be kept away, and with the breathable properties of the material, there is practically no risk for mold to develop on your trailer. Also, the UVs will not affect the parts and paint of the trailer. It will take even the largest rainfalls and the strapping system will make sure the cover stays on the trailer even during storms. A highly resistant material that will take all wear and tear.

---
ADCO 3501 5th Wheel Storage Skirt 64"x236"

     A cover that will make you turn the extra space under your trailer into a useful storage space. The outdoor furniture or even bicycles can be stores underneath this cover, when you are not using them. Don't overcrowd the space in your RV while camping, and use all the extra spaces you have. The cover is made out of a three-layer laminated vinyl, which protects against water, humidity and dirt.

---
ADCO 69507 27" Support Our Troops Spare Tire Cover

     If you really want to rely on your spare tire, it is best to keep it covered, to reduce corrosion and and prevent degradation of the tire. This cover is made out of heavy duty vinyl and has a design any American will be proud to show off. Dirt, UVs, water and even bird droppings, they will all be kept away by this cover. Your spare tire will not only look good, but will also be protected. The cover is very easy to install, the entire operation lasting a few minutes.

---
ADCO 32844 Tyvek Travel Trailer 26'1"-28'6" Designer Cover

     Your trailer can look great and be protected in the same time, each time you are parked somewhere. This cover will get over the entire length of the trailer, cover all sides as well, making sure that no part is exposed. It can take any type of weather, sun, rain and even snow. It also has zipper access made especially for the entrances and access ways of the trailer. The three layers are breathable, the cover presents vents and has strong straps to prevent wind uncovering the trailer.

---
ADCO 46001 Horse Trailer 8'1"-10' SFS AquaShed Cover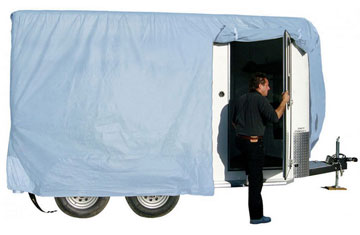 You should always be prepared for bad weather when you hit the road, especially if you need to carry a horse on the road. This cover for horse trailer has the right properties and dimension to keep water from entering the trailer. It is also great to be used on hot weather, as a protection against sun and UVs. The high-quality material will help ensure the great ventilation in the trailer, keeping the horse in a safe and comfortable environment. The corners are elasticized, to ensure a better resistance to extended usage.

---
Classic Accessories 80-112-012401-00 RV Alder Captain Seat Cover Armrest Cover

      The captain chair in the RV deserves the best attention. Keep it safe and protected with this high-quality cover. Besides the protection, this cover has special cushions that will make the seating even more comfortable. It also has UV protection shields, to prevent damage or discoloration of the chair. It can be washed and dried in the machine.

---
ADCO 7172 Vent Cover 18"x18" Polar White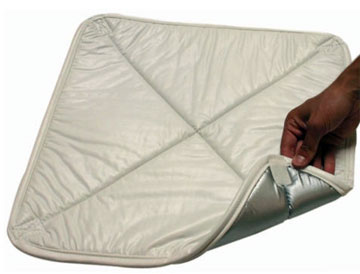 A very useful cover for your RV's vent, preventing any light getting in the RV. It has an insulating layer, which is best during hot summer days, as it won't allow heat to enter inside the RV and compromise the comfort. For installation and removal, the Velcro system will make these processes extremely fast and easy.

---
 About Us / Privacy Policy / Resources
Go to:  Pop-up Travel Trailers and RVs