RV Holding Tank Repair and Parts
Holding tanks are crucial parts of every RV, so it may be useful to know how to fix them when they break down and what spare parts are necessary for typical repair....

Leaking Black Water Tank

Plastic Welding
Plastic welding is the only 100% totally proven method of fixing leaking or broken water tanks
Most tanks are made out of either polyethylene plastic or ABS Plastic which are thermoplastics and can stand to be reheated repeatedly without weakening or changing the molecular structure
This is why plastic welding is particularly relevant as it reheats the damaged water tank at the site of the leak and creates a new bond
It is important to only make use of professional certified RV technicians who have expertise in plastic welding otherwise you may damage your water tank even further
Plastic welding has to be done on the exact site of the leak so you need access to the water tank whether it is in the basement, behind cabinets or other furnishings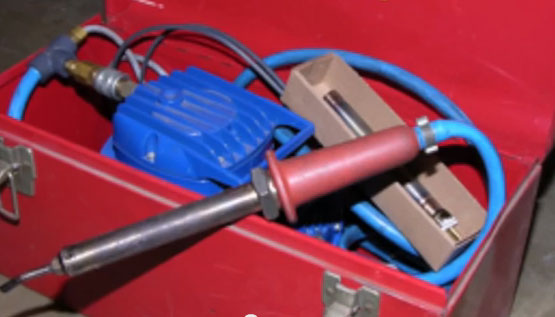 Plastic welder can be used for fixing leaks

---
Eternabond Tape
Eternabond tape is one of the most versatile quick patch products for fixing leaks of all kinds.
It is typically used for roof repair in homes or RVs and it is recognized for its permanent sealing
The tape works within minutes and provides firm adhesion to the site of the leak
Eternabond works best on repairing non-pressurized leaks where there is no risk of internal pressure pushing to reopen the seal
The perfect Eternabond product for sealing leaks in RV holding tanks is the Alumibond
To use this or the regular Eternabond tape, you should drill a hole at each end of the crack in the holding tank to stop it from spreading
Measure the Alumibond tape so that it extends about 2 inches on either side past the ends of the crack 
Remove the liner at the back ¾ inches at a time and firmly press the Alumibond down onto the crack. Rub in place to make sure there an even seal with no wrinkles or air pockets
Leave the tank to sit for at least 12 hours before refilling the tank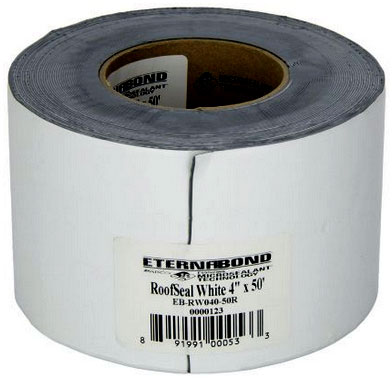 ---
Stress cracks or holes from impact damage

Stress cracks can happen due to the holding tank being constructed from bad plastic or old age. Other damage to tanks include small holes that can happen from impact with stones

Permanent Holding Tank Patch Kits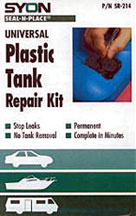 Permanent Holding Tank Patch Kits are aftermarket patching products such as Syon Plastic Tank Repair Kit, Cargo Quick Steel or Versachem Seal-N-Place 
These products are great for quick fixes since they do not require the tank to be removed in order to patch the leak unless if the leak is in an inaccessible spot
They also patch and stop leaks within minutes of application so are great for immediate results
The patch kits are mostly made out of epoxy resin which is used to create the bonding seal
In order to fix a tank using the Syon Plastic Tank Repair kit you have to:

Rough up the location needing sealing with sand paper
Make sure that the surrounding area is dry and if necessary brush off any particles with a microfiber cloth
Cut the included fiberglass cloth into strips and mix the epoxy solution pouch until evenly mixed
Apply the epoxy kit with a brush application and press on fiberglass cloth strip. 
Repeat this process layering epoxy and fiberglass cloth strips until the product is finished or the repair site is fully covered
Wipe off any excess epoxy from the sides immediately with a damp cloth, mineral spirits or with isopropyl alcohol
Leave to set for up to 20 minutes before trying to test if the tank is fixed
Now let's see how professionals are fixing a tank...

Although these products are advertised as permanent, there is no 100% guarantee of the fix actually being permanent because the original leak may reopen or widen in time. The permanent patch kits are also only good for small site repair of less than 5 inches
 About Us / Privacy Policy / Resources
Go to: Pop-up Travel Trailers and RVs