RV Propane Tanks Safety Tips, Sales and Repair
RV propane tanks are essential in your home away from home, so learn safety tips as well as where to buy them, re-certify, maintain in good shape and repair if needed....

Safety Tips:

Propane has a boiling point of -44° F which is the temperature inside the pressure tank. If a white cloudy fog is detected from the outside of the propane tank, it indicates a leak.
Propane tank leaks are so cold that could cause frostbite. In such case call a professional to deal with them.
Inspect your propane tank regularly for rust, gouges or scrapes that may compromise its strength or ability to keep the propane in its liquid state
Additionally, have an annual inspection of your propane tank by a licensed propane gas supplier
Do periodical or annual inspections of the fittings and connections that are used to attach the propane tank to your RV system.
Ensure that your tank is painted in light color reflecting heat, it helps to prevent the propane tank from overheating 
Make sure that there is a propane leak detector installed inside your RV for safety
If the smell of propane is detected, leave your RV immediately and call a professional to deal with the situation. 
Always make sure that your propane tanks are turned off prior to driving the RV

Let's start with the short overview....

---
RV propane tanks for sale (Where to buy?)

Horizontal RV Propane Tanks from www.pplmotorhomes.com
Horizontal tanks come from www.pplmotorhomes.com in 11.2, 9.8 7.9 and 5.5 gallon sizes
They are specially coated in a gray powder coating that looks like porcelain to protect from rust
The tanks have automatic stop / fill function to avoid spillage of propane during refills
Individual tank prices start from $370 and up
Tanks designed for RVs come with side fittings for easy access from the side door;  prices start at $450….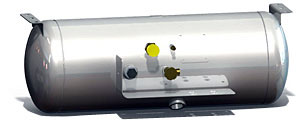 Manchester ASME Propane tanks for RVs

Worthington Food Grade Refillable Steel Propane Cylinders
The propane tanks by Worthington are made out of steel for lightweight and resistance to corrosion
They all come with an Overfill Prevention Device (OPD) and are manufactured in compliance with DOT specifications
Sizes available are 1, 2.6, 4.7, 7.1 and 9.4 gallons while prices range from $50 to $8o's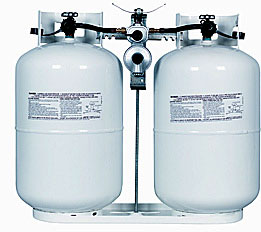 Manchester's DOT RV Propane tanks

Manchester Propane Tanks
 Manchester Propane tanks are recognized as the industry's "first  class", they are approved not just for propane storage but for other hazardous materials;
The tanks are made from stainless steel or aluminum to ensure lightweight and durable storage
The tanks are DOT approved and available in sizes ranging from 1 gallon to 30,000 gallons
Prices range depends on retailer, but roughly it will be somewhere  from $35 for a 5 gallon tank to $500 for a 120 gallon one.

---
RV propane tank re-certification

Whether or not your propane tank needs to be recertified depends on if it is a DOT Cylinder or an ASME Tank. 
According to the NFPA 58 Liquefied Petroleum Code, DOT Cylinders must be re-certified after the first 12 years from original manufacturing date
Thereafter the cylinder can be re-certified every 5,7, or 12 years depending on which certification method is used
ASME Tanks on the other hand do not need re-certification once installed in the RV
However the relief valve should be changed every 10 years (it cannot be re-certified); 
For most RVs you will find both types of propane tanks (either DOT or ASME- types, although typically large RVs only have ASME tanks
The bottom line is: check your container to see which type of propane tank it holds and then get it re-certified as needed.

---
Where to fill RV propane tanks?

Propane tanks can be refilled at any Tractor Supply Co location, U-Haul offices or AmeriGas Cylinder Refill locations
Similar large propane retailers also include Ferrellgas  and Suburban
Local RV equipment rental shops typically also have a refill service as do many gas stations
Other options include hardware stores like ACE and Home Depot and any registered propane dealer

RV propane tank cover, holder and other parts

Ice Assault RV propane tank hold
The Ice Assault propane tank hold is a lockable bracket for one or two propane tanks that can be affixed on the exterior of your ARV
The tank hold has a lockable handle and locking top to keep your tanks secured during travel and safe from being ripped off
The tank hold is available for 20, 30 and 40 pound weights

Camco RV 40531 Propane Tank Cover
The Camco tank cover is a heavy-duty polyethylene shell that protects RV tanks from flying debris, severe weather and unexpected damage during travel
The cover also makes your RV exterior more streamlined as oppose to the bumpy look of regular tank shapes
The tank cover allows a secure fit against the RV yet still enables easy access to the gas and changeover valves.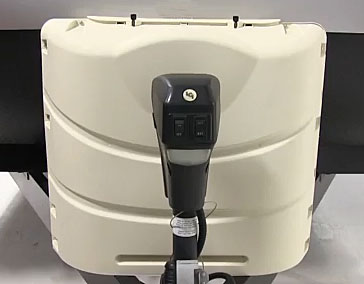 ---
RV propane tank valve replacement

Finish all the propane in the tank prior to fixing then shut off the valve
Place the tank inside a vise or other immobilizing device to keep it stable
Heat up the welding between the tank and the valve with a heat gun (do NOT use a blowtorch)
Open the now released valve and remove it by turning it counterclockwise.
Use a flashlight to make sure that the tank's inside is rust free
Thread the new valve onto the cylinder top and screw it tight with a wrench. Make sure that the valve is wrapped with natural gas-approved Teflon tape before placing on tank
Once repair is finished take the tank for refill and instruct the refill station that it needs a leak test and an air purge

RV propane tank repair

Q: Is it normal for RV propane tanks to make whistling sounds?
Answers:
It is common to have hissing or whistling sounds from the propane tank because of the liquid propane being moved from the container and converted from liquid to gas
As it passes through the rubber diaphragm inside the propane system, it creates a sound as it moved through the regulator. If necessary check the vents to make sure than none is closed.

Q: How to tell the amount of propane inside the container?
Answers:

Most ASME containers have a gauge on the tank to check the levels however they can be affixed to a monitor that remotely send the levels from inside the RV
If the tank is a DOT cylinder you can get an indication of the levels by rubbing the exterior of the cylinder with a wet cloth that has been dipped in warm water. The condensation mark will give you an idea of the fuel levels
You can replace the service valve of the of the propane tank with an aftermarket valve that comes with a gauge and float assembly

Q: How to do an LP Gas System Repair?
Answers:

Mix some dishwashing detergent with water in a spray bottle and spray all around the LP system
Monitor for any bubbles that develop after spraying which may indicate a leak
Do the same for every LP connection on your RV such as for the refrigerator and stove to check for leaks
If you find a bubbling site, that's a leak that has to be fixed (given the safety issues,  search for professional help).

 About Us / Privacy Policy / Resources
Go to:  Pop-up Travel Trailers and RVs