RV Refrigerator Brands
Among few existing RV refrigerators manufacturers, only two are well-recognized brand names - these are Dometic and Norcold.....

Unfortunately there are only few (frankly only two) manufacturers of RV refrigerators so you Do Not have big choice.
That is why at least you have to make a wise and educated decision when looking for your new RV fridge.  
Two leading manufacturers provide a variety of models ranging from standard gas-absorption units in 2-way (LP-gas /AC ) and 3-way (LP-gas /AC/DC ) versions designed especially for RVs to compressor-driven AC/DC units designed for either RV or marine applications.

In a way this limited choice is making your decision easier, but still it has to be the "educated one"!
First of all, you have to have a clear picture of what you really want to buy.  And the most important part of that "picture" is the "cooling technology" of choice for your new RV fridge. Will you opt for the traditional gas-absorption refrigerator or prefer to have the compressor-driven unit. The answer to this question is largely determined by the source of available energy. So just short reminder:

Some good tips to make your RV refrigerator work more efficiently by Mark Polk owner of RV Education 101
-    Gas absorption units will provide greatest flexibility in terms of energy source. You can always count on your bottle of LP-gas (especially during the travel) and then AC or AC/DC electricity when on the campground. But as nothing is free – gas-absorption refrigerators do not give you performance of compressor-driven units (to keep it short). Also, they are "sensitive" to the "off-level" operation.  If you need more details why – please go to Understanding RV Refrigerators!

-    Compressor-driven RV refrigerators bring you to the familiar ground (that is what you have in your home's kitchen). Your only problem will be – where from you take needed energy when on the road or a rustic camping with no AC hook-ups. Do you have in your RV a Diesel Generator, solar panels and large pack of batteries?  On the positive side – compressor-driven fridges designed for RVs have much better tolerance to "off-level" operation and that may be the critical parameter!

and

-    if this is a replacement for an existing unit, the first and most important parameter to consider is:  Dimensions (obviously you would like the new one to easily fit into the existing space)!
Knowing the answers to these questions you may proceed with searching for an RV Refrigerator meeting your needs and criteria.

Here are the common points for RV Refrigerators you should pay attention to:
a)    They all should have steel-reinforced frames to provide robustness necessary in an environment of "shocks-and vibrations" typical for RVs (and boats).
b)    They should have special latches for doors to prevent accidental door opening when "on-the-road" (especially "on-the-road-but-off-road")
c)    They should be designed for safe and reliable "off-level" operation (keep in mind that during travel the slope of RV's floor level is continuously changing, and it can be quite "dramatic" during "off-road" travel. Obviously the last thing you want is to see is your fridge failing to do its job in such circumstances.
And the last but not less important:
d)    Check customers' opinions (claims, security issues, reported reliability problems, manufacturer's customer support, warrantee etc…..

Below is the list of manufacturers to consider (in an arbitrary order, not in order of preference):
Dometic
Dometic is a well-recognized manufacturer of products for RV and Marine applications.
Its portfolio includes RV refrigerators but also such RV products as awnings, A/Cs and heat pumps, air purifiers, generators, lights, microwave ovens, toilets, mattresses etc…
It is the worldwide company with the presence in North and South Americas, Asia, Australia and Europe.
It's worth to note that it was Dometic that back in 20-ties patented the gas-absorption refrigeration system. In a way Dometic is a pioneer of RV refrigerators. As it should be expected from the company with such long record track, their products include many innovative designs making RV-ers life easier and more comfortable.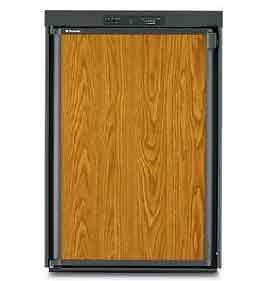 One of such features is an automatic door locking system activated by the RV ignition switch which means you don't have to worry about your fridge opening up while you're on the road. They also come with a versatile rack system that allows you to customize the space within your fridge!
The bottom line - Dometic is a big brand in the RV refrigerator business, and they earned it for a good reason.
Please note that Dometic offers only gas-absorption refrigerators. They come in 2-way (LP-gas/AC) and 3-way (LP-gas/AC/DC) versions. Their RV Refrigerators are ranging from small 2 cubic foot units to large "residential-style" dual door 12-cubic foot units for luxurious motorhomes.
Good news for those looking for the replacement RV refrigerators – Dometic provides the list of suggested replacements for older (obsolete) units closely fitting the available space in your RV.

---
Norcold.
This is the company with over 50 years of experience in manufacturing refrigerators for RVs, trucks and marine applications. Theoretically 50 years of successful existence should be a good sign of products' quality, reliability and customer appreciation.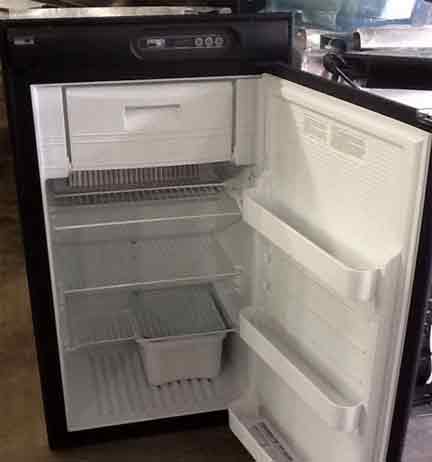 The series DE-xxx and NR-xxx represents AC/DC compressor-driven refrigerators. To give you some idea:
The interior volume ranges from 1.7 cu.ft  to 3.5 cu.ft
Typical power consumption for 3.5 cubic foot unit is correspondingly about 0.2A at 110V, 1.6A at 24V (trucks) and 2.8A at 12V (typical car's battery). Most models can automatically recognize the source of energy (110AC and Low Voltage DC) and switch to the right operating mode without human involvement!
Norcold claims that these AC/DC fridges are designed for off-level operation of up to 30 degrees!
The series N4-xxx and N8-xxx represents 2-way and 3-way gas-absorption refrigerators.
The series includes models from smallest 1.7 cu.ft to largest one of  17 cu.ft.
As an idea let's see power requirement numbers for the 6.3 cubic feet storage capacity model NXA641 (2-way) and NXA641.3 (3-way):

---
Model


NXA641

NXA641.3


110V AC


3.0 A


3.0 A

12V DC


1.2 A

14.8 A


LP-gas


yes

yes

---
Please note that 2-way units running on LP-gas still need DC power for control electronics. Although it is not much, it can still drain the battery if not recharged for several days. However the same RV fridge in DC operating mode is really power hungry and you will need the dedicated re battery pack to sustain such operation for longer term.
Downside of gas-absorption fridges – they have very limited "off-level" operating range (typically up to 3 degrees off-level side-to-side and 6 degrees off-level front-to-back looking at the front of the fridge). Permanent operation outside of these limits may cause damage to the cooling system or at least may stop its efficient operation. In the worst case – the whole unit may overheat and eventually "explode" (sorry to say that).
This is due to the "perturbation" of the flow of ammonia gas and water solution inside of the cooling system. Apparently, during "on-road" conditions, these fridges can still work properly at bigger slopes mainly because they are not permanent but rather quickly changing in "all directions". That prevents the "clogging" of the cooling system "pipes".

---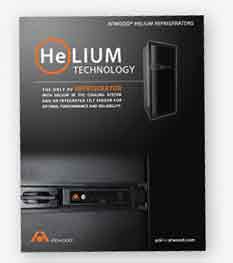 Atwood
Compared to Dometic and Norcold, Atwood is a newcomer on the market of RV Refrigerators. The good thing about them – they introduced helium-based absorption RV refrigerators. Replacing explosive hydrogen by helium makes RV campers safer, but it is not all that rosy.  They are less prone to overheating, and malfunction. They will not explode and cause fire (yes, it happens with ammonia-hydrogen refrigerators when not maintained properly or when they work "off-level" outside of the allowed range (which is unfortunately small).
Nice things about Atwood RV fridges: they have very stylish design, provide 7 and 8 cubic ft. storage capacity and have built-in level tilt indicator greatly helping to evaluate how much your RV floor is "off-level"!
Now is time for "Not so good things":
The helium absorptive refrigerators perform "slightly poorer" at high ambient temperatures compared to hydrogen-based units (of course compressor-driven refrigerators are by far champions of the refrigeration technology). This may be a problem during hot summer days especially when your camper is directly exposed to the sun on the side of your fridge!
 However – to make it clear, Atwood fridges still meet industry requirements, so that should be not the major concern for RVers.
But there is an extra problem with Atwood RV refrigerators reported by Ford's RV Training & Service. The bad thing is the design of Power Failure Recovery System – apparently the Atwood RV Refrigerator will remain off, when power is restored even after momentary loss of power. Then you know what will happen to your food!  Hopefully, Atwood already corrected this "faulty" design

See mentioned report at Comparing Atwood and Dometic RV Refrigerators

---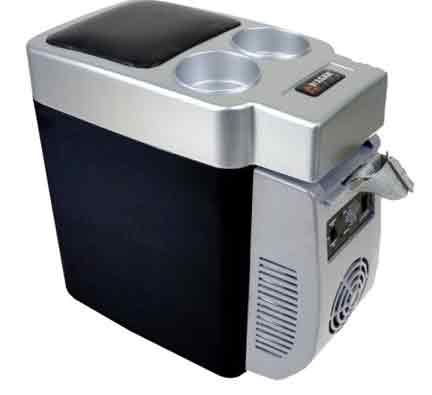 Wagan
Wagan is a manufacturer of several car appliances including the series of portable cooler-warmer units. They are designed to either keep your soda cans, beer and quickly perishable food below the room temperature (cooling mode of operation) or to keep your food warm (hating mode of operation). This is all thanks to the thermo-electric technology using the "Peltier-effect".
To make it short – the cooling/heating element is a solid-state device that depending on the direction of the current flow either heats or cools "surroundings". What is important for user – compact design, no refrigerant gas and no moving parts (with exception of fans).
These units can be fed from car's cigarette lighter socket (minimum 5A required) or from 110V AC by using an AC/DC adapter.
Wagan cooler/warmer units are portable and include everything from drink holders to a space for your food and snacks. The interior space ranges from about 0.2 cubic ft to 0.4 cubic ft (6 to 10.5 liters). They are not built for continuous everyday use as traditional fridges and are not built to be bolted or mounted onto your RV. But they are perfect for anybody who needs a fridge on the go.

---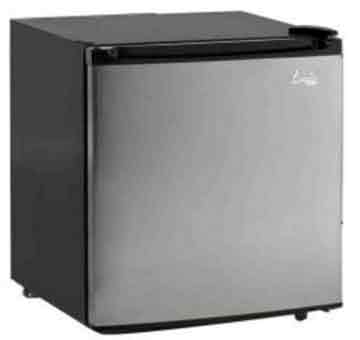 Avanti
Avanti is another company using thermo-electric cooling technology based on Peltier's effect. Their refrigerators have internal storage space of up to 1.7 cu.ft. They are more like traditional refrigerators fed by 110AC/24V/12VDC. They are not portable (at least not easily as they weight about 30 lbs) and usually are not designed to heat (as a food warmer). Although their main application is office, hotel rooms,  they are also used by trucking industry and obviously can be used in RV.
Please note that thermoelectric fridges are not sensitive to off-level operating conditions.