Sealander
Amphibious Travel Trailer
 Sealander is an amphibious travel trailer; elegant, stylish, lite, this fiberglass mini-home towable by almost any car, it extends vacation experience from the traditional "ground" on vast areas of inland waters....
     Sealander represents an emerging class of campers combining characteristics travel trailers and boats.  

      But its name is largely misleading because it is designed only for calm inland waters like lakes or eventually for "lazy" (smoothly flowing) rivers. 
With its fully equipped interior it can serve as a small, easy to tow lightweight camper providing essential features for short "out of town" escapades. But thanks to its amphibious characteristics and small electric motor it can also explore otherwise inaccessible for campers inland waters.
As its German designer Mr. Daniel Straub says: You can settle for the night at the campground, cruise on the lake taking sunbath or settle for fishing. And if the campsite's beach is too crowded you can easily chose an isolated one on a lonely island or somewhere across the water….
     The shell including most of interior components (lockers, cabinets) is made from molded fiberglass. The chassis is made from galvanized aluminum. Thanks to these modern technologies, the whole unit is light-weight, immune to rot and corrosion, and by definition lasting "almost" forever. The double hull adds extra protection against any damage causing water leak when on the water.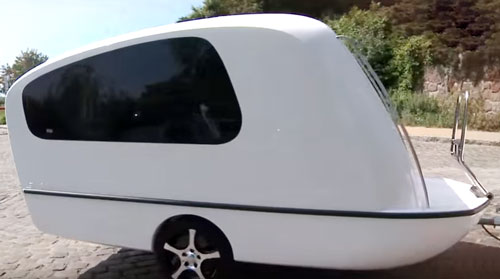 Sealander as the camper (above) and motor-boat (below)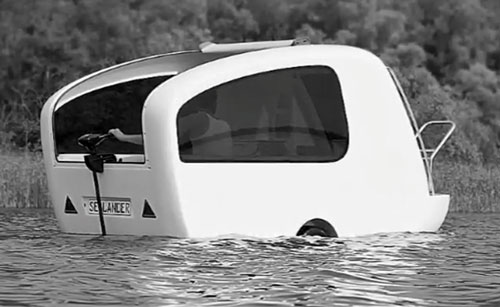 The fiberglass with its smooth surface and shining, spotless colors (white is a default, but you can choose custom colors), together with exterior stainless-steel elements (railings, ladder….) and large, tinted panoramic underlines undeniable elegance and stylishness of the Sealander.
Sleek and lovely interior does not disappoint but rather matches first impressions when looking at it from the outside. While the basic features are – let's be honest, very basic, the customer has a large set of options to choose from (including materials and colors) according to personal needs and preferences.
     Folding benches serve as a double bed and thanks to cushions it may be actually quite comfortable one given also its dimensions 6'7" x 5'1" (200 x 156 cm). The mini-cooktop (one burner), compressor-run cooler, sink with tap water (supported by fresh and grey water tanks), folding table, LED lights and even audio system with outdoor speakers and even mobile toilet – all these features guarantee some level of comfort in this tiny "mini-house".
And needless to say that large panoramic windows and fully opening roof let the nature to fill the interior space with fresh air and sun, somehow nullifying the physical limits of the tiny space.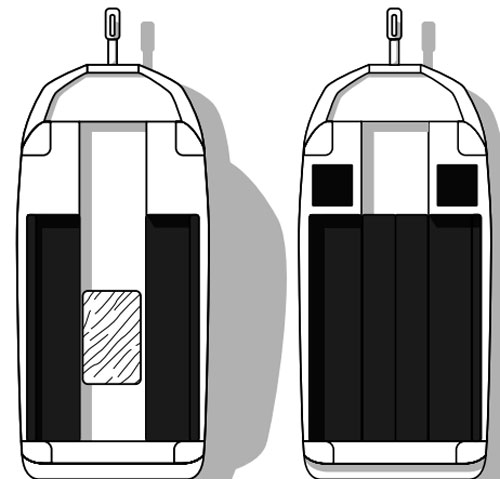 Sealander floor-plans (day and night configurations)
     The 80Ah interior battery is a main source of energy for the electric motor, but it also supplies camper with energy for its basic needs (lights, cooler). Thanks to shore power connection as well as an inverter and charger, the battery can be easily kept ready for daily "challenges".  
For unknown reasons, the electric motor is not proposed by the factory as part of the "Marine package". Fortunately, any long-shaft 5hp outboard electric motor will do the job, and the market offers many models so it should not be a problem to find one to operate the Sealander. 

     Also worth to mention – the Sealander comes with certification for dual use, so you will not need any special license to operate it as a camper or motor-boat. 
Moving the Sealander from the land to the water (and back) cannot be more easy and smoother. It simply moves in and out of the water on its own wheels using any traditional ramp. The draft is slightly higher than 1 foot but still small enough to allow for an adventure on shallow inland waters.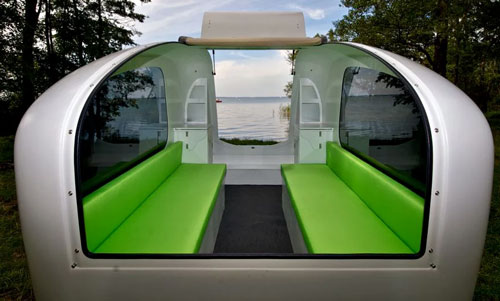 You cannot say that it is not stylish and elegant
     But for sure – the Sealander is not a luxurious "Land-yacht" offering lavish interior, residential space and ambiance. It is a tiny "two-in-one" camper and motor boat. So do not expect more than that. 
Those with much deeper pockets can consider the --> Australian Caraboat – a "one-in three" RV that shares combined characteristics of quite luxurious Travel Trailer, Motor-Boat and Boat-house. 
On the other side of the spectrum, you can consider an "entry" level RV+ Boat unit --> Classic American Dream Trailer. The big plus is that the boat is designed as an integral (but detachable) part of the camper's design so there is no need to pull it behind or carry on the roof's rack.  
Sealander specifications:

---
Overall length

Shell length

Exterior width

Interior width

Exterior height

Dry weight

GVWR

Maximum load on the water

Draft

Sleeps

Engine (not included)

406 cm (13'4")

372 cm (12'2")

168 cm (5'6")

156 cm (≈ 5')

189 cm (6'2")

485 kg (1070 lbs)

550 kg (1212 lbs)

410 kg (900 lbs)

38 cm (1'3")

2 (plus child)

Electric, 5hp
---
Construction:
Molded fiberglass shell
Double hull
Galvanized single axle chassis
Waterproof wheel hubs encased in oil
Steel rims with 185/55 tires
Tinted acrylic, panoramic windows
Removable polyester (fiberglass reinforced) rooftop w/zipper (110" x 47"/280 x 120 cm)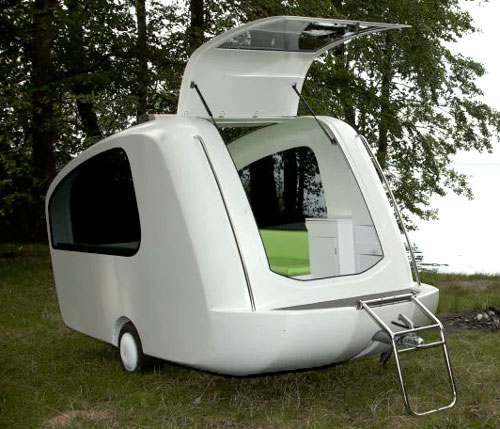 Sealander - here serving as a traditional camper
Standard features:

Interior features:
GFPR (Glass-fiber Reinforced Plastic) 
Lightweight plywood lockers and cabinet doors covered with real wood sliced veneer
Exterior features:
Stainless steel entrance/swim railing ladder 
Stainless steel handrails and fittings
Waterproof LED rear lights  
13 pins trailer socket
Hatch with tinted acrylic glass panel and gas struts
Stainless steel/Composite rear motor attachment gear
Plastic/Stainless steel rubbing strake all around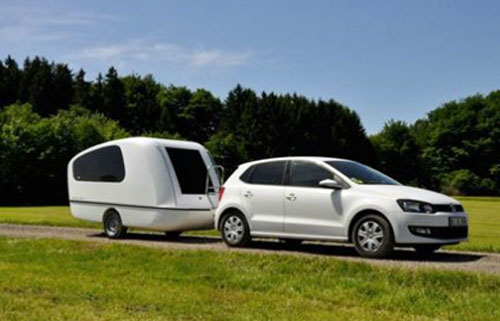 Thanks to its lite-weight it can be towed by almost any car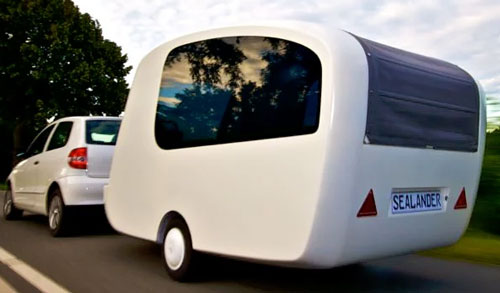 Options
General interior:
Removable light wood table w/wood veneer 
Set of windows' curtains (includes stainless steel roads and mounting)
Complete cushion set (6) for seating and sleeping 
Cooking module:
Single-burner spirit cooker w/wooden cover
Cooler package  (compressor cooler 18 liters/ 4.5 gals, 12V cigarette socket)
Water modules:
Stainless steel sink w/glass cover plate
Faucet w/water pump
13 liters (3.4 gals) fresh water tank
16 liters (4.2 gals) grey water tank
Water hose
Mobile fresh-water toilet w/room divider curtain
Retractable external shower on foredeck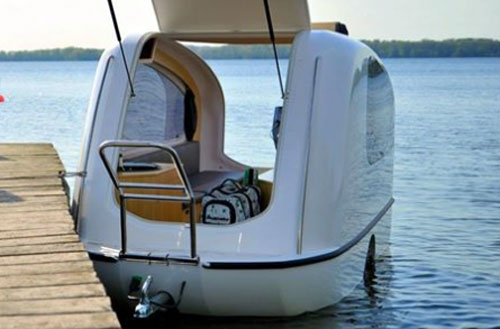 Sealander - looks inviting!
Electrical package(s):
Onboard battery GEL 12V/80 Ah w/box and strap 
Battery charger w/voltage converter
2 x Cigarette lighter socket and fuse
Interior 2 x LED strips of lights w/remote control 
Interior 2 x LED spot lights over front sideboards
Exterior power socket w/cover (110V or 230V)
2 x interior power sockets (110V or 230V)
Adapter cable for shore power
Harness board electronics w/connectors
Audio package:
Marine radio w/USB/AUX/Remote control, Bluetooth and iPOD compatible
2 x Marine grade outdoor speakers (120W Fusion MS-FR4021)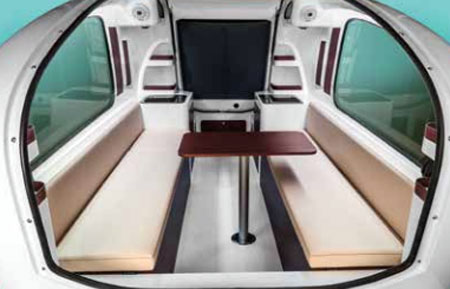 Interior view with table
Marine package:
2 x fender lines
2 x mooring lines (10m/33ft each)
Plate anchor (7.5pounds/ 8 kg) with 65,5 feet/20m anchor rode
Modular all-round light for overnight boating
Safety:
Fire extinguisher
First aid kit
Fire blanket
Design package(s):
Color of interior GFRP components
Interior wood elements (oak, maple, cherry….)
Color of convertible roof-top
Color of cushions
Color of curtains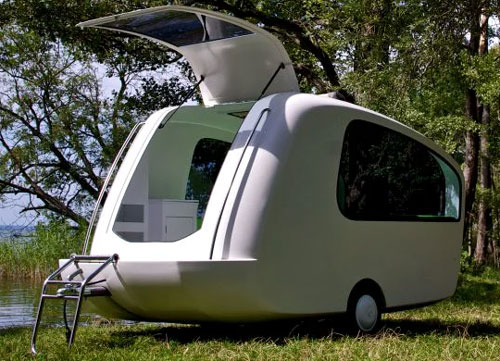 Sealander with its dual mode of operation (camper and motor-boat) proves that life can be beautiful (or at least more exciting :-)
Extra Equipment:
Aluminum Alloy rims w/low profile tires
Rooftop screen
Stainless steel grill
Tarpaulin (weather/dirt protection cover)
And now, let's take the tour and see with your own eyes....
Summarizing – the Sealander thanks to its amphibian characteristics allows for deeper exploration of Mother Nature offering this way truly unique experience. It's true – the Sealander is not a real "home-away-from-home" where you can comfortably spend long vacations in "residential-like" ambiance. It is rather a tiny camper basically offering you a sleeping space for the night and little room for preparing some basic food.
But, thanks to convertible roof, you can spend your night under the stars (actually seeing them) and what's more rewarding – escape from the crowd on the beach into water, explore inaccessible on foot "corners" of lakes, enjoy the sunbathing "in the middle of nowhere".
All that at a decent price of some US 20k$ (basic module) and probably some US 10k$ more for sets of options… (Even better, made in Germany, but already available in Canada!).