Small Travel Trailers:
Scamp
Scamp travel trailers prove not only that "small is beautiful", but that small can be functional, comfortable and even luxurious, so let's have closer look as 13ft model....
      Scamp is an American family owned business (Eveland's Inc) operating in Backus (MN) since 1971. It specializes in designing and manufacturing small, hard-wall travel trailers.
      These compact, lightweight, molded-fiberglass trailers can be towed by almost any car, they are easy to maneuver and guarantee high fuel efficiency. The company offers many floor-plans as well as optional items (including appliances), so each camper can be customized according to the customer's preferences. Thanks to good thermal insulation as well as optional AC and furnace they can be used from spring till fall. 
The series of Scamp Travel Trailers includes 13ft, 16ft and 19ft models – all coming with several floor-plans and versions (standard and deluxe). The smallest 13ft model was the first one introduced into production back in 1972. 
Today's 13ft models come in four different configurations: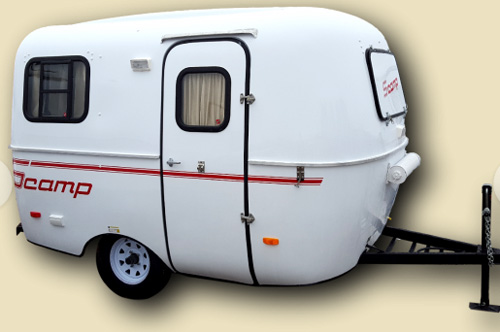 The smallest Scamp Travel Trailer has overall length of 13ft 
Standard w/front bunk
Standard w/front bathroom
Deluxe w/front dinette
Deluxe w/front bathroom (toilet and shower)
13ft Standard Scamp with front sofa/bunks
13ft Standard Scamp with front bath
     At the back all four units have large table with comfortable seats and storage (under the seats). For the night the table converts into the double bed. The central part of the trailer includes kitchen cabinets with a 2-burner stove, sink and icebox (or optionally 1.9 cubic ft refrigerator). On the opposite wall next to the doors there is a closet or a pantry. 
     The main difference between these four units is the configuration in the front of the trailer. In Standard 13ft Scamps it can be a sofa converting into bunks (extra sleeping place for two) or toilet and another closet.  In 13ft Deluxe Scamps the front's configuration may include an extra dinette with seats or the bathroom (including a toilet, shower and optionally sink) as well as an extra closet with shelf.
An extensive choice of options and dedicated packages is available for each of four 13ft models.
The Deluxe models have premium finishing (like for example birch/oak cabinets, sink in the bathroom….)
For more details about molded-fiberglass technology see: --> Fiberglass Travel Trailers
---
Specifications:
Exterior  length

Interior length

Exterior height

Interior height

Exterior width

Interior width

Dry weight

GVWR (axle)

sleeps

Insulation

Shell

Frame

13'

10'

7'6"

6'3"

6'8"

6'6"

1,200–1,500 lbs (depends on config.)

2,200 lbs

2 to 4 in models with front sofa/bunks)

R-15

Fiberglass

11 gauge steel tube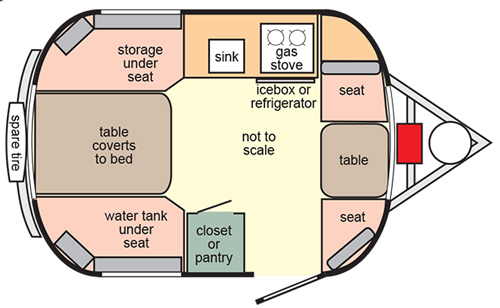 13ft Deluxe Scamp with front dinette
13ft Deluxe Scamp with front bathroom
Standard features:
2-burner LPG stove
Icebox
LPG bottle
Table converting to bed
Sofa convertible to bunks (model w/front bunks)
Clothes closet
12 gallons fresh water tank
12V lighting
30 A power converter
Spare tire and cover
Rear stabilizing jacks
Options
Roof fan
Roof AC
16,000 BTU furnace
Electric brakes
8ft awning
Side cabinets
Gas and electric water heater
Grey water tank (standard in deluxe models)
Packages
Shower (models w/front bath)
1.9 cubic ft refrigerator (standard in deluxe models)
Battery pack
Rear cabinets
---