Small Travel Trailers:
Safari Condo Alto
Canadian Safari Condo is a manufacturer of ultra-light, aerodynamic, eco-efficient Alto travel trailers. Innovative design with retractable electrical roof makes them ideal for nature lovers....
Safari Condo is not a "newcomer" in the market of travel trailers.
     The family-owned company operates from Quebec (Canada) since almost forty years, but only recently  thanks to very attractive, "out-of-the-box" innovative approach, they gained widespread recognition in the world of RVs.
Currently,  Safari Condo offers three models of ultralight campers, correspondingly R1713 and R1723 (models with retractable roof) and F1743 (model with fixed roof).
All of these models have common characteristics: aircraft-inspired design, light weight, good aerodynamics (streamlined underbelly tanks), durability and modern, very comfortable, well-thought "open-space" interior.
With large windows offering abundance of sunlight and great views, as well as construction allowing driving on dirt roads, Alto travel trailers are designed for nature lovers daring to explore roads "less-travelled". 
Safari Condo's Alto R1723 travel trailer
1. Seamless aluminum roof
2. European windows
3. Aluminum frame and floor
4. Adjustable suspension height (from 83.5 to 85.5")
5. Curved roof for aerodynamic drag
     Alto trailers have independent suspension and very low level of gravity center. This guarantees an exceptional stability on the road (especially when driving on unpaved roads).  Add to that the powerful electrical brakes (standard)! The floor and weld-free frame are made from aluminum, while roof and walls are made of a sandwich-type material with a plastic honeycomb core laminated with aluminum on one side and AluFiber (or aluminum) on the other one.
Given the fact that interior design and furniture are made from Formica (durable plastic laminate), glass, aluminum and composite materials - Alto travel trailers are ultra-lite, eco-efficient and extremely durable (water and humidity has very little effect on the camper) . As a result – Alto travel trailers can be towed by most family cars serving customers for long years!
The Alto R1723 is a larger of two models with retractable roof.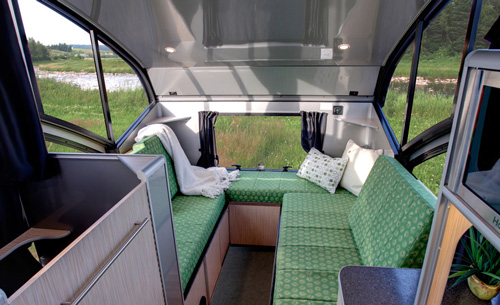 Alto R1723: interior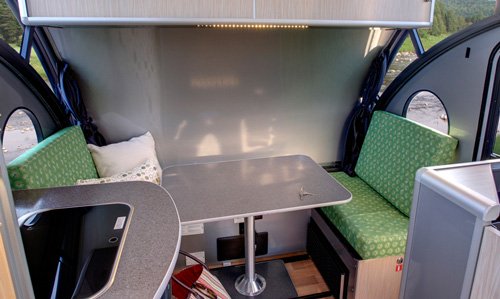 Specifications:
Exterior length

Exterior width

Exterior height (roof closed)

Exterior height (roof opened)

Interior height (roof closed)

Interior height (roof opened)

Dry weight

GVWR

Cargo

Fresh water tank

Gray water tank

Black water tank

Sleeps

Overall storage capacity

17'3"

83"

83"

101"

64"

82"

1,725 lbs

2,700 lbs

975 lbs

15.8 gals (60 liters)

15.8 gals (60 liters)

12.2 gals (46 liters)

3

55 cu ft
Interior features:
2-burner stove (flush-mount)
Two-way 3.1 cu. ft fridge (LPG and 120V)
Stainless-steel sink w/ glass cover and 12V water pump
Portable front dining table
Front single bed 36" x 81" (converts to dinette)
Read double-size bed  60" x 76"
Window and door screens
Fixed flush toilet
Shower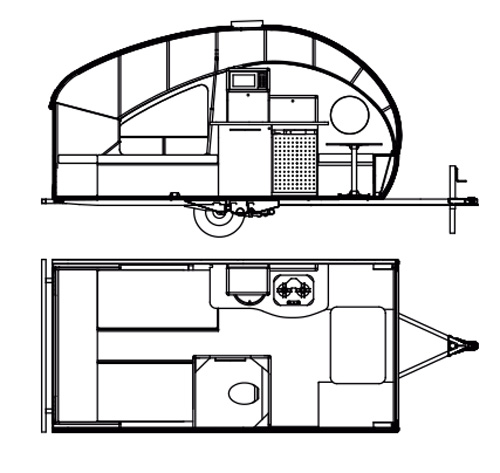 Alto R1723 Floorplan
Electrical
120V/30A Inlet
45A Converter
Monitor Panel (water, tanks, battery)
Roof variable speed 12V vent
LED lights
Exterior features:
Electric roof w/rigid side walls
Electric brakes
Flexride suspension
Sliding step
Front-roof storage (1.7 cu. feet)
20 lbs LPG tank
Ext. fresh water inlet
Ext. shower hook-up
Front stone protection
      With an exterior height (roof closed) of just 83", the Alto R-series travel trailers can easily fit into typical garage. It is worth to mention that even with the roof closed, beds, fridge, toilet and storage – are all usable. Once the roof opens (two electrical actuators) the interior space significantly increases and sunlight starts flooding interior through crescent-shaped, tinted, tempered-glass windows.