Your Headline
SoCal Teardrops' Sierra is a "Hand-made-American Quality" wooden-shell camper; offering comfortable sleeping and spacious galley it is ideal for nostalgic, short get-away trips for two...
      So-Cal Teardrops (founded in 2004) offer a series of lightweight travel trailers including Rover, Sierra, and Cal-Delux (longest) as well as two off-road models Krawler and XS.

    Their weight ranges from just under 1000 lbs (Rover ) to 1400 lbs (for XS).  The company also offers the model Buzz (two versions: on and off-road). It is the smallest unit, without the galley, so it rather belongs to the class of cargo/shelters offering space for stuff and/or sleeping.
      These days most teardrops (usually belonging to the class of small campers) are made from composite materials (either molded-fiberglass or composite panels). The SoCal Company took quite different approach – shells of all of their models are made from plywood finished with anodized aluminum sheets. Most likely such decision was taken due to "family traditions and experience" (what always sounds good).
SoCal Teardrop camper: Sierra
But another and also quite "strong" reason (as claimed by management) is company's strategy to offer its customers "Hand-built-American-quality" products. Indeed, according to the company, all SoCal teardrop campers are "meticulously designed and engineered, hand guilt each to exact standards with finest materials...". And certainly such approach can resonate quite well with the public opinions in our era of globalization!

So let's see how they are made.....
     We have to admit that this strategy allows for very high level of customization. And SoCal sized this opportunity not only with exhaustingly long list of options but also by offering trailer-kits for DIY-handling.
The downside: wooden construction keeps all headaches related to wood (rot, mildew and slow decay with time) – things largely eliminated in all-fiberglass campers. But it's hard not to see that wooden shell in an old teardrop shape from 40's brings also a lot of warm, nostalgic feelings that may lessen potential headaches !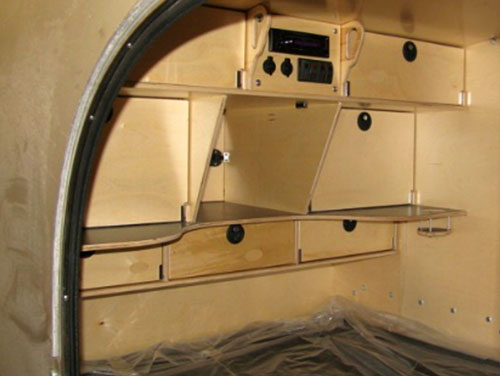 Sierra: Interior
     The interior is pretty spacious providing comfortable sleeping area for two with queen-size mattress (Sierra). It's a bit smaller for Rover (47" x 78"). The back-wall separating the cabin from the galley offers limited storage area (drawers and shelves) as well as a pass-through to the rear galley. Extra storage (6" deep aluminum box) is located under the mattress but it is not that handy in terms of access so basically it is not for something you will use on a daily basis. The AM/FM/CD Stereo with speakers helps to fill the space with soothing tunes….
    The galley is more impressive especially given its clever design with built-in 2-burner sliding stove, pulling-out drawers and large compartment space below the countertop. This design leaves a lot of working space free (as the matter of fact whole countertop). The optional fridge is also mounted on a locking slide what makes it easy to use.
Sierra: Clever design with sliding-out stove and drawer (above) and fridge (below)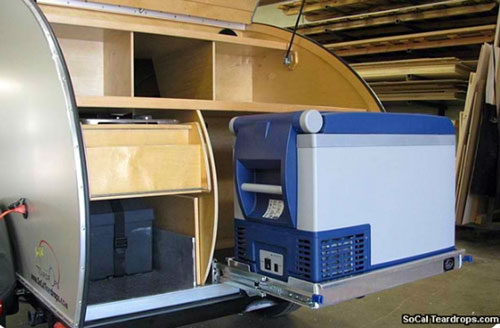 On-board battery w/charger and converter feeds cabin and galley lights and power outlets.
    But the real "bonanza" comes with options.  Starting from kitchen sink, water tank with pump, extra drawers, reading spot-lights,  vent, exterior tables, umbrella, storage box and cage mounted on the tongue, roof rack, awning, solar panel and here the list can go on… It helps to customize the SoCal travel trailer to your needs, but we aware – all at extra $$ and your pocket may have to be deep to make it happen because "things" add up quickly!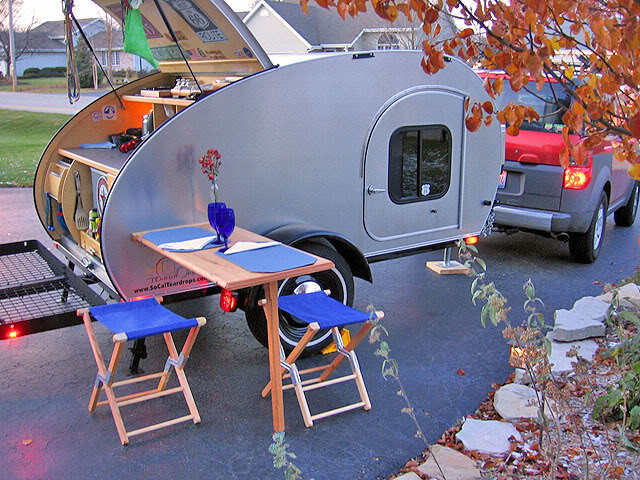 SoCal Sierra at the campground: I guess we agree that it looks so inviting :-)
Summarizing – for many the larger and more spacious Sierra with 1020lbs dry weight will be the preferred choice. Some (especially with smaller tow cars) may opt for the smaller (narrower)  Rover  with dry weight of 920lbs.  On the opposite side of the spectrum there is the Cal-Delux model with the overall and cabin longer by 24", but the dry weight is increased to 1120 lbs. The extra space may provide accommodation for a child, but certainly everybody will  have his/her own ideas about how to use it.
SoCal's primary manufacturing plant is located in Upland (Ca), however the company also opened several Regional Manufacturing Centers (RMFs) located all over US. According to company – this lowers campers' prices by eliminating dealers' delivery fees. 
Specifications:
---
Overall length

Cabin length

Overall width (Rover/Sierra)

Cabin width (Rover/Sierra)

Overall height

Cabin height

Galley Counter height

Galley headroom (open)

Ground clearance (vs frame)

Dry weight (Rover/Sierra)

GVWR

Sleeps

13'

9'1.5"

68"/80"

47"/59"

65"

44.5"

40"

78"

15"

920/1020 lbs

2,000 lbs

2
---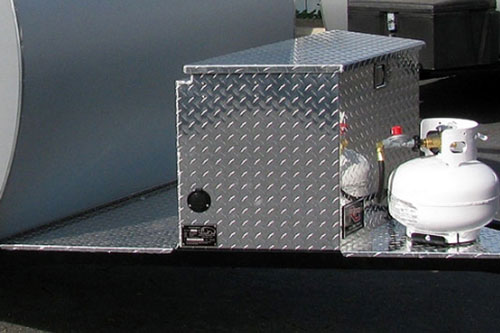 Sierra: Optional storage box (and space for metal cage) on the extended tongue (see below)
Construction:
Shell: Plywood 
Skin: 40 mils clear anodized aluminum 
Under-sheathing: All-weather Poly-fiber
Frame: Powder-coated tubular steel 
Axle: Single, Rubber Torsion (GAWR 2000 lbs) 
Interior: Ply Baltic Birch (UV-protected)
Insulation: Ceiling, floor and galley hatch
Countertop and shelves: High-pressure laminate
Windows: tinted, sliding, aluminum
Tires: 205/75 R14 (white wall tires)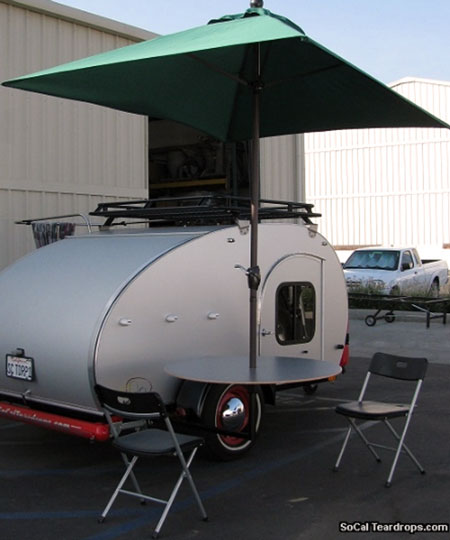 Sierra with an optional coffee table and umbrella (attached to side-receiver)
Standard features:
2-burner gas stove
Slide-out stove shelf w/pull-out utensil drawer
ARB 50qt (1.67 cu. ft) fridge w/locking slide
Galley Pass-Through (optional door and/or screen)
Gas-filled galley lid struts
4"-thick foam mattress w/black poly-cotton cover
12V Deep-Cycle Battery
Interior Battery Charger/Converter
Exterior 110V power socket 
Interior lights (cabin and galley)
12V outlets (cabin and galley)
AM/FM/CD Stereo w/speakers
Rear stabilizers
Mounted swivel T-Jack
Front-Mounted Spare (option: tires and wheels can match towing car, so there will be no need to carry spare)
Chrome "Baby Moon" Hubcaps
Laminated countertop
Under-the Mattress storage box
When it comes to options, probably it will be easier to make a list of what is not available. That is why below we list just these most popular ones ….

Options: 
Extended tongue (it allows extra space for storage boxes and extra tongue-mount items like for example LPG bottle…)
Expanded Metal Cage w/locking lid (ideal for storing chairs, fire wood etc..)
Front Storage Box 16 x 20 x 36 w/locking latch (the Box and Cage will require the under-mount spare fixture and spare relocation)
Two Side Receivers (1 ¼")  – very useful for side table or umbrella etc..  
Removable Rectangular or 40" round side table *the latter comes with un umbrella)
2 additional kitchen drawers (never enough in any kitchen)
LPG tank 
30 gals water tank w/pump
Storage space under the mattress (6" deep aluminum box)
Foldable Solar Panel (60W, 12V)
Front jack wheel /pneumatic wheel
14" x 14" vent
Exterior 12V outlet
Roof rack
Awning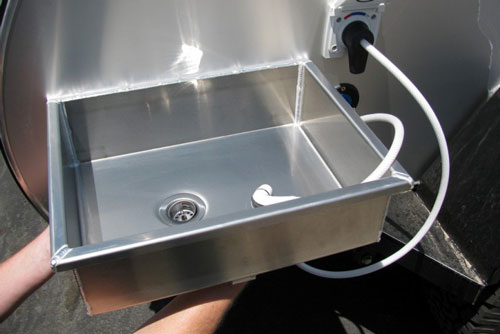 Sierra camper: Optional sink attached on the side 
Go back to: --> Best Mini Travel Trailers for 2017
---