Stryker Toy Hauler
Stryker's new generation of wide-body toy haulers was designed for motocross lovers but with a lot of care to provide comfortable living space.....
      Stryker's new generation of toy haulers was designed to be spacious and ergonomic.
Having beds and sofas that can be lifted up, the interior space of the trailer can turn into a very large mobile home.
The interior including appliances and furniture are made respecting the highest standards of quality and using the best materials.
The 102" wide-body chassis allows for storing favorite toys side-by side.
Built-in 5000 lbs tie-downs, state of the art suspension system as well as modern LED light and Smart-Key systems make this series of toy-haulers good choice not only for motocross enthusiasts but also for those loving to spend vacations in a comfort of "home-like" environment.
Aluminum frame laminated structure with fiberglass sidewalls make these units lightweight and durable. No wonder it will be a real pleasure for everyone to travel aboard of such a modern trailer. The comfort they can give will not make you regret making such an acquisition.

Amazing model:  STG-3010

---
Model ST2512
A very modern toy-hauler trailer, on the outside and inside as well. With a capacity of 6 persons, this trailer model has the interior ingeniously made, to gain extra space. It has two master beds, for two people, which can be lifted during the day, allowing more movements space in the trailer. Also, the sofa can be extended, for an additional sleeping place. It can also be lifted entirely, in case you need more space for toys. Two armchairs ensure an extra comfort. The kitchen is set in the center, and it is not very large but enough to do the usual activities. The bathroom is equipped with a bathtub.

L= 30'4", Dry Weight =6,003 lbs, Cargo =3,996 lbs,
---
Model STG-2710

      Another spacious toy-hauler trailer you can enjoy, on your traveling experiences. It is the most comfortable model in case you travel in a group of four. The trailer has two large beds, for two persons. One can be lifted, to gain more space, and one is covered by a curtain, for more intimacy. In the central area, you will find the kitchen, equipped with everything you need, and a large sofa to enjoy during the daytime. The bathroom is quite spacious, offering a bathtub, and it also separates the trailer's master bedroom from the rest. It has two entrances from both sides.


L= 32'2", Dry Weight =7,080 lbs, Cargo =2,919 lbs,
---
Model ST2812

    In case you wish to travel in the best comfort, you will need to check out this type of toy-hauler trailer. It can house 4 or 6 persons, according to the way you choose to equip it. The trailer provides two large beds, each with a capacity of two people. Both beds can be lifted, this being extremely useful, especially the one that is near the central area. Also, you can choose to have a dinette or a sofa, which can represent another sleeping place in case you need one. The kitchen is quite generous, considering it is in a trailer. And the bathroom is spacious enough, have a double entrance.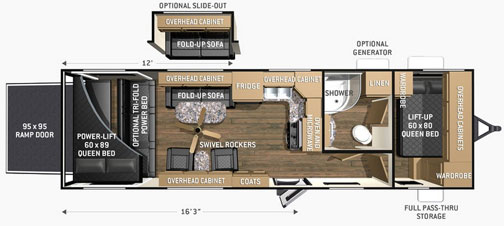 L= 32'9", Dry Weight =7,033 lbs, Cargo =2,966 lbs,
---
Model ST2912

     Spacious and comfortable, this toy-hauler trailer will take you anywhere. It can easily house 4 persons, but if you opt for a sofa in the central area, you will earn an additional sleeping place for two more. It also has two armchairs, which can be used to chill out and relax during the day. The kitchen has an "L" shape, making sure everything you need is placed into position. The bathroom is also quite big, having an entrance both from the rest of the trailer and from one bedroom. Also, the bedroom in one end will have a door, for an extra intimacy. The other bedroom is completely exposed.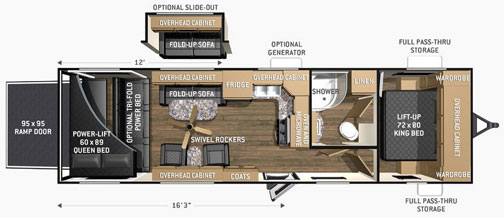 L= 34'0", Dry Weight =7,043 lbs, Cargo =2,956 lbs,
Model ST2912 (different color)

      Very similar to the previous model, this trailer it also great for camping experiences. Get the sofa if you wish to travel in a group of 6, or opt for a dinette and enjoy the entire space of the trailer as a smaller group of four. The two large beds of the trailers can easily house overnight two persons each. The central area looks like a real living. With a sofa, or dinette, plus two armchairs, it is the perfect get-together space. The kitchen is large enough to allow you to prepare the tastiest foods. The bathroom is designed with a shower but has sufficient space inside. It can be accessed from the trailer's hallway or bedroom. 

---
Model STG-3010

      Don't miss this toy-hauler trailer type if you wish to travel extremely comfortable. One master bedroom and another two-person bed await inside, capable of holding a total of four people. The central area is great to relax, chat and enjoy a glass of something, having a comfortable sofa and the kitchen right across. To minimize the space needed for the kitchen, a central counter is used, to make sure you have both the space and utilities you need. The bathroom is equipped with a shower, and it is not too large. But after all, the rest of the trailer needs to be most spacious.

L= 34'5", Dry Weight =7,700 lbs, Cargo =2,299 lbs,
Model STG3010 (different color)

     The same space distribution like the previous model, but a different color. Still, it is not a model that should be ignored. The areas are very well designed so that you can enjoy plenty of space while traveling. It has two bedrooms, from which one is completely separated from the rest of the trailer, for more privacy. Right next to it is the bathroom, which has entrances both from the bedroom and rest of the trailer. The central area of the trailer is made very smartly, placing the sofa and kitchen in an outer extension, to gain more space. Also, both beds can be lifted up, leaving additional movement space as well.

---
Model ST3316

      If you want to make sure that space will not be a problem when you travel and camp, do take this type into consideration. Having two large beds, it can house four people overnight. Both beds can be lifted, allowing you to have more space when you don't sleep. In the central area, you can opt for a sofa if you need an additional sleeping place, or a dinette, for maximum comfort. Also, a pair of armchairs, placed right across the room, will make an extra area for relaxation. One bedroom is separated by a wall and door, and it is located right next to the bathroom. The bathroom has two different entries, for better use. The kitchen has a decent size, and it is fully equipped.

L= 38'0", Dry Weight =7,828 lbs, Cargo =5,997 lbs,
---
All Stryker Toy Hauler Trailers have Fresh Water tank of 108 gallons and correspondingly Grey and Black ones each 63 gallons. LP gas capacity is 60 lbs.

The thermal insulation includes R11 all walls, R12 floor and R14 roof. The heating system includes 30BTU furnace.

 About Us / Privacy Policy / Resources
Go to:  Pop-up Travel Trailers and RVs