VAST Travel Trailer
SylvanSport 
SylvanSport VAST travel trailer with its indoor-outdoor kitchen, spacious reconfigurable interior and side-mount boat racks, was created to deliver a unique camping experience.
          Sylvan Sport is not a newcomer in the market of recreational vehicles. Founded in 2004 in Brevard (North Carolina) the company is known for its famous GO travel trailer. Small and light on the road, often underestimated when it comes to its ability to carry kayaks, bikes, and camping gear, on the camping, it transforms into a spacious tent that can sleep 4. No wonder it is frequently referred to as a "Swiss Army Knife"-type camper.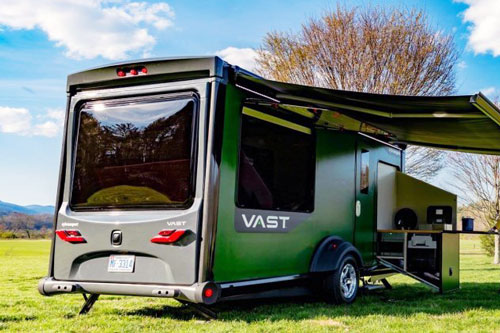 SylvanSport VAST travel trailer
The newest Sylvan Sport´s model VAST introduced in 2019, is designed for enthusiasts of outdoor adventure. It follows the company´s best traditions initially marked by its famous Go pop-up travel trailer. In this sense, the VAST represents the "transition" between traditional RV trailers (the comfort of rigid shell offering ample living space, modern features, appliances, dry bath & shower, storage) but also characteristic for tent-trailers – "built-in" extension to the outdoors where you can more activities in right weather conditions.

     In the words of T. Dempsey (CEO and leading designer), the VAST is an example of "Forward-thinking combining comfort and functionality". In simple words – VAST's revolutionary design approach is based on a built-in high level of reconfigurability. That means you are not forced to choose the preferred floor-plan at the dealer when buying the rig. The VAST is designed as "All (floor-plans)-in-One", so you can easily rearrange its interior configuration on a daily basis according to different needs - be it daytime, bedtime, good or bad weather, etc…! 

Above and below: in the road configuration, VAST's rear-end converts to "mini-garage" (sort of "Toy-Hauler")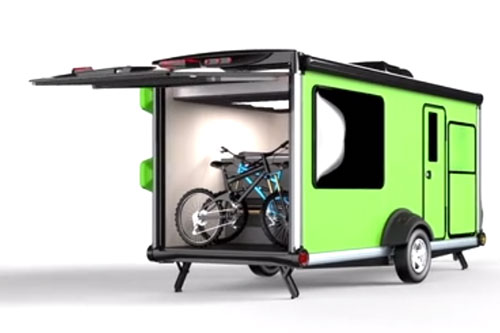 In a typical road-configuration you will find a functional interior (comfortable L-shaped sofa w/cushions, dry bath, kitchen with 2-burner cooktop, portable fridge and sink that is accessible and usable all along the way, whenever you may need to stop for rest. You have also advantage of a spacious rear cargo section (here shown used for carrying two bikes) as well as the side racks for bulky camping gear (kayaks, boats, surfing boards, etc). 

VAST: Campground configuration w/indoor kitchen
        Once at the camping site, you can easily reconfigure interior for day-time use to maximize the interior living space. After emptying the cargo section, you can move the sofa towards the rear end creating the "lounge-like" environment. While sofa's high-quality fabrics and cushions can be enjoyed also in the road configuration, added portable table and increased living space offer a more relaxing environment!
Thanks to the precision sofa's "sliding system" the reconfiguration process is a simple and effortless.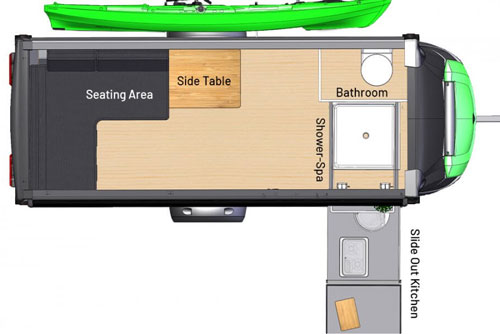 VAST: Campground configuration w/outdoor kitchen

      Weather-permitting, you can slide-out the whole kitchen module to the outside. Such design is an example of "out-of-the-box" thinking. Traditionally, most RVs are equipped with a fixed interior kitchen and an extra (usually "slim") its slide-out version. Sylvan Sport came up with a very clever solution – the fully functional interior kitchen is housed in a self-contained slide-out module. Thanks to manual rail system it can be easily pulled-out outdoors. To accommodate the difference of levels between the interior floor and outdoors, the kitchen slides-out along the sloping tracks. Once fully pulled-out (or pulled-in), the kitchen is always at an optimal (ready to use) "cooking" level. According to Sylvan Sport, the concept of "indoor/outdoor" kitchen (or as some call it "all-weather kitchen") is the first-ever used in the RV industry.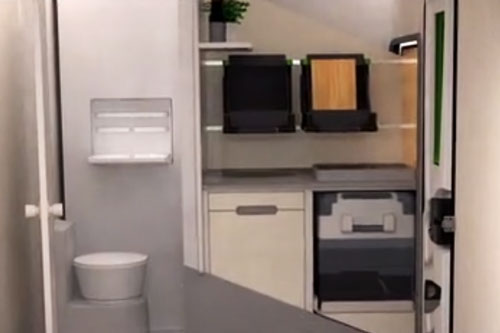 Interior with the kitchenette module in the indoor configuration
Kitchenette module pulled-out (note the additional fold-up table)
In both configurations, (indoor/outdoor), the kitchen module comes with a 2-burner LPG cooktop, portable fridge w/freezer, integrated sink w/cold/hot water and little storage. In the outdoor configuration you can also unfold the side table creating this way an extra food-prep area.  Needless to mention that the single kitchen designed for both - indoor and outdoor use decreases the dry weight of the camper what fits well into eco (lightweight) design trends. 
And one more clever solution – the interior lounge dining table can partially slide through the window creating this way an outdoor bar.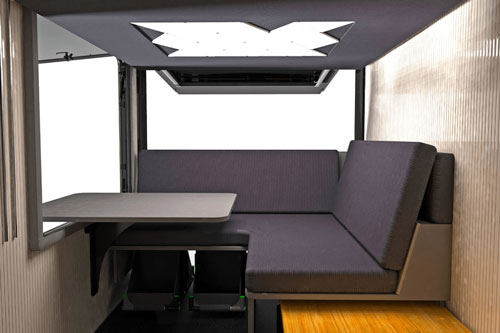 Interior dining table partially extends outdoors
      The large awning deployed over the camper's side protects the outdoor kitchen and living space from weather elements. 
But that's not all – turns out that the freed interior space by pulled-out kitchen unveils the ready-to-use (and much appreciated) interior shower cabin. Both – shower and kitchen sink are fed by an on-demand gas water heater.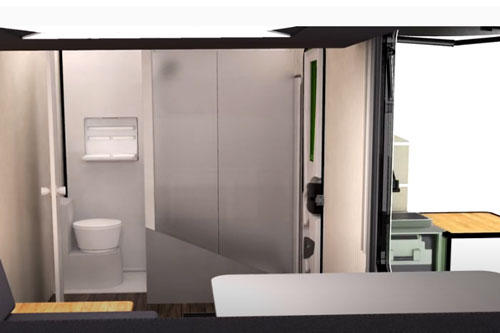 Once the kitchenette module is pulled-out, the emptied space transforms to the shower cabin. 
        Finally, for the night the sofa can be easily converted into a queen-size bed offering comfortable sleeping space for 2. And if it's not enough, the extra queen bed, normally suspended under the trailer's ceiling with the help of a motorized lift system can be effortlessly lowered to a suitable position. The "suspended" bed comes with a custom-designed mattress for maximum comfort. 

VAST: Bedtime configuration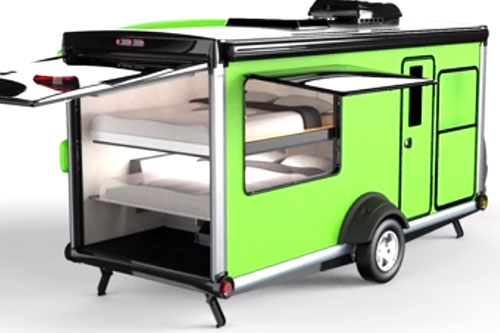 The VAST is designed for increased outdoor camping experience - not only in "extended" living quarters under the umbrella of awning, but in a wider sense in numerous outdoor activities. Note that the designer did not forget that the weather is not always on our side. And in such case when even the large awning cannot guarantee the comfort, you have at your disposal the spacious interior. In fact, while the VAST is well-equipped with basic features necessary on the camping trip, its interior is not jam-packed with "stuff". It's especially noticeable in the daytime configuration with rear sofa and extra bed stowed under the ceiling. Two large (rear hatch and curbside) 56" x 40" windows make interior not only bright but also "in-touch" with surrounding nature. 
BTW, for exactly these reasons at 2019 RVX show, the VAST was voted #1 trailer (in its class) for Outdoor Adventure!
Storage
       Designers of VAST travel trailer made a lot of effort to accommodate camping gear required for a wide range of outdoor activities. 
       Once the interior lounge is moved forward, the rear part of the trailer can be used as a mini-garage for cargo. Thanks to large tailgate opening upward, in any weather conditions you can easily load or unload the camping gear. The available space can accommodate bikes and other valuable stuff. This cargo, locked and weather-protected will be fully secured from the potential theft.
Note that even fully-loaded mini-garage does not impact the functionality of the camper. The kitchen and toilet are accessible, while the sofa and an ample interior space allow for taking a rest.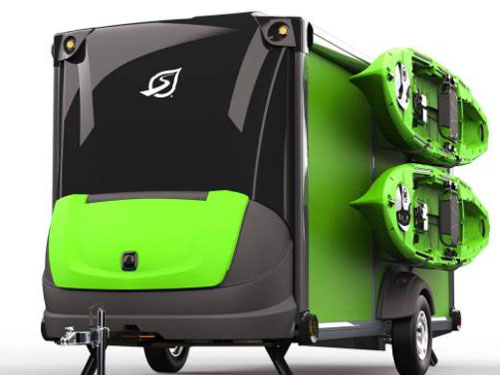 Side-rack allows for transport of kayaks, canoes .....
        The side rack with the rails from the top to the bottom of the wall is designed for large toys like kayaks, canoes, surfing or paddleboards (SUPs), etc.. It's easily accessible (no need for ladder)!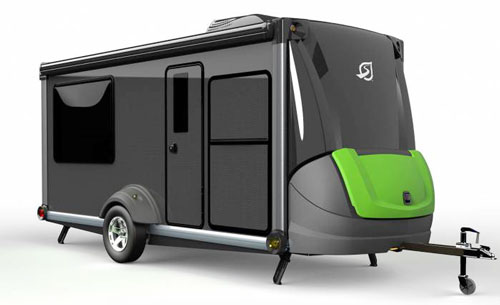 When closed, the Pod nicely underlines the beauty of the trailer  
Pulled-forward pod offers good access
       Most of its 18 cubic feet of space is used for storage of 2 LPG tanks, 2 batteries and spare tire, but there is still room for storage of smaller items. For easy access, the pod opens by "sliding" forward. It's a weatherproof space secured by a lock!
       Unfortunately, there is not much information about interior storage cabinets for personal stuff like linen, clothing etc… as well as for food (pantry). From what can be seen, the interior of VAST, even in the road configuration is still a "half-empty" box. 

Apparently, the VAST is able to carry a lot of cargo. From this point of view, VAST's limitation seems to be the cargo capacity determined by the Dry Weight and GVWR (estimated at correspondingly 2,500 lbs and 3,000 lbs). Additionally, the capability of side rack (kayaks, canoes etc…) is limited not only by the weight but also by dimensions. VAST's exterior fender-to-fender width is shy of 95", assuming 10" per fender and 102" maximum allowable width (RV industry limit) it leaves you room of about 17" for side cargo (still impressive)!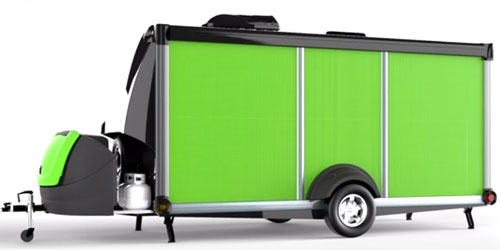 With an empty side-rack, the VAST looks a bit "boxy", but that's the price for its cargo-carrying capacity :-), so who would mind?
Notes:
         Unfortunately, despite VAST's revolutionary design, positive opinions of experts and prestigious RVX Show award apparently not much happened. The fact that the SylvanSport still did not fully release VAST's technical details nor a list of standard features and options seems to indicate that the trailer is still at the model stage.
For the same reasons, there are no details regarding the camper's construction. Apparently, the shell's frame is made from extruded aluminum to which are attached isolated walls laminated using a custom composite skin. Aluminum and composite materials promise light weight, robustness and long lifespan. There are no details however about chassis, suspension, wheels, windows, interior finish, etc…
Specifications
---
Overall Exterior length

Exterior width (fenders included)

Exterior height (with A/C)

Interior length

Interior width

Interior height

Dry weight (1)

GVWR (1)

Cargo capacity (1)

Water tanks

Awning

Sleeps

21'6"

94.8"

9'6"

15'

69.6"  / 5.8'

81"   / 6.75'

2,500 lbs

3,000 lbs

500 lbs

?

1

4 adults
---
1. Estimated values

Construction
Shell: Extruded aluminum frame, insulated wall laminated w/composite skin
Tailgate: 56" x 40" Upward opening, gas-struts assisted w/built-in screen 
Windows: 56" x 40" (curbside and rear hatch)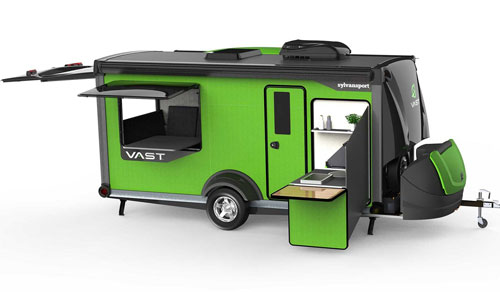 VAST- camping configuration (note the mini-bar created by the interior table and an upward opened side-window) 
Interior Features
Reconfigurable floor-plan
L-shaped sofa w/cushions (convertible to 60" x 80" queen-size bed)
Under-the-ceiling stowed queen-size bed w/motorized lift system)
Dry toilet
Shower (accessible when the kitchen is pulled outdoor)
On-demand water heater
Dining table (can partially slide-out through the side window)
Kitchenette 
Indoor/outdoor "easy-slide" module
2-burner LPG stove
Sink w/hot & cold water
Portable fridge w/freezer
Working space
Storage space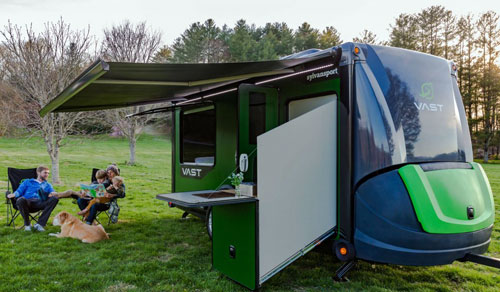 So here it is - the SylvanSport VAST 
Electrical
Shore power
LED lights
A/C unit (most likely optional)
2 x batteries
Exterior Features
Protected Front Storage Pod (18 cu.ft. capacity)
2 x LPG tanks
Spare wheel

4 Stabilizing jacks (manual)
Tongue Wheel Jack
Summary
Quoting Mr. Kyle Mundt (SylvanSport's VP of new product development)
"From the exclusive, multi-functional slide-out kitchen to the lounge's cool lighting system to the side-mount boat racks, we created the Vast to deliver a super-fun, unique camping experience, inside and out. If you're looking for adventurous, comfortable camping, then this was designed for you," 
Well, certainly last year (2019), SylvanSport's VAST travel made waves of excitement across the community of RV-ers. It seems that now it's time to deliver!
Go back to: --> Best Medium-Size RVs
All pictures courtesy of SylvanSport
Note:  Check with the manufacturer and / or authorized RV Dealer for the up-to-date list of features, options as well as latest specifications. These written above may not be accurate and certainly are subject to change by the factory. We are not responsible for any inaccuracy, the above text is provided only for the general information.
This review was written based on publicly available information for the benefits of the community of RV-ers. We do not receive any gratification or financial benefits from RV manufacturers, dealers, and any other promoters of RVs. 
We are NOT involved in sale and/or retail of RVs!