Taxa Outdoors:
Cricket Trek Travel Trailer
The design of the ultra-lite Cricket hybrid travel trailer is inspired by NASA experience (efficient use of space, practicality, ruggedness, no excess stuff...); it targets community of nature lovers …
       TaxaOutdoors is a Houston based company founded by a NASA visionary engineer Garret Finney. 
     He combined his knowledge and experience gained at NASA (where he worked on "Habitation Modules" for International Space Station) with his passion for outdoor living.
The surprising result is a series of Cricket and Tiger Moth Micro-Trailers.  
These ultra-lite hybrid tent-hard-side trailers targeting nature enthusiasts offer probably all you may need on your adventure trip without any extra stuff that for matured nature lovers will "smell" like gadgets….
The trailers' design is a great example of ingenuity in terms of efficient use of space, modesty (simple is beautiful), practicality (you got what you may need, but no more) and ruggedness' (can go off-road) to explore wilderness.
An extra advantage of the design is its flexibility – in other words every Cricket trailer can be significantly customized to answer your individual needs.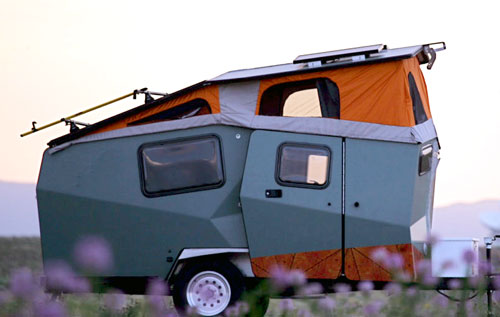 Cricket Trek Travel Trailer
Source: www.gizmag.com
       TaxaOutdoors manufactures three versions of the camper. The simplest one - the Cricket Gear is a gear hauler offering its large interior room for your favorite toys you would like to take with you on your adventure trip. Its interior features are limited to very minimum (kitchen cabinet with sink, but for example no bed). The second version – Cricket Camp provides modest living and storage space targeting weekend campers. Interior features include not only kitchen cabinet with sink, but also water heater with electric pump, bed/seating and LED lights as well as roof tracks for an optional Thule rack. The ultimate goal is however the Cricket Trek designed for longer "out-of-civilization" adventures.
       Cricket Trek shares the same kitchen galley with all Cricket trailers (about 12 sq. ft of counter-top and 8.6 cu ft of under-counter storage space) but it also is equipped with an Engel fridge. Additionally it offers all necessary features for modest living like: 12V electric water heater w/ electric pump, bed/seating (75" x 57") with under-bed storage (about 12 cu.ft.), pop-up table,  spare tire, tongue-mounted toolbox, LED light, awning, screen-doors, roof-mounted Thule rack for bikes, kayaks etc. …. 
Cricket Trek Travel Trailer - Main features
      The bed is an example of great flexibility – it offers sleeping place for two in unfolded couch configuration (for "couples" loving to share the bed), or two separate sleeping places in V-berth configuration when intimacy is not the case (friends, buddies etc….).  Additionally an optional loft-bedding for two children can be added, making this micro-trailer suitable for young families with children.
      Selection of options ranges from basics like cooktop, external shower, portable toilet to conveniences like AC and Heating systems, solar panels etc… . 
Wide door and several plastic windows w/ interior mesh and privacy screens (four swing windows and one 32" x 20" picture window) allow the interior to feel larger than it really is thanks to easy access, penetration of sunlight and panoramic views. 
  Efficient use of available space was one of the design goals. Inspired by NASA's experience, designers equipped the Cricket trailer with a large number of wall and ceiling-mounted attach points, hooks, and bungees to facilitate cargo's storage and order.  
The hard roof opens in about 20 seconds thanks to easy-push handle lifts.
Lightweight design (aluminum and composite materials) make this trailer ideal for towing by typical family cars (including some 4-cylinder ones).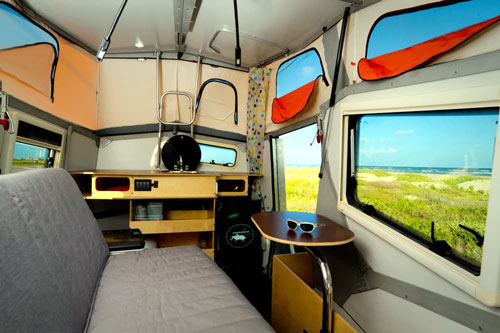 Cricket Trek - view from the front of the camper
Source: www.gizmag.com
Specifications:
Exterior length

Interior length

Exterior width

Interior width

Int. max height (from floor w/roof open)

Ext. max height (from ground w/roof closed)

Ground clearance

Dry weight

GVWR

Fresh water tank

Grey water tank

15'

11'6"

6'7"

6'3"

6'4"

6'9"

12"

1460 lbs

2500 lbs

15 gals

15 gals
Construction
Aluminum/composite side panels, door and roof
Powder-coated steel chassis frame
Torsion axle with brakes
R-6 grade insulation
Tent-fabrics (when roof opened)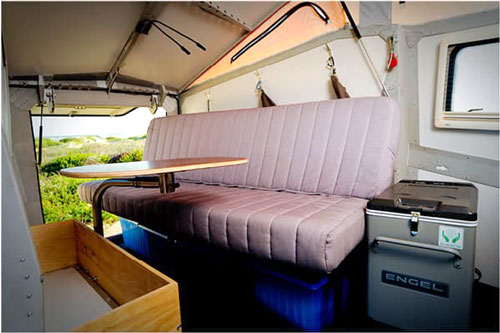 Cricket Trek - Interior view from the back of the camper
Source: www.gizmag.com
Interior features
Kitchen cabinetry
Recessed sink with cover
Electric water heater
LED Lighting (kitchen, bed, porch)
Four 12V outlets 
External features
Shower
City water connection
Thule roof racks system
Tongue-mounted toolbox
Five swing windows fully opening w/shades
Rear door hatch
Safety
Electric brakes and breakaway switch
Fire extinguisher
Smoke detector
Keyless interior lock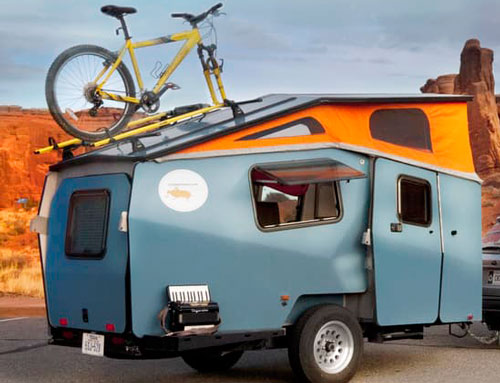 Cricket Trek Micro-Travel Trailer with Thule rack and bike
Source: www.gizmag.com
Options
Tow-vehicle connection for recharging battery
Zamp Solar Panels
120V inlet for power connection
Inlet for Solar Panel connection
AC unit (runs on external power)
---