Canvas Pop-Up Campers
Are they for You? 
Canvas pop-up campers are entry level RVs, but they are not for everybody so find out what is your best solution when you have large family and low budget.
On the previous page we discussed pros of pop-up campers. In fact there are many valid reasons why pop-up campers may be your best option for RV-ing experience (for details see --> PREVIOUS page)
Below we continue presentation of "cons" of pop-up campers:
Maintenance
       Modern tents are made from waterproof fabrics. But it wouldn't be enough to keep water away from the tent. Fabrics must be also breathable to prevent accumulation of humidity and as a result - condensation of water (you will be surprised how much of humid air is generated by our respiration process). But the real problems come with rain, especially when you have to fold-down the wet tent to be ready for travel.  Manufacturers suggest waiting for the canvas to dry-out before folding the tent, but quite often it may be an unrealistic requirement. Most of RV-ers will take the risk, close the camper and hit the road (possible when you do not intent to spend one more night in the pop-up camper before getting home). 
However, to prevent the mold from taking roots at the first opportunity you will have to open the tent once again. The bottom line is -  the fabrics as well as camper's interior (especially beds) must be dry to safely fold-it-down and store. Sooner is better, but in this case, it all depends on the Mother Nature! 
For the similar reasons you will have to winterize the pop-up camper. Usually it will include setting-it-up, drying fabrics, ventilating (airing) interior and possibly using some chemicals preventing the mold.
Odors and stains
       Interior kitchen will be always a source of smell (but not always pleasant). Also, in rainy or even only humid weather, interior may feel damp and uncomfortable. Unfortunately, the tent's fabrics has tendency to soak-it-up and it may be difficult to get rid of unpleasant smells and all sorts of odors (mildew). 
Another potential problem are stains (especially on the canvas wall, next to the stove). The bottom line – cleaning fabrics is time consuming, labor intensive and often unsuccessful process.  
Rockwood Pop-up camper: An example of exterior storage box (with slide-out tray)
Amenities and Features
        Compactness has its price. The limited footprint of the "box" puts hard restrictions on the number of amenities and features you can fit inside. But it's not all – another "boundary" is set by the box' depth.  Obviously, whatever is taller than the depth of the box, or can't fold down below such limit, can't be installed in the camper. Despite these hard limitations, modern pop-up travel trailers are usually equipped with stove, sink w/fresh water, fridge, eating booth w/table, storage cabinets and sometimes even interior shower cabin, porta-pottie, screen room….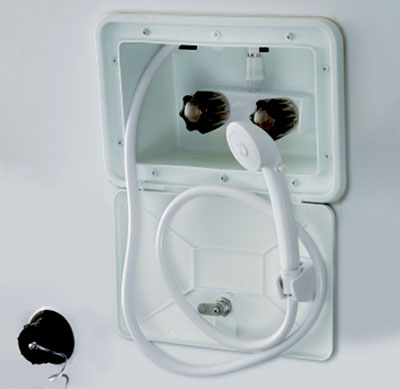 Exterior shower is certainly very useful....
Comfort
       Comfort seems to be a subjective feeling, usually identified with reference to something else. Compared to traditional grand-based tents or roof-top-tents, pop-up campers offer significantly higher RV-ing comfort (first of all you have enough of interior headroom to stand-up). However, they will never offer residential-like comfort known from our homes
Climat 
      Pop-ups' sleeping and living quarters are protected only by fabrics. The truth is that such walls have no thermal barrier (R-value close to zero) nor "hermicity". As the result, extreme temperatures (high or low), as well as humidity will have huge impact on interior "microclimate". For the same reasons, any attempts to control interior climate by heater or AC unit will be pointless (although you will always find someone trying to do so). The truth is: in most cases owners of pop-up campers will have shorter season and limited climate zones they should venture to for enjoyable RV-ing.
What to look for when buying the Pop-up Camper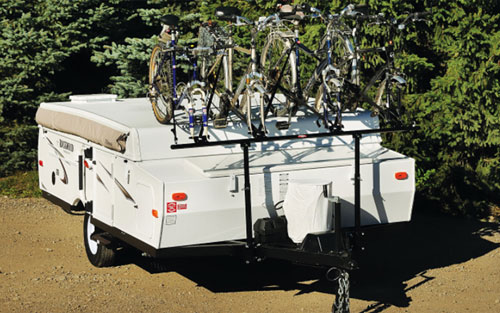 Rockwood: Any lid-mounted rack will be very useful. Here an example of the bike rack
       Typically, pop-up campers provide "mobile" sleeping quarters and very limited cooking, eating and living area. It's obvious that to enjoy your vacations you need much more living space. That's why when choosing the "right" model, pay attention to the following features:

Storage – it will allow you to take the camping gear (folding table(s), chairs, etc..) and to set next to your pop-up an "outdoor living quarter". The storage may include large tongue-mounted box (must have lock) and eventually a lid-mounted rack with cargo box. The latter (if lockable) will not only protect your "stuff" from weather elements and thieves but also will help to keep the aerodynamic profile low. 

Awning – You would like to protect your outdoor living area from weather elements (not only rain but also scorching sun). So large awning is one of not-to-miss items.

Rockwood: Exterior grill is a must
Exterior kitchen – Cooking outside solves many problems you will encounter when trying to make a meal inside of the pop-up camper. Lack of generous work-space is not the only limitation, it's also smell and odor that will be soaked-up by fabrics and potential stains. Good news is that some pop-up campers come with sliding-out exterior kitchen! If not, consider taking with you a standalone gas grill.

Mattress – Traditionally, pop-up campers offer a lot of sleeping space. Unfortunately, folding tents require also folding mattresses and these are not as comfortable as residential mattresses you will find in hard-shell RVs. Pay attention to these details, because even one bad night can totally ruin your vacations!

Is the Pop-Up camper for You?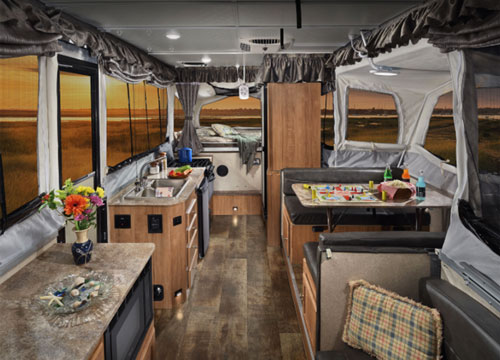 Rockwood model HW276 proves that modern pop-up campers have a lot of "bangs" for reasonable "bucks"....
        Obviously, comparing pop-up campers with traditional tents (as done on numerous Internet sites) wouldn't be fair. It's like comparing typical bike with Harley Davidson.  While both are two-wheelers, this is pretty much all they have in common.
There is no doubt that even modern pop-up campers still lack residential luxury (actually, any kind of luxury). However, providing quite broad range of features they make RV-in vacations much more comfortable than you will have on backpacking trips with tent. 
But this still does not mean that everybody will enjoy RV-ing in pop-up campers. To help you make an educated decision we will make few suggestions:
Pop-up campers are not suggested for older couples. With all respect, they already had their time when sleeping in the tent was fun. Now, they deserve something better. If cost is the limit, then A-frame (foldable), hard-sides campers will be the perfect solution for two!
Pop-up campers are suggested for young families with children that want to keep a personal contact with nature but can't afford larger (and by definition more expensive) RVs, or are not sure yet that the RV-ing will become their lifestyle. In this case the pop-up camper may be the lowest-cost solution to "figure it out"….
 And one more note – if you are not sure, then buy a second-hand pop-up camper at the fraction of the original price. Statistically, in one to two years of RV-ing, most owners of new pop-up campers are making the final decision. Either they found the passion for RV-ing and will upgrade their mobile home to something more comfortable than pop-up camper or will just give up. In both cases they will put their pop-up camper on the market for sell.
That is why, it is relatively easy to find and buy second-hand pop-up campers in good shape. 
Pictures are courtesy of Rockwood