Tepee Vintage Travel Trailers
Tepee travel trailers were built by Broken Arrow Mobilhome, but soon after starting production company closed operations, so only few these rare units survived time.
Tepee's were built by the Broken Arrow Mobilhome Manufacturing Co in Broken Arrow, Oklahoma in the 1960's.
Very few of them exist today because the company that manufactured these trailers closed its operations not long after their production started.
The rarity makes TEPEE a precious possession among retro trailer enthusiasts.
As their name may suggest – Tepees were lightweight campers, some weighed as low as 1200 lbs. They could be pulled by most vehicles. These days some of the Tepees are being rented out as tourist lounges and others are used as guest rooms.
Tepee should not be confused with TeePee trailers manufactured by Watson Industries located at Clairsholm Alberta. Despite this major difference, they have common point - both these trailers: Tepees and TeePees are equally rare today.

This is the logo of the Broken Arrow Mobilhome

Tepee 12'

The trailer size is 12 feet by length (15 feet inclusive of the hitch), 6'5" by width and the height is 6'3". At this size it is easy to pull, handle on the campground and maintain. It comes with a port-a-potty toilet. The trailer has nice wood floors with elegant counter tops. The exterior is made of ribbed metal sheet with accent line painted at bottom layer to give the trailer a cool look.
The kitchen at the front features an oven with three burners, sink and cabinets on ground and overhead. There is no refrigerator; these needs are addressed by the ice-box. Six windows of various sizes on the four sides of the trailer are making impression that trailer is roomier than it really is. The trailer sleeps four thanks to the extra foldable bed at top.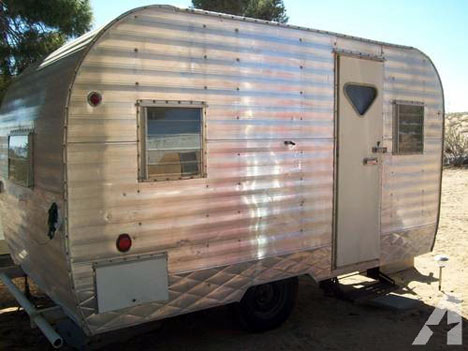 Teepee 15' travel trailer in its original shape...

Tepee 15'

This model is another canned ham style camper trailer which could be used as mobile home. Tepee 15' sleeps three adults or two adults and three children. The specifications for this model are 15 feet long, 7'1 wide and impressive 8 feet tall. The interior features birch wood work. The dinette area, which has a table, converts into a good sized bed 6'3" long and 3'1" wide. The back area bed is 6'9" long and 4'2" wide, so these are not cramped beds. The door is 20 inches wide providing a comfortable access.
Across from the kitchen there is a large closet, but there is also plenty of storage space located under the couch bed and dinette seats. The trailer is well-lighted thanks to its six windows on the four sides. There is no bath room in this model, only a port-a-potty toilet to be used inside a closet.

 About Us / Privacy Policy / Resources
Go to: Pop-up Trailers and RVs
or to: Top 10 Vintage Travel Trailers