InTech's Terra Oasis
High-End Travel Trailer
Terra Oasis belongs to the class of higher-end travel trailers. Thanks to the well-thought design, quality of work, and well above average finish it offers a residential-like feel.
        InTech is already a well-recognized manufacturer of Flyer, Luna, and Sol travel trailers. For 2021, the company is introducing its newest and largest model - Terra Oasis.  With all previous InTech models, Terra Oasis shares the revolutionary concept of all-aluminum frame & chassis, with Luna and Sol trailers, it shares a distinctive Tilt Forward Design. However, what differentiates Terra Oasis from its predecessors is the level of "residential feel" rarely seen in this class of RVs. 

Newest InTech's travel trailer: Terra Oasis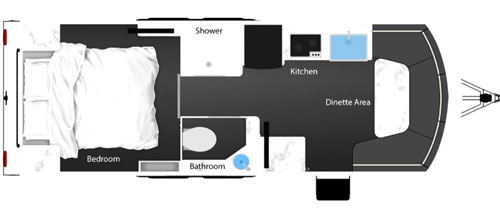 .... and its floorplan
         Seen from the outside, the unique "Tilt-Forward-Design" combined with a large panoramic windshield brings immense elegance and stylishness contrasting with traditional trailer designs. From the interior perspective, it expands the living space within limits imposed by the overall length of the frame. However, the large panoramic windshield and two front side windows virtually break these limits allowing almost seamlessly to reach into surrounding nature. In fact, 8 windows (living room 3, bedroom 3, kitchen 1, and bath 1) allow not only for infiltration of sunlight but also for priceless "touch" with nature – all necessary "ingredients" of a residential-like environment. 
Obviously, windows and coming with them sunlight, as well as the perception of expansion to outdoors cannot itself "transform" a trailer into a residential-like one. That's why InTech made a substantial design effort to offer some level of luxury in terms of selection of interior and exterior features, quality of workmanship, smooth, rounded shapes throughout as well as stylishness.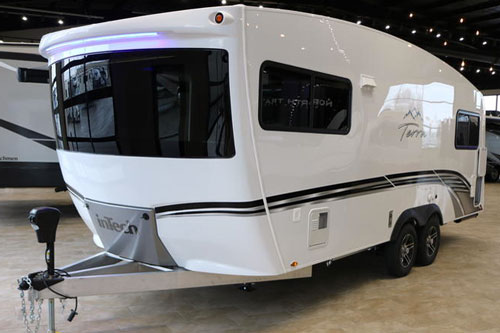 Characteristic for InTech: Tilt-Forward front cap with a gigantic windshield 
The interior layout clearly identifies two important sections: front living space encompassing spacious dinette and kitchen, and the rear-end bedroom with privacy sliding door. In between these two vital sections, there are two walk-in compartments housing the bath and shower.

Dinette
       The horseshoe-shaped dinette is surrounded by windows, which makes an impression that you are outdoors. No wonder that it greatly enhances not only the dining experience but also offers a magic place to calms the senses, relax, to enjoy the beauty of nature…. The rectangular-shaped table can be rotated what give you chance to arrange the dinette's configuration according to needs, number of people, activities…  If required, the fabric-covered seats making dinette can be converted into sleeping space for two (93" x 48"). Both side-windows can be opened for cross-ventilation. They come with day shades (allowing light and air to pass) and nightshades (offering full privacy).
Six smoothly-finished overhead cabinets with latched doors (3 along the front are 12" deep) offer a lot of storage space and truly - striking elegance. The stylishness of this living area is highlighted by 2 overhead cupboards with blue-glowing accent lights. 
Note that the smallest overhead cabinet located right above the pantry comes stuffed with electronics including Stereo System, Central Control Panel (water pump, tank heaters, line heaters, water heater…), battery disconnect switch, and the main fuse panel. The design matching all other overhead cabinets (colors and shape and latched door covering "less attractive" electric components) nicely fits into the overall interior finish.  
Note the presence of a ceiling-mounted MaxxAir fan in the central area of the front-end section (another one you will find in the rear-end bedroom).
U-shaped dinette with an "outdoor's touch"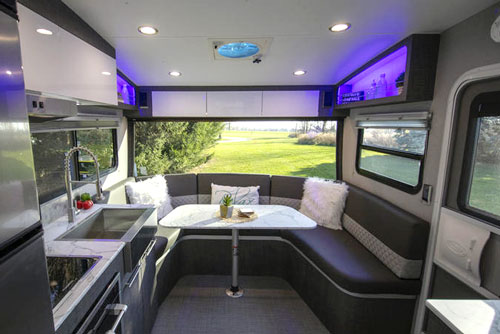 Dinette: view from the kitchen
Cupboard with blue accent lights
Kitchen
          The kitchen does not fall far from this flawless picture. The large (10 cu. ft) fridge with a separate freezer looks like one from the catalog of residential appliances. Run by a 12Vdc compressor, it offers high performance, rarely seen in this class of RVs. The large, 7"-deep farmhouse-style sink with a high-rise faucet will certainly meet all your needs. It's made from brushed aluminum, which offers similar elegance as stainless-steel, however, thanks to the pattern of fine lines it creates a sort of unexpected from the metal - "visual warmness".  The 2-burner Dometic cooktop with its casted-iron grid nicely fits into this ambiance.   The large convection microwave on top of typical functions also allows for traditional food-preparation processes (baking, roasting, cooking…).
Pantry across the galley comes with slide-out trays storing kitchen "stuff", but it also offers a sizeable countertop workspace, 110Vac electrical outlets for small appliances, and hours of daylight thanks to a large window! The galley includes under-the-sink, and overhead cabinetry as well as a potential workspace (the flush-mounted cooktop comes with a lid). The under-sink cabinet houses the 6-gallon DSI electric/gas water heater and bypass, taking away part of the precious storage space, but in exchange, offers good access to this crucial section of plumbing.
All in all – the elegance of the interior design combined with its openness to the outdoors makes the front-end of Terra Oasis a home-like place! And after a long, exhausting hiking day you may take advantage of a swivel-arm mounted 32" TV screen, as well as an AM/FM Bluetooth stereo system (w/4 speakers, UBS, and HDMI ports) to calm your senses in the atmospheres of soothing music, or (if still hungry of action) – watch it on the screen!
          As one of few available options, InTech offers a slide-out kitchen including a Blackstone griddle (very trendy in the RV industry), and a 12V igloo-type cooler. It is designed to fit into the rear, passthrough exterior storage. Together with the utility shelf attached to the sidewall, it offers an opportunity to engage in outdoor cooking activities. Thanks to the proximity of propane quick connect hook-up, the set-up process is a breeze. The power awning provides much-needed protection from unfriendly weather (be it scorching sun or annoying drizzle-type rain). For your convenience (or peace of mind if you prefer), the awning comes with wind sensors, so you do not have to worry much about it. In fact, you may even select the level of wind that will trigger the folding process (High or Low position of the switch located on the Central Control Panel).
Note that the exterior pull-out kitchen (60" length) still leaves a major part of the pass-through storage empty and ready for camping stuff!
View on the kitchen from the dinette
Galley (fragment of the fridge on the left)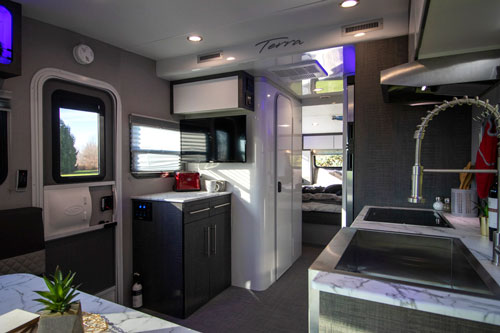 Interior: view from the dinette
Exterior pull-out kitchen with Blackstone griddle and cooler
Bedroom
        The sliding door gives access to the master bedroom with a walkaround queen size bed at the center. Nightstands on each side offer small cabinets with shelves, a table, drawer, power outlets (110Vac and 12Vdc USB) as well as a 3-way light switch on the driver side (the 2nd one is next to the entrance door). Six overhead cabinets and 2 cupboards with blue accent lights mimic the arrangement in the living space at the front-end.
The wardrobe on the sidewall is equipped with hooks for clothes, but frankly, it is too shallow to make big difference.  When it comes to storage, the under-bed space is roomy and easily accessible thanks to gas struts assistance. Additional (although small and shallow) storage cabinet on the driver-side wall offers precious countertop and cupboard-type pocket protected by elastic bands.
You will find here the 2nd 32" TV screen (also on a swivel arm) as well as 2 speakers if you prefer a horizontal position rather than the comfort of the dinette's seating for watching films or enjoy a musical fiesta.
Side-windows can be opened to provide access to fresh air and eventual "sounds of nature". But if needed, the centrally located, ceiling-mounted MaxxAir vent is silent enough to offer both – ventilation and comfort.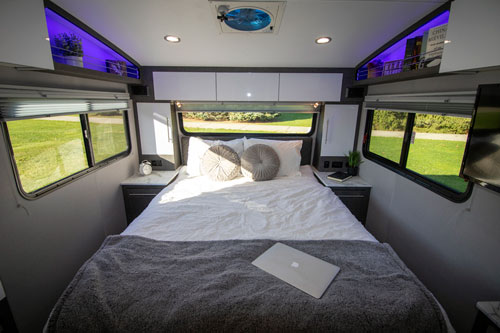 Master Bedroom w/walk-around queen-size bed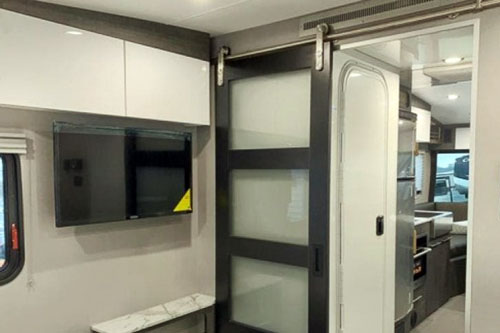 Bedroom: entrance with sliding door 
Bathroom
      Residential feel obliges – that's why Terra Oasis' designers put a lot of effort to offer above the average level bathroom facilities. For good reasons, they are split into independent compartments, correspondingly for bath and shower. 
The bath is equipped with a porcelain, foot-flushed toilet, brushed-aluminum sink-bowl mounted in L-shaped cabinetry, as well as a sizable overhead cabinet. The large window creates the effect of space which is cleverly enhanced by a large mirror and a halo effect created around it by the LED lighting behind. The bath offers a comfortable walk-in and "do the job" space, although for obvious reasons, its area is quite limited so do not count on spending there hours in front of the mirror .
The ceiling vent and side window assure the influx of fresh air, which is an essential requirement for the bath. 
The shower cabin located across the bath on the driver side of the trailer is slightly smaller than the bath. It is equipped with an adjustable showerhead, ceiling vent, mesh-pockets on the wall, hooks for towel, mirror, and probably the particularly useful feature – a "shelf". It can be used for keeping soap, shampoo, body cream, and other toiletries, but also can serve as a narrow bench where you can eventually sit down if needed (warning – it's not a full-size seat, however, it may prove to be helpful). 
The shower door is sealed with a special gasket preventing water leaks out of the cabin.
Bathroom
Shower compartment
Interior Headroom
      The generous interior headroom of almost 7 ft (bedroom and front-end encompassing dinette and kitchen) gives the sense of spaciousness. The central section housing the bath and shower has a slightly lower ceiling because it is used for the A/C unit and ducted air/heat distribution system. The impact of the lower ceiling may be specifically seen in the shower cabin, where tall persons may find not enough room for placing the showerhead above their heads. Hopefully, this will be no more than a minor "nuisance" that should not spoil overall high notes well-deserved by Terra Oasis. 
Built-into central section AC unit and the ducted cold/hot air distribution system
Exterior Features
           The Terra Oasis design represents the newest aesthetic trends in the RV industry: clean lines and stylishness. The mentioned earlier Tilt-Forward front with its large wall-to-wall windshield proves to be the attention-grabbing concept. Furthermore, thanks to the built-into front cap compartment for storage of two LPG tanks, the overall silhouette of the trailer looks clean and stylish. For the same reason, the battery box (often located on the tongue), is hidden under the U-shaped dinette in a ventilated compartment. Note, an extra benefit of such solution coming from the fact that batteries are kept at "room temperature" (important for all-seasons RVs)!
The overall elegance of the Terra Oasis profile is enhanced by carefully chosen white exterior color and graphics. 
Not all clearly visible yet very useful are:
2" rear receiver with 100 lbs load capacity (more than enough for carrying 2 mountain bikes), 
Exterior spray - perfect for cleaning feet after coming from the beach, washing a dog, etc…. Surprisingly, it is located on the driver's side of the camper. Some may complain that it should be on the camping side of the trailer, next to the pull-out kitchen. But I guess, designers wanted to prevent the creation of a muddy area in your outdoor living space. Well, you like it or not - it is what it is!
Power tongue jack (makes the hooking-up process to the towing vehicle easy)
Underneath plastic tube designed for sewer hose.
Decorative front-cap blue accent light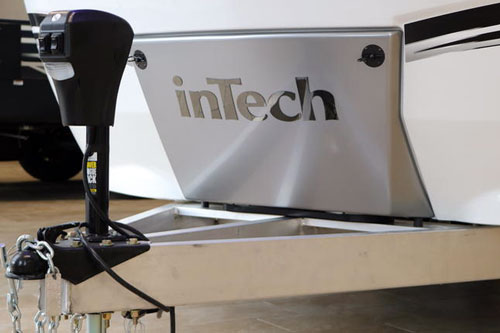 Power Jack
Construction
      The welded, all-tube aluminum chassis and frame promise an extremely durable and lightweight design. The one-piece fiberglass roof, front cap, and fiberglass skinned walls guarantee rustproof, water-impermeable, and dent-resistant structure.
Terra Oasis is not designed for off-road adventures (at least its current version), as well as it is not an all-season RV in the true meaning of these words. However, thanks to R7 insulation in walls and ceiling, 15k BTU ducted A/C, and 25k BTU heating systems, it is reasonable to assume that it should guarantee the living comfort and protection from freezing in most US climate zones below the 49th parallel. The unclosed, heated underbelly should protect all vital water systems from freezing on campsites, while tanks and line heating pads should protect during transit (in other words, when the furnace is turned off).
The fiberglass front cap guarantees protection from eventual gravel and debris (although let's face it – the current version of Terra Oasis travel trailers is not designed for off-road driving conditions, so the probability of encounters with debris and stones is relatively low). Additionally, the costly 3-ply laminated glass windshield comes with an easy-to-install cover, providing protection in travel configuration. 
         The ground clearance of 13" combined with dual axle and ST205/R15 tires may seem to be enough for taking the Terra Oasis off the bitten paths.  But do not be confused – this travel trailer is not designed for off-road expeditions. With its length of 26 ft and no Departure & Approach Angles, going off-road may turn to be a one-way trip! Note that the longer the trailer, the more important are mentioned angles!
       Despite the all-aluminum frame and chassis, the Terra Oasis is not the feather-light RV. With its dry weight in the range of 5,650-to-5,850 lbs (depending on options) and GVWR of 7,500 lbs, it needs a powerful, up to the task towing vehicle.
All-aluminum chassis and frame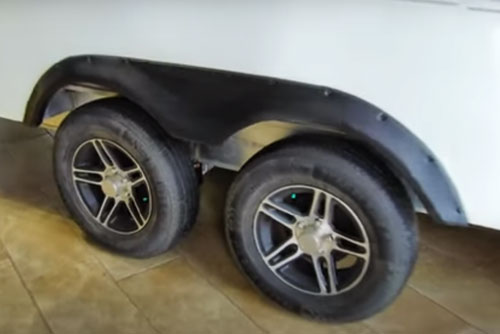 Dual axle
Solar Power
         The Terra Oasis comes with a Zamp Solar hook-up for portable solar panels, it seems, however, that the manufacturer (at least so far) does not offer a permanent, roof-mounted solar system. It's true, that this class of campers is intended for campgrounds with access to the grid, however, these days the solar power is almost the standard and certainly a moral obligation. BTW - given the fact that the Terra Oasis is equipped with the modern 12V compressor fridge (more power-hungry than traditional RV fridges), solar makes even more sense. 
To see construction details, specifications as well as standard features and options please continue at:
--> Terra Oasis: Specifications
or, if you prefer, go back to: --> Top Medium-size RVs
Unless otherwise indicated, the pictures are courtesy of InTech, 
Note:  Check with the manufacturer and / or authorized RV Dealer for the up-to-date list of features, options as well as latest specifications. These written above may not be accurate and certainly are subject to change by the factory. We are not responsible for any inaccuracy, the above text is provided only for the general information.
This review was written based on publicly available information for the benefits of the community of RV-ers. We do not receive any gratification or financial benefits from RV manufacturers, dealers, and any other promoters of RVs. 
We are NOT involved in sale and/or retail of RVs!