Oregon's TerraDrop Alpha
Off-Road Travel Trailers
Oregon Trail'R's TerraDrop Alpha teardrop, fully "encapsulated" in protective layer offers increased protection from weather and mechanical abrasion.

         Oregon Trail'R was founded by two brothers – Jon and Sawyer Christianson.  This business decision was not only out of "necessity" (as it is usually claimed) but also thanks to family tradition and experience with teardrop trailers. Their parents owned the original 1946 Cub Modernistic teardrop trailer, frequently used for short trips into nature. Not surprisingly, both brothers carried from their childhood strong connections with nature combined with "emotional affection" for teardrop trailers.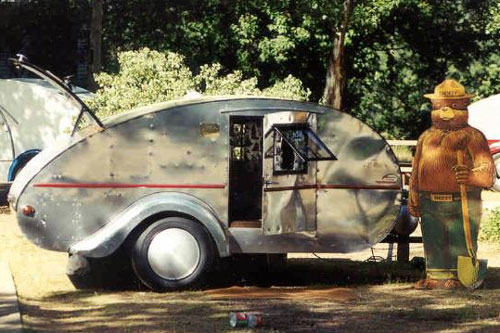 Vintage Cub-Modernistic travel trailer was a deeply-engraved inspiration..
Source:Nick Taylor
and now fast forward to 2018: TerraDrop Alpha
Dreams and more pragmatic ideas started materializing in 2009 when brothers began prototyping teardrops designed for off-road adventures. Given their engineering skills (Jon is a skilled metalworker and CNC operator, Sawyer is a professional cabinetmaker…) the new company Oregon Trail'R located in Eugene (Oregon) was poised for success.

        These days Oregon Trail'R offers three models of off-road teardrops, correspondingly: Do-Drop (smallest one), TerraDrop (most popular model) and FronTear (highly customized model to meet users' requirements). All these models are also available in new, upgraded Alpha versions representing the next level of evolution in technology and expectations of customers.
To make it clear from the beginning – all Oregon Trail'R teardrops are offered in their basic, reasonably priced versions. However, customers have long list of available options to choose from to customize their model. The company is even ready to modify some design details to meet customers' requirements (for example to make wider doors etc…). Nevertheless (as the owners spell it out) – the Oregon Trail'R does not design and manufacture entry-level trailers for customers with tight budgets. They target specific class of RV-ers: adventurous spirit lovers of Mother Nature understanding also importance of quality (in wider sense) and being able to pay for it.
Just to give you a feeling - TerraDrop starts at around 16k$, but the options (even those that can be considered as fundamental features) will considerably boost the price up.
TerraDrop Alpha
      The most important difference between the basic TerraDrop and its Alpha version is the exterior finish. Given the fact that shells of all Oregon Trail'R teardrops are made from plywood (yes, it's quite unusual solution for off-road trailer, but frankly highly "warm" one) the exterior finish is of utmost importance when it comes to trailers' durability. Standard versions are traditionally built as aluminum clad models. Such technology requires a lot of sealants, fasteners etc. Well, according to Murphy's Laws, regardless of the quality of job "All hermetically sealed joints leak". In other words, with traditional technology the task of guaranteeing long lasting hermeticity is sort of "Mission Impossible" in off-road environment.
In contrast, Alpha models represent the wholly new "sealing" technology.  They feature durable, completely seamless exterior "coating", a sort of waterproof, scratch resistant "cocoon". The coating process can be compared to "bed-liner" technology widely used to protect beds of pickup trucks. While the details of Oregon Trail'R technology are not fully disclosed, quoting the owners we can say that during the coating process, a sheet of "plastic" (whatever it means) is UV-burned into the wood. The final result is impressive – a seamless, deeply bonded to wood, highly resistant and durable layer of protection from mechanical abrasion and weather elements. Needless to say, that such "encapsulation" means a lot in harsh off-road conditions (water, stones, branches, vibrations, extreme temperatures …. you name it)!
The protective layer comes in dark-grey color, but at the special request it can be matched with the color of your towing vehicle.
TerraDrop Trailer (standard version) - here with Roof-Top tent and awning
Other than that, TerraDrop trailers are built on powder-coated stainless-steel frame (as a matter of fact all "exposed" chassis' elements including fenders, steps etc. are made similar way). The bottom line (and company's philosophy) is – even if the powder coating is damaged (what will certainly happen in rough "no-road" environment), the stainless-steel guaranties no corrosion! The only weak point may be related to the assembling technology (welding!), but most likely designers took care of it as well.
To assure readers: Welding burns the layer of chromium oxide that prevents stainless steel from rust. However, if the welding area is properly cleaned (chemical or abrasive means), the chromium oxide layer will creep over and seal the weld).
Another important modification of Alpha models is their suspension. The traditional rubber-torsion suspension used in basic models is replaced by heavy duty axle-less Timbren one. It improves handling of the trailer not only on unbeaten paths but also on highways.
The Alpha models also come with low-profile, HD roof rack and Max off-road coupler (although the full list of standard features and options seems to "foggy").
More on that - the Oregon Trail'R teardrops represent the class of RVs designed with vision and "passion" combined with good engineering knowledge & skills as well as with "old time" craftsmanship. However, when it comes to vital information (like specs, list of standard features and equally or even more important list of options), this is still somewhere buried and/or difficult to access! The graphic representation of options (pictures) is difficult to "read" and subject to interpretation (if not imagination or wishful thinking). Well, it seems that the company is willing to make an extra step and change the basic design according to customer needs (chapeau for that approach). But still, future buyers most likely would like to walk on a "solid ground" during the decision & procurement process and leave all "unknown" to the discretion of Mother Nature when conquering unbeaten paths.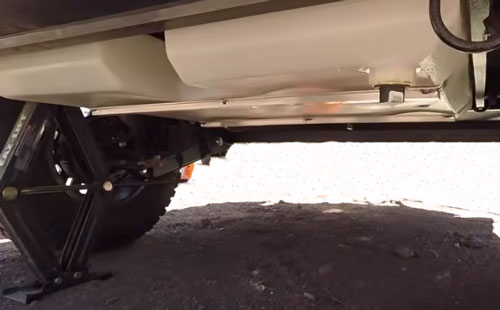 Water tanks
      The underneath mounted water tanks do not have any mechanical protection (usually in off-road vehicles there will be skid-plates). According to manufacturer, water tanks are made from roto-molded high-density polyethylene. Typically, this material is also used for skid plates, so we can assume that tanks will be able to withstand impact of stones, rock etc… However for more "conservative" RV-ers, the company is ready to install optional skid plates protecting water tanks.
The spare tire is optional. It can be mounted on the roof's rack, in front on the tongue or underneath of the trailer.  Note that the latter solution still leaves more than 15 inches of ground clearance (note that TerraDrop in its basic version has an impressive 24" of ground clearance).
Storage (tongue box w/ interior access)
Pull-out shelves and ET center
Cabin
    Cabin's interior offers queen-size sleeping space, large storage (thanks to interior access into the "integrated" tongue box), shelving, handy USB and 12V outlets. The popular options include: standard or upgraded cabinets with mirrored door, cubby-style shelf above, drawer, two pull-out shelves, 3-speed, reversible Fantastic Fan, reading lights and more.... But above all, you will also find a "warm" interior ambience thanks to soft Baltic birch finish and refractive LED lights…. And this is the real treasure, most of us will appreciate when surrounded by nature.
More demanding will also find optional stereo and even small TV screen, although let's face it – true nature lovers will certainly appreciate the "symphony" (or silence) of nature rather than "cacophony" of modern electronic media.  
Galley: here with the optional fold-out 2-burner stove
Galley w/upgraded cabinetry, stainless-steel sink and countertop as well as 2-burner cook-top.
Galley
      The rear galley is accessible from the outside. It's traditional teardrop design with large door opening upward and serving as a protective "umbrella" and ceiling with LED lights. Water seal and wind-protection problem is solved by careful design (door includes double-seal and "wind-hinge" with limiter).
The basic camping kitchen configuration includes pantry cabinets and large Formica countertop with deep under-counter storage. From here you will also have access to the Electric Panel (DC fuses, AC breaker, switches, battery disconnect, battery monitor etc… Standard features also include deep-cycle marine-grade battery accessible from the under-counter storage. While the battery is mounted on the sliding tray, this design seems to be quite troubling (to access the battery you will have to remove everything from the storage). But every weak spot is an opportunity for improvement, so let's take it this way.
From the list of options, you can add folding-out 2-burner stove, LPG tank (mounted on the side of the trailer), stainless-steel sink w/faucet and sprayer as well as water system including fresh and grey water tanks and water pump, side-mounted water packs etc…
Galley: under-counter storage
Storage
     Teardrop trailers do not have much of interior storage space. And due to required high ground clearance, it is especially true for off-road models. The TerraDrop is not an exception.  Interior cabinetry and shelf offer room for personal stuff and clothing. As mentioned above, the "tongue-box" is a clever exception as it has access from the cabin so it rather serves as a closet, offering significant storage space for personal items.
The A-shaped tongue still has room for an extra storage box (if needed), and there is also space on the roof rack. When it comes to bikes - the rear receiver may be an answer to this problem. Is that enough? Not really, but fortunately Oregon Trail'R came up with another solution called "Cargo Management System". The cabin's interior can be equipped with rubberized texture mat and straps, so when in road configuration (folded bed), you can use the interior space to secure camping gear (big items like folding table, chairs, bbq…. you name it). One may say that the TerraDrop trailer has functionality of "cargo-hauler". For sure, it's not an ideal solution because at the end of the day you must remove it, but hey, it will certainly help to be better prepared for an off-road adventure!
Deflective step with slots for an extra step
Exterior features
     The deflecting steps are integrated with double 45-degrees fenders (all made from powder-coated stainless-steel). While steps may help some to enter/leave the cabin, their primary function is to offer easy access to the roof-mounted rack. The horizontal slots in steps allow for attachment of an extra side-step to help "climbing".
If you do not opt for the water system (and tanks), there is possibility to choose up to 4 water packs that are mounted on both sides of the trailer. With 4 gallons capacity each, they offer 16 gallons of fresh water.
Porch lights are installed on the frame, just below each of deflecting steps. Some will appreciate the fact that the lights are not dazzling, others may be dissatisfied that side "patios" are not illuminated. Well, in the case of teardrops, the "patio" area is rather located on the rear (galley's) side of the camper. However, TerraDrop trailers have side-mounted lights on the galley door, so (when the door is opened), they "expand" an illuminated area of the rear patio to both sides.
The Alpha models come with CU Off-road Max coupler (2" or 1 7/8" ball). However, in front of the tongue there is receiver, so the factory coupler can be easily changed to another one matching requirements of the towing vehicle.
TerraDrop Specifications

---
Exterior length

Exterior width (1)

Exterior height

Cabin length

Interior width

Interior headroom

Dry weight (2)

GVWR

Tongue weight

Ground clearance (3)

Fresh water tank (optional)

Sleeps

12'2"

6'6"

5'8"

96"

60"

48"

1,200 lbs

?

10-15% of actual weight

24"

16 gals

2
---
1.       Including fenders
2.       Basic model (dry weight of models with typical options should be around 1,500 lbs)
3.       Determined by water tanks
Construction
Chassis: Welded, powder-coated, 2"x 2" x 0.12" square-tube steel frame with A-style tongue
Shell: veneer-core plywood panels, solid wood frame (dado-joined), assembled w/fasteners (exterior fasteners are stainless-steel)
Exterior: mill-finish aluminum (TerraDrop), UV-baked bedliner film finish (TerraDrop Alpha)
Doors: Two 26" x 36" w/tinted glass, screened windows (wider doors are optional)
Hinges: Stainless-steel
Axle: Rubber torsion (TerraDrop) / Timbren HD axle-less suspension (TerraDrop Alpha)
Wheels: 14" Steel (optional alloy wheels available)
Coupler: 2" or 1 7/8" ball (CU Off-road Max in Alpha version),
Electrical Connector: 7-Blades
Cabin
Baltic Birch ceiling and Maple walls finish
Standard cabinetry package
Baltic birch storage/shelving w/hardwood trim
Queen-size sleeping area
12V Accessory outlet/plug     
Small overhead storage shelf
LED reflected/dimmed light
Custom LED Halo-Dome light: warm-white/high-power/diffuse output  

See Options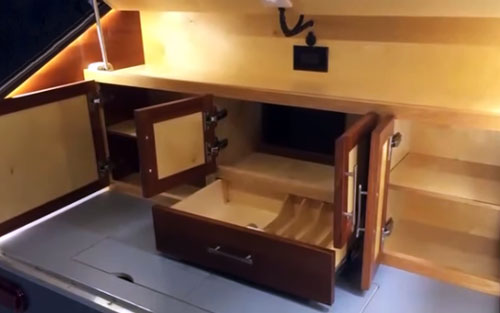 Galley: Upgraded cabinetry package
Galley
Baltic Birch storage/shelving with hardwood trim
Formica Countertop w/storage underneath
Battery compartment on slide-out tray
LED lights, 12V and USB ports, patio lights
Locking, upward opening door (lid) w/"hurricane' hinges  
See options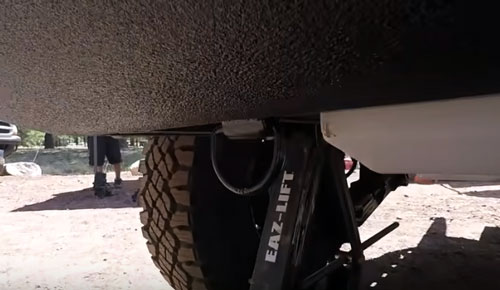 One of two recovery loops and scissor stabilizer
Exterior
Tongue box
2 scissor stabilizing jacks
Rear Recovery Loops
Deflector steps integrated with fenders w/optional extra step
See options
Electric Central Panel (access from the galley)
Entrance light (also visible the extra step )
Electrical
LED lighting components (interior reflected, dimmed light, custom Halo-Dome light w/warm-white/high-power/diffuse output,  galley strip LEDs, 2 porch lights, patio lights…)
Deep cycle marine battery with Progressive Dynamics power center 
Electrical Panel (depending on options may include DC fuses, battery switch, AC breaker, battery monitor (voltmeter), etc…
12V USB and power outlets
155Ah Extreme AGM upgraded battery
Battery controller/charger/inverter (option)
Shore power (option) 
Water pump (option)
110Vac outlets (option)
3-speed, reversible, thermostat-controlled Fantastic Fan (option)
custom reading lights (cabin)
weatherproof exterior 110Vac and 12Vdc outlets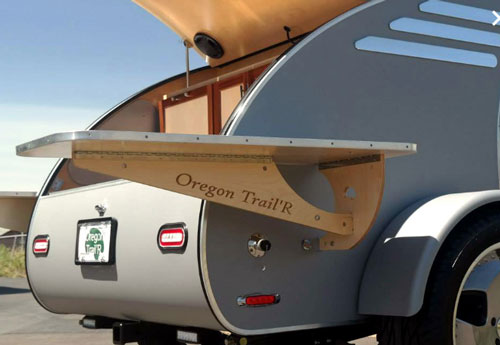 Side table (here attached to the standard TerraDrop trailer)
Options:
Standard cabinetry package
Upgraded cabinetry with mirror panel (middle one)
Pull-out shelves
Folding cup holders
Waterproof door skirt (prevents bedding to stick out and eventually get wet)
4" LUX foam mattress w/cover
Cargo Management System w/rubberized texture mat, and straps to secure camping gear.
Stargazer window
TV screen
Stereo w/speakers
Galley's Cabinetry w/drawer, access to power distribution panel, cubby (shelf) above
Stainless-steel sink w/faucet
Bamboo cutting board (fits into sink)
Folding-out 2-burner cooktop (comes with side-mounted 11lbs LPG tank and regulator)
16 gallons water tanks (fresh and grey)
Pressurized solar-water heater (roof mounted)
Roof rack (two versions)
Rear receiver
Wired for solar panel (roof-mounted, but not permanently attached so can be moved to sun)
Spare tire w/mount (can me mounted underneath the trailer or on roof or tongue)
Heavy duty tires
custom doors
Tongue rack
Attachable exterior side-table
And most likely many more options that can be selected during "negotiation" process.
TerraDrop's tongue rack (not sure if will be the same in Alpha version)
Underneath-mounted spare
Note that the company is open to suggestions, so what may look like an impossible wish, may be feasible. Just have to ask!

Also, please note that Oregon Trail'R is a small company, their teardrops are made "on-demand" and so the lead time may be substantial.  
Go back to: --> Review of Extreme Off-Road RVs
Pictures are courtesy of Oregon Trail'R
Due to the fact that Oregon Trail'R does not provide clear list of standard and optional features for TerraDrop Alpha model, the following statement is more important than ever. Sorry!
Note:  Check with the manufacturer and / or authorized RV Dealer for the up-to-date list of features, options as well as latest specifications. These written above may not be accurate and certainly are subject to change by the factory. We are not responsible for any inaccuracy, the above text is provided only for the general information.
This review was written based on publicly available information for the benefits of the community of RV-ers. We do not receive any gratification or financial benefits from RV manufacturers, dealers, and any other promoters of RVs. 
We are NOT involved in sale and/or retail of RVs!