Tips for Buying and RV
Given the substantial cost, buying an RV is an important decision, so here are some suggestions and Tips for first-time buyers...
      Since few years the "Lightweight RV" is the word of the day and favorite keyword for search engines. And this happens for the good reasons. 

The lite RVs have several unquestionable advantages, like correspondingly:
They can be towed by smaller vehicles, (some even by 6 cylinders family car instead of a truck)
They are more ecologically-oriented. Although this does not sound the same way to everybody, for sure we all appreciate their better fuel economy
The "lite-design" challenges manufacturers to use more aluminum, fiberglass and in general composite materials to bring down the weight of RV. With these efforts come much better reliability, durability (no rot, mold, less rust, leaks (if any)…). We all benefit from these improvements regardless of our eco-orientation.  
And obviously new technologies and construction materials contribute to stylishness, elegance, practicality (to name only few benefits all of us will gladly embrace). 
The following presentation aims at showing new lightweight (as well emerging class of as ultra-lite) travel trailers. Different sizes, from small to large luxurious ones. But they all will have to meet two fundamental requirements: 
Lightweight design
Hard Walls Body
      Obviously the "weight" is not an absolute criterion, because "pounds" have only relative meaning (in other words the classification of "lite" comes from comparing the weight with "typical" models of the same class). So the "lite" numbers will largely vary from small, through medium-size to big RVs, not mentioning even these residential-like rigs.
     Hard walls requirement excludes tent campers from the following presentation. It's not that they are bad choice, as the matter of fact, for many owners pop-up campers will make an excellent choice. We exclude them because for obvious reasons they are always "lighter" than any other hard-wall RV so if will be unfair to put them together "on the same scale".
Now few notes about functionality that can help you to make good choice when buying your travel trailer:
Preferably the shower cabin should have sliding doors (usually radius). Simply speaking, they will be more practical than standard door(s) because they do not need any extra space to open/close as standard door(s) do! The elegance is an extra bonus. 
Left - typically door takes a lot of space when it opens, so you have to step aside when opening/closing the door.
Right - this cabin will have sliding doors
It is practical when slide-out(s) opens flush-floor. You do not have to pay attention when getting in/out of the dinette so kind of "gain w/o (potential) pain"
U-shaped dinette should preferably have access to the storage under the end-wall bench from the outside. It seems so logical yet so few manufacturers offer this solution. Think how difficult it is to get access to the precious storage space when the table is in front of you! 
Recently, one of favorite locations for the Entertainment Center (ET) is the central Island. It is nice solution, however quite often designed seemingly without deep thought. 
- First of all, you need the walking space between the bed and the ET. It is simply frustrating when you have to run around the ET to get from one side of the bed to the other one. Also the access to the under-bed storage is more difficult!
- In smaller RVs there is no need for 2nd TV, so you should be able to "rotate" by 180 degrees the main TV to watch it from the bed. This way you save some bucks and weight (in ultra-lite RVs it all counts). Only big bunkhouses able to sleep more people may need the 2nd TV.
- Sliding doors along the ET center are used to offer privacy. However, when the TV is behind, then you are forced to slide-them-out. However in this process you automatically separate your bedroom from the rest of the camper. Such privacy is good, but not always. Especially in smaller campers for two (or 2+2 kids) it may not be necessary to "lock" yourself in let's face it - small room. What you need for comfort is rather an open space environment (whenever possible).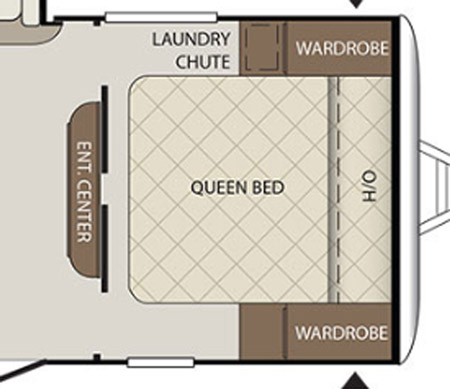 Here you cannot even "squeeze" yourself between the Ent. Center and the bed, you should be able to rotate the main TV (but this is rarely implemented) so you need the 2nd TV on the opposite side of the ET, and you have to slide-out both doors to see the screen ... It's quite "claustrophobic" situation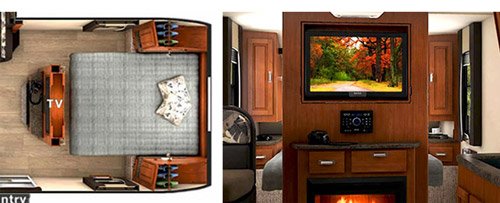 And here much better design - no doors behind the ET (so more "open" bedroom space) and the TV screen rotates (flips) 180 degrees ... 
Universal Docking Center – It is very practical when most (if not all) shore connections are centralized in one location. Last think you want is the web of wires, hoses ….  all-around your camper. 
Pass-through storage: look for models with an "unobstructed" access (no pipes, wires…. ) making it difficult to move in/out bulky items.
Camping is mostly about nature, so look for models that offer more "personal" contact with the "Mother of Everything". That may include:
- Large panoramic windows (especially precious is the front-cab window
- Exterior kitchen: Even simple one with sink, working-space, some storage, stove (can be receiver-mounted bbq with quick-LP connection) will make tremendous difference
- Exterior speakers at the table level (because not whole campground will love your music, and the Mother Nature certainly Not!).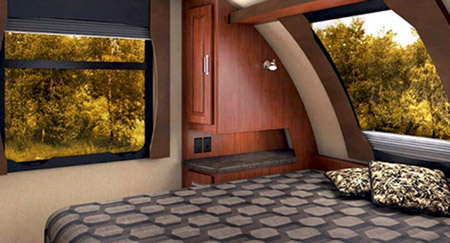 You see the big difference? Here you comfortably sleep in the bedroom, but feel like being in the nature.... It's bright, open, reaching out....
The rear ladder is very useful when you do not have slide-out(s) awning(s) protecting roof(s) from falling leaves and debris…
Ducted heating/cooling certainly offers more comfort. However if you have choice, then select models with registers located in furniture's bases. Remember - registers are just traps for all "falling stuff" and dirt… 
Here is the typical tongue-mounted battery rack (no storage box). While here these wires are connected to the portable battery, in the real life you will still have two (or four) exposed wires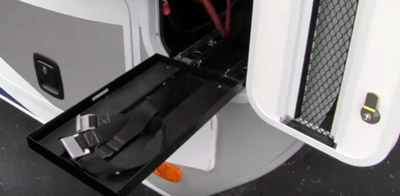 But it can be done much better - here the battery compartment with the pull-out tray
Many models have tongue-mounted battery(ies). It's OK, if they have locking storage box, but this is not always the case. If not protected then one day they may vanish. Another aspect – if not covered, "flying-wires" simply ruin the stylishness of your RV! 
Entrance doors – friction hinges are more practical than any "strut"-based solutions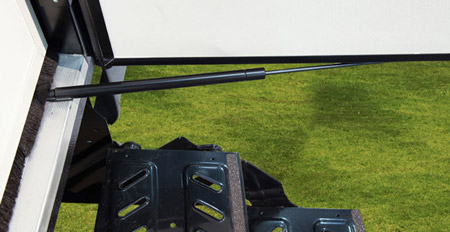 This is the traditional solution for doors: gas strut, but it seems outdated these days
      Well, this is just our experience and observations not necessarily representing your view. And of course we recognize the fact that unless you built your own camper, you may not be able to find the ideal one meeting all your requirements. We put this "wish-list" above just to bring to your attention pros and cons of some designs. At the end it is your choice as well as availability and affordability.
Note: This section is a "Work-in-Progress", so more presentations are on the way :-)
You can also check: --> Benefits of Lightweight Travel Trailers
---